Hidden Bars In Berlin
* Disclosure: This post may contain affiliate links, which means we may receive a commission if you click a link and book something (there is never any extra cost to you for using these links).
If you ever wanted to escape the touristy bars and go some place different, some place not even locals can find easily, you are at the right place. We bring you some of the most amazing Hidden bars in Berlin which serves some of the most unique cocktails you will ever have in your life!
1) Madame Claude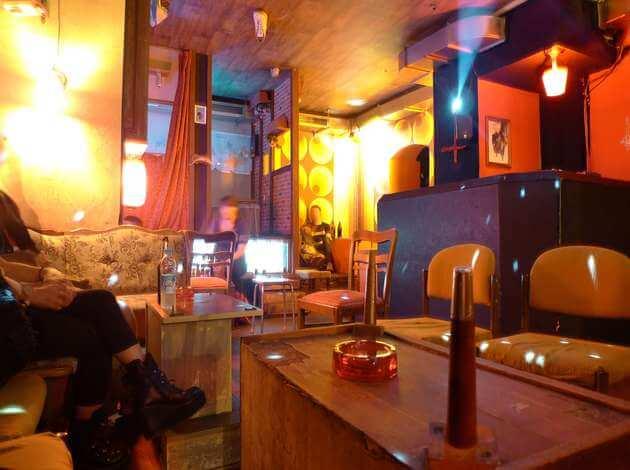 Image Source: Nacho Pintos/flickr
Just like its name this first speakeasy on our list is a bit different. For starters, it used to be a brothel, before turning into a bar and it is also upside down..well sort off. Some of the furniture is stuck on the roof to give it more of an inception feeling. The cocktail menu here might be a generic one, but the live music here is quite amazing with local artists performing every week. To get there look for the glowing red light on the street of Wrangelkiez, and take the narrow staircase which will lead you down into this quirky bar.
2) Bar Tausend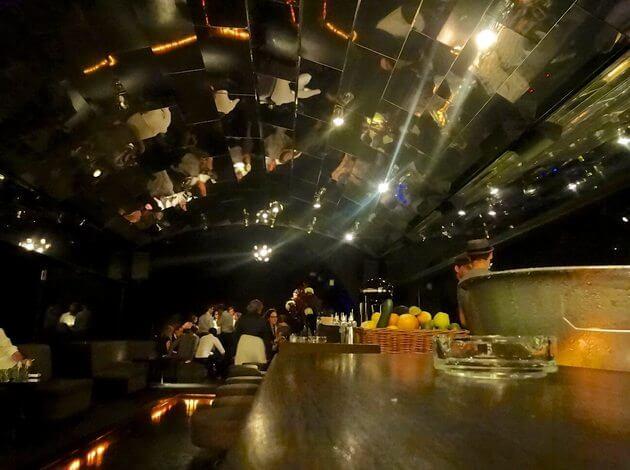 Image Source: Jennifer Morrow/flickr
You will have to really look to find this next entry on our list, but it sure is well worth the effort! With amazing interiors covered with crystals and chandeliers, this place will resemble like an upscale disco club rather than a speakeasy. The tables are covered with black leather giving it a very sophisticated vibe. The cocktails are spicy and change according to the seasons. It might also be one of the few bars which serve amazing food! The bar is also known to host weekly DJ sets and live performances. As mentioned earlier it is not an easy task to find this hidden bar in
Berlin
, although it is located in the center of the city. It is tucked behind a huge steel door and beneath the railway tracks of Friedrichstrasse. To enter, you must speak Parseltongue. or just say please, that will work too.
3) Bar Zentral
The Bar Zentral is the hipster bar in Berlin you want to go to on a weekend. The uniqueness of the bar doesn't end with its name, as it has an amazing colorful interior which consists of abstract artwork and wooden finishing. This bar was only supposed to cater handful of customers who have now turned into loyal customers, and why wouldn't they with such amazing cocktails and an even amazing menu of food? To get to this bar we recommend getting help from a local.
4) Fairytale
If you ever fantasized about having an adventure like Alice or Snow White, this is the perfect place for you. The interiors are inspired by Alice in Wonderland, which will make you think if you have jumped down the rabbit hole! The place itself is hidden in alleyway, hidden behind a wooden door with no markings. The cocktail list also seems to be inspired by fairytales with names such as "Cinderella" which will hit you harder AFTER 12 and "Mowgli" which consists of rum, coconut, and chocolate. To complete the experience, the bartenders are dressed like Disney prince and princess. So if you find a Prince Charming attending the bar, do not forget to order a Cinderella.
5) Paloma Bar
If you ever wanted to go out for cocktails with your friends and grocery shop at the same time, this next entry on our list is the perfect place for you. To get to Paloma Bar you have to take the stairs of a Kaiser Grocery shop in Kottbusser Tor and knock the door three times. Once inside you will find that you have time traveled into the 70s with amazing old school interiors and classic rock music playing on loop. If you look hard enough you might also find an Elvis impersonator. The cocktails are basic but strong and amazing. This unique bar in Berlin also offers a panoramic into the bustling neighborhood.
6) Drayton Bar
This bar is located in an upscale and extravagant Hotel Adlon, but unlike its counterpart the Drayton Bar is unique on its own. The entire bar is themed to look like a 1930s bar with beautiful wooden interiors and old-timey clocks, which will give you a perfect setup for Noir movie. The cocktails are named after classic movies and are fresh; the food is also equally good. It might be located in the Aldon Hotel, but to get in, you have to go through an alley and look for the right door.
7) G&T Bar
If you like gin way too much, this is the perfect place for you. It has over 100 different kinds of gin brands from all over the world. The bar itself is styled like an old diner with big tables and saloon-like chairs covered in brown leather. It is located in one of the most touristy neighborhood areas of Friedrichstrasse, but to find it you have to go all the way to an abandoned building.
8) Stagger Lee
This bar is themed as a classic speakeasy with compact space, low hanging lights, and wooden colored interiors. Once inside, you will find an old cash register which is still used to complete the saloon type architecture. The menu list is wide and extensive and consists of some of the best bourbon scotch available in the area. To get in, you have to find the secret door, press the doorbell and say your name.
9) Buck and Brek
If you are surprised by the closed sign on the entrance, you haven't been paying attention to this list. If you are courageous enough to ring the doorbell you will be welcomed inside a very petite looking bar. The overhanging bulbs will give you ample amount of light, BUT do not click a selfie as the bar management has some pretty strict rules about it. The cocktail menu consist a good blend of classic and innovative drinks which are sure to knock your socks off!
10) The Bar Marques
This next entry on our list is mainly inspired by many New York speakeasies but with a European twist. Hidden underneath a Spanish restaurant in Grafestrasse, this bar serves a perfect blend of classic and modern drinks. As there is no menu, you have to completely trust your bartender to make you a perfect drink.
11) Le Croco Bleu
You know it is a good sign when a bar is located in an engine room of a brewery. The interiors are extremely beautiful with dark blue overhanging lights and saloon type chairs. The cocktails are also amazing and refreshing. No one will stop you from having a pint or two directly from the brewer itself!
Sssshh.don't forget to keep this is a secret!