Top 10 Hidden Bars in New York
* Disclosure: This post may contain affiliate links, which means we may receive a commission if you click a link and book something (there is never any extra cost to you for using these links).
Bored of every generic Manhattan bar? Feeling a bit adventurous? Fear not, we got you covered. We'll take you on a journey to New York's top 10 hidden bars. Not only are these bars hidden, but they also serve some of the best cocktails in the city. So put on your Sherlock cap and let's start looking!
1) Dutch Kills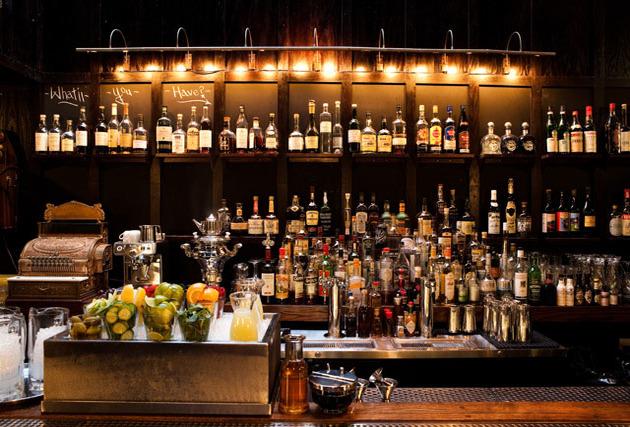 If you're tired of burning a hole into your pocket every weekend on inflated elixirs and pretentious bartenders usually found in any Manhattan bar, let Dutch Kills restore your faith in cocktail bars. It's very easy to miss it. You have to look carefully for the flickering "BAR" sign in the middle of nowhere. Inside you're welcomed by dim lighting, old school decor, and intimate booths. The menu is seasonal but it hasn't disappointed anyone yet.
What to drink: Hot Toddy for a cold Long Island night
How much: Around 25% cheaper than any bar in Manhattan.
Address: 27-24 Jackson Ave, Long Island City, NY 11101
2) Angel's Share
Who doesn't like hidden treasures? Well combined that with award-winning cocktails and you'll end up at Angel's Share. Rated as the second-best bar in America by GQ Magazine this bar is hidden behind an unmarked door inside a restaurant. Once inside you'll be welcomed by a very chic, sophisticated and almost retro decor, which goes along with the smooth jazz music playing in the background.
What to order: Speak Low or the Daahound
How much: $15-20 for a cocktail
Address: 8 Stuyvesant St, New York, NY 10003
3) The Garret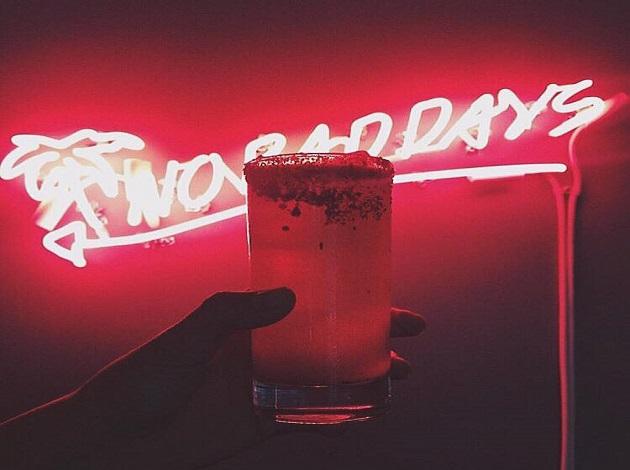 This place might be the classiest place you can enter through a fast food joint (no seriously!). To enter you walk into Five Guys, walk past the counter, and turn left up the stairs. You'll mostly run into lanky-haired rockers and red-Lipped broads in leather-daddy hats. This isn't your average burger bar!
What to drink: The LTT Continental to get a zing of grapefruit
How much: $14-$16 for a cocktail
Address: 2nd Floor, 296 Bleecker St, New York, NY 10014
4) PDT (Please don't tell)
Ever wanted to be like Superman? Well, you can now...well sort off....
PDT is located at Grif dogs where you actually have to through a payphone booth and pick up the phone and dial 1 to walk in this bar. Once in you'll be welcomed by a very friendly hostess in a dimly lighted bar. The booths are intimate and cozy. Overall a very good place to go on a first date or to confront your inner Clark Kent.
What to drink: The Paddington
How much: All drinks for $15 which isn't terrible for NYC bars.
Address: 113 St Marks Pl, New York, NY 10009, United States
Must Visit: 

Best Weekend Getaways from New York
5) Bathtub Gin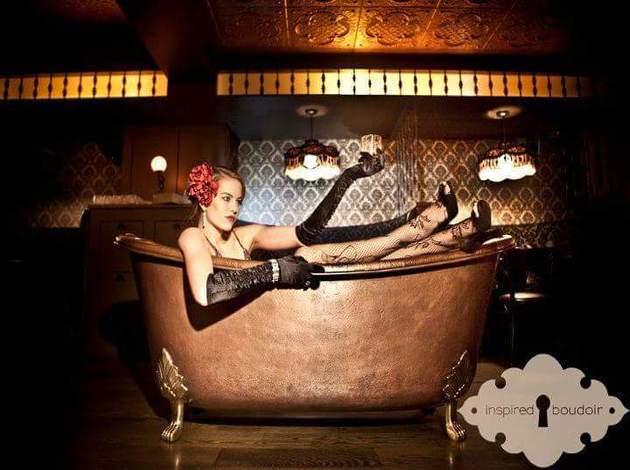 A real hidden speakeasy tucked behind the Stone Street Coffee. Since it's called Bathtub Gin it actually consists of a bathtub in the middle of the bar and some pretty kickass cocktail with Gin. On Sunday there's a show with burlesque performers who actually get into the tub!
What to drink: The Botanist Gin
How much: Expensive.
Address: 132 9th Ave, New York, NY 10011
6) Fig. 19
Ever wanted to step into a beautiful painting and get lost in that world? Well to find this bar you might have to. This bar might have the coolest entrance in Manhattan. To enter, you have to walk through an Art Gallery and find the right unmarked door! Once in you'll walk into a gorgeous intimate setting that has a hint of rustic glamour.
What to drink: The Vanishing Point
How much: $13 - $15 for a cocktail.
Address: 131 Chrystie St, New York, NY 10002
7) Death & Co.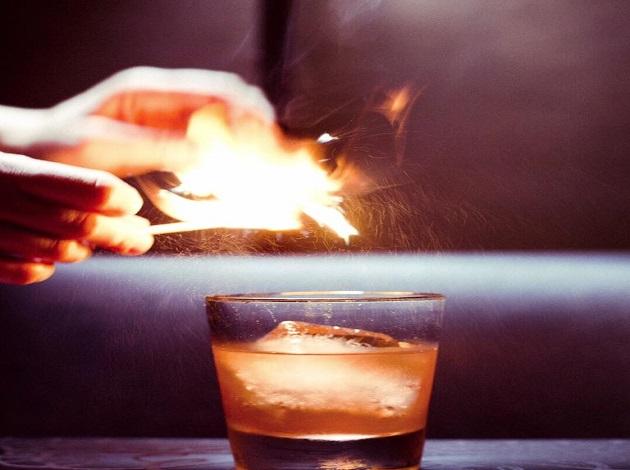 Despite its ominous name, there are no gang members waiting to kill you at this speakeasy. Hidden behind a not so discrete door the place is so dimly lit you might bump yourself! But once you get used to the darkness you'll be left impressed with the intimate interior which gives out a jazzy vibe of the 20s. Crystal Chandeliers and Kerosene Lanterns add to the old timely atmosphere. You get an aura of exclusivity as an entry without a reservation is almost impossible.
What to drink: Cure for Pain or the Rita Hayworth.
How much: $14 to $25 for a cocktail.
Address: 433 E 6th St, New York, NY 10009
Must Read: Things not to do in New York City
8) Nitecap
Operated by the same team behind Death & Co. Nitecap is tucked underneath Schapiro. This small and intimate place serves cocktail with minimum of 10 ingredients which are served by a very friendly bartender named Mark.
What to drink: Mean Manhattan
How much: Inexpensive
Address: Downstairs, 120 Rivington St, New York, NY 10002
9) Le Boudoir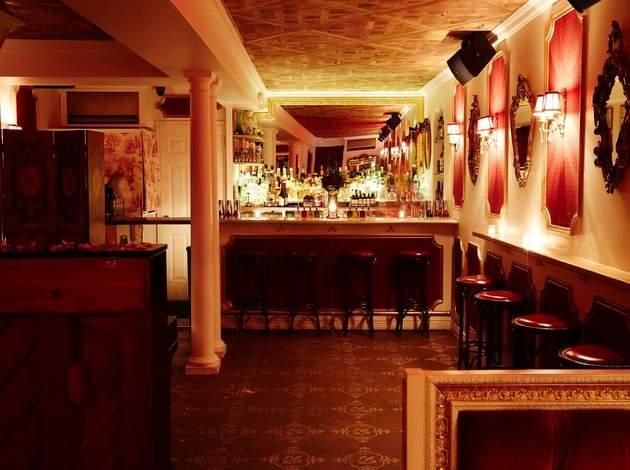 Entering this bar you'll feel like Bruce Wayne entering his bat cave. It is hidden behind a Bookshelf-painted door inside Brooklyn Heights restaurant-Chez Moi which will take you down the stairs to a lavish velvet decorated & dark leather banquet, coupled with a lot of antiques. There's a hidden room or "the grotto" which is a part of an underground tunnel, enjoy!
What to drink: The Guillotine a mezcal loven blended in Scoth
How much: $12 - $13 for a cocktail
Address: 135 Atlantic Ave, New York, 11201
10) Raines Law Room
To enter you have to look for an unmarked door, press the buzzer and hope there's no wait for a table. Once in you're seated in a cozy sofa and a small table with a little light bulb. The whole decor gives out a very sophisticated vibe. The cocktails aren't too strong or too watered down.
What to drink: Marie Antoinette topped with ice and fresh raspberry
How much: $15 - $20 for a cocktail
Address: 48 W 17th St, New York, NY 10011
Well! there you have it, enjoy these fantastic cocktails at these gorgeous hidden bars and don't forget to knock on the right door to get through!
You may also like to read: