Discover the Hidden Gems of India this Weekend
* Disclosure: This post may contain affiliate links, which means we may receive a commission if you click a link and book something (there is never any extra cost to you for using these links).
Welcome to the year of long weekends!
2015 is pleasantly full of holidays in line with the weekends and long weekends mean less sick leaves and lesser family emergencies! Travel bugs can officially go places and flaunt the pictures after their journey back home.
India is the country of surprises and there are quite a lot unexplored places to be to. Now on some of the weekends there, how about taking a short trip to these hidden gems in the idyllic country of ours. TripHobo gives you a list of pristine places to explore and enjoy.
1. All Roads end here: Lachung- Yumthang and the Zero point, Sikkim:

Nearest Airport: Bagdogra Airport
Nestled in the Himalayan mountain range is this lesser known abode of beauty. Lachung- Yumthang and Zero point are lesser known surreal places in India that deserve a visit. Situated thousands of meters above the sea level, the snow clad mountain ranges, the graciously flowing Teesta River and the breathtaking valley of flowers- North Sikkim is enticing. The journey from Lachung to Yumthang is picturesque in itself and there are tons of places to visit in Lachung as well- the waterfalls, the monasteries and the viewpoints. Click a selfie at zero point- the last outpost of civilization and if thats not enough; beat the cold at the hot water springs of Yumthang.
2. Reminisces of past: Hampi, Karnataka:

Nearest Airport: Bengaluru and Bellary
A UNESCO world heritage site, capital of the legendary Vijayanagar Empire, this beautiful town is undeniably one of the most historically and religiously significant places in Karnataka. Set on the banks of the Tungabhadra River, the monuments of the ancient city continue to mesmerize its visitors for thousands of years. There are round about 500 significant monuments and Virupaksha temple is the most prominent one where Lord Shiva and Goddess Parvati are believed to be married. Do not miss the ride of Tungabhadra River on a Dongi- a bowl shaped boat. The whirlpools, high current and the inhabitation of crocodiles make it adventurous!
Book finest of the Hampi accommodation with TripHobo Hotels and grab huge discounts!
3. Adventurous vacation : Kolad, Maharashtra:

Nearest Airport: Mumbai
A long weekend doesnt permit you to go all the way to Rishikesh? Doesnt mean you should miss on the adventure activity of white water rafting. Yes, Kolad in Maharashtra is a place where you can turn the escapade mode on and raft in one of the fastest flowing rivers with a 14 kilometre long stretch full of rapids. Kolad also offers interesting bunch of activities like river zip line crossing, kayaking, canoeing, paragliding, rock climbing, rappelling, mountain biking and waterfall rappelling. Trekking is also a popular activity among the adventure buffs. So put on your sport shoes and bring it on!
Browse and Book interesting tours and activities near Mumbai and save on your booking!
4. Time Travel: Sanchi, Madhya Pradesh:

Nearest airport: Bhopal
A Mecca for archaeology enthusiasts, this hamlet in Madhya Pradesh displays a huge compilation of Buddhist monasteries and stupas dating back to the period of Ashoka the great. The rich carvings and the flattering structures are a pleasant sight and the history behind each of them will enchant you. The Great Stupa which was constructed by Emperor Ashoka in the 3rd century BC is considered the oldest stone structure in India and needless to say, is a UNESCO world heritage site. Enticing, isnt it!
Want to know about the Weekend Destinations in India?
5. In the clouds: Auli, Uttarakhand: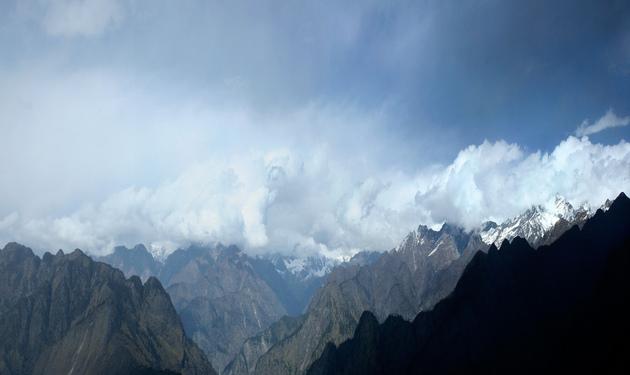 Nearest Airport: Dehradun
This alluring little place in the lands of god- Uttarakhand, is one of the best places in India for Skiing. Located in the Chamoli district of Garhwal region, it also hosted the First SAF winter games in 2011 and is frequented by foreign tourists for winter sports. Situated at an elevation of around 2500 meters above sea level, the topography is considered perfect for professional as well beginners in Skiing. Also, Auli proudly flaunts Asias longest gondola where you can admire the stunning Himalaya, the deodar and pine forests adorning the panorama.
Also Read: Best Hill Stations in India
6. Beauty and the Birds: Bharatpur-Rajasthan:

Photo by Koshy Koshy
Nearest Airport: Delhi and Agra
The historic eastern Gateway of Rajasthan, Bharatpur is also famous as a Birds Paradise. Enormous forts, massive palaces and artistically done monuments are the must-visits in Bharatpur but the focal point is the Keoladeo Ghana National Park or the Bharatpur Bird sanctuary. Famed as Indias avifauna sanctuary, this is indeed a paradise of birds with over 230 species and also is a home to the Siberian cranes that migrate in winter. This long weekend is perfect to observe these lovely foreign visitors.
7. Largest Water Lagoon: Chilika lake, Orissa:

Nearest airport: Bhubaneswar
The largest brackish water lagoon of Asia, calling Chilika a lake is such an understatement! This enormous natural water body is a home to number of islands and is a bio-diversity hotspot. Nestled in the heart of coastal Orissa, its islands Nalabana, Kalijal, Somolo, Honeymoon, Break-fast, Birds and Rajahansa are great for boat trips. Chilika is a home to thousands of birds of 160 different species like sea eagles, ospreys, golden plovers, sand pipers, flamingos, pelicans, shovellers and gulls. In winters, Chilika is a home to migrated birds from Iran, Central Asia and Siberia. Also, if you are lucky, you can spot lovely Dolphins! Inviting enough!
8. Gods own Country: Kovalam, Kerala:

Nearest Airport: Trivandrum
Gods very own country Kerala has number of breathtaking places to be at. Kovalam is undoubtedly one of the best to have long walks in the moonlight; thanks to its gradual gradient which paves a way right in the sea. Calm waters perfect for swimming and beaches apt for sunbathing make it an ideal weekend getaway where you can just relax in leisurely manner. You can pamper yourself and get the famous Herbal massage and detox your mind and soul. After all, its okay to spoil yourself on vacations!
Plan a vacation to this serene pradise using Kovalam Trip Planner
So, where are you heading to this long weekend??
You May Also Like To Read:
Most Luxurious Palaces In India