10 Hidden Islands of India
* Disclosure: This post may contain affiliate links, which means we may receive a commission if you click a link and book something (there is never any extra cost to you for using these links).
With an enormous coastline of 7,517 kilometers, India is blessed with three gigantic waterbodies on its sides! The Arabian Sea, Bay of Bengal and the Indian ocean encase the main lands and union territories of India. Owing to this there are several unrevealed islands not many know of. We reveal to you some of the hidden islands of India, which are indeed India's best kept secrets!
1. Divar island - Off beat island in Goa

PC: wikipedia.org
Off-beaten from the much clichéd party culture of Goa, the Divar island lies untouched at about 10 kilometers upstream from Panjim. Situated across the bustling river of Mandovi, Divar still retains the lively culture and countryside feel of Goa. The island has four villages, each having diverse and fascinating customs, that give you a feeling of time being paused! Bonderam and Potekar are two festivals here which are celebrated on a large scale; Bonderam is like a carnival, whereas Potekar is like Halloween. The very popular movie Dil Chahta Hai was shot here; in case you want to recreate some of your favorite scenes from that movie here!
2. Campell Bay - The largest Indian island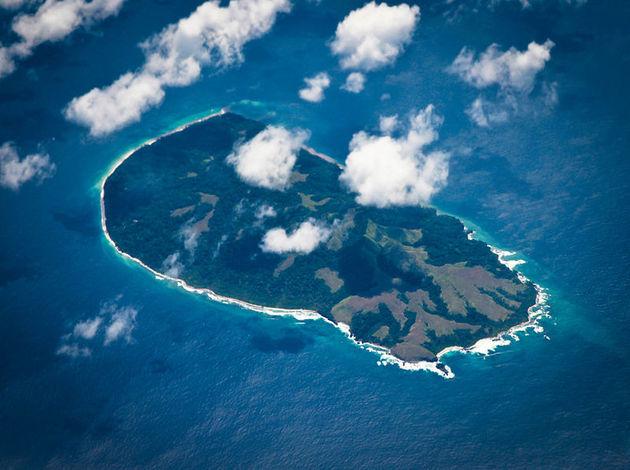 PC: Wikimedia Commons
This list is incomplete without mentioning the buoyant Campell Bay, also known as the Great Nicobar island! This is the largest Indian island. Let go of your inhibitions as you give into the temptation of taking a dip into its crystal clear blue water! Walk around the island to delight yourself with the amazing flora and fauna, making it a small world in its own. This island is perfect for a family or a couple that love being around water, perhaps for some lazy dipping or simply floating in the serene waters. You could also have an unique experience of flying in a helicopter here from Port Blair!
Want to know about the most Peaceful places to live in India?
3. Barren island - An active volcanic island

PC: wikipedia.org
Situated on the eastern most side of the Andaman, the Barren Island, is the only active volcanic island of India and the entire South Asia. Here you will find yourself astonished by the beauty, the island offers you, walking past lava rocks paving a memorable journey. As the name suggests, this is an inhabited island, without any accommodations. This can be an experience of a lifetime, circling the island in a board vessel, a seaplane maybe! Perfect for a day trip.
Also read: Famous Foreign Travelers Who Visited Ancient India
4. Srirangapatna - History and serenity

PC: Wikimedia Commons
There is a possibility you might have heard of this one, as it has one of the three holiest shrines for the Vaishnavites. This is a river island on the Kaveri river banks. It has a vast history associated to itself, being the home ground of some massive political and historical changes. It was also the de facto capital under Tipu Sultan's reign. Srirangapatna has several Indo-Muslim buildings and temples that can be of interest. There is a particular small memorial stone, which marks an important turn in history. It was where Tipu Sultan died, and that very spot is now marked with a tombstone. Serenity plus history is a good combination after all!
5. Hope island - Ideal for a day trip

PC: wikimedia.org
Situated in Andhra Pradesh, Hope Island is a 200-year-old formation out of sand drifting from a tributary of the Godavari River. This is a really small, tadpole shaped island, protecting the Kakinada harbor and city from several cyclones that Bay of Bengal throws its way! Inhabiting only a few government buildings and fisherman shacks, the island is a good day trip for those on the advent of some unique Indian islands. The northern tip of the Hope island is called Godavari Point, that overlooks Bay of Kakinada and the Kakinada harbor. A ferry from Kakinada Port gets you to the Hope island.
Plan a trip to these lesser known places in India
6. Bet Dwarka - A small hidden place

PC: Wikimedia Commons
Considered to be a part of the ancient city of Dwaraka mentioned in the epic of Mahabharata, Bet Dwarka is located near Jamnagar in Gujarat. In case mythology doesn't interest you, Bet Dwarka also has evidences of being a prime trade route between ancient Rome and India. There are traces of human civilization that go back to the Harappan period of the Indus Valley civilization! Unlike many religious places, this island is surrounded by scenic beaches. Dunny point on the island is the southernmost point surrounded by sea on all three sides.
7. St. Mary's island - The best kept secret

A set of four small islands form the St. Mary's island. The island has similar characteristics with the Giant's Causeway in Ireland. A very rare sight in India, these islands are famous for their basaltic rock formations cut into a peculiar hexagonal shape. A marvel tucked into Karnataka's Udupi district, complete with rocky beaches and clear blue water. It's like discovering a little bit of Iceland, but in the Arabian sea! Folktale goes that this is where Vasco de Gama landed for the first time, and named it after Mother Mary. One of the 26 geological monuments of India, St. Mary's island is a must visit on your advent of seeking hidden islands in India!
8. Majuli island - Biggest river island in the world

Said to be one of the biggest river islands in the world, Majuli Island is subsequently the largest river island in India, as a lagoon of the Brahmaputra river. If you are a fan of watching sunsets and sunrises, behold an opportunity you get to explore Majuli near Guwahati in Assam! Also if you like experiencing new cultures, you will get a fair taste of the Assamese culture here. The best way to explore this island is renting a motorcycle! Activities one must undertake here are local meshing and mask making, that will truly give you a unique experience!
9. Diu island - Portugese culture

The union territory of Daman and Diu, are well famous as ports in India. However, the Diu island is breathtaking and more concealed than Daman. This is a small island with traces of Portuguese culture infused in it. The architectural beauty too can stun you to a surreal world along with its other serene sights. A dash of Gujarati influence, exquisite beaches and tropical sea-food make the Diu island a notch different from the other islands in India. Need another reason to visit here? This is the only place in Gujarat where alcohol is legal!
10. Little Andaman island - Secret Island for honeymoon

PC: Wikimedia Commons
This one is an offbeat destination in the Andaman Islands. Especially for those who love nature in the real raw form, the Little Andaman island is scantily crowded in spite of its alluring beaches. This is perfect for couples searching for honeymoon places in India on a budget. It is also known as the island of rare marine turtles. A little more than a day's voyage from Port Blair will get you here. White surf waterfalls, whisper wave waterfalls, hut bay and coral reefs on the east of the island are the must-sees on this island. Don't forget to try your hand at surfing, on some fabulously high waves!
Must share your experience on these hidden islands in comment.
Other Posts You will Like
25 Best Indian Souvenirs to Buy
Top 10 Peaceful Places To Live In India