15 Awesome Places For Hiking in Portland
* Disclosure: This post may contain affiliate links, which means we may receive a commission if you click a link and book something (there is never any extra cost to you for using these links).
Hiking in Portland is not simply restricted to the boundaries of Portland alone, but it extends to the regions of the gorgeous Mt Hood, the Columbia River Gorge along with some more suburbs that engulf the city. Whether you are looking for easy hikes near Portland or something more challenging, rest assured (well not literally, speaking of hiking) there is plenty you can choose from. Cascading trails through a diverse range of terrains, including gorges, volcanoes, wetlands, old grown forests, and waterfalls, hiking in Portland is far more than a mere physical experience. We bring to you these 12 hikes that are a brilliant mix of leisure and thrill!
1. Cape Horn Area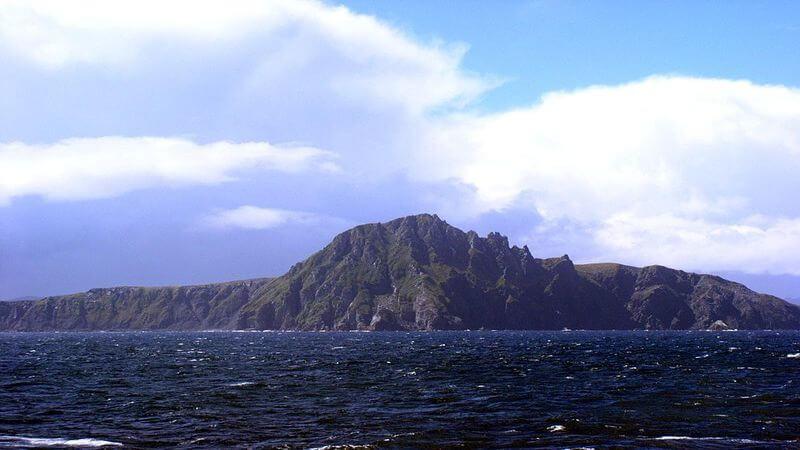 Image Source: Wikimedia Commons
One of the best Portland gorge hikes, the Cape Horn Area trail rewards you with mesmeric views of the Columbia River Gorge. This a loop trail that takes you through a gorgeous blend of terrains including streams, rocky crags, and even seasonal waterfalls; just right enough to not overwhelm you. The best part of this hike, you can head here anytime of the year, irrespective of the season. However, the lower loop area is shut between February to mid-July. It is one of the oldest gorge trails and a favorite of regular hikers. Very well-marked, you can easily find your way out.
Hike distance: 7.1 miles' round trip
Difficulty Level: Moderate
2. Latourell Falls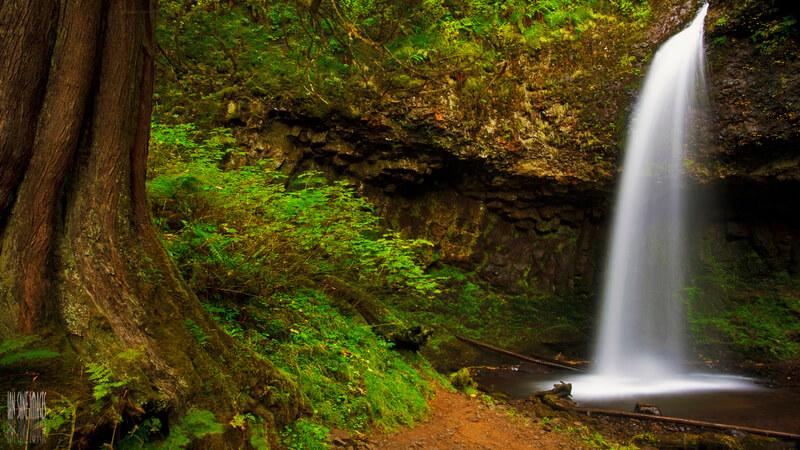 Image Source: Ian Sane/flickr.com
Looking for Portland hiking waterfalls? The Latourell falls will be the first to greet you as you begin a Columbia River Gorge advent. The waterfalls are highly appealing, except in the spring and winters when they are cascading in all their plight. The hike up to these falls is abundant with lower waterfalls and their very striking columnar basalt formations, keeping you refreshed all through the hike. The falls are popular given their almost pin-straight drop from an overhanging basalt cliff. On reaching the apex of this hike, you also get to some stunning views of the Crown Point!
Hike distance: 2.1-mile round trip
Difficulty Level: Moderate
3. Multnomah-Wahkeena Loop Hike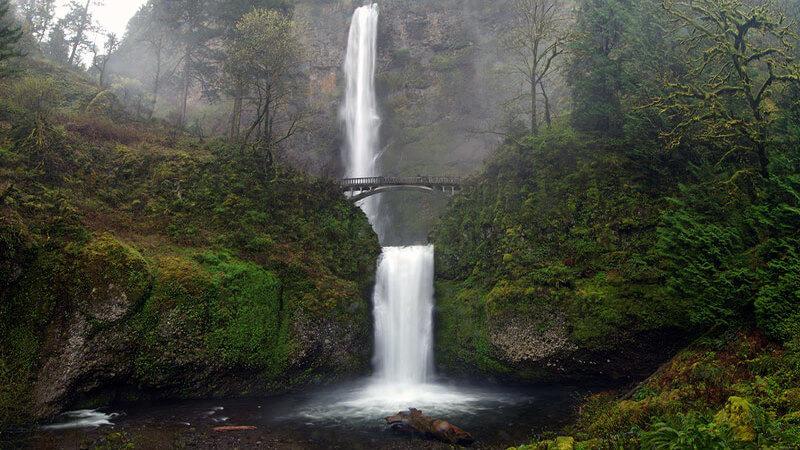 Image Source: oregonhikers.org
Another example of a brilliant waterfall hike, the Multnomah-Wahkeena Loop Hike has got to be on your list if you are scouting for Portland hiking waterfalls. A trail of not one or two waterfalls but a whopping eight! The trail is certain to leave any waterfall fanatic mesmerized, given the number of cascades and sporadic waterfalls sprouting through just about anywhere. Both the falls are distinct in their drops; the Multnomah Falls drops in two large steps while the Wahkeen is more cascading and soft. There is a moderate amount of traffic on this loop, making for a pleasant trail!
Hike distance: 4.9 miles' round trip
Difficulty Level: Difficult
4. Opal Pool-Cedar Flats Hike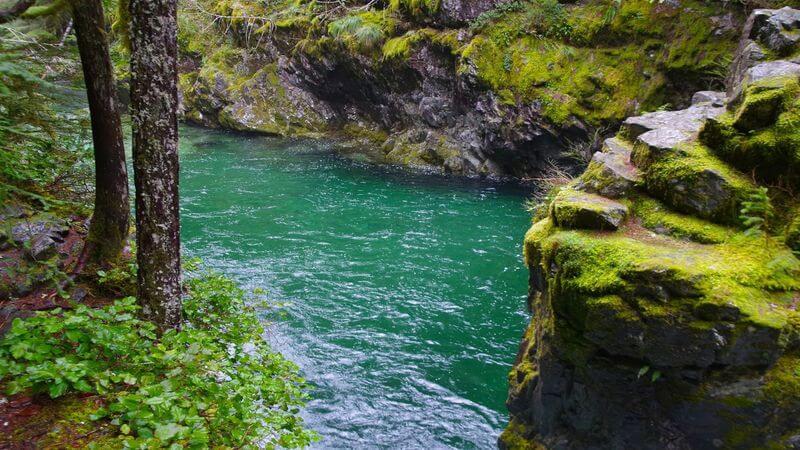 Image Source: oregonhikers.org
If you are on the lookout of a hike that is an absolute pleaser to the eyes, you cannot go wrong with this one! One of the most undertaken places for hikes in Portland in March, the Opal Pool-Cedar Flats Hike elevates at a good 1240 feet. Being a part of the Willamette National Forest, you trail majorly consists of old grown forests with the peculiar wet vegetation fragrance, and of course the enchanting views of the azure waters of the Little North Santiam river. Although a moderate level hike, everyone can give this hike a go.
Hike distance: 10.5 miles' round trip
Difficulty Level: Moderate
5. Wild Cheat Meadow Hike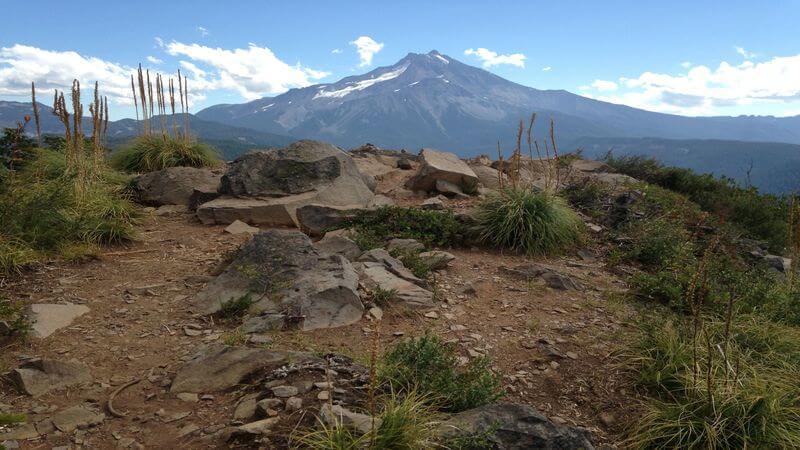 Image Source: pnwsota.org
Taking you to the Triangulation Peak, the Wild Cheat Meadow Hike is a hiker's delight! While there are many trails to take you the Triangulation Peak, this one particularly is full of challenges giving you the ultimate thrill. On your ascent, the cascades are pretty overwhelming with endlessly burgeoning views of these steeps. You will also be bequeathed with lots of wildflowers on the plateau regions of this trail, that also make for a great photo opportunity. The heat can get a tad overbearing in the summer months, so best to avoid a hike then. All in all, despite being slightly difficult, it is absolutely worth it.
Hike distance: 5.8 miles' round trip
Difficulty Level: Difficult
Must Try: Best Hikes in Yosemite
6. Nature and Chestnut Trail Loop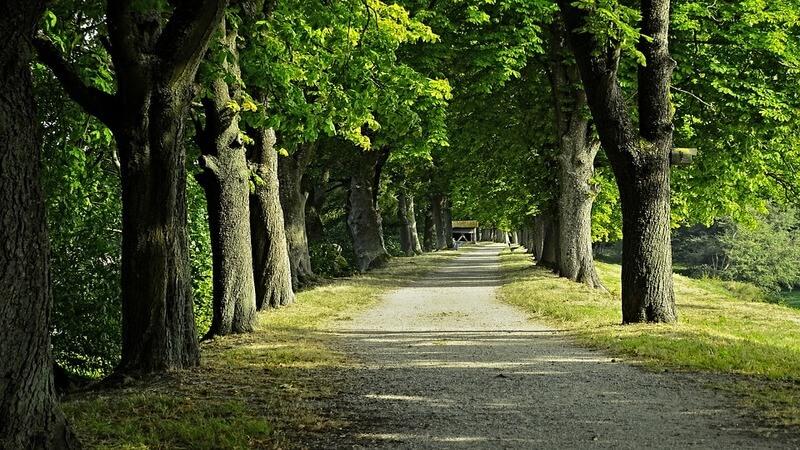 Image Source: maxpixel.freegreatpicture.com
Hiking up the Tualatin Mountains, lying in the west of Portland can be an experience a little difficult, to sum up on words. Like many nestled in the dense Forest Park Portland, the Nature, and Chestnut Trail Loop is one beautiful side trail. With a lot of terrestrial contributions by the Rocking Chair Creek, you have yourself traversing through tiny waterfalls and vegetation of this old forest. Being a national park, there are separate trails for hikers and bikers here, so you can even choose to cycle around here. The elevation of this trail is a maximum of 700 feet, with 420 feet being achieved in one mile of the Nature trail itself.
Hike distance: 2.5 miles' round trip
Difficulty Level: Moderate
7. Butte Camp Hike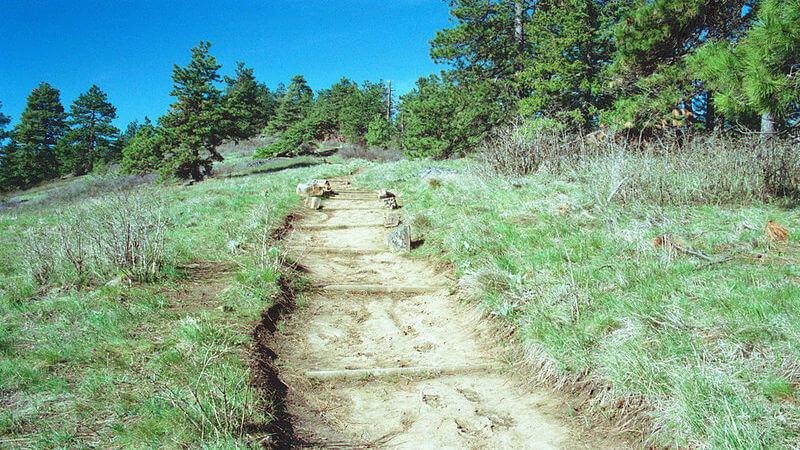 Image Source: Wikimedia Commons
Initially referred to as the Lower Butte Camp, this one is straight of Tumblr! Concaved between two ridges of the Butte Camp, this bench like trail is often resorted as one of the best places to camp at in Portland. On this trail, you are guaranteed with some breathtaking landscapes of pumiced meadows accommodating some gorgeous wildflowers along with a mélange of diverse topology including old volcanic lava flows. Along with hiking, other popular activities that this trail is famous for include mountain hiking, bird watching and walking. The best time to hike here is anywhere from May to November.
Hike distance: 13.2 miles' round trip
Difficulty Level: Moderate
8. Council Crest Hike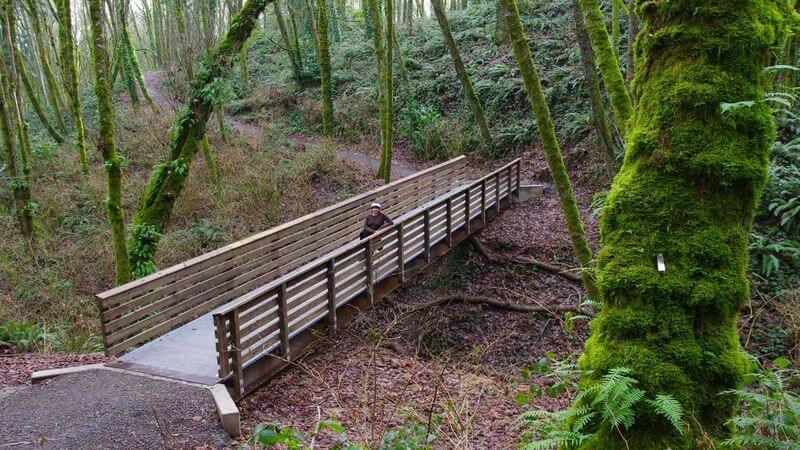 Image Source: oregonhikers.org
One of the best hiking places in Portland all year around, the Council Crest Hike does not cease to amaze you with its beauty. Being the highest point in the city of Portland, at an elevation of 1,071 feet this hike offers you some of the best views of the city. While driving is an option, the hike is worth the endurance test and a pretty good hiking path of the Marquam Trail. As you climb up, you will come across several dainty houses and a good cover of woods. The trail experiences moderate traffic, except on weekends when it is more likely to be quite crowded.
Hike distance: 3.3 miles' round trip
Difficulty Level: Easy to Moderate
Planning A Hike?
Get to know the place before you go. Plan a trip to Portland to understand its logistics and feasibility. Make a plan now!
9. Hoyt Arboretum Loop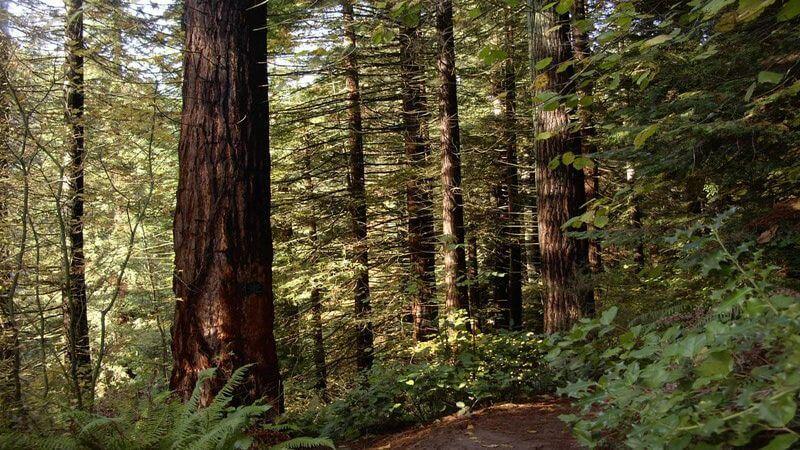 Image Source: hoytarboretum.org
Foraying through the Washington Park, the Hoyt Arboretum Loop is one scenic and easy trail right in the middle of the city. On this hike, you gain an elevation of 425 feet, with the highest point perched at 850 feet. Trailing through a dense vegetation of trees, mostly coniferous and deciduous along with a few exotic ones, you make a roundabout that is hardly tiring. In fact, the trail is pretty leisurely with even leashed dogs allowed to be brought with you. A fabulous place to come out with family on the weekends the trail is very well marked. What makes it an even more family-friendly place are attractions such as the Children's Museum, Japanese Garden, Washington Park, World Forestry Center, Zoo, and the Rose Garden surrounding it.
Hike distance: 4.7 miles' round trip
Difficulty Level: Easy
Must Try: Hiking Near Chicago
10. Mount Tabor Blue Trail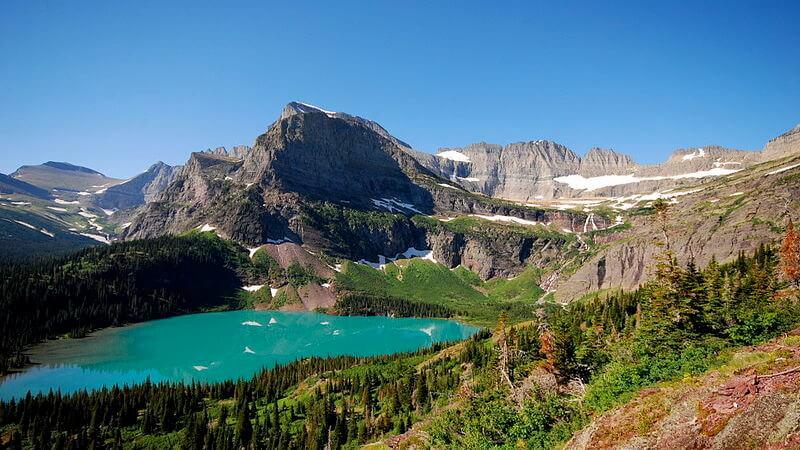 Image Source: Wikimedia Commons
Hiking up an extinct volcano sure does seem to have its own excitement. This trail takes you through a complex of what is referred to as the Boring Lava Fields. There is no specific, most preferred route to the Mount Tabor, but the Blue Trail is perhaps popular only for being distinctly color-marked in blue. While the trail can be undertaken on any given day, on a good day you are rewarded with sweeping views of the city. Being a loop you can start your trail from either side. Take a moment at the supremely picturesque ovular lake of Reservoir 5, nestled in towering fir trees.
Hike distance: 3.31 miles' round trip
Difficulty Level: Moderate
11. Rooster Rock State Park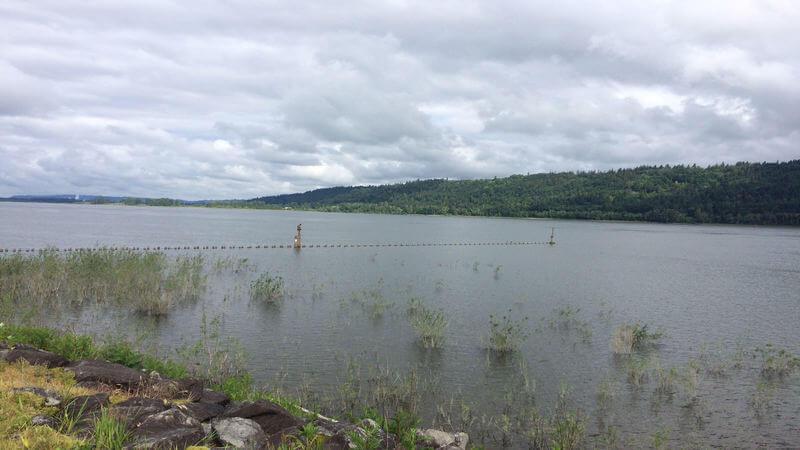 Image Source: Flickr.com
Whether you want to break a sweat or just enjoy a picnic with the family, the Rooster Rock State Park cannot be underestimated. Along with incredible views of the Hood river, you also win some enchanting views of the gorge and vividly colored vegetation of the area. Hiking on this loop trail has you passing the clothing optional beach so you might want to take a check in case you are planning this one with children. April to November is the best time to hike this trail. What's more? You can even get your dog here but must be kept leashed.
Hike distance: 2.7 miles' round trip
Difficulty Level: Easy
Check Out: Adventure Activities in Oregon
12. Tillamook Head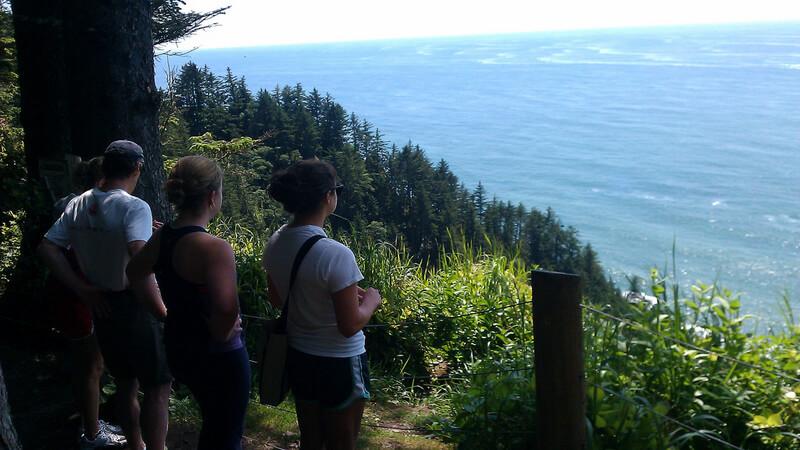 Image Source: OCVA/flickr.com
One of the best coastal hikes in Oregon, the Tillamook Head confers you not one but three opportunities of unbelievably beautiful coastal hikes. Climbing up the grounds of this mount, you can even venture to the Ecola State Park Trailhead or the Indian Beach Trailhead. You can even choose to take shelter in the camping facilities here, making for one night of absolute adventure. If the length is a little too overwhelming you can choose to hire a one-way shuttle. Some terrains can be sloppy, owing to the unpredictable rains here. Rain essentials are a must, in case you are attempting a full trek!
Hike distance: 10.60 miles' round trip
Difficulty Level: Moderate
Must Try: Best Hiking Trails Near San Diego
13. Macleay Park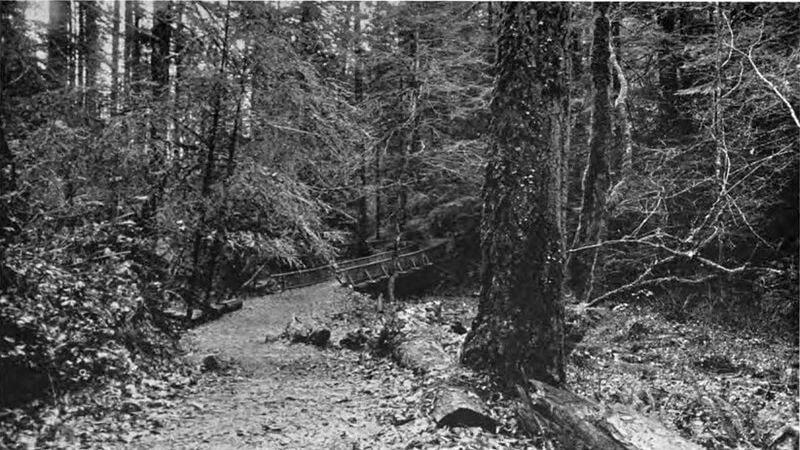 Image Source: Wikimedia Commons
If walking through wetlands and lush green foliage appeals to you then a Macleay Park hike is a must! This hike offers several activities, other than the most obvious one- hiking. Bird watching and dog walking are some of the most undertaken activities alongside the river in this park. Given the ease of this trail, the hike tends to get pretty crowded towards the evening. So, it is a good idea to go in the early mornings. You even get to see the Mt Hood from a distance. The Wildwood Trail in the park especially deserves a separate mention for its goodness! Complete with fragrant wood forests, a charming creek and a Victorian mansion the Wildwood Trail is nothing but beautiful.
Hike distance: 2.2 miles' round trip
Difficulty Level: Easy
14. Oaks Bottom Wildlife Refuge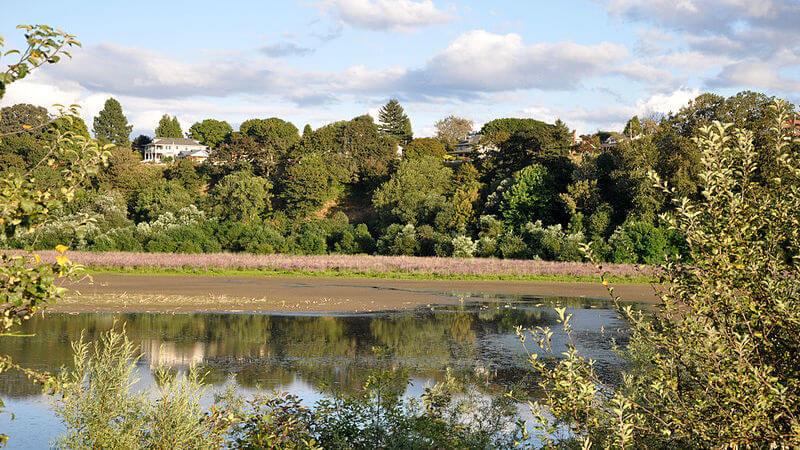 Image Source: Wikimedia Commons
A fabulous hike to bring children along for a good session of birdwatching this wildlife refuge is home to some exquisite species of birds. Plunging through a maze of maple and fir trees, the Oaks Bottom Wildlife Refuge hike keeps beckoning you of the fact that you are still within the urban boundaries of Portland owing to several administrative buildings inside it. Sprawling across a massive wetland expanse of 168-acres, this hike is hardly a hike, but a stroll for seasoned hikers. Look out for the implausibly stunning Great Blue Heron on this lightly trafficked loop trail!
Hike distance: 2.3 miles' round trip
Difficulty Level: Easy
15. Tryon Creek State Natural Area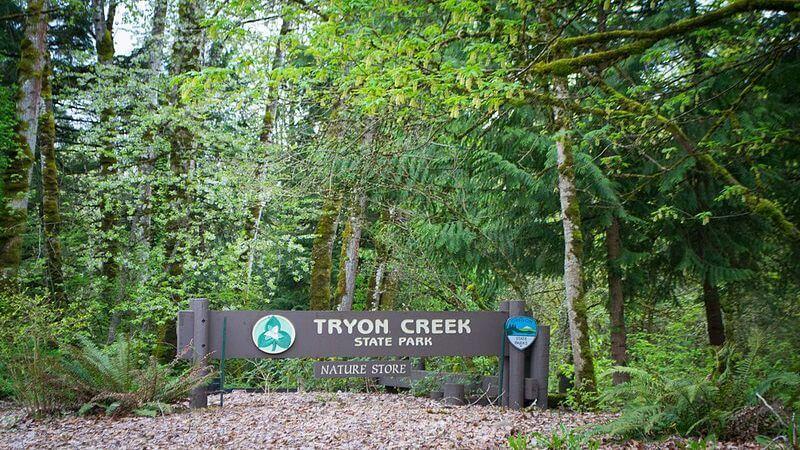 Image Source: Wikimedia Commons
One of the best ways to see the Tyron Creek State Natural area is to hike it up! While the park is popular for runners and even horse riding, hiking its sloppy slopes can be an unmatched adrenaline rush. The best part of this park is that it sprawls over not just Portland but even Lake Oswego, making it a one of its kind multi-state park. Wildflowers, exquisite species of birds and insects like the Pacific sideband snail are what you can look forward to while hiking through this area. Making the experience more informative are the guided tours available here.
Hike distance 5.7 miles' round trip
Difficulty Level: Moderate

Hiking through these trails is certain to bestow you with one sweet adventure, you will want to keep coming back to.