15 Top Hill Stations Near Delhi
* Disclosure: This post may contain affiliate links, which means we may receive a commission if you click a link and book something (there is never any extra cost to you for using these links).
The traffic of Delhi, the heat of Delhi, the crowd and the pollution of Delhi; who doesn't need a break! And no matter how big the list of things to do in Delhi itself is, a weekend break is something everyone looks forward to. And if Mumbai has its seat of beaches, Delhi has a stunning array of hill stations that can instantly uplift your mood and rejuvenate you.
Here's a list of top hill stations near Delhi that you should plan visit to, this summer vacation:
1. Kasol - Popular among trekkers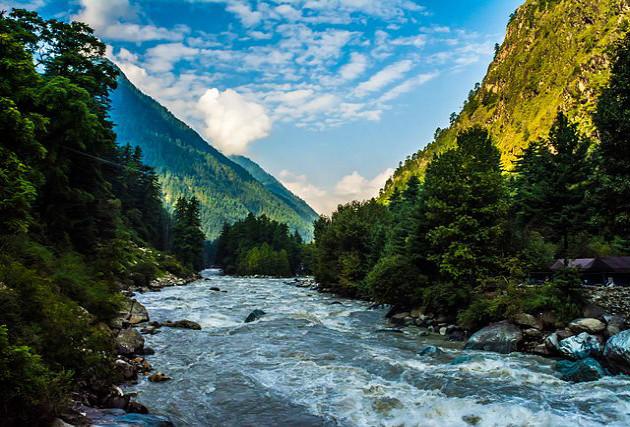 Image Source: Wikimedia Commons
Driving down 500 kilometres from Delhi might sound and even prove to be a pain, but not when you know the destination is Kasol! This hill station and small village in Himachal Pradesh is absolutely breath-taking, beautiful beyond mere words and everything an avid trekker can ever dream of. The presence of River Parvati flowing through its divine forests further enhances its pristine beauty. Availability of such wonderful trekking routes is one of the major reasons for Kasol's high popularity amongst visitors from both in and outside the country.
2. Lansdowne - mesmerizing hill station near Delhi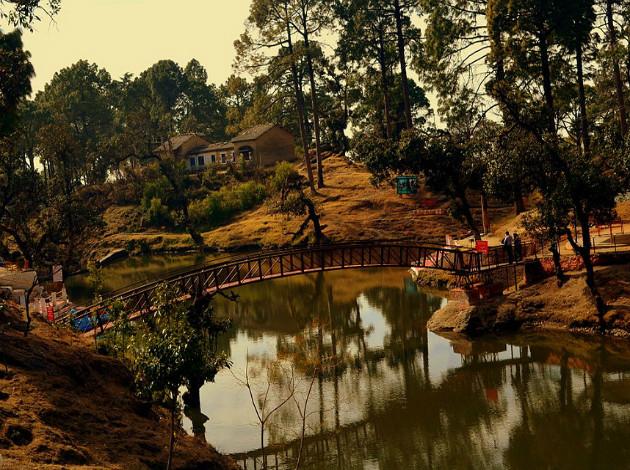 Image Source: Wikimedia Commons
The cantonment town of Lansdowne, located at an altitude of 1700 metres, is a hill station unlike any other in India. The station has retained its old-world charms and rich natural beauty. Lansdowne is located almost 250 kilometres from Delhi and is connected by a great network of roads. Activities like animal and bird watching, trekking, boating and sightseeing of famous local spots like Tip & Top View Point, Garhwal Rifles regimental museum and Bhim Pakora are some of the most popular activities in this scenic Garhwal town.
Check Out : Best Resorts Near Delhi
3. Almora - For a peaceful vacation away from Delhi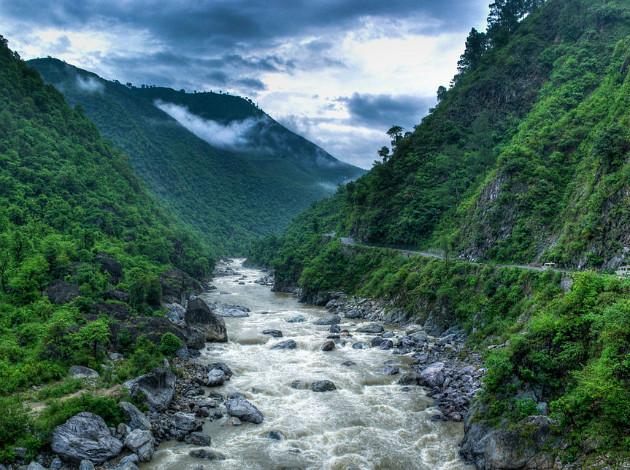 Image Source: Wikimedia Commons
The cantonment town and hill station Almora is considered to be an ancient settlement, as there are mentions about it in the Hindu epic Mahabharatha dating back to thousands of years. History aside, the station is stunning to sightsee, with its resplendent natural beauty and heavenly bliss attracting famous personalities from all parts of the globe to meditate in peace. There is something so peaceful about Almora that one can't help but feel spiritual. The drive is around 350 kilometres from Delhi and totally worth it!
4. Dalhousie - The most visited hill station in India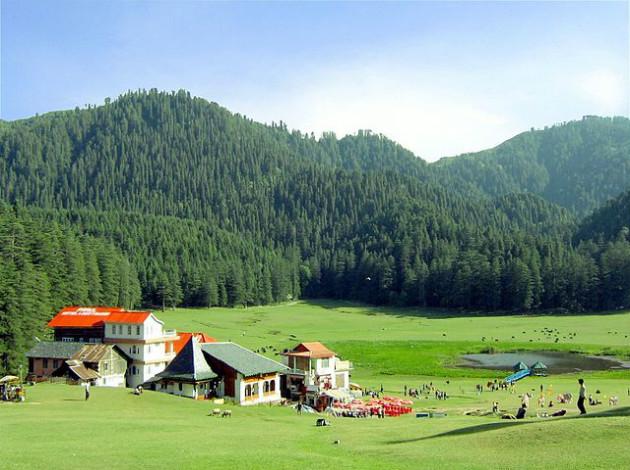 Image Source: Wikimedia Commons
Dalhousie is probably one of the fanciest hill stations of Himachal Pradesh, owing to its location around the scenic hills and mountain ranges of Himalayas. The culture and architecture here is an interesting mixture of ancient Hindu, colonial and Tibetan, which is clearly visible in the buildings and practises of the people. This beautiful hill station is located 565 kilometres from Delhi but a great roadways system allows easy and fast access. Also, you can drive around to nearby areas like Khajjiar for even scenic landscapes!
5. Auli - Must visit for the Snowfall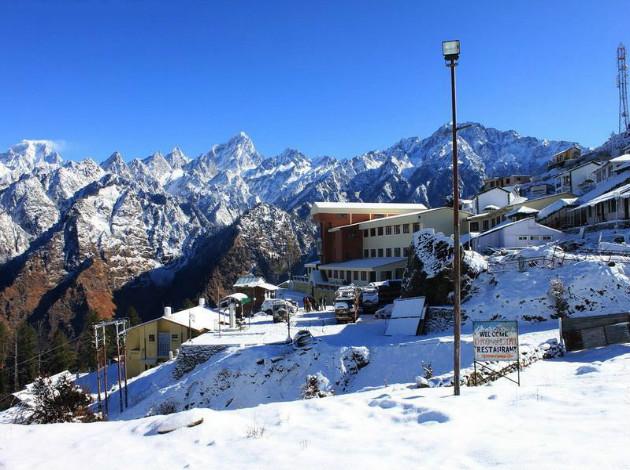 Image Source: Wikimedia Commons
Located at an altitude of 3049 metres, the small town of Auli enjoys its reputation as a popular ski destination in the state of Uttarakhand. The hill station is unbelievably beautiful with lush green forests of oak trees, a breath-taking view of the Himalayas and fresh snow in the winters perfect for all kinds of skiers. Other tourist attractions like a chairlift, cable car and several trek routes are also present. The drive from Delhi till Auli will be just short of 400 kilometres.
6. Parwanoo -
Take a cable car ride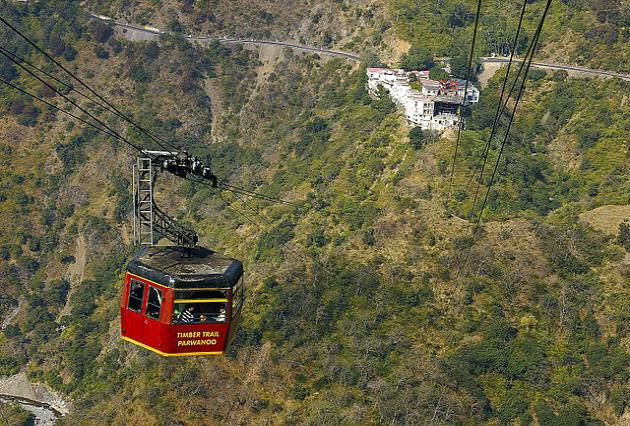 Image Source: Wikimedia Commons
Though not located at a very high altitude like its other sister hill stations, Parwanoo makes it totally worth the 270 kilometre drive from Delhi with its enchanting sightseeing points, untouched natural beauty and a several other fascinating attractions. There is a cable car which offers mesmerizing views of the whole hill station, the country's largest fruit processing unit, Gurkha fort and many historical temples as well.
7. Kanatal - Uttarakhand's Quiet Hilly Town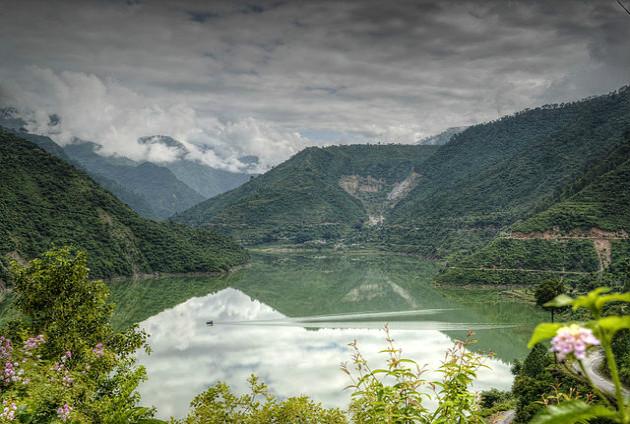 Image Source: Wikimedia Commons
Though it is located quite close to Dehradun, the hill station of Kanatal is relatively lesser known when you compare it to other famous ones in Uttarakhand, so you can enjoy and explore without worrying about a lot of crowd everywhere. Kanatal is located at a distance of just a little more than 300 kilometres from Delhi, and because of its high altitude 2590 metres can be very cold in the winters. The Surkunda Devi temple is a major attraction and also the highest point in Kanatal, apart from the lush green forests and scenic valleys all around.
8. Kausani - Lesser Known place near Delhi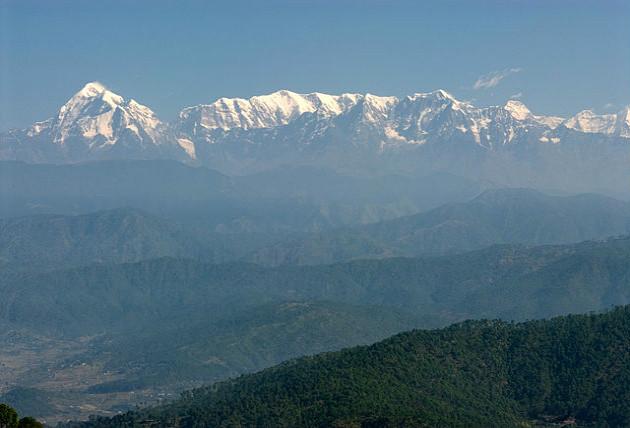 Image Source: Wikimedia Commons
Simply travel 400 kilometres from Delhi and reach a place so surreal that you'll have to pinch yourself to believe you aren't dreaming! Standing at a height of 1890 metres, Kausani provides spectacular views of various Himalayan summits, has awesome treks for those who wish to explore the scenic terrain and a few ashrams for those in search of tranquil peace. Being lesser-known, Kausani hasn't been modernized much and still has all the signs of a classic rural settlement waiting to be explored.
9. Manali - The Hippie Destination of India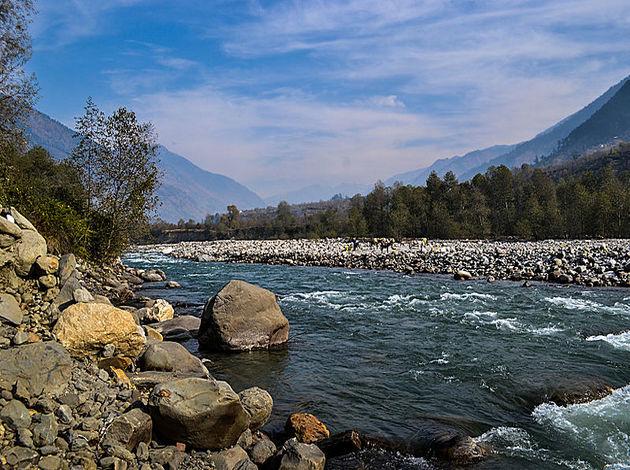 Image Source: Wikimedia Commons
This pristine paradise is located at a distance of around 570 kilometres from Delhi and proves to be one of the best hill stations in India. Ideal to visit in summer, the soulful waters of Beas River, the mesmerising Himalayas showered with snow and tons of adventure activities in the scenic background make Manali a perfect hill station to plan a trip from Delhi. You can hop on a flight to Kullu which is the nearest airport to Manali or take a road trip here, the drive is extremely picturesque.
Apart from nature excursions; trekking, climbing, mountain biking, canyoning, paragliding, rafting and skiing are some popular things to do in Manali. Also, it is a great hill station near Delhi for honeymooners and a well known hippie destination in India.
10. Shimla - Most
Visited Hill Station in Himachal Pradesh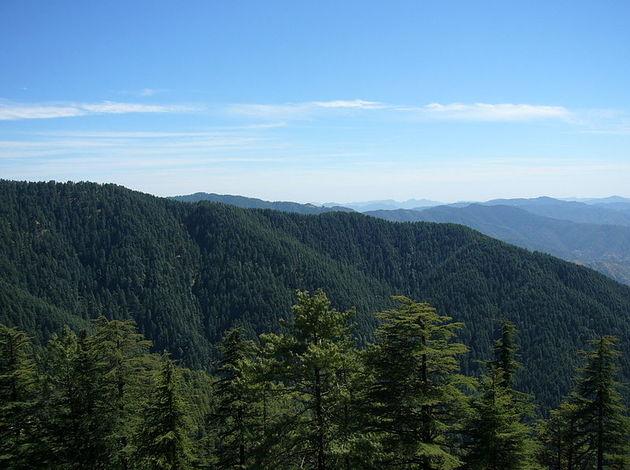 Image Source: Wikipedia.com
You would never imagine that a road trip of around 430 kilometres from Delhi could transfer to a world of unmatched gorgeousness. Ideal to visit in the months of April to June, Shimla is a bounty of nature. Popular activities in Shimla include nature trails, walking around its colourful Mall road and the Ridge area, bird watching at Himalayan Bird Park, hiking to its seven hills and exploring the colonial buildings of the place.
Have you explored these weekend getaways from Delhi?
11. Mcleod Ganj - Great Place For Hiking Near Delhi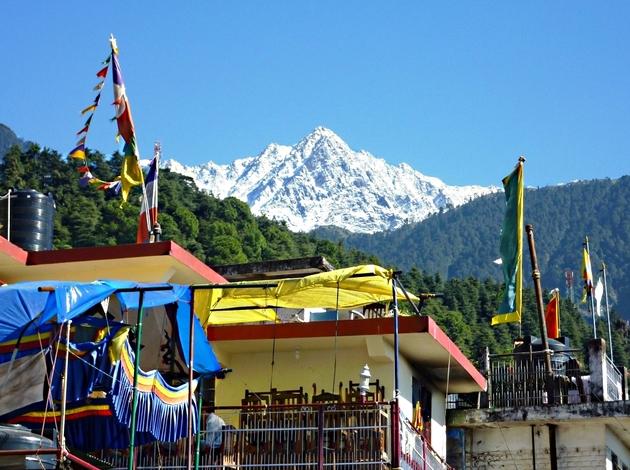 Image Source: Wikimedia Commons
A touch of tranquillity, a splash of nature and a shower of spirituality, Mcleod Ganj can transform your soul on your very first visit. Home of His Holiness Dalai Lama, Mcleod Ganj is spirituality pressed into a stunning hill station. Ideal to visit between the months of March and June, Mcleod Ganj has great hiking trails and opportunities to learn and practice Yoga. Indeed a perfect hill station near Delhi for a spiritual sojourn!
Plan a trip to these hill stations around Delhi with Triphobo
12. Mussoorie - Ideal Summer Getaway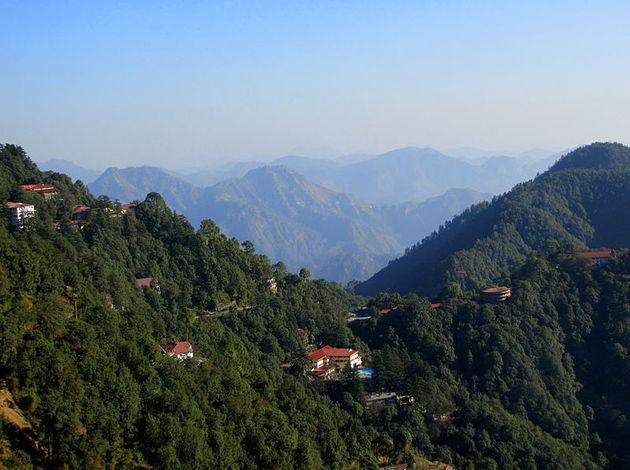 Image Source: Wikimedia Commons
A dreamland in its own right, Mussoorie is a magical destination in the Garhwal range of Himalayas and is known for its outstanding flora and fauna and picture-perfect views of the Doon valley and Shiwalik ranges. At a distance of around 290 kilometres from Delhi, Mussoorie is a great place for those who love spending time in the lap of nature. Although the best time to visit Mussoorie is September to November when its flora is in full bloom, summers are pleasant here.
Go boating in Mussoorie Lake, hike up to Lal Tibba and splash in its waterfalls, Mussoorie is one of the best hill stations near Delhi that deserve a visit!
13. Nainital - Most Iconic Hill Station Near Delhi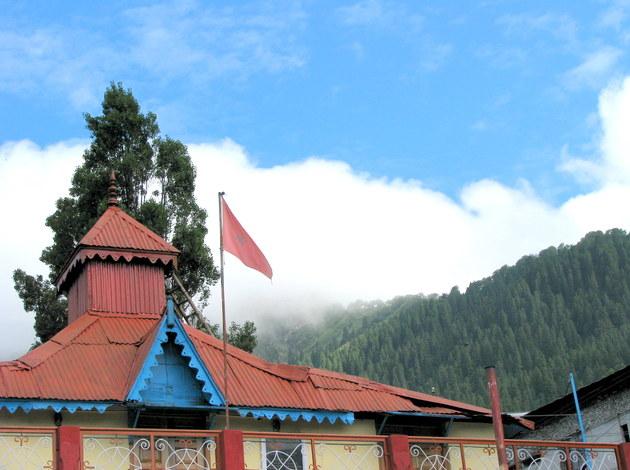 Image Source: Wikimedia Commons
Flanked by Kumaon hills, Nainital is a tourist place near Delhi popular for its Naini Lake and striking landscape that will usher in the mood of relaxation. Surrounded with many tales and fables, there's one thing undoubtedly true about the place-its magnetic and flawless beauty. Just 300 kilometres away from Delhi, this pride of Uttarakhand is ideal for a nature escape!
Boating, hiking and wildlife excursion are some top activities to do here, of course if you find time from gazing at the stupendous panorama it presents.
14. Ranikhet - Another Uttarakhand Jewel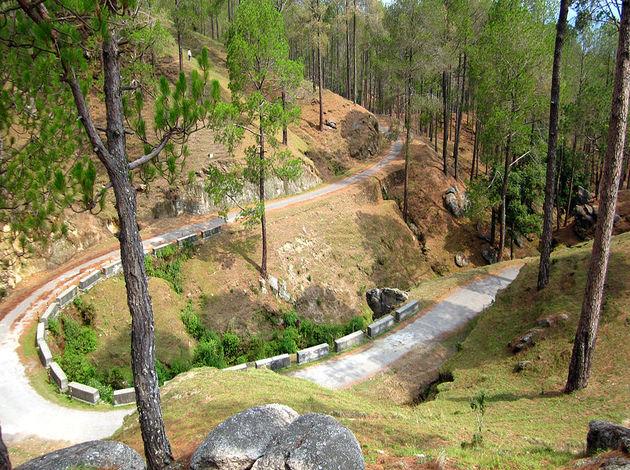 Image Source: Wikipedia
Another beauty that Uttarakhand can't stop flaunting; Ranikhet is one place that is enveloped with historical romance that can give Goosebumps centuries later! Set at a distance of 350 kilometres from Delhi, this Queen's Meadow is a great hill station for honeymoon or a place for quaint vacation from Delhi. The weather in summer is perfect for visiting Ranikhet. The best thing to do in Ranikhet is lazing around, admiring the serene nature and walking around its apple orchards.
Here are other popular honeymoon destinations in India
15. Kasauli - Best Escape from Summer Heat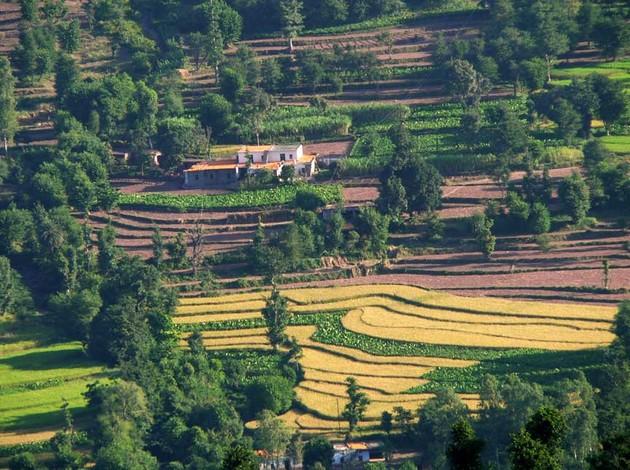 Image Source: flickr/kkoshv
This prettiness in the state of Himachal Pradesh is more than just a hill station, it's a melody. At a distance of around 310 kilometres from Delhi, this gorgeousness is known for its simplicity! Developed by the British as a hill station, the best time to visit Kasauli is March to June. Walk around the town, hike up to the Manki point and binge on the local cuisine, this is one hill station around Delhi that you just can't get enough of!
So start planning for your summer vacation and tell us in comments which are the other hill stations close to delhi that you want to go to.