Best Hippie Destinations in India!
UPDATED Aug 23, 2018
184.0K Views
"The hippies wanted peace and love. We wanted Ferraris, blondes and switchblades."
― Alice Cooper

Source : photo
Once simply a movement in the 60s, the hippie culture has grown out of those bounds today. Wanting to simply being the way you are or most importantly craving for peace and love at all times is perhaps the result of you being a hippie in closet. Who does not want a life free of worries, a wandering soul, exploring and learning lessons of life on your own terms, not giving a damn about the world? The fact that they are only associated with music and drugs is just a picture painted by narrow minded individuals who refuse to see the magic of free spiritedness.
But, the truth is that they are a lot more than that and they do not care about what you have to say. For them the world is their canvas where they would want to leave their footprints of love and peace not caring about what factors of the society are stepping in with them as well. No doubt, they are the happiest people- there is literally nothing to bind them to societal confines. Here is list of the best of hippie destinations in India that would get you becoming a part of the culture that perhaps the whole world should embrace:
1) Manali - For the hippie lost in trance

Source : cape of good films
Remember Manali Trance? The song that did not get out of your head for the longest time. Well, it was a perfect description of the scenario in Manali. The sheer beauty and rhythm in the air of the place takes you into a trance which is distinctly associated only with Manali. The cafes are the main hide-outs of this place which are constantly flocked by hippies! The thing with hippies is that, they make their own bubble wherever they go. The best part about Manali is that it fits in perfectly in the whole image of that mental bubble. It provides you the perfect setting and that is why, all you really need for Manali to enjoy a hippie-sh experience is a free attitude and the wish to explore yourself completely! Also, the substances encouraging you for that sort of a lifestyle are found here in plenty.
2) Kodaikanal - For mushroom lovers!

Source : Photo by Challiyan /CC BY SA 2.5
The princess of hills is known for it's highs and hippies. The most sought after destination for shrooms in the country, Kodaikanal is a perfect destination to lose yourself in. It is an amazing destination to find a lot of people who are living in the moment- trying to understand facts that are generally not known to the being. Kodaikanal for one has a lot of faces to it - it is a perfect destination for a nature lover, a completely calm and serene environment for people who need it at the time and most importantly a haven for people who want to completely be lost in their own spiritual side or hippie traits without being a part of the mundane world around!
Also read about Hippie destinations around the world
3) Malana - The land of the rebellious hippies!

Source : photo by Travelling Slacker / CC BY 2.0
Malana has so many interesting facts associated with it, but the hashish here has gained the maximum popularity. There are a lot more distinctive qualities of Malana, apart from the high end quality of the substance it produces. For one, hippie culture here is not the usual conventional kinds. You do not really have people who are wearing long gowns sort of apparels, being lost in their own worlds. The hippie culture here is in the veins and blood of the locals itself. The Malana locals here are hippies in their own right. Apart from calling themselves the descendants of Alexander the Great, their governing style, their controlled abuse of substances is something which will always make them stand out in the very interesting hippie culture that they have!
4 ) Hampi - The land of historic hippies!

Source : Photo by Apadegal / CC BY SA 3.0
Hampi's charm lies in the rich history that it owns. In a way, hippies really connect to this place because of the way it is. The relatability factor comes in because the only common trait they share with the place is looking for meaning in ruins. Hippie life, with no care in the world, submerging into history of a place and becoming a part of it is perhaps one of the most inviting and enriching things to do in life. Hampi literally translates to champion and the mentality of the people here can be best described as that as well. Once, one of the richest cities in the world today possesses the same richness in its air, architecture and most importantly in being a spot for the free-minded individuals that today's world badly needs. There is a reason why Hampi is known as the island of hippies in India.
Also read : Hampi- Unreal and Bewitching Hippie Destination of India
5) Pushkar - The land of cultural hippies!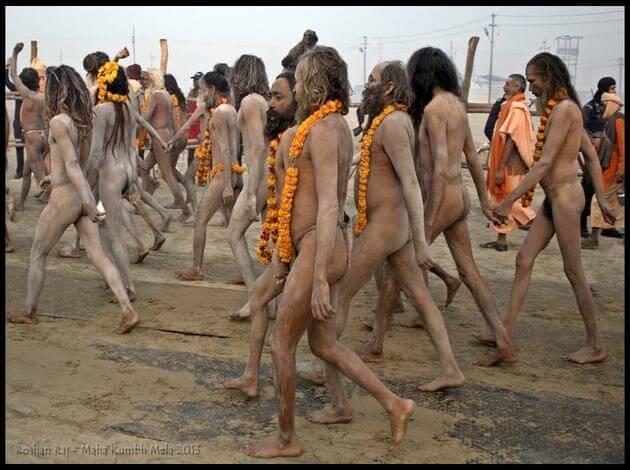 Source : Photo by Roshan Travel Photography
Pushkar again can be described as an amalgamation of culture and complete fun and frolic. People here embrace their culture with as much ease as they embrace free spiritedness. The Pushkar mela sees a lot of hippies from different cultures coming mingling in the colors of Rajasthan in a manner that each color stands out. Right from the Nagas to the locals with their substance abuse encourage a lifestyle that is all about embracing life with open arms. In midst of all the fun and bright colors of Rajasthan, you are sure to find a lifestyle that is going to be a cultural treat and mental retreat for you!
6) Varkala - The land of quaintness!

Source : photo by Vineet Radhakrishnan / (CC BY-NC-ND 2.0)
Varkala is the perfect representation of "beauty in simplicity". Every nook and corner here has so much to offer to you. A destination, frequented by hippies - Varkala comes as one of the sought after destinations for tourism even in India. Even so, it offers you a privacy unparalleled in the whole of Kerala. Your mind canvas which wants to paint its own pictures can be very beautifully splashed across with the colors of golden sands, blue waters and most importantly a dominant part of natural greens. A complete hippie haven for hippies that want their own trance to live in, their own world to explore and simply want moments of peace in the lap of nature.
7) Almora - For the religious hippie!

Source : photo by Evenmadderjon
Almora is a town offering you all that God's shadow that you need to give to bless the hippie side in you. The chain of temples here are all you need to meet that thin line between spirituality and religion. Almora with all it's beauty welcomes you with it's open arms to become a part of the many free spirited spots that it owns. The most frequented by hippies is definitely the Crank's Ridge which is about 7 kilometers north of Almora and is a sure shot haven for people looking for a place to explore themselves in the overture of nature. With Almora people being very open and accommodating as well, Almora is a perfect place for the hippie soul!
8) Gokarna - Perfect for the adventurous hippie!

Gokarna is not only famous for the rafting it offers but also for the free air it gives you to breathe in. Away from judgemental eyes, you can literally do whatever you want to in the confines of Gokarna. While the nature is going to be giving your soul the freedom you are looking for, the adventure is going to be giving you the adrenaline rush to get you moving. While hippies here are lost in the greens of all kinds, the water comes as a soothing contrast to provide them with the perfect picture that they came to paint here in the first place. For the hippie soul that is looking for adventures of life and the usual kinds too, Gokarna is the perfect place to be at!
Check out these awesome tours and activities if you are into adventure.
9 ) Kasol - For the hippie who wants to get lost in nature!

Source : photo by cafe valentine / CC0
Each street of Kasol is filled with a different experience for you. On top of that the nature offers the perfect backdrop and that is why this place is a perfect destination for hippies in the hills. In cold weathers, your soul would still be getting the warmth of nature. The peace and tranquility that a hippie is always in search for, is available in abundance. The entire Himachal is a hippie haven, with the locals welcoming you and offering you a part of their lifestyle- Kasol and Manali will always have a completely different spot in the minds of free wanderers that are always looking at exploring themselves while exploring new places.
You might want to live like a hippie but not stay like one. Check out these best hotel deals for your next trip.
10) Tosh - For the hippie who likes to mix music with ash!

Tosh for many reasons is one of the most underestimated destinations to visit in India. One of the most famous hippie towns in India, it is a completely amazing way to explore the hippie culture that has not fallen in the eyes of commercial tourism. All the other places are known to be the best of hippie places in India, but Tosh has maintained its virginity for the longest time. Slowly catching up as a tourist destination, this place has the two most basic needs of a hippie soul- music and substances. Tosh offers you a rhythm of its own, which is in a way a distinct feature of hippie towns in India. So if you actually want to find pure music of the soul mixed with the highness and hallucinations of a better world- a more peaceful world, then Tosh is sure to provide you all of that.
Explore the world in a planned manner, check out this awesome trip planner.
11) Goa - Well, the IT destination!

Goa has somehow surpassed the phase of being simply a hippie destination. When it comes to tourism in India, Goa just tops every list present everywhere. Be it for a honeymoon destination, be it for a simple family vacation, be it for a roadtrip with your friends, be it for a wild night- Goa seems to be the first option to pop up in one's head. With drugs selling like pancakes on the beaches, there is a reason why the walk on Goa's beach is the walk of freedom. For the longest time, Goa was known as a hippie destination because of the number of foreigners that have frequented the place in the past. The definition of hippies in minds of the Indians has infact, derived from scantily clad, lost in their own world, messy haired individuals whom most of them have witnessed on the Goa beaches.
12) Pondicherry - For the townie hippie!

Source : Photo by Walti Goehner / CC0
Pondicherry has nothing of the conventional indian culture in it. It has various nationalities that have come to be a part of the town and its identity. A town that is defined by the way various cultures are, the hippie culture has not been far enough to make its place here either. Hippies here though are more of wanderers and explorers, in search of a old-style town where urban life is not very distant but also not very close. That is why in my mind and experience, Pondicherry has been and always will be a completely different sort of a town which offers you so much from each and every culture that has ever touched the nooks of Pondicherry.
13) Pune - For the spiritual hippie!

Source : Photo
Pune has a complete contrast of the two- culture and free spiritedness. The area of Koregaon Park is known to have invited hippies from all over the world. Trust me, the air of that particular vicinity is so different from the rest of the city that you feel you have come to an area full of hippie streets. The real credit goes to Osho Ashram that has long been helping people find the lost part of their souls. With various nationals and foreigners flocking in from every corner of the World every year, Osho Ashram has long gained the reputation of being the perfect spot for hippies in the country. With confinement to spaces and just being with yourself, trying to connect to the spiritual power overlooking you is why Osho Ashram has become one of the best hippie destinations in India.
14 ) Tawang - For the hippie who loves to explore!

Source : Photo by Vikramjit Kakati / CC BY SA 4.0
Tawang or the whole of Arunachal and Sikkim, with the consent of the locals has established themselves as the go-to destinations for hippies who want to basically sleep, breathe, eat and walk nature. This place has become of the best hippie towns in India. With every nook and corner of the city offering you a completely different experience, an experience that you would remember forever, there is no reason why an explorer would not go here to explore themselves as well as the distinct streets of North east India. There is so much potential in that side of the country, but it hardly is tapped. Even in terms of tourism, there are so many places that need to be explored apart from the usual destinations that we go to. The real exploration of a soul is right here in the quaint quiet corners of North east India, where hippies are doing the same in plenty.
15) Ziro Valley - For the musical hippie!

Source : photo by mwitt1337 / CC0
Ziro Valley has established itself as a complete hippie town in India. With one of the best music festivals in the country, this place has the biggest thing to offer to you and that is the cutting off from the rest of the world. With hardly any network ever, your virtual life- in a way your made up life leaves you long behind when Ziro completely and truly embraces you. The Ziro music festivals invites music lovers and enthusiasts from all over the country to get lost in music with the help of substances that keep you away from the problems of the world for good. This is one place where you would see people coming in from different parts of the country and mingling in so well with each other and they have their love for music to thank for that.
This was our favorite list of destinations to lead a life without caring about anybody, tell us about yours!
* Some images are used for representational purposes.
Facebook Cover: Photo