Cycling from Mumbai to Goa - A Story of an 'Odd' Traveler
* Disclosure: This post may contain affiliate links, which means we may receive a commission if you click a link and book something (there is never any extra cost to you for using these links).
Have you ever thought of quitting a promising job at the peak of your career for the sake of your interest? Sounds impossible! However, someone has actually given up his job to follow his instinct. Meet Sachin Bhandary, a budding traveler who quit his PR job for a year and made travelling his mission to pursue his interests. While traveling he realized that this is an incredible opportunity to learn something new. This influenced him to come up with the idea of launching 'The Odd Traveller' on his 32nd birthday. On this platform, he shares some of his offbeat travel experiences. His mission behind the launching of this platform is to make people realize that through traveling they can pursue their long wished interests in life.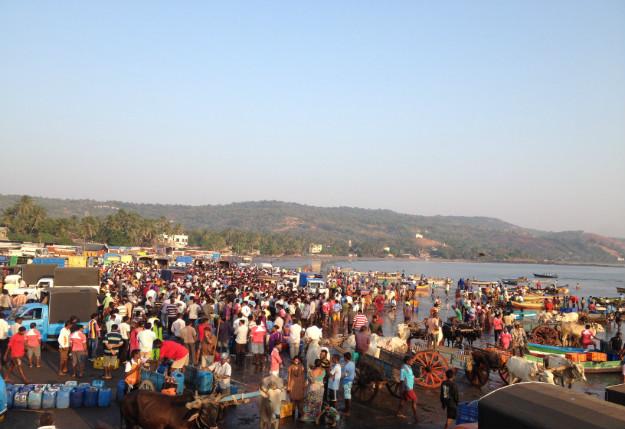 Seeing New Places
At present, he is somewhere in America facing unique challenges in order to learn something new. Along with writing in 'The Odd Traveller' he is a guest contributor in many other well-known travel related portals. He is also a popular public speaker where he loves to share his mind-blowing travel experiences that have brought a remarkable change in his life.
His ichy feet have tempted him to take many 'odd' trips around the world. For instance, in one of his blogs he has shared his experience in travelling on 25 long distance trains to take a trip around India for 25 days.
In January 2015, his travel soul influenced him to take the challenge of traveling from Mumbai to Goa on bicycle. Yes, you read it right. He cycled for 650 kilometers to prepare himself for a humongous journey called 'The 12 Project'. He started his journey in December, 2014.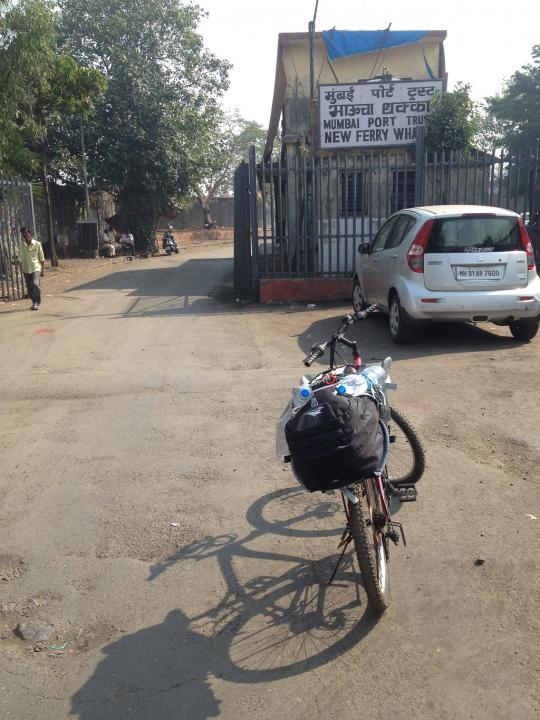 Starting With The Journey
When he was asked as how the experience was, he said that the heat was unbearable during daytime. He could hardly pedal 20 kilometers in 2 hours. Such unbearable heat during December afternoon was unexpected. By the 9th day of his trip, he almost gave up. However, his enthusiasm of learning more about the western coast influenced him to pedal for the further journey.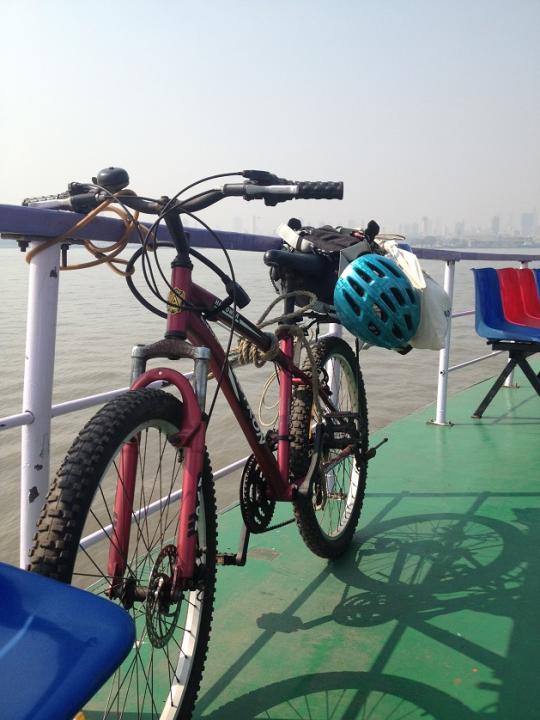 The Scorching Heat
During this journey, he came across various fascinating instances. One of them he shared with us is about the 205 Maharashtrians families living in Korlai which is 30 kilometers south of Alibag(a beach town on the western coast of India). The 'special' thing about this community is these people speak Creole language. It's a mixture of Marathi and Portuguese. The unique part of this story is you won't get to hear this language anywhere around the world.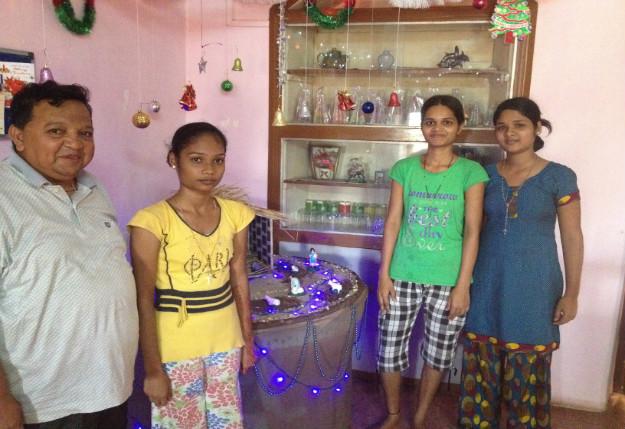 Portuguese speaking Maharashtrians of Korlai
Coming back to his adventurous story, his next story is about the inhabitants of Velas who have turned into conservationists. Velas is a small village lying along the Maharashtrian coast. In the past decade, this village has witnessed an unusual transformation. According to the stories revolving around the village, the villagers of Velas used to steal eggs of Olive Ridley Turtles from the beach if the birds or foxes hadn't found them. However, with time these same people have turned into conservationists, guarding the turtle eggs in the hatchery. All credit goes to the nature buffs whose frequent visit has advanced the economy of the village and made the villagers realize that the primary attraction of the place is turtles.
Enjoying Boat Ride
His list of unusual stories doesn't end here. During his journey, he spent a night at Aravali temple, located in Sindhurdurg district of Maharashtra.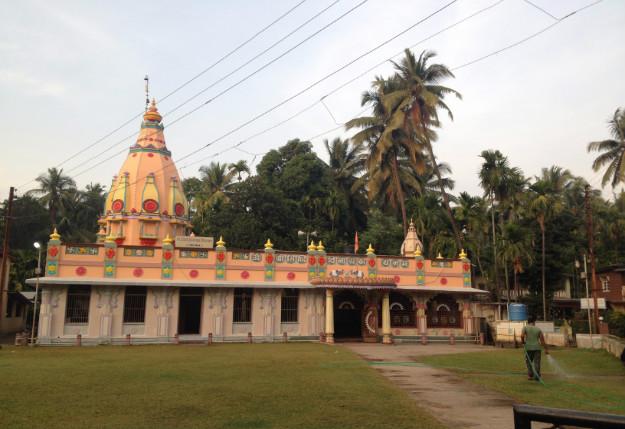 Aravali Temple
What amazed him over here is the rituals. In this temple, the devotees offer their chappals (sandals made of leather) to the god, Vetoba (incarnation of Lord Shiva). Sounds crazy, right? Till date, the temple authorities have preserved all the chappals that have been offered for the last 350 years. The story doesn't end here. Every evening at seven, the nagadas (drums) are played by none other than the muslims of the village to pay respect to the god. What better way to see the true secularism of India.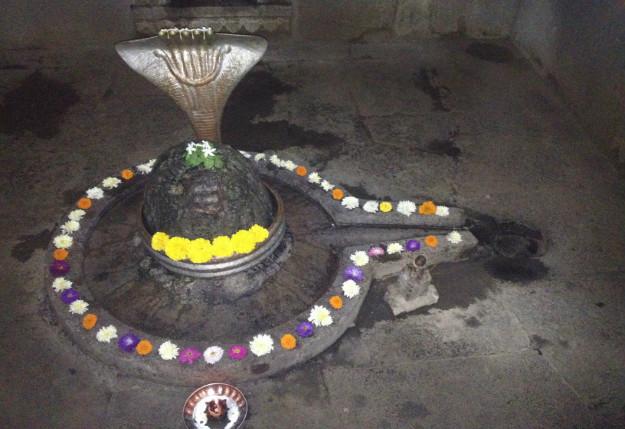 Shiv Linga
Throughout this enduring journey, Sachin made many new friends which changed his notion about people. He spent a night on a beach with a stranger, shared tent and ended up building an eternal friendship with him. After experiencing a lot of frustrating and fascinating moments, he reached his final destination, which was Panjim church.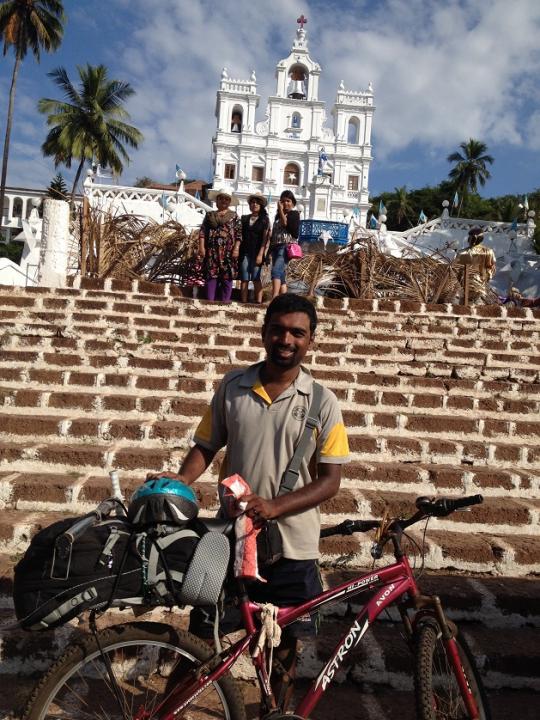 Sachin and his 'buddy'at Panjim Church
He feels that every 'odd' trip has its own reward. His solo cycling trip of 12 days, 650 kilometers and countless milestones had a BIG one too. A chilled King's beer in Goa!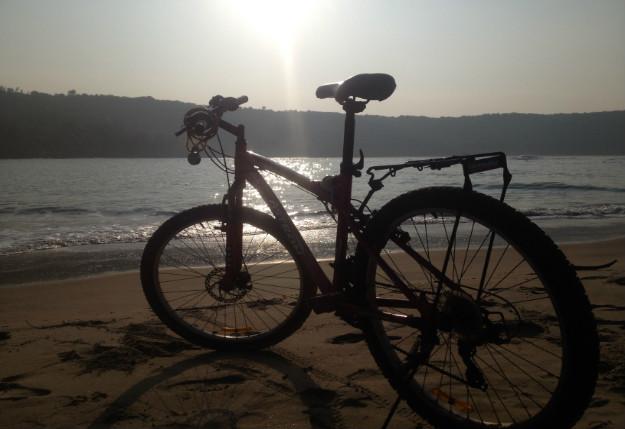 Enjoying The Sun
So, out there who are still thinking whether they should take such a risk in their life or not, it's better you take the decision soon. Otherwise, you are going to miss such charming memories which Sachin has otherwise has enjoyed.
Checkout his travelogues @ Facebook, Twitter, Instagram and Youtube
You may also like:
9 Images That Prove India Is The Next Big Cycling Destination!