This Spanish Fiesta Will Make You Pack and Travel
* Disclosure: This post may contain affiliate links, which means we may receive a commission if you click a link and book something (there is never any extra cost to you for using these links).
What happens when two history buffs share an undying love for Europe? They pack their bags and tread to Spain, the third country in the world with the most World Heritage Sites. This couple shares an unconventional idea of a vacation. They don't mind compromising on sleep or walking a lot in order to explore more. Here's a firsthand account from Sanket himself on how he traversed Spain and urges you to do so once in your lifetime!
Trip Duration: 11 days
Placed covered: Madrid, Seville, Palma De Mallorca, Valencia, and Barcelona
Trip Cost: INR 1,10,000 per person
Here's Sanket's Detailed Day-wise Itinerary for Spain
Why Spain?
After tying the knot with my travel enthusiast/ wordsmith/ Europe zealot wife, I knew I had signed up for an adventure of a lifetime. Spain was our second trip to Europe (first was with our respective families) but first, with just the two of us. Owing to the fact that both of us are history buffs and Europe fans, Spain was an obvious choice after treading France and Italy in our previous trips.
When you are in Spain, there is just so much goodness to see and do that it is hard to want some time off! For one, it is abundant with UNESCO World Heritage Sites, secondly the country is very easy to be explored by yourself, once you have an itinerary in place. We opted for the official audio guides at most of the major monuments and they were really insightful.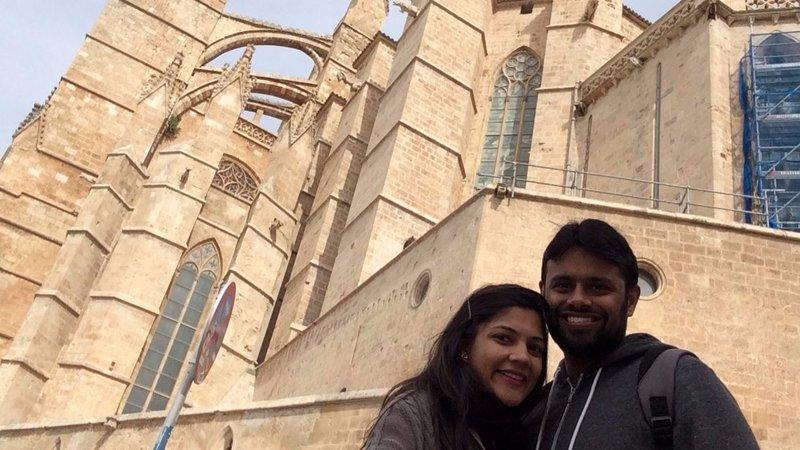 Speaking of our Spain itinerary, while doing some research I followed a friend's advice on checking out TripHobo for its smooth configuration delivering a great itinerary. To say the least, this is a one stop solution where not only did I create our eleven-day itinerary but also found some great places to stay in Spain owing to its collaboration with AirBnB and booking.com. I must mention how their mobile app came handy even while I was there exploring attractions.
Here is our Spain itinerary over a span of 11 days -
Day 1 and 2 - Madrid:
On Day 1 we reached Madrid, after flying down from Paris by a two-hour flight. We checked in at a hotel for which we found a great deal on booking.com, also integrated with TripHobo. After having an early dinner, we called it a day.
On Day 2, we began with the Paseo Del Prado an intensely cultural public space of the city. We then headed to the Museo Nacional Del Prado, one of the world's best art galleries, it took us about three hours here. Then for some shopping for the Mrs. Gran Via was our next stop. In the same day, we had enough time to explore the attractions of Alcala Gate and Temple of Debod among more.
Day 3 - Seville: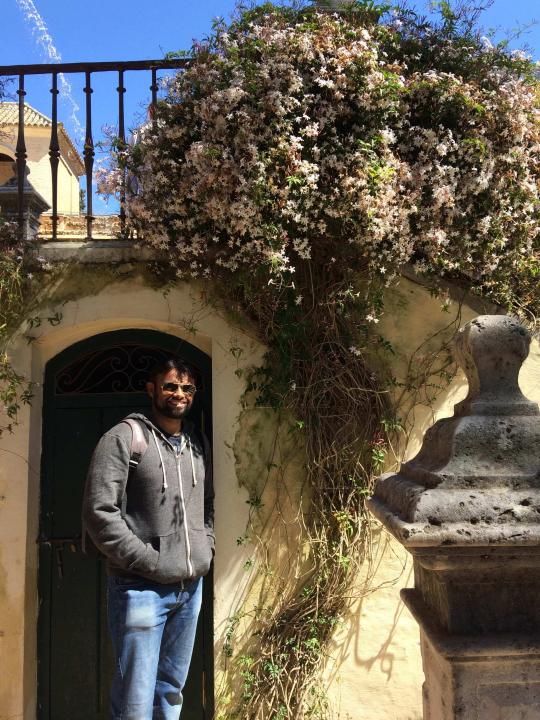 On Day 3, we boarded a train for the two-and-a-half-hour journey from Madrid to Seville. Seville was one city I was really looking forward to as I wanted to see the Alcazar Palace in Seville which was used in Game of thrones. This was the first attraction we saw here followed by the Seville Cathedral, Metropol Parasol and Plaza De Espana. The Seville Cathedral is a gorgeous Gothic cathedral that was created to display the city's wealth. The Metropol Parasol which is infamous for its tourist traps, displays intricate art and craftsmanship and an incredible wooden structure which may be the world's largest. And ultimately, we went to the Plaza De Espana which showcases Spain's technology and art.
Check out: What to see in Seville in 1 day
Day 4 and 5 - Palma De Mallorca: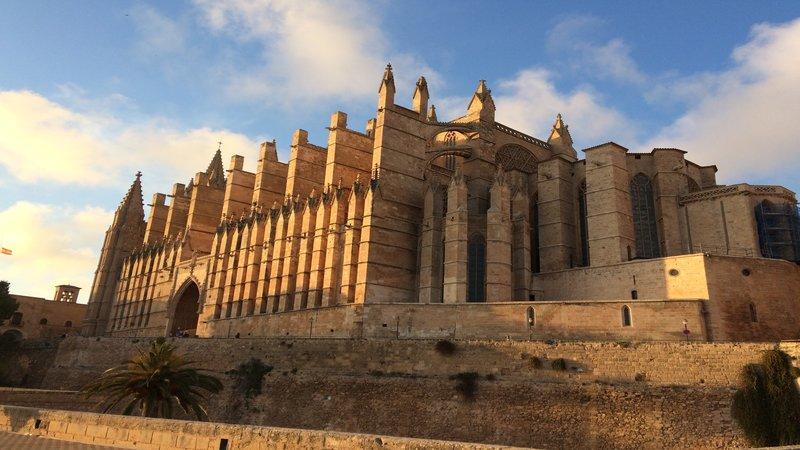 On Day 4 we took off to Palma De Mallorca (the capital of the island where Nadal lives!) by a one-hour-thirty-five-minutes-flight. We reached early and had more than half of the day which we utilized to see attractions of Passeig Des Born, Placa Major, and Parque Del Mar. The attractions in Palma De Mallorca lie within proximity of each other, hence it is a great idea to walk to these. Just take a bus to the city center from wherever you are staying and you're good to go. With the entire day to us we had ample time to visit the best attractions of Palma De Mallorca including Bellver Castle, and Llotja. In the evening, we decided to visit the fantastic Parque Del Mar once again.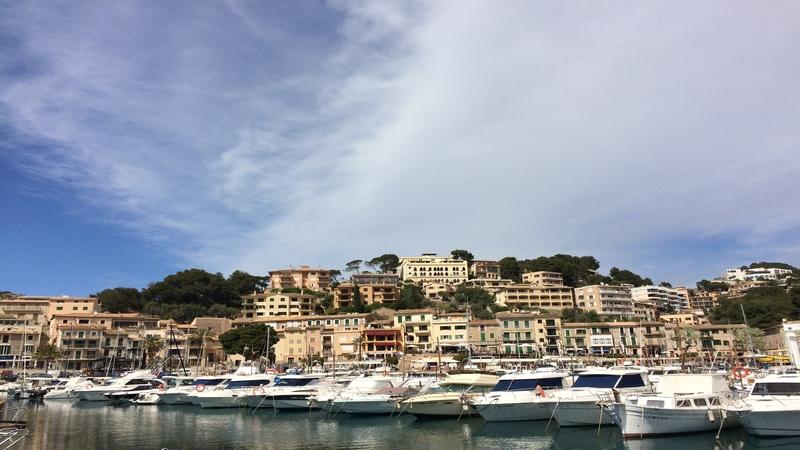 Day 5 in Spain, we took a quick glimpse of Mallorca's famous beach Playa De S'amarador before we took off to Valencia. A must-do thing while in Mallorca is to take a Soller wooden train ride- a vintage, wooden train taking your through the Spanish countryside, through lots of tunnels!
Day 6, 7 and 8 - Valencia: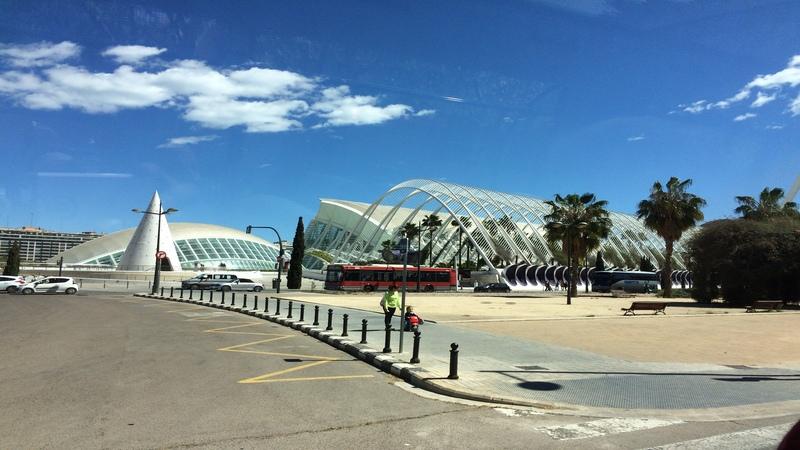 We reached Valencia towards the evening of our fifth day in the country. After checking in a quaint AirBnB selected by my wife, we hit the streets to bask in the essence of this beautiful city that has even inspired an Instagram filter! The gate, Torres De Serranos was the best choice to soak in the culture and history of Valencia.
On Day 7 we bounced to check out Valencia's most popular attractions Plaza Ayuntamiento and the Mercado Central among others. The rest of the attraction we saved for our eighth day. To unwind we tried some local restaurants and interacted with our AirBnB host, before calling it a day. I must mention such a warm host that she was who even cooked us a dinner one night!
On Day 8, we began with Oceanografic which was one of the highlights of our tour owing to the playful penguins present here. After that, we covered City of The Arts and Sciences and Toy Soldier Museum.
Day 9, 10 and 11 - Barcelona: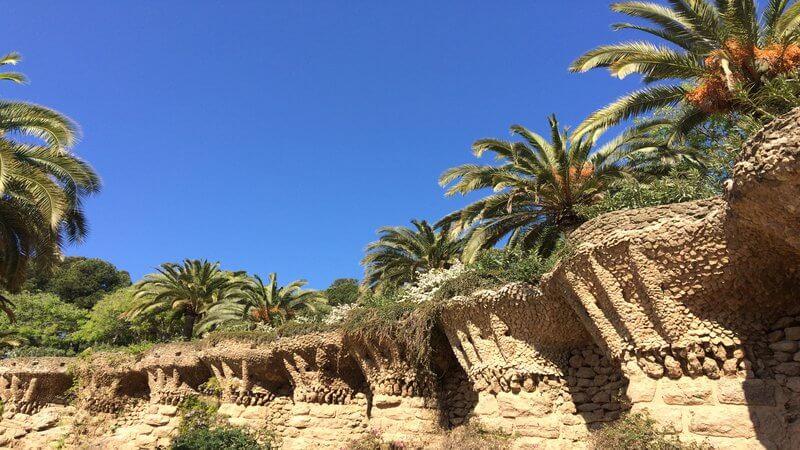 We bid adieu to Valencia and headed to Barcelona, our last destination in Spain. After a three hour forty-five minutes train journey we reached Barcelona at around noon and decided to rest. In the evening of our Day 9, we visited some interesting attractions like Placa De Catalunya.
On day 10, we were highly excited to see some of the most notable attractions of Barcelona including the grand Sagrada Familia, Park Guell, and Casa Mila all testimonies of Gaudi's terrific architecture. Nightlife in Barcelona is big and of course one cannot miss the indulging Spanish food in this capita, so it is a good idea to explore this aspect towards the end of the day.
On day 11, our last day in Spain, with a little bit of sorrow in our hearts we squeezed in the attractions of Ciutat Vella and Santa Maria Del Mar before taking off to Paris and then back home!
Plan your trip with TripHobo's Barcelona Trip Planner
Tips for the travelers:
Spain is a beautiful country to walk around. The cities' major attractions lie within close distance from each other.
For going one from city to another, different modes of transports are involved; trains and domestic airlines mostly. Thus, the best tip while traveling to Spain would certainly be to pack light.
To get around big cities, buy a city sightseeing bus card. This way not only you cover the important attractions of the city but also can get around easily.
Since my wife is vegetarian, we cooked a lot at our AirBnBs. This is a great way to save some bucks and you get home food! Carre Four was our favorite store when we wanted to fix in a quick and cheap meal.
Highlights:
Sagrada Familia's grandeur and Gaudi's stunning architecture
Watching penguins at Oceanographic museum, Valencia
Visiting Balearic Islands where Rafal Nadal comes from
Local Food and Eateries: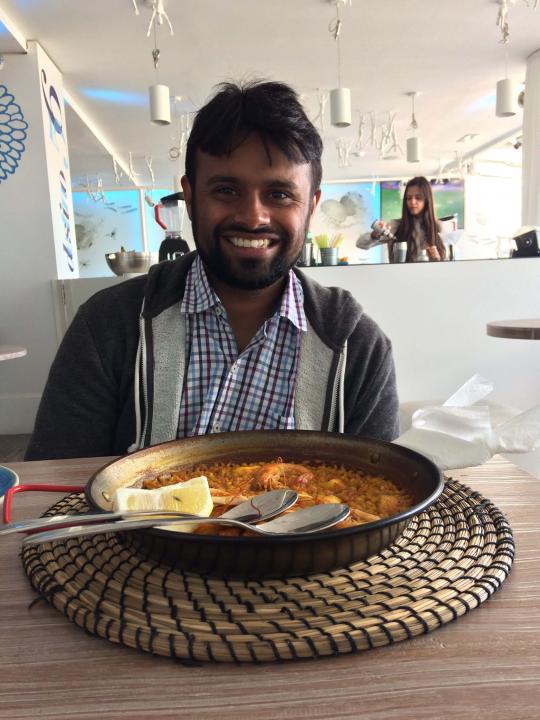 When in Spain, 100 Montaditos is a great place for cheap coffee, montaditos (mini sandwiches) and other food. You can find this practically at every corner in every city.
Freshly caught seafood, Patatas Bravas and Paella were the local dishes I loved.
As told to TripHobo travel expert by Sanket himself. If this does not urge you to travel, we don't know what will!
Also Check: Most Beautiful Villages in Spain