Best Places to Honeymoon Worldwide By Month
* Disclosure: This post may contain affiliate links, which means we may receive a commission if you click a link and book something (there is never any extra cost to you for using these links).
The beginning of a new phase of life, the cradle of love and the sacred temple of romance, Honeymoon states different definitions for various couples. This is one chapter that can't be relived anytime again in your whole life. The nascent love, desire to understand each other and an array of emotions are facets that make this phase a unique one in your life. So while you plan for this amazing spell of your life, we offer you a list of places that can become the ideal backdrop against the budding love during your honeymoon. A combination of perfect weather, location and time can add that dash of more romance to your love. Here are Best Places to Honeymoon Worldwide By Month
January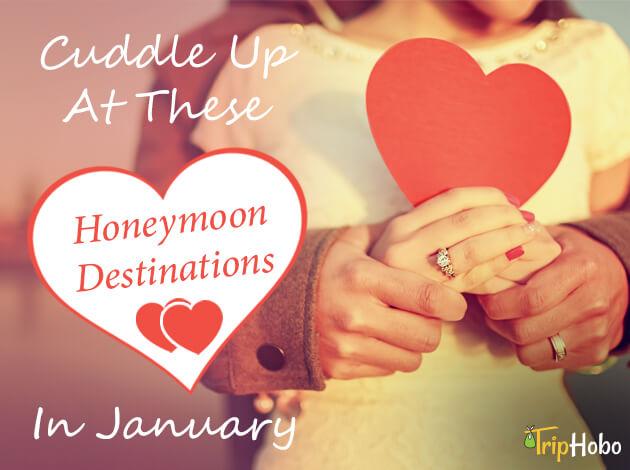 While most of the destinations in the world get wrapped up in chill, there are still some locations that offer a sun kissed landscape and shimmering waters for that breezy comfort. For the month of January, it is best to visit places like Italy, Greece and India where the sun acts benevolent and cozy enough for a mushy romance.
1. Venice - the eternal landscape of love
The sun kissed Mediterranean Venice is the best place for your honeymoon when the rest of the world especially Europe gets wrapped up in chill. From history to natural beauty, from interesting people to a lovely sunset, this city offers a dash of love in everything that it offers. It's for this reason, that the moniker "the city of love" fails to dissociate itself from this eternally beautiful city.
2. Mykonos - the Cycladic maze of romance
Quite popular with the newly weds, visiting Mykonos will make you have a brush with glamour and romance in every nook and corner. Apart from its scenic backdrop filled up with the dazzling waters, this city is also known for its party tradition and vibe. A typical image of Mykonos is a collage of cruise-ship crowds, posturing fashionistas, a traditional whitewashed Cycladic maze, and an authentic cubist charm.
3. Lisbon - the alleys of history and charm
From the narrow alleys of the Alfama district to the 12th-century Sé de Lisboa cathedral, from Castelo de So Jorge to a gorgeous view, this city has every trap to entice you with its history and local charm. Culture, literature and art breathe in this city, making it one of the coveted destinations for honeymoon.
The other cities that are best for honeymoon in January are: Maldives, Cape Town and Laos.
February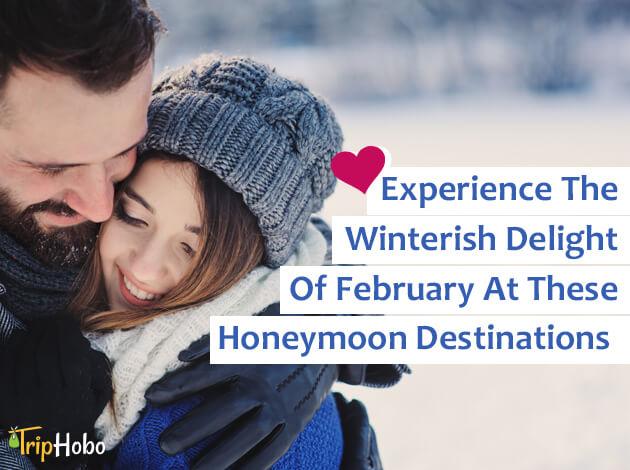 As the world still awaits for those warmer months to make an appearance and the winter resists to leave its presence, here are some of the honeymoon destinations that offer the best landscape in the month of February. From seaside to the most carnivalesque, these places will leave an indelible mark in your memory with dazed off and relaxed culture.
1. Bali - the truly exotic experience
As soon as the name of any romantic destination is mentioned, Bali comes across as the first choice. An ensemble of exotic culture with myriad of colours and temples that dot this landscape, Bali is the perfect honeymoon destination that graces the month of February.
2. Naples - the city of Sun and culture
Romance, passion and love ooze through the city of Naples in the sun kissed country of Italy. Situated on the Mediterranean Sea against a backdrop of Mt. Vesuvius and clear blue skies, Naples is the perfect location for a romantic, once in a lifetime experience. Known as the soul of Italy, Naples is vibrant, captivating, and full of an irresistible passion.
3. Rio De Janeiro - the Carnival capital of the world
This is one glamorous destination for couples that allures lovers from across the world. While this destination is quite a favourite for the Europeans, it still misses its share of popularity with Asian countries for travelling. Anyone visiting Rio will not be able to resist its carnivalesque tradition that runs in its culture any time of the year.
Other destinations that you can visit in the month of February for your honeymoon are: Puerto Rico, Chile and Florida.
March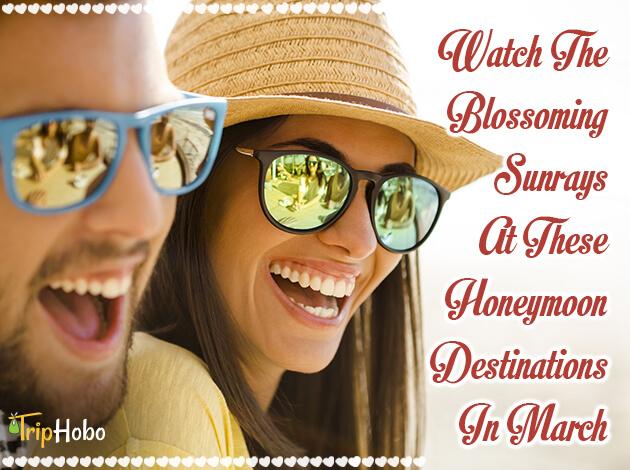 As the sun rays become bit warmer than the previous months, it is best to visit any sea side or cold destination as per your choice. A sea side destination is the best option to choose as tourism here remains a fag end and the cities usually get enwrapped in cozy and relaxed atmosphere.
1. Cancun - the picture perfect white sand beach destination
From ancient pyramids to modern buzzing lifestyle, Cancun is one destination where passion and romance are seen and experiences in every nook and corner.
2. Istanbul - the ancient city of love and civilization
There are very few cities in the world that exude so much of culture and civilization the way Istanbul does. Your honeymoon here gets more elegant as you walk through its time immemorial streets and bazaars that unravel stories of past.
3. Kyoto - the city of Zen
From Buddhist temples to lakes and museums, this Asian city of culture has every tourist trap to offer fuel to your budding love.
Find the best things to do in Kyoto
Other destinations that you can visit in the month of March for your honeymoon are: Morocco, Argentina and Egypt.
April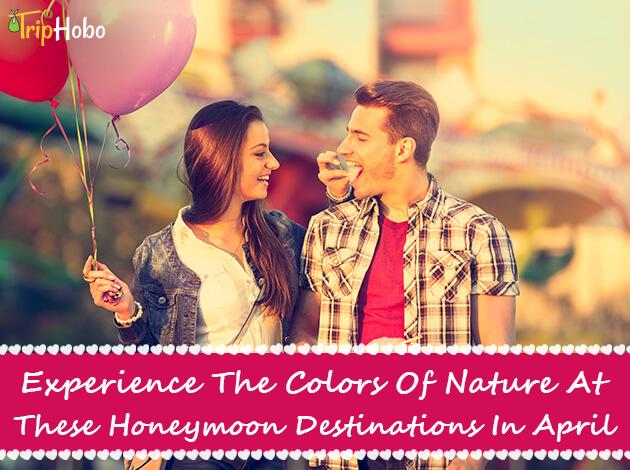 As the world becomes more sultry and hot, it is best to choose a honeymoon destination that offers a relaxed and bit cold weather to beat the heat. Ofcourse the European destinations are the best when it comes to offering that kind of a climate.
1. Iceland - the land of frost and fire
Housing Glacial Lagoon, one of the natural wonders of the world, Iceland is nothing short of being amazing. This magical landscape is a perfect place to experience the nascent days of marital bliss.
2. Paris - the city from where romance gets its meaning
The eternal city of Romance and love is anytime a good honeymoon destination to visit. Whether it's enjoying the air of Montmartre, the pleasure of walking along the Seine or the thrill of watching the sunset from atop the Eiffel Tower, there is no doubt that Paris is one destination that gives fuel to your desire of love.
Find the best things to do in Paris
3. Quebec - the blend of old and the new
Not many people consider Canada as a perfect choice for honeymoon. But believe me, the Victorian streets of Quebec offer a better European feel even than the Europe itself. This gorgeous destination seamlessly blends old and new in a dazzling array of world-class shopping and dining amid a culture and history both richly traditional and steadfastly unique.
Other destinations that you can visit in the month of April for your honeymoon are: Ecuador, other cities of Canada and Bahamas.
May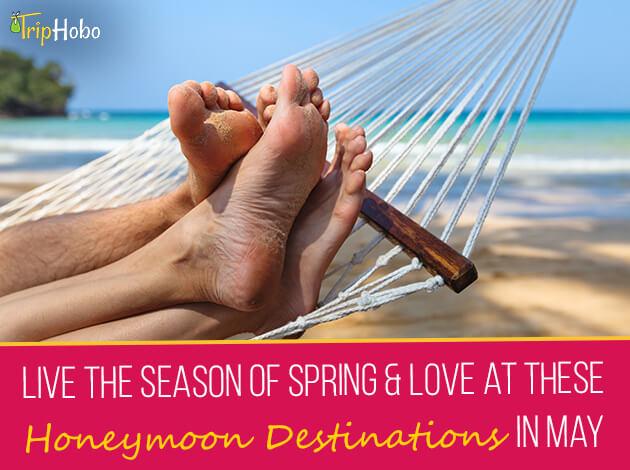 The official beginning of spring holds a lot of promises for the young couples across the world. The perfect season for consummation of love, any place on this earth is the best one to visit except for those that get extremely hot.
1. La Rioja - wine, wine and wine
Renowned for its wine industry, La Rioja in Spain is a quaint landscape whose canvas gets filled up with colourful vineyards. And what can be better combination for honeymoon, than for wine and romance!
2. Austin- everything that can light up a romantic honeymoon
Whether it is cruises or karaoke, Austin is a collage of happening events that can keep a newly married couple engaged and so much in love.
3. Orkney - walk with your love in highlands
Scotland always inspires that romantic imagination. Whether be of past or of present love, this is a perfect place to visit especially in this season when the rest of the world gets hotter. Best is to take up a honeymoon cottage in Orkney.
Other destinations that you can visit in the month of May for your honeymoon are: Belize, Mexico and Mauritius.
June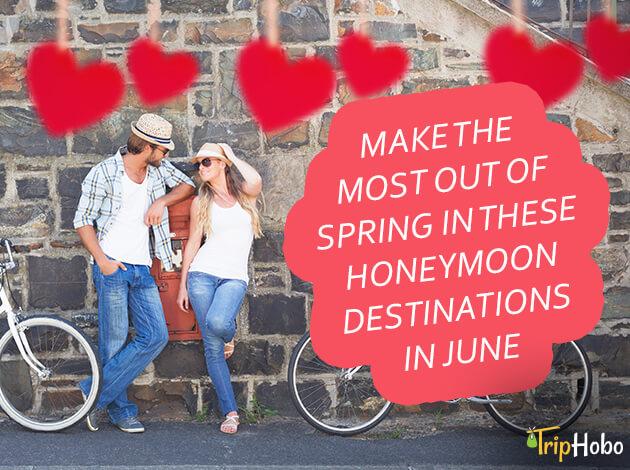 June is considered to be the month of Weddings especially in Europe. So while the newly married couples take a plunge into the new phase of life, these are some of the destinations that can be perfect for them.
1. Galapagos Islands, Ecuador - the land of distinct species
This is an offbeat honeymoon destination that many people would be unaware of. Lying right on the Equator, this archipelago houses a vast variety of indigenous flora and fauna, the most famous being the Galápagos giant tortoise. Couples can explore all the gems these islands have to offer, either on land or they can go snorkelling and scuba-diving to look for them underwater.
2. Dingle - the quiet corner of the world
If you are looking for a stunning and secluded honeymoon destination, it does not get better than Dingle. You can rent a car and explore the Irish countryside at your own sweet pace all the while sipping on Guinness.
3. Bermuda - A paradisiacal island
I am sure a paradisiacal location would be the best place for blossoming love. From gorgeous pink sand beaches and limestone cliffs to some of the loveliest people on the planet, a honeymoon on Bermuda is the best in this season.
Other destinations that you can visit in the month of June for your honeymoon are: Greece, French Polynesia and Kenya.
July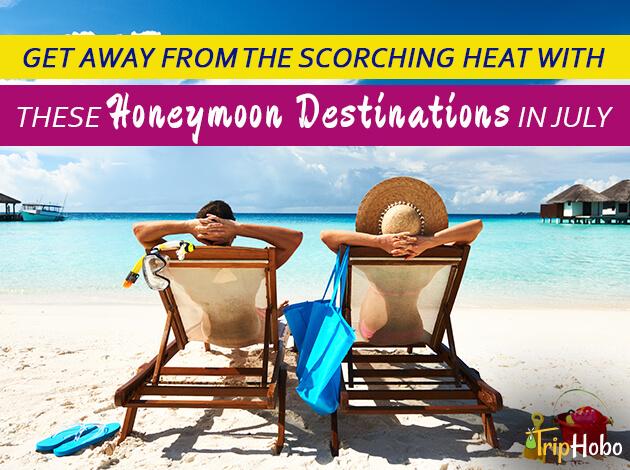 The days in July get sultrier day by day and what you need is a haven of beautiful weather where you can walk out with your partner with the breeze caressing your cheeks.
1. Lake Baikal - the untouched beauty
Lake Baikal might not be on the list of many travelers as it has not been yet thoroughly explored and remains untouched. This is the oldest and deepest freshwater lake in the world, and is one unique honeymoon destination for an outdoorsy couple. Estimated to have formed around 20-25 million years ago, the lake's circumference forms the crux of the hiking paths of the Great Baikal Trail.
2. Queenstown - nature with lots of adrenaline push
You'll find everything here adventure, natural beauty, rejuvenation and relaxation. Summers here are best for bungee jumping, paragliding, hiking and mountain biking opportunities.
3. Cairns - the tropical haven
Cairns is the best gateway to Australia's Great Barrier Reef and Daintree Rainforest. So the couple honeymooning in Cairns can explore the foreshore promenade, indulge in tropical fruits and drinks, shop at local markets or dive into the sea to check out dazzling corals.
Other destinations that you can visit in the month of July for your honeymoon are: Madagascar, Seychelles and Fiji.
August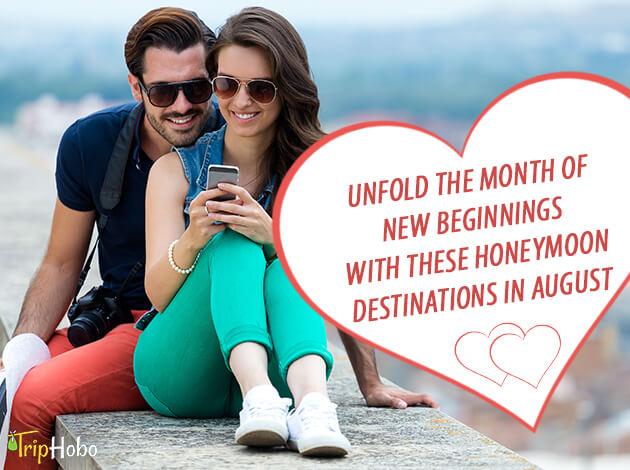 The end of the summer and the beginning of the winters, August brings along with itself cozier moments and great tidings. So if your honeymoon period falls in August, these places will definitely be the best options for you.
1. Dubrovnik - the old world charm
Strewn with an old world charm, Dubrovnik is often called the 'Jewel of the Adriatic', and is rich in heritage and culture. The pristine beaches that this tranquil city has to offer will make every romantic lose his/her heart.
2. Lagos - travel back in time
Lagos is a town in southern Portugal's Algarve region. It's known for its walled old town, cliffs and Atlantic beaches. Steep wooden steps lead to the sandy cove of Praia do Camilo. Nearby Ponta de Piedade offers sweeping headland views and a clifftop lighthouse. The ornate 18th-century church of Igreja de Santo Antute;nio sits across from the Castelo dos Governadores, a castle with a baroque facade and watchtowers.
3. San Pellegrino Terme - get prepared for thermal spa sessions
San Pellegrino Terme in Italy is certainly meant for couples who are in need for some well-deserved pampering. Located at the foot of the Alps, this quaint town's main export is the most refreshing mineral water out there. That locally sourced, free-flowing water is the reason you have the best of thermal spas over here.
Other destinations that you can visit in the month of August for your honeymoon are: Britain, Canada and Brazil.
September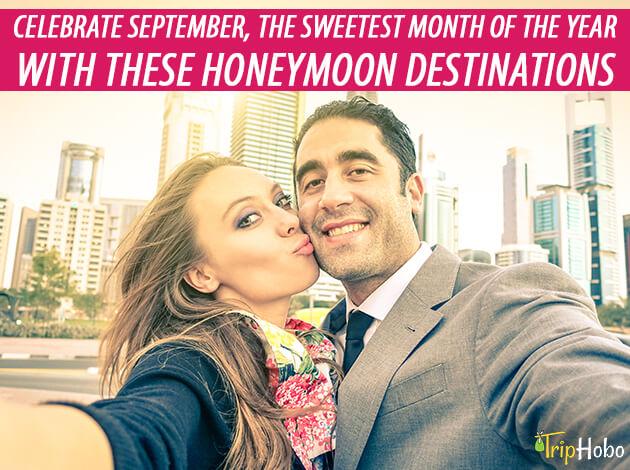 For honeymoon and any romantic getaway, September is considered to be the sweetest month of the year. This is the month when the winters make a comeback after months of harsh sun. Come, let us see which destinations offer the best of weather and landscape in this month of love:
1. Sri Lanka - the land like no other
The land of spices and an exotic world where dense nature seems to envelope every crop up of civilization! This is Sri Lanka for you-virgin, charming and alluring. From nature hunting to relaxing under the sun on the beach, Sri Lanka makes for an amzing honeymoon itinerary in September.
Find the best beaches in Sri Lanka
2. Lake District - the place whose beauty poets have immortalized
The beauty of Lake District has already been immortalized by British poets such as Keats, Wordsworth and others. Sow while the world reads this countryside charm in poetry, why not go and visit this place and see its beauty through one's own eyes?
3. Lhasa - experience spirituality at its zenith
There are many a couples who wish to initiate their marital bliss with a spiritual retreat. For them, Lhasa in Tibet is one of the best locations to have a distinctive idea of a honeymoon. The awe-inspiring view of the Himalayas is sure to leave you breathless! This is the best time to visit Lhasa as it remains pleasant enough to explore.
Other destinations that you can visit in the month of September for your honeymoon are: USA, South Africa and Egypt.
October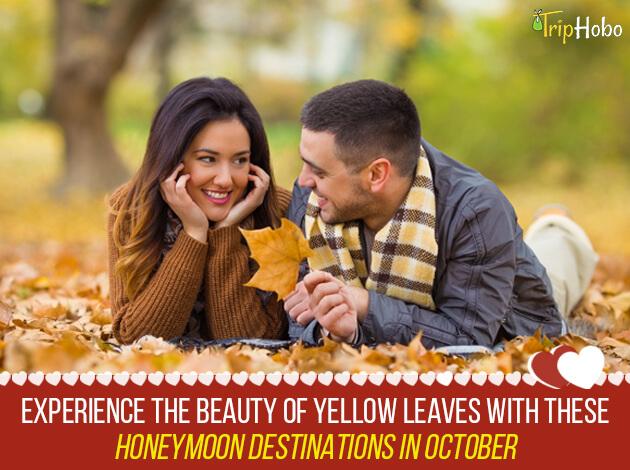 The month of falling leaves makes up for a great photographic venture. Take advantage of this and embark onto some of the most beautiful locations on this earth in October to witness the color of the falling leaves.
1. Lapland - the land of the northern lights
Your honeymoon cannot go more beautiful than this. Sleep under the stars and see the Aurora Borealis lighting up your married life. The cold temperatures will ensure that you bundle up and cuddle the night away with your partner!
2. Cartagena - everything romantic about this place
Visit Cartagena and enjoy activities like holding hands while walking down cobblestone streets, riding in horse-drawn carriages, and romantic dinners under the moonlight. Remember, to make the best out of this place, hire street musicians to serenade lovers.
3. Singapore - the glittering world of modernity
From cool bars to amusement parks, from coastal walks to a dazzling nightlife, Singapore has everything to make your honeymoon a happening one. Since October remains pleasant enough in Singapore, it is the best time to visit.
Find the best things to do in Singapore
Other destinations that you can visit in the month of October for your honeymoon are: Australia, Spain and Seychelles.
November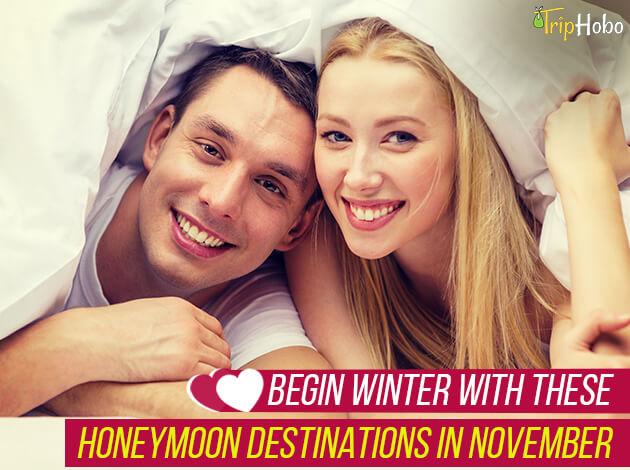 So this is the time of the year when you know that the winter season is approaching and you will very soon need places that offer a coastal and temperate charm. So head towards some of the most picturesque coastal towns of the world.
1. Mauritius - the land of stunning seascape
As winter approaches in the rest of the world, it is best to explore those places that offer a warm and breezy comfort. One of the most famous Asian honeymoon destination, Mauritius has the best of modern world and the nature's beauty. From its crystal clear lagoons to coral islets, this seascape has everything to entice you into romance.
2. Jaisalmer - the desert beauty
There is nothing as beautiful as the rustic charm of deserts in India. They are not just the landscape filled with brown colour, they also exude a cultural and legendary charm. The soul of Rajasthan, Jaisalmer looks stunning with vast desert and colorful camel riders making it an ideal honeymoon destination.
Find the best things to do in Jaisalmer
3. Amalfi Coast - the rugged shoreline
Amalfi coast boasts of a fabled beauty that has embellished paintings as well as photography. A combination of mysterious grottos, craggy cliffs and shimmering bays, this destination will surely allure the artist and lover in you.
Other destinations that you can visit in the month of November for your honeymoon are: Canada for its ski destinations, Spain and Bali.
December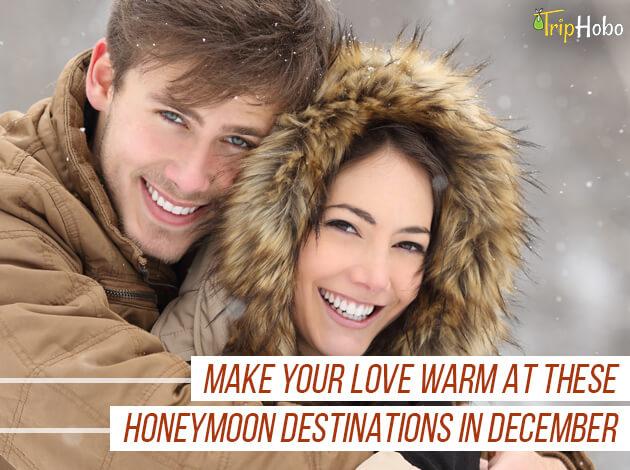 The world gets wrapped up in festivities in December.The coldest season for you to get tucked in warm blankets, think of a place that offers a mixture of coastal as well as cultural retreat.
1. Prague - the city of hundred spires
Also called as uo;the City of a Hundred Spires," Prague is known for its Old Town Square bordered with colorful baroque buildings, Gothic churches and the medieval streets. There can be no place as amorous as the city of Prague in the world!
Find the best things to do in Prague
2. Gold Coast - cuddle with the waves
Famed for its long sandy beaches, surfing and elaborate system of inland canals and waterways, Goldcoast is also home to the Dreamworld, Sea World and Wet'n'Wild theme parks. This place is for couples who wish to cuddle up with the waves and want to get adventurous.
3. Koh Rong - the beautiful cave city
Koh Rong's name refers to the old tunnel or cave, the very idea of which sends you into a romantic imaginative flight. Known for its wilderness, bordered by sugary white sands and beach hut resorts, Koh Rong is the best place for an exotic honeymoon.
Other destinations that you can visit in the month of December for your honeymoon are: the Florida Keys, Caribbean and Ecuador.
So which of these places would you like to take your beloved to? Let us know.