14 Best Romantic Honeymoon Destinations in Spain
* Disclosure: This post may contain affiliate links, which means we may receive a commission if you click a link and book something (there is never any extra cost to you for using these links).
The land of flamenco, tapas, Rioja wine, and bullfights, Spain is gradually coming to be one of the most sophisticated honeymoon destinations. Befitting every budget, Spain's dramatic coastlines, quaint villages and architecturally marvelous cities embrace honeymooners with a plethora of experiences.
Here are 14 best honeymoon destinations in Spain, that are certain to intensify romance with your partner.
1. Palma de Mallorca for history-loving couples

PC: pixabay.com
Palma de Mallorca or just Palma is the capital of the gorgeous Spanish islands of Balearic. The town has a past with various influences including Roman, Muslim, and Christian spanning through various centuries. This makes it a historically rich town and allure the history buff couples there. That being said, the town's beaches, galleries, craft studios, restaurants and cafés will delight even those who are not history buffs. Its proximity to Barcelona (45-minute plane ride) is another plus point of this beach destination that offers ultimate relaxation. There are some quaint villages adjoining Palma that can be ventured to during the day. Renting a Vespa for your exploration here would be pretty romantic.
2. Ibiza - The party doesn't stop!

PC: pxhere.com
Does Ibiza need any introduction for it awesomeness? The party capital of the Mediterranean, Ibiza hosts some of the best music festivals, drawing music enthusiasts from all across the globe. Perfect for all those couples who love music, dance and simply being high! And after all the partying, its 50-odd beaches are perfect for a romantic stroll, hand-in-hand with the spouse. And if you are wondering how much would honeymoon in Spain cost? then Ibiza is one of the most flexible destinations you need to consider.
Romantic Honeymoon Ideas: Ibicencan cuisine, hidden islands, beaches, watersports
3. Tenerife - A delightful mélange of activities

Fancy an island honeymoon? The gorgeous island of Tenerife is not the largest but also the most populated island of the seven Canary Islands. Highlights of this island include the Tenerife, Canary Islands, the rocky beaches and the Carnival of Santa Cruz de Tenerife that is on its way to be declared as the UNESCO World Heritage Site. Tenerife features a host of Spanish all inclusive honeymoon packages. The café culture here, incorporated from its British past is pretty inevitable too.
Romantic Honeymoon Ideas: Romantic walks in its tropical forests, shopping, exploring its volcanic terrains, museums, colonial towns, temples and hiking
4. Alicante - A beautifully ancient, fairy-tale city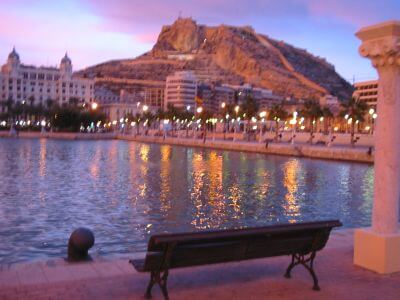 PC: wikimedia.org
A beautiful port city, Alicante promises of ethereal panoramas everywhere you look. Its charm lies in its oldness- the fact that is one of the ex-mainland provincial capitals, Spain had. In fact, one cannot miss how fairytale-like is this place owing its feature of Castle of Santa Barbara overlooking a long waterfront, against a backdrop of the Guadalest Valley. Its golden beaches, art galleries which are home to works of Picasso, Gothic buildings and an incredible nightlife are some things to look forward to.
Romantic Honeymoon Ideas: Sunbathing at the Explanada de Espaa beach, marveling at the Arab and Roman civilizations' remains, partying the night away ta the bars, grabbing a bite at the many cafes dotting the streets
Check out: Best Honeymoon Destinations in Italy
5. Granada - A blossoming romance at the Sierra Nevada mountains

PC: wikimedia.org
It is the Sierra Nevada mountains and the confluence of four rivers that amplify the charm of Granada as one of the best honeymoon places in Spain. A place full of palaces and castles, you can live your own little fantasy here. Of course, there are several must-see attractions and things to do, but nothing can elevate a honeymoon than a fantastic hotel. There are plenty of hotels, resorts and all-inclusive resorts in Granada that make a honeymoon more special.
Romantic Honeymoon Ideas: Road trip the adjoining locales, Generalife, Monasterio de San Jerute;nimo, García Lorca Park, Bullring Tour with Audio-Guide
Check out: Best Honeymoon Destinations in Greece
6. Costa Galicia - The best seafood in Europe

PC: Flickr.com
Costa Galicia Spain is a fabulous place to visit for a honeymoon. The most unmissable characteristic of this place is its vibrantly colored buildings. A costa Galicia honeymoon offers a honeymoon that with not just Spanish accents but even Celtic ones. Thus, making for an ideal place for those who love to explore new cultures. This blend of cultures is reflected in the food here that is out-of-the-world, to see the least! So much so, the town is also arguably said to have the best seafood in Europe. Another point to be noted, it is not as crowded as more popular destinations like Madrid and Barcelona.
Romantic Honeymoon Ideas: Wild coastal walks, exploring its secret coves, staying at some amazing cliff-top retreats and too-good-to-be-true food
Check Out: Best Villages in Spain
7. Santiago de Compostela for spiritual togetherness

PC: wikimedia.org
One of the most important pilgrimage places for Catholics, the Santiago de Compostela is home to the Saint James the Great's shrine. The beautifully arcaded, stone boulevards make for the perfectly romantic walks at this city that is drenched in a spiritual vibe. The Old Town, a UNESCO World Heritage Site with its sparkle atmosphere is a dreamy pleasure to explore. There are plenty of traditional taverns serving the staple tapas offer an authentic Spanish experience. Amidst all this, not many know of the brilliant hiking routes this place has. A good adrenaline rush is always a great idea!
Romantic Honeymoon Ideas: Wine tours, horse-riding, Galician cooking courses, a Champagne balloon flight
8. Barcelona - Incredible architecture, food, drinks and culture

A Barcelona honeymoon promises wonderful experiences on several fronts. Known to be a city that best demonstrates the Spanish culture, on the fronts of architecture and dining especially, Barcelona is a must on every Spain honeymoon itinerary. Starting your day by strolling through the stunning beaches, before you hit the city streets to get absolutely bowled over by the iconic Antoni Gaudí architecture, followed by a 5-course traditional Spanish meal, before heading to a museum perhaps is what a typical day in Barcelona looks like. Of course, call it a day by heading to one of the many nightclubs sprawling across the city.
Romantic Honeymoon Ideas: Dreamy yacht tours, live music on the streets, wine tasting, popular attractions like La Rambla, Sagrada Família, Park Güell and more
9. Valencia - Where the aroma of oranges lingers

PC: Pixabay.com
The third largest city in Spain, Valencia is no less than a painting of azure skies, Roman architecture with orange trees in the front yards. The highlight of this quaint town is the concealed river that was diverted through the outskirts, in order to cease flooding problems. Today, there is a beautiful park over it, that has you walking over a river! All this history and heritage is well balanced by the towns being a budding city of the arts and sciences. The city is also home to one of the oldest markets in Europe, the Central Market.
Romantic Honeymoon Ideas: Explore the city's old world charms at its attractions of Palacio del Marques de Dos Aguas, Torres de Serranos, hike up the stairs of Miguelete, visit the L'Oceanografic, and Agora
10. Bilbao - A city with a modern take on modern art

PC: maxpixel.net
Nestled in the northern region of Spain, Bilbao ranks tenth on the largest cities of Spain. This is one city that is sure to make you go 'Whoa!' as you begin to explore it. First and foremost, its the insanely modern art that is reflected in the architecture here. The San Sebastián region of the city, is that place where you your amusement will not cease. It is even more fun to be at this given its contrasting past of a heavy industrial town. The city's humble character is evident in the cute art galleries that sprawl the city, thus juxtaposing its rough past.
Honeymoon Ideas: Walk in warm snuggles at the Dona Casilda Iturrizar Park, clink some wine glasses on a private yacht ride, museums and cathedrals
11. Madrid for the capital's multiethnic opulence

A dreamy, golden cast that Madrid possesses is the hottest reasons why Madrid is one of the best honeymoon places in Spain. Add in the hustle and bustle of this very cosmopolitan capital and you have one lively potpourri. They say Madrid holds music in its soul, which is indeed very evident in its daily hustle and bustle. Its multi-ethnic essence justifies the saying "If you're in Madrid, you're from Madrid". There is no life-size monument here, that you can pinpoint and state as the city's identity. But there are tons of micro-moments that Madrid strives over.
Romantic Honeymoon Ideas: Beautiful parks, cafes and restaurants serving great food and drinks, magical sunsets, Templo de Debod, Parque El Capricho, Teatro Real and El Pabellon del Espejo
12. Andalucía - Cute white villages with houses fringed by bougainvillea

An Andalucía honeymoon is no less than reading a story book, owing to its picturesque houses, cobbled streets, and just a lot of boosting culture on the entertainment front. And then of course, there are the quintessential factors of a Spanish honeymoon sun, sand and the sea. The best way to enjoy a honeymoon here would be to rent a gorgeous luxury hilltop retreat or even a gypsy quarter overlooking the sea and take road trips to adjoining villages. You don't have to do much here, Andalucía brings out the romance just rightly!
Romantic Honeymoon Ideas: Watch flamenco performances, dig out at the tapas bars, walk around the picturesque streets featuring guitarists, and Sierra de Aracena and Doana wetlands
13. Seville - An old-world romance awaits

PC: Pixabay.com
This one place that you are most likely to visit even after your honeymoon. The warm people, delectable food, so many secret avenues perfect for a little romance with your partner, enlightening history and most of all impeccable cleanliness, is what one describe Seville for. Look out for the not so popular theaters and performance locations, that have the best of truly authentic concerts. In the evenings, the vicinity of the Cathedral is a great place to be given a good lineup of fine dining restaurants. You've got stay in one of the many gorgeous boutique hotels here!
Honeymoon Ideas: Take a carriage tour through the city, stroll at the Jewish Quarter, Santa Cruz District., Maria Luisa Park and more
14. Toledo - Reminisce some European antiquity

It is hard to find any corner in Toledo Spain that does not beckon of romance. If you and your partner are someone whose idea of romance is elegance, timeless and eternal, then this is the place to be. With such a rich history to itself, Toledo entices with its pastoral attractions. Its attractions like the Catedral Primada, Mirador del Valle, and Casco Historico de Toledo among others further elevate the mushiness. The weekends are particularly very happening. There will be several times that you will haze out of reality in this town that happens to be one of Europe's oldest.
This was our take on the best honeymoon places in Spain. Did we miss out on any? Let us know in the comments section below.