Honeymoon In Scotland - Ideas For Romantic Places
* Disclosure: This post may contain affiliate links, which means we may receive a commission if you click a link and book something (there is never any extra cost to you for using these links).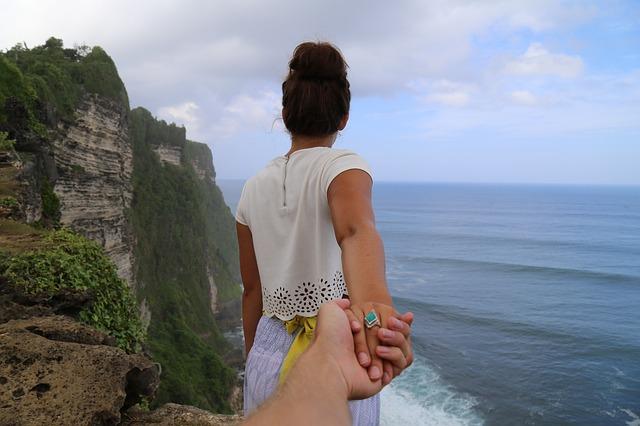 Image Source: Pixabay.com
If you're looking at spending some quality time with your significant other, after saying the life-changing 'I do', then you cannot choose a better place than Scotland to do so. Situated within the bounds of mesmerising Europe, Scotland is an eclectic mix of both art and vigour. Being the perfect blend of modernization and cultural heritage, while sheltering warm and friendly citizens, Scotland breathes the air of love. In addition, this country has a vast number of things to offer, whether you're looking for a quaint and cosy atmosphere, adrenaline pumping adventure sports or a wildly unforgettable time, you're sure to find all of it within this territory.
We've gathered a list that would help you if you're looking at spending your honeymoon in Scotland.
Good Kiss Spots - The Best Honeymoon Places in Scotland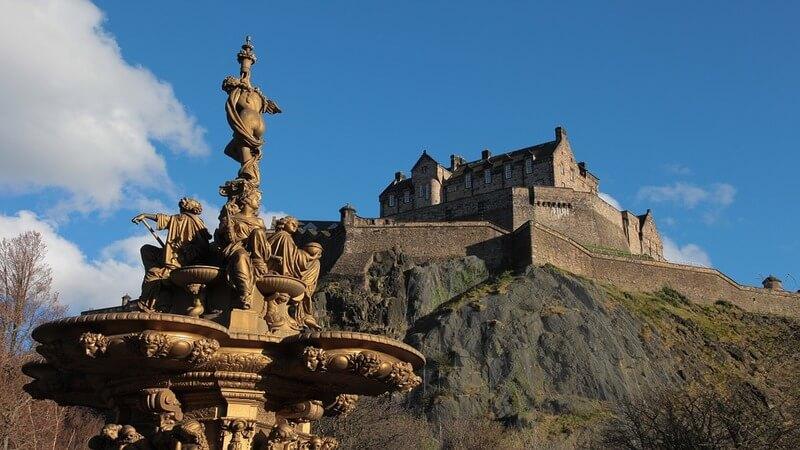 Image Source: Pixabay.com
Here's a list of stunning places that should definitely be a part of your Scotland honeymoon itinerary.
- Fall in love all over again at the Falls of Bruar
This is located outside the Highland Perthshire town of Blair Atholl. It is truly one of the most magnificent and romantic sights in Scotland.
- Capitalise the capital
In the midst of history and culture, Edinburgh is one of the most scenic and romantic cities in the world. Once you're done checking the castles and other sightseeing locations off your list, you could enjoy a fun picnic or a romantic walk with your spouse at the Princes Street Gardens which is located in the heart of the city.
- Wish upon a star
Staring up at a sky full of stars with your beloved by your side has got to be one of the most romantic things ever. Galloway offers the best stargazing conditions and is the perfect place to snuggle up beneath a blanket knitted with stars.
- Eloping from England
Back in the day a lot of young couples from England crossed the border to Gretna Green and got married in this scenic set up. Gretna Green is a village located in southern Scotland near the mouth of the River Esk. Famous for runaway weddings, it is rich in true love stories that float around in the air. A trip to this village will surely make your honeymoon in Scotland an unforgettable one.
- Lustful Loch Tay
This beautiful Loch is located in Perthshire. Staring into its scenic view, while enjoying a delicious seafood meal is sure to be a magical experience.
- Hush in the Hushinish
Located on the Isle of Harris, this secluded beach offers crystal white sands and a beautiful view of the Atlantic ocean. The Hushinish Beach is a perfect getaway from the hustle of the city.
Adrenaline Lovers - Things to do on Scotland Honeymoon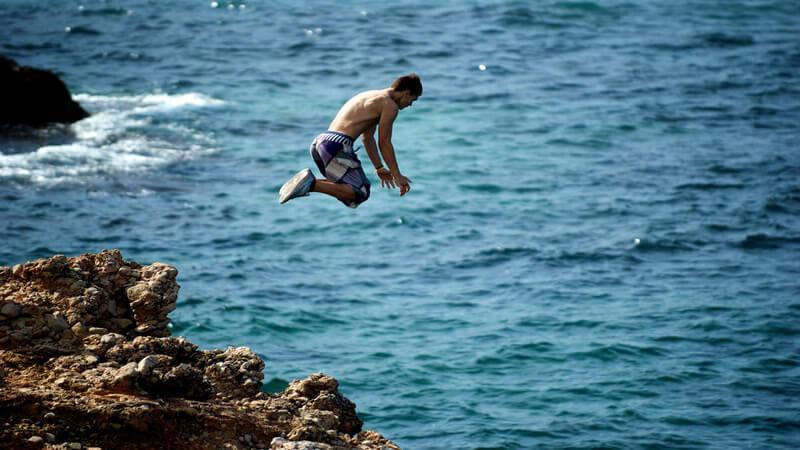 Image Source: John O'Nolan/flickr.com
Adventure sports top the list of honeymoon ideas in Scotland. Whether it's jumping off a cliff or plane, Scotland has tremendous possibilities for the adrenaline junkies. Below is a list of adventure activities that will make your honeymoon in Scotland even more thrilling.
- Aqualining
This sport involves tightrope-walking over water. It is preceded by a warm-up which includes plunge pooling and sliding and wild swimming. Nae Limits in Perthshire is the place to be at if you're looking at indulging in this sport.
- Wild swimming
A visit to the Fairy Pools in Skye is a must for the ultimate wild swimming experience. Laying at the foot of the Black Cuillin Mountains, this region is truly magical. Other hotspots include Firkin Point at Loch Lomond and the waters around Rob Roy's cave near Inversnaid.
- Skydiving
Located near the town of Auchterarder, operating from Strathallan Airfield, Skydive Strathallan is a home for adventure seekers with a rush for heights.
- Cliff Jumping
Scotland's natural terrain offers great spots for this plunge of faith. The team at Freespirits offer a top jump of 40 feet, with stunning views of the Loch Rannoch.
- Gorge Scrambling
Gorge scrambling gives you the chance to see the world from unique point of views. If you're looking for breath-taking scenery and top-notch instructions, opt for one with water speeds and gorge heights to suit your desire. A short ride from Brodick, Arran Adventure Company offers scrambling by the North Glen Sannox.
- River Bugging
Brought over from New Zealand from Scotland, this sport essentially involves white water rafting in a gigantic inflated armchair. As you gush down the rapids of the River Tummel and River Tay, thick webbed gloves protect you from the rocks below. Check out Splash on Dunkeld Road in Aberfeldy for River Bugging and Nae Limits for Adventure Tubing in Perthshire.
- Bungee jumping
High above the waters of River Gary is Uk's first static bungee jump platform- the Highland Fling. This experience is sure to get you pumping with adrenaline.
Check Out: Unique Honeymoon Destinations in the World
Lap of Luxury - The Most Romantic Places to Stay for Honeymoon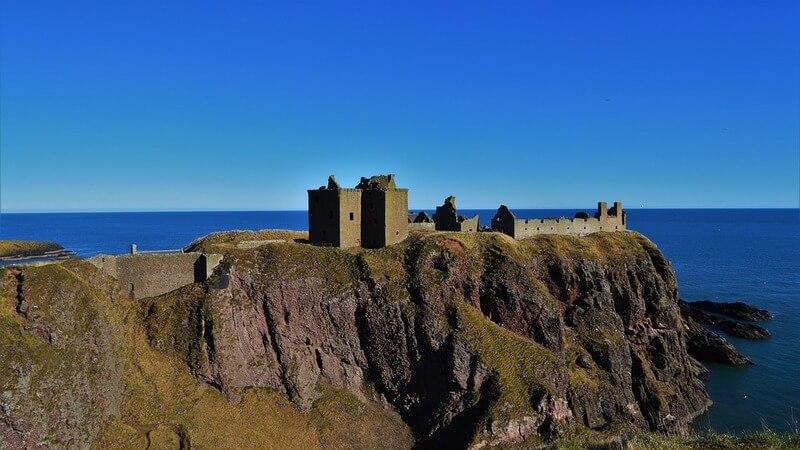 Image Source: Pixabay.com
If having a luxury honeymoon in Scotland has been your dream, then staying at these honeymoon castles is an absolute must. Below is a list of Scottish castle hotels that you cannot afford to ignore.
- Inverlochy Castle, Fort William
In 1873, Queen Victoria said she 'never saw a lovelier or more romantic spot than Inverlochy Castle'. Even today this castle remains as beautiful as ever. Located at the foot of Ben Nevis and surrounded by a ring of highland peaks, this place lies in the lap of quaint beauty, while the tourist town of Fort William is only a mile or two away.
Get year around hotel deal with TripHobo Hotels. Book Now, Pay Later!
- Glenapp Castle, Ballatrae
A perfect example of 19-century Scottish Baronial grandeur, Glenapp Castle has more of a country house feel. Amidst extensive gardens and woodlands, it offers pursuits for fine dining and country sporting.
Get year around hotel deal with TripHobo Hotels. Book Now, Pay Later!
- Crossbasket Castle, High Blantyre, Lanarkshire
A fortified mansion with a 16th-century tower and Georgian and Victorian extensions, Crossbasket Castle has nine rooms ranging from comfortable doubles to elite suites. Fireplaces, classical décor, luxurious beds and windows overlooking scenic views make this castle a favourite amongst honeymooners.
Get year around hotel deal with TripHobo Hotels. Book Now, Pay Later!
- Glengorm Castle, Isle of Mull
Built in the 1860s, this castle is a country house located on the high ground at the northernmost tip of Mull overlooking the Sound of Mull, outlying islands and Ardnamurchan. The wood-panelled library and a complimentary selection of whiskies for guests are what set this place apart. The five bedrooms are in the main area of the house and are decorated with pretty wallpapers, family furniture and unusually beautiful bathrooms.
Get year around hotel deal with TripHobo Hotels. Book Now, Pay Later!
- Stonefield Castle, Loch Fyne
Stonefield Castle is a high-Victorian Baronial castle. It has a marvellous location on the Kintyre peninsula near the fishing town of Tarbert with jaw-dropping views over Loch Fyne to the hills beyond. The private island that forms part of the grounds is free for exploration as well. It's a great place for wildlife spotting: otters, seals and humpbacked whales.
Get year around hotel deal with TripHobo Hotels. Book Now, Pay Later!
Scotland offers all this and more. Here's wishing you a happy honeymoon. See you in Scotland
"Listen to the silence, be still and let your soul catch up."- Scottish Proverb
Also Read about: