Honeymoon Packing List For Bride - All the Essentials
* Disclosure: This post may contain affiliate links, which means we may receive a commission if you click a link and book something (there is never any extra cost to you for using these links).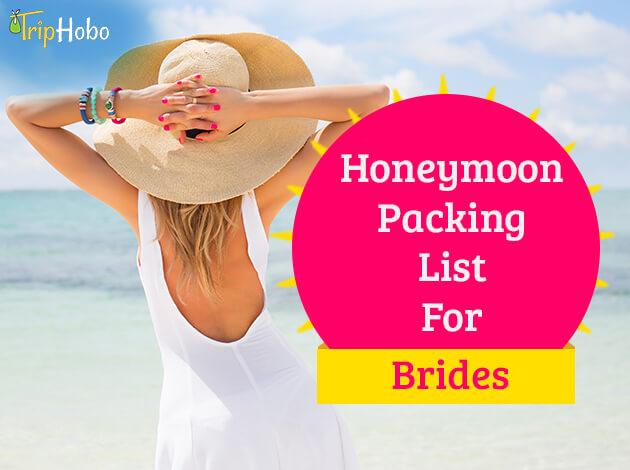 Every bride daydreams about all her honeymoon fantasies and how wonderful it would be to finally get going with him on that secret location. Most of the times, due to the excitement, brides tend to put off packing at the last moment and then face serious issues. So just in case you've got hitched recently, found the best honeymoon destinations and are ready to go on that romantic outing, we share a list of all necessary things to carry and trust us, you're going to be totally sorted!
Here's the honeymoon packing list for bride, read on!
1. Tickets and ID proofs
Now it is mandatory to carry all your identification and marriage documents while traveling to a new country or a city. Things might suddenly shuffle and create situations wherein, you will have to prove your identity and marriage. Hence, it is always advised to carry these essential documents while going to your honeymoon.
Also Read: How to plan a perfect honeymoon
2. Personal care/ make-up kit
Women tend to have sensitive skin and are vulnerable to climatic changes, to avoid any drastic skin problems, it is best to carry your usual brands that suit you rather than going for more standard items (they might perhaps turn harmful for you, if never used before) These are all honeymoon packing essentials you truly need to have in your checklist. Your shower gels, skin creams, hair lotions, night creams, moisturizers, body lotions, foot creams and deodorants, everything.
3. Accessories and jewelry
Dressing up is something which women do on a daily basis and honeymoon would require that special touch-up. You may carry your casual accessories and ornamental jewelry, they are must have things for honeymoon. Avoid taking real gems, gold, silvers and diamonds; it might be risky to carry while you travel.
Also Read: Things you do not need to pack
4. Lingerie
Well, that first night got to be special and now is the time to take out that lingerie which you bought for this occasion. Surprises like these make up for great memories during honeymoons. Don't forget to put on his favorite fragrance and walk into the room. The time you both spend here, can match up to nothing in the world. Cherish those memories and plan for every item in your honeymoon preparation checklist.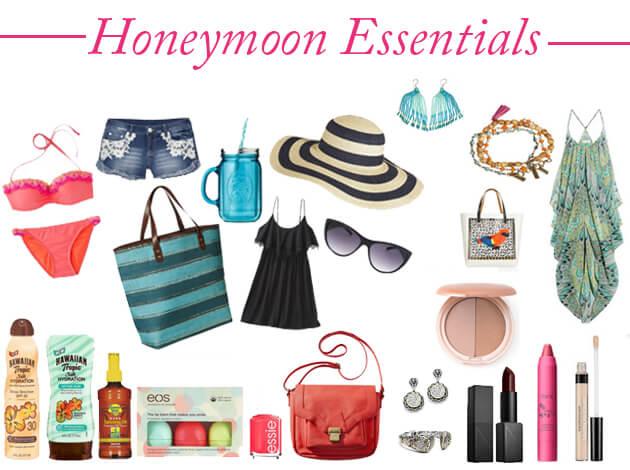 5. Extra footwear
If you've left home wearing knee-length boots, it is necessary that you carry two more pairs of footwear to roam around comfortably while at the location. Supposing you decide to go for shopping or just for a quite long walk, it is better to have a casual pair of sandals or sneakers to quickly jump into and get going. Just add flip flops and colorful slippers to your tropical honeymoon packing list.
Also Read: Caribbean Honeymoon Destinations
6. Sanitary napkins
Well, obviously, you would watch out your period dates before planning the trip, yet keep these handy. At times due to extreme climatic conditions or some physical changes that your body goes through, you might require them on an urgent basis. What's even more frightening is that, if you're in a remote place or at a jungle resort, you'll go crazy finding a medical store.
7. Necessary medicines
What things to carry on honeymoon depends on your health issues and habits. Carry necessary medicines so that you can ease your pain on the go if you experience any. Some people have severe motion sickness or allergy and acidity issues, hence it's safe and better to carry your usual medicines than going to the doc all over again.
8. Birth control pills
This is as per every person's individual choice, not a compulsion. If you are not sure about the medical safety and consequences, better avoid it. If you are looking out for any other safety method, talk to your gynecologist who would prescribe the best as per your health.
All set to make your honeymoon a memorable one? We will soon be publishing honeymoon packing list for groom, wish you a fairytale life ahead.
You may also like to read:
How honeymoon phase changes your life