25 Honeymoon Resorts In Southeast Asia
* Disclosure: This post may contain affiliate links, which means we may receive a commission if you click a link and book something (there is never any extra cost to you for using these links).
Although South East Asia's beautiful destinations remained untapped for very long, they have become some of the most frequented destinations in the recent times. Any nature lover with a bucket list has South East Asia featuring prominently. Dreaming of a South East Asia honeymoon? There are destinations for each type of couple. Singapore is for the fun loving, Phuket is for the nature watchers, Krabi is for the ones who find love right in the hearts of islands and every other destination has a distinct feature associated with it.
Here is a list of 25 best honeymoon resorts in Southeast Asia perfect for discovering all the love that comes with marital bliss:
1. Nestled in the cradle of nature - Six Senses
Location- Ninh Van Bay and Con Dao, Vietnam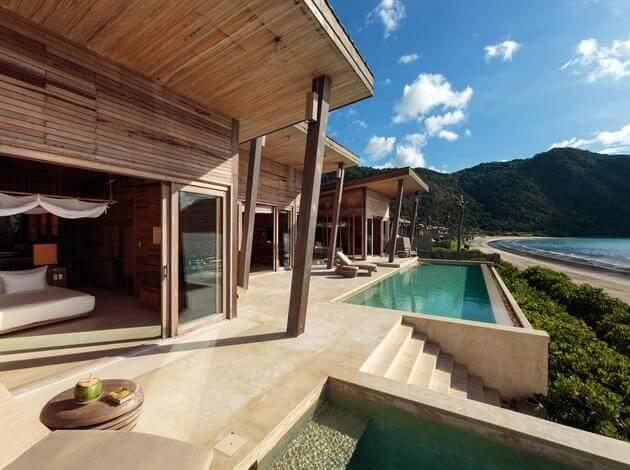 PC: Booking.com
Both of these locations offer you the perfect setting for a honeymoon. They are both complete beach resorts with villas as accommodations. Enjoy a walk hand in hand on the beach, a sumptuous romantic meal in any of their amazing restaurants and learn a lot more about each other tucked right in between the plus bays.
2. Discover love with the blues and the greens around - Paresa Resort
Location- Phuket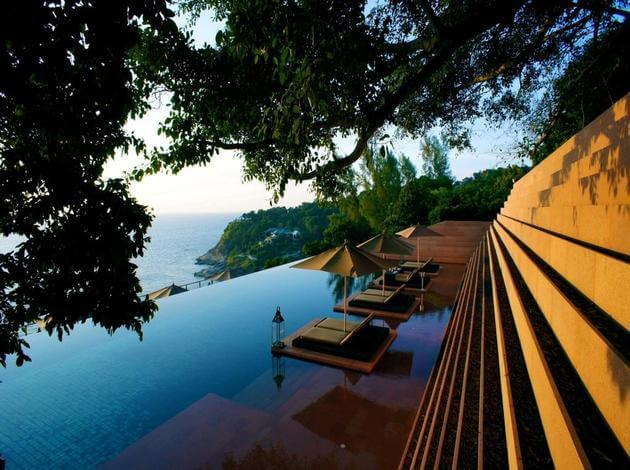 PC: Booking.com
Surrounded by Andaman coast, this one is just about 6 kilometers away from the beach. The villas here with balconies and sea views are all you need to light up that romance. Enjoy a dip in a private infinity pool and fall in love with Phuket and each other while having a mind blowing dining experience at the terraced restaurants.
Get the best hotels with TripHobo
3. In between all the spirituality, explore each other - Alila Villas
Location- Bali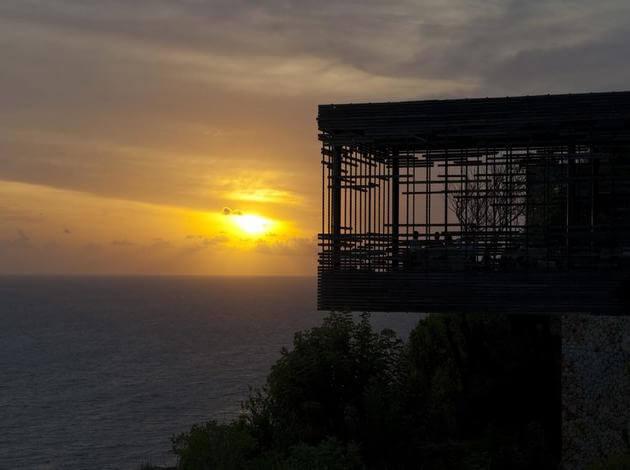 PC: Booking.com
You do not need made-up candle light scenarios or mainstream beach walks when the setting is already so picture perfect. With the best that nature has to offer to you, the views from the villas in this resort in Bali is like sleeping right in the lap of the nature. Enjoy a relaxing honeymoon with limestone cliffs and goodness of the Cheap Asian honeymoon destinations at your service.
Check the hotels with TripHobo
Read more about honeymoon in Bali
4. Always the season of love here - Four seasons resort
Location- Chiang Mai, Thailand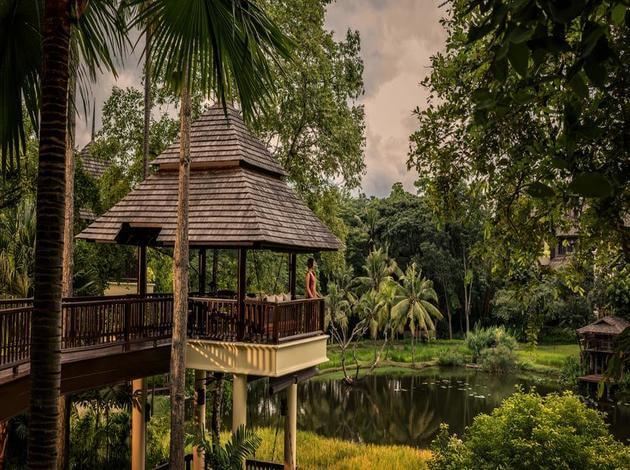 PC: Booking.com
This one offers a perfect location perched right in the famous rice fields of Thailand. Four Seasons has time and again impressed people with everything that they have to offer and with this one they go a notch higher. Chiang Mai has amazing spa experiences to offer to you and promise to let you explore a different culture just the way you want.
5. When energy and nature seduce you - St Regis Lhasa Resort
Location- Lhasa, Tibet, China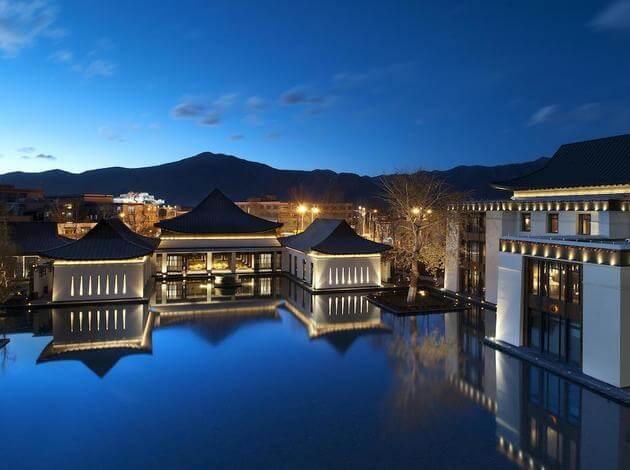 PC: Booking.com
The St Regis Lhasa Resort is one of the best properties by St Regis. Imagine energizing yourself in a gold energy pool, healing a tired mind with couple massages in Tibetan style, exploring Tibet in a complete non-monk way, everything that Tibet has to offer to a honeymooning couple, can be found right here.
Visit for exclusive hotel deals at this resort
6. Right on top of everything - W Retreat and Spa
Location- Maldives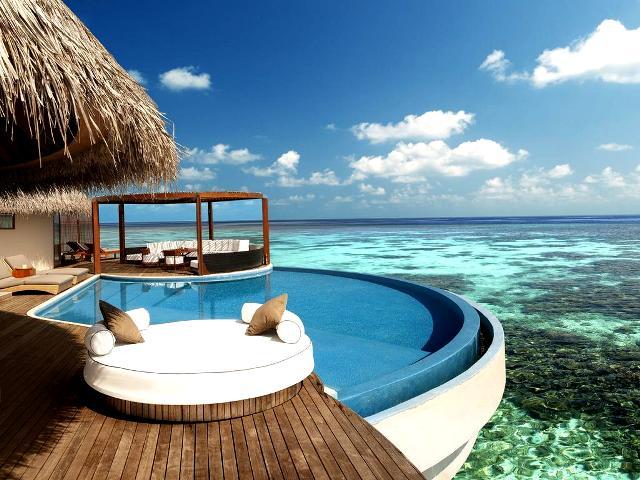 PC: Booking.com
W Retreat and Spa is one of the most beautiful resorts in Maldives. Imagine amazing villas with open-roof bath tubs, plush pools and most importantly amazing BBQ set- ups. So while you enjoy nature by the morning, have a little treat and party for yourself by the evening. Also, remember whatever you do- Indian Ocean will be watching you at all times.
7. For the old school romantics - Banyan Tree
Location- Lijiang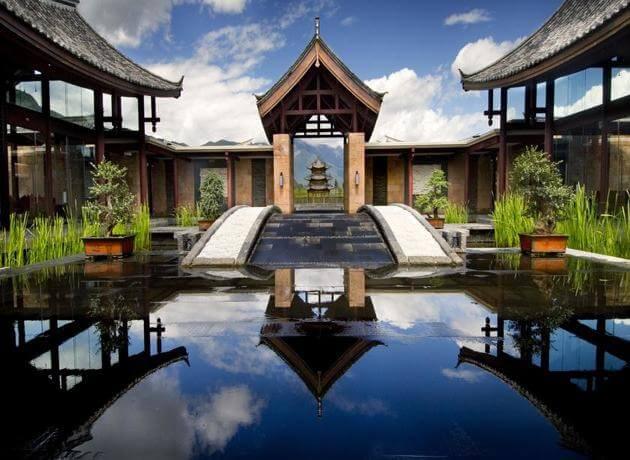 PC: Booking.com
Although when you want to find romance, you can find it even in crowded streets of New York and London. But this South East Asia destination promises you a private villa sanctuary just to be by yourself. The spa is completely amazing, the location is breath-taking and most importantly privacy levels are at an all time high.
8. Just like a game of house during your childhood - Amanwana
Location- Moyo Island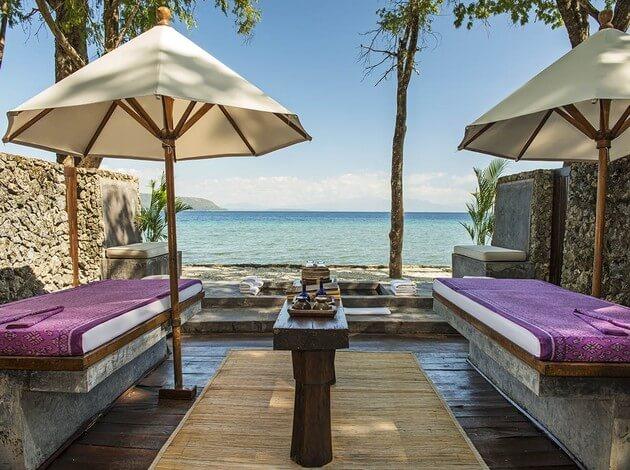 PC: aman.com
The couple massage treatments here are all you need to spend a perfect day during your honeymoon. The tents are so beautiful that they immediately take you back to the time where you made tents and imagined a perfect family living in there. The resort also facilitates some really romantic cruises as well. Check out all the experiences they have to offer here and pick the one that you want to go for.
Get year around hotel deals
9. Fly to the awesomeness of Conrad Maldives
Location-Rangali Island, Maldives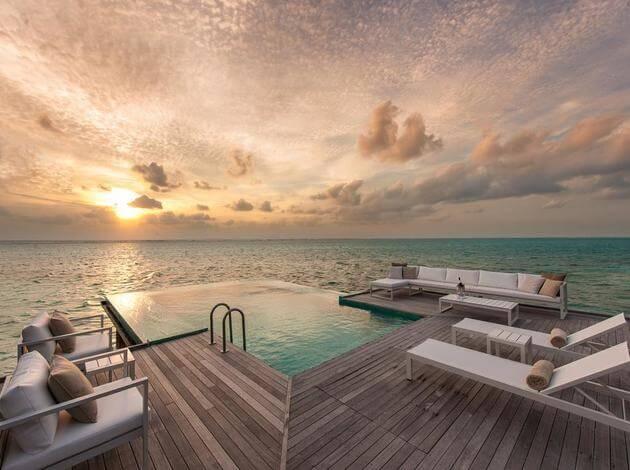 PC: Booking.com
Accessible only from a sea plane, this place spells heaven. Tucked inside the blueness of the Indian ocean, their underwater eatery is probably where you are going to spend most of your time after the bedroom. Although, it's on the expensive side but the experience it offers is completely worth it.
Get year around hotel deals
Must Visit: Best Islands in Maldives for Honeymoon
10. For the wild and the adventurous - Casa De La Flora
Location-Khao Lak, Thailand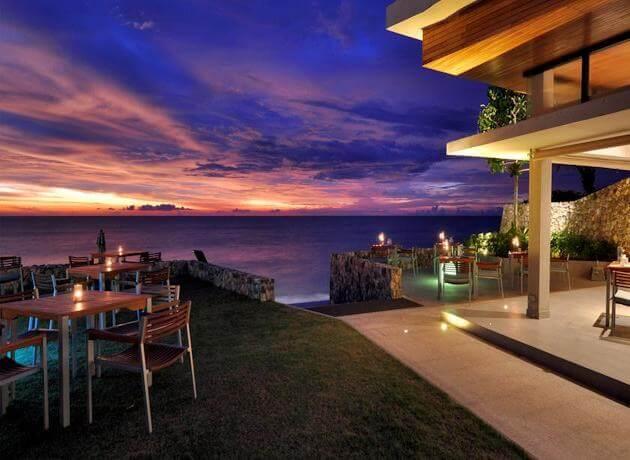 PC: Booking.com
Remember how films have rainshowers for every kind of romantic setting? Most of the times, they are not natural and you can get a similar feel in between Casa De La Flora in Thailand. Situated near Khao Lak-Lam Ru National Park and Sai Rung waterfall, this is a perfect destination for people who like to enjoy nature in a completely different way. It also has an amazing beach and spa to offer to you.
Looking for Hotel deals? Visit TripHobo Hotels
11. Wilderness on the shores - Japamala Resort
Location- Pahang, Malaysia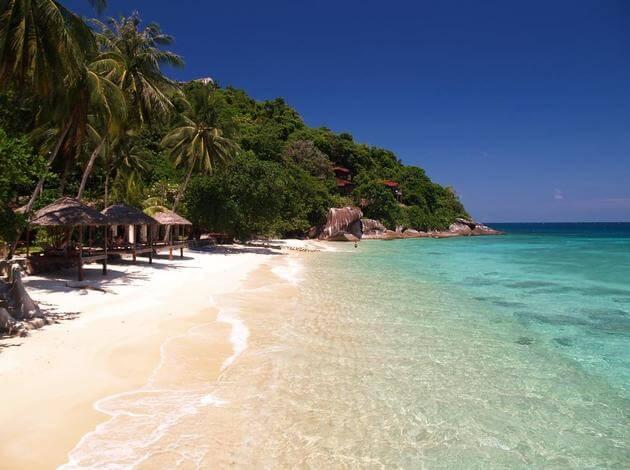 PC: Booking.com
This resort in South East Asia has a quintessential honeymoon experience to offer to you. What it adds is the awesomeness of a secluded South China Sea Island. the best part is that it basks in the middle of a civilized wilderness. It is perfect for people who want their beach in place for a walk, who want to eat while gazing at the beautiful horizon and most importantly want to have a slightly off-beat destination for a little privacy.
Looking for Hotel deals? Visit TripHobo Hotels
12. Of Tropical Gardens and Of Groves - Rayavadee
Location- Krabi, Thailand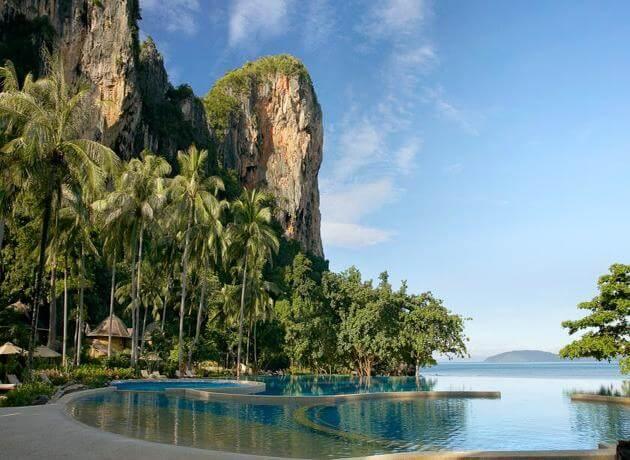 PC: Booking.com
Beaches are very popular among tourists, but what about couples who want to enjoy a different side of nature? Krabi is going to offer to you everything you need for a picturesque vacation, but Rayavadee is going to make you fall in love with each other and the tropical lush gardens running along the beautiful coconut groves.
Look out for Accommodation with TripHobo Hotels
13. For the trust in the name - Mulu Marriott Resort and Spa
Location- Malaysia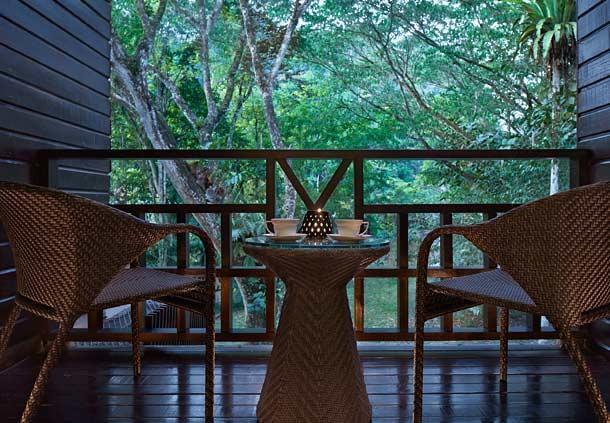 PC: Booking.com
Always trust Marriott for giving you an unmatched hospitality experience. This place is deeply cuddled inside the protective arms of the surrounding rainforest. The rooms are accessible by some amazing walkways which connect you straight to the forest. This Resort and Spa also has a national park situated like 10 kilometers away which also happens to be an UNESCO World Heritage Site.
14. Fairytales can be unraveled anywhere - Beach Villas - Resorts World
Location- Sentosa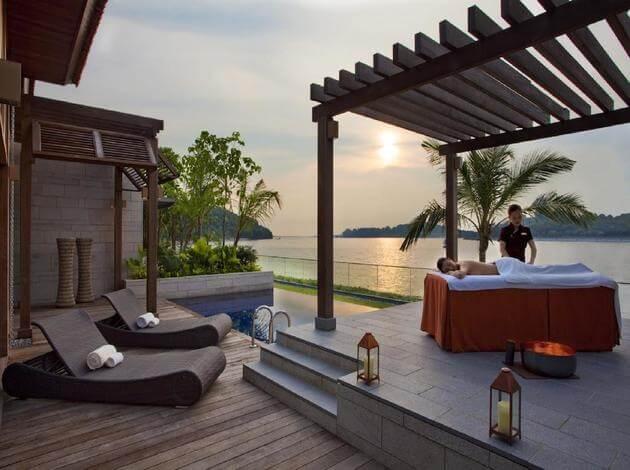 PC: Booking.com
Sentosa single handedly has been responsible for making Singapore the next it destination. Right in this sought after location, you will find Beach Villas- Resorts World. Made for you to enjoy an urban touch with a tinge of colonization married to nature; this resort is definitely one of the best destinations to consider for your honeymoon.
15. For the unconventional goodness of Bali - Ayana Resort and Spa
Location- Bali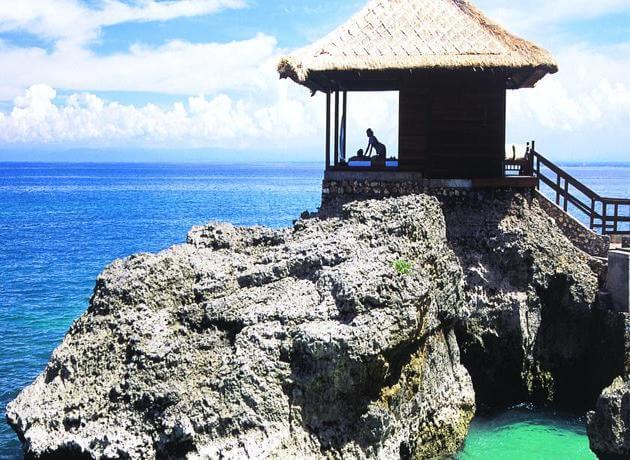 PC: Booking.com
This location is perfect for people who are not into the typical definition of luxury. Ayana Resort and Spa has a very rustic feeling to it with the wooden partitions and villas. The best part is that there are 9 restaurants here and each one is made to offer you a different culinary experience.
16. Heart of the Island-Shangri - La's Boracay Resort & Spa
Location - Philippines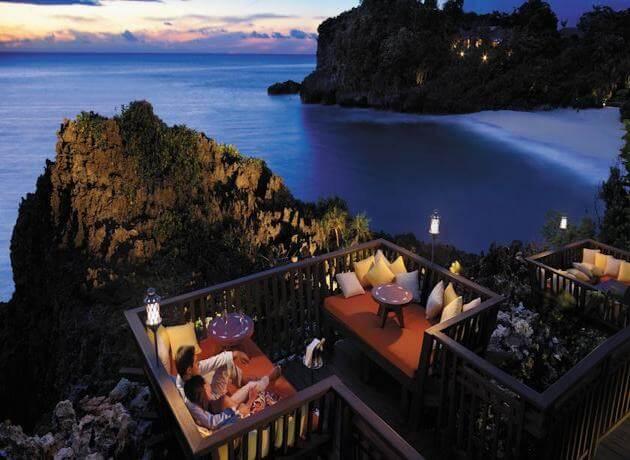 PC: Booking.com
Shangri-La's Boracay Resort and Spa is perfect because it is nestled in the midst of the nature and has all modern amenities to offer to you. This Resort is known for it's amazing couple massages at the spa and has some really polished rooms for you to enjoy your honeymoon completely. Play sports and try out other recreational activities, it is one of the best places to get to know each other. also, remember to discover how much your compatibility is by making the best out of the themed dinners hosted in this resorts.
Best hotel deals with TripHobo Hotels
17. Right in the rainforest - The Datai
Location- Langkawi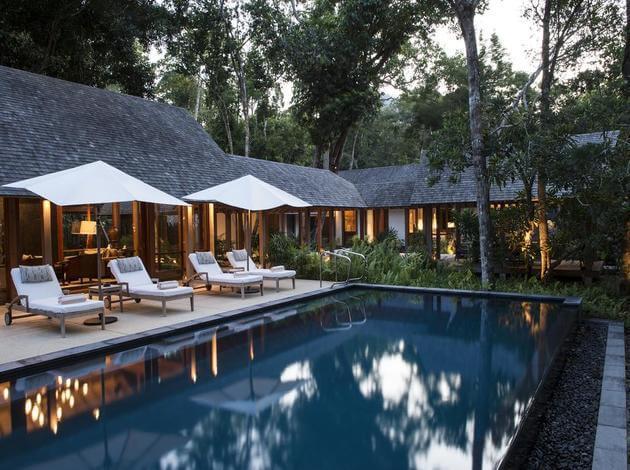 PC: Booking.com
This resort has overtime become one of the most preferred destinations for people who want water as well as wilderness together. Tucked right in the centre of a really old rain forest, this place offers everything that you need for a picturesque honeymoon romantic setting. A honeymoon in Langkawi is mesmerizing to say the least.
18. Getaway to the middle of the sea - Pangulasian Island
Location- El Nido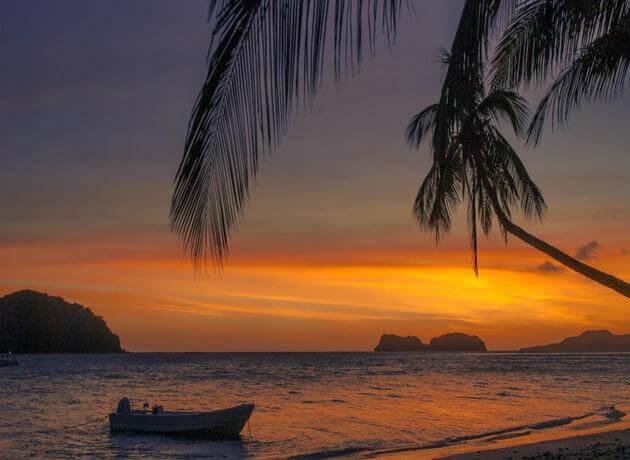 PC: Booking.com
Generally an union of the water and the sky is considered romantic. Philosophers have romanced that theory over and over again making it one of the most beautiful views. At Pangualian Island, you see a marriage of the pristine sands with the mysterious forests. An union of that sort welcomes you to carry out the most important union of your life!
19. For those strolls hand in hand - The Nam Hai
Location- Hoi An, Vietnam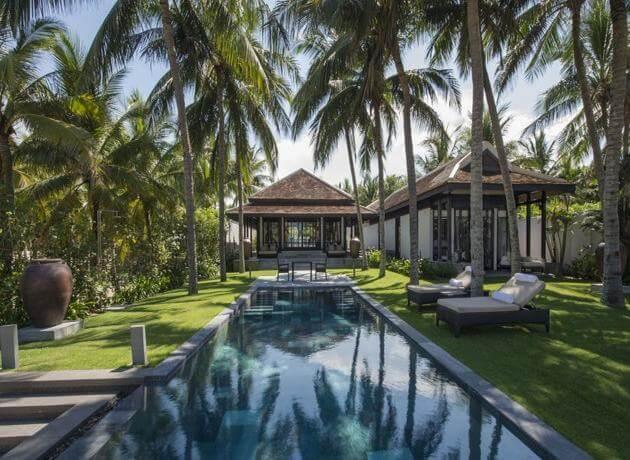 PC: Booking.com
I feel most people prefer Europe when it comes to finding an urban experience for honeymoon. Sometimes, romance can be found even on the crowded roads of London or New York, for people like that The Nam Hai- Hoi An experience is perfect. With a lot of history to be explored from the nearby UNESCO World Heritage Sites and a lot of goodness of nature to be added to it, the Nam Hai resort is quite a perfect destination for a fun honeymoon.
TripHobo Hotels for Best Deals
20. Because Malaysia is truly Asia - Pangkor Laut Resort
Location- Malaysia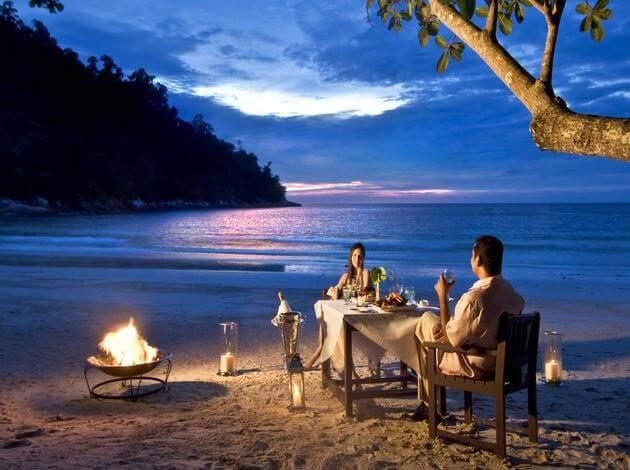 PC: Booking.com
The views here are taken straight from Paradise- that is literally what you are going to feel the first time you walk in with your better half. Amidst a rainforest and white sands that have taken years to become as beautiful as they are today, you will find in the vicinity the west coast of Malaysia along with the strait of Malacca. It is a beautiful location set in the Malaysia and is perfect to understand your significant other in the midst of all this beauty.
21. Off beat destinations make the best destinations - La Veranda
Location- Phu Quoc, Vietnam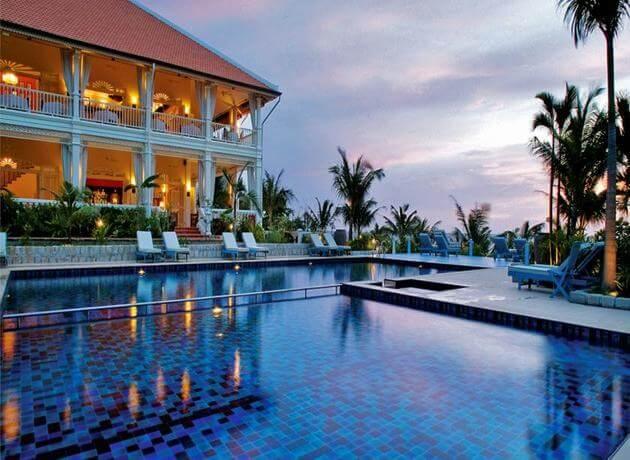 PC: Booking.com
Not that anybody can ever have enough of nature, but sometimes a break is good. Set in the midst of the beautiful nature, this resort offers architecture completely colonial in making. Right from your room, you can witness the beautiful ocean views and sea. Once you step out the spas are sure to pamper you and your significant other. The restaurants here more than attribute to perfect meals on your very intimate trip.
TripHobo Hotels for Best Deals
22. For the experience that will not wear out easily - Song Saa Private Island
Location-Sihanoukville, Cambodia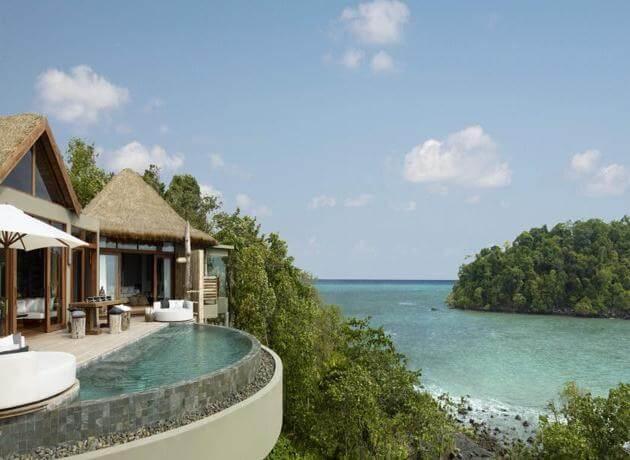 PC: Booking.com
Cambodia has been one of the most underrated tourist destinations. But imagine being on an island which shines like jewels on the beautiful coast of Thailand. The Song Saa Private Island promises a completely distinct experience to you. For one, privacy is in the name of this Island. Secondly, it is tucked in a location which is personally designed by nature. The villas, the spa and the restaurants here are all you need to accentuate all the love that the setting already offers to you.
23. For an encounter with the nature - Gaya Island Resort
Location- Sabah, Borneo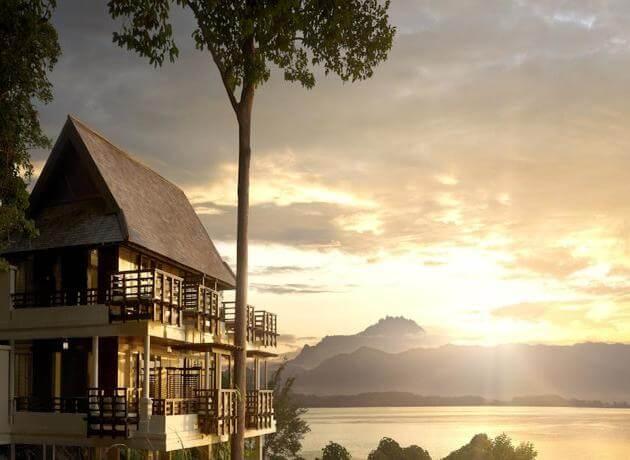 PC: Booking.com
If you asked us to put forward the best feature of this resort, we would definitely get lost in dreaming about the Spa Village. While you are having some amazing encounters with each other, just in the backdrop you are sure to be encountering nature in completely unmatched forms. Right from the setting of perfect animals, the views, the ocean, everything is right with this place for a perfect honeymoon spot.
24. For the animal lover couple - Anantara Golden Triangle Elephant Camp & Resort
Location- Chiang Rai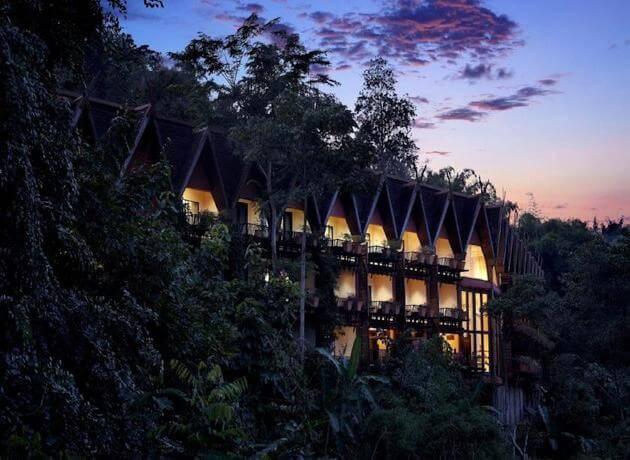 PC: Booking.com
This one is out and out for the couple that likes to do activities apart from the, ahem- main ones. Anantara Golden Triangle Elephant Camp and Resort offers you a completely different side of Thailand. You have treks to go on, get up, close and personal with elephants. Most importantly, it offers you a chance to understand where you stand on the scale of compatibility when it comes to such activities.
Get year around hotel deal with TripHobo Hotels.
25. Because we simply cannot fall out of love with Thailand - Soneva Kiri
Location - Koh Kut, Thailand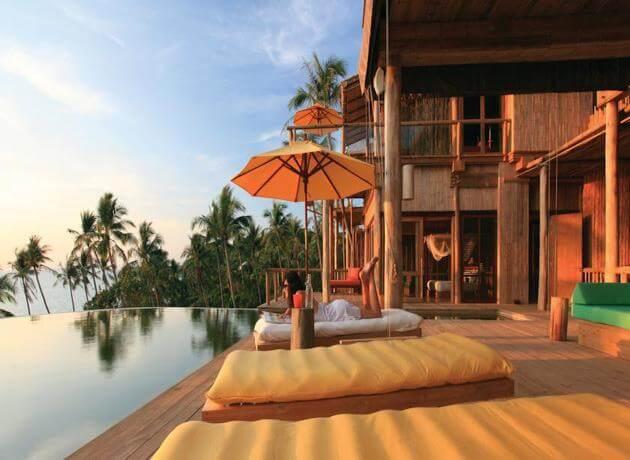 PC: Booking.com
Soneva Kiri is one of the best honeymoon resort right in the vicinity of the Gulf of Thailand. You have the chance to romance anywhere you want to- on a cliff, in the middle of mangroves, in front of the beach or next to waterfalls. Choose your favorite spot from everything that they have to offer to you.
Visit for Exclusive offers at TripHobo Hotels
Any place can be made romantic if the couple is willing to. Tell us which resorts in South East Asia have you been to or even otherwise romantic experiences. We are always ready to take a tip or two.
*All the images taken are from the official websites of the resorts.