How to Prepare For International Travel
* Disclosure: This post may contain affiliate links, which means we may receive a commission if you click a link and book something (there is never any extra cost to you for using these links).
We are the millennial generation. We are travel buffs. Every long weekend, we look for destinations to plan a trip to. And we have an international travel bucket list; places that we want to go to and explore.
I am one of those. I have pictures pinned on Pinterest of the beautiful places that I want to be. I have a savings account to fund my travels and every single day, I dream of taking an international trip to my favourite spot in the world.
But before we actually embark on your dream trip, you need answer for how to prepare for international travel. And however easy it looks, going for an international trip on your own, without the help of a travel agent and on a budget is not really easy. It involves a lot of pre-travel prep to make sure your travel is hassle-free and enjoyable.
Here's a little story of how I prepared for my international trip and you can do so too. This article will also come handy for those looking for tips for travelling abroad the first time.
Initial Preparation for International Travel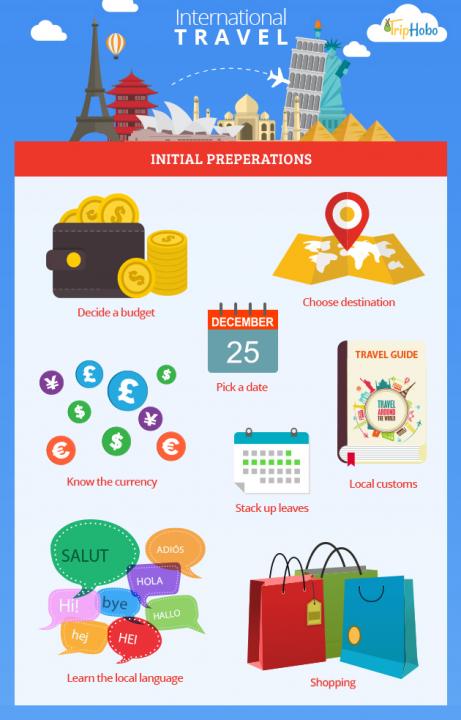 Decide a budget and Start Saving
To begin with, make sure you zero on a budget for your travel and start a travel fund. I have it and I totally get why people who travel a lot (without a lot of money) insist on having it. Having a travel fund gives me the liberty to pick up my bags and travel whenever my heart desires. Always remember, a little goes a long way. Once you have set a budget, fit in your itinerary accordingly. Book the hotels, activities and transport accordingly. Also take into account the daily expense for basic sightseeing, food and transport in your destination and prepare for the funds accordingly.
Stack up those leaves
A major concern for travelling is- leaves and holidays. Save up your annual leaves, work extra whenever needed, take sabbaticals (if the provision is available) or ask for remotely working option to make sure you always have time to travel!
Choosing the destination for an international trip
Choosing the destination is one of the most important steps when preparing for an international trip. Just because some picture that looked really flashy and pretty on Instagram doesn't mean it really suits your travel interest. Research well about the destination, refer travel guides and then make a choice.
Picking the season for your travel
After you have chosen your destination, the next step is to decide the time of your travel. The season you choose to travel can completely change your experience of the place, hence picking the right season is one of the most important things to do.
The best time to visit any destination is also the peak time, so expect crowds, inflated rates and really costly flight tickets. The harshest season, weather-wise is also not the best pick since it will make your sightseeing difficult and experience dull. The shoulder season although, is the most favourable time to plan your international trip. It means lesser crowds, better deals and a pretty decent climate.
Shopping
Yes, this might sound strange. But if you plan to travel in near future, make sure you shop during the sales to suit the weather of the place you are planning a trip to. Look out for those online deals, festive season sales and shop for off-season clothing. For example, winter wear will be cheaper in summer and beach dresses get cheaper during winter. Be a smart shopper!
Know the currency
How many cents is a dollar? How many cents is a Euro? Which is the common form of currency- paper or coins? Learn few things about the currency of the destination country. It will come handy.
Learn the local language of your destination
Okay, you don't need to be fluent in the local language of your destination, but you can and I recommend, that you learn few basics terms, phrases and words before you go. Language apps like Duo Lingo can help you with e-tutorials that will introduce you to the language.
Know about the local customs
On your travel, you don't want to hurt the sentiments of the locals. Know the customs, the dressing protocol of the destination that you plan to visit. It is great to have an idea about the local history and culture before you visit, stock up some great travel guides or books.
Tips for Planning International Trip: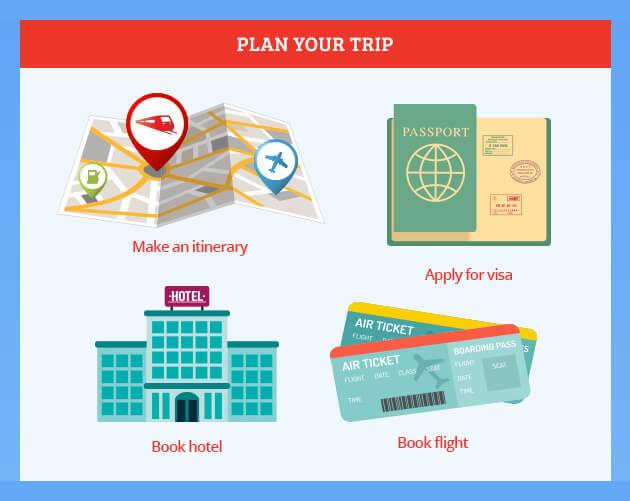 Planning your itinerary
After you have chosen the destination and finalised the time of your travel, the next most important step is to plan your itinerary. This will determine your detailed travel schedule, step-by-step day-wise plan and this is when you will know the starting and ending point of your trip. Instead of being stuck with excel sheets, you can create a flawless itinerary using travel planners and travel apps.
Booking your flight ticket
After planning your itinerary you can start looking into booking flight tickets. There are so many
hacks to book the cheapest flight
, my top favourite is to go incognito while browsing the flights. The web is flooded with International flights travel tips that can really save you a lot!
Booking Accommodation
This one step will determine, more or less, how much you will spend on your travel. Book the right hotel, in the right neighbourhood and at the right price.
Avoid these hotel booking mistakes
on your international travel.
Readying the visa
Now that you have an entire itinerary ready, start applying for visas. Depending on your nationality, there are formalities that better be done in time. Always allow at least 3-4 weeks of time for the visa/permit procedure. The earlier it is done, the better.
International travel packing tips:
Choosing the right bag
Check with your airline to know what dimensions of the bag are accepted. Check the size of the carry-on, the backpack and the main bag and shop accordingly.
Keep it minimal
The lesser luggage you pack, the lighter you will be travelling. A carry-on is the best piece that you should ideally take, especially if you are going to travel on cheap. They are easy to carry in public transports, to and fro hostel rooms and much more efficient to move around. Mix and match clothes so that you don't have to carry a lot.
Roll, don't stack
Okay, so this is a beaten to death tip! But it is really that good. Roll your clothes instead of folding them and stacking them, it is a space saver and one of the essential packing tips for an international trip.
Pack for the season
Know the weather before and pack to suit the season. You don't want to be shivering on the lift up to the Eiffel tower in your sundress, however, pretty it is! Always have layered clothing, it goes well for all seasons. Always have scarfs and shawls in your luggage.
Accessories
Pack fusion jewellery that you can mix and match to go with all outfits. Avoid anything with sharp, pointed edges as it can be problem, if packed in a carry-on. Do not pack expensive items like watches, gold necklaces and diamonds. Go for the faux ones instead!
Toiletries
Pack lotions, shampoos, body wash, face wash and other liquid toiletries in smaller bottles. If carry-on is the only luggage you are going to have, check the list of TSA-approved liquids and their permitted quantities. Besides, most hotels, hostels will provide you with the basic stuff, so avoid packing generic items.
Food items
Granola bars, dried fruits, heat and eat items are your go-to if you want to travel on a budget. Pack high-energy foods that you can eat in case you miss a meal, carry microwavable foods, cuppa-soups or snacks. I always keep salt and pepper, ketchup in my luggage just in case the local food doesn't suit my palette.
Empty water bottle
Yes, refill it anywhere, anytime and save money on packaged drinking water!
Electronics
Converter plug, chargers, extra batteries and memory cards for gadgets- never forget these!
Travelling abroad checklist of documents: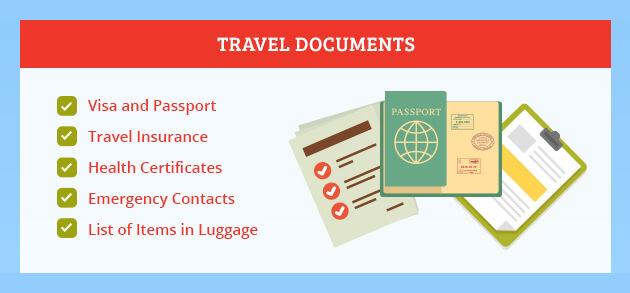 Visa and Passport
You will have it, you should have it! Enough said.
Travel insurance
A must-have document for visa procedures, make sure you have a printed hard copy with you on your travel. Also, always have a clear idea of what you
travel insurance
covers- like health, loss of luggage, theft.
Health certificates
Now as a precaution, always have your health certificates with you, especially if you have any allergies or health problems. Always check the list of necessary vaccinations to be taken before you visit any particular destination and get yourself vaccinated before the trip. Carry a copy of all the vaccinations you took as they have to be presented at the airport.
List of the items in the luggage
I can't even tell you how important this one is! When my luggage got misplace at the CDG airport, I was asked for a list of items in my luggage which they would refund against. Always, always have it.
List of emergency contacts
Keep a neat list of emergency contacts with phone numbers, email address and postal address. Keep this list along with your passport.
Things to do before travelling abroad: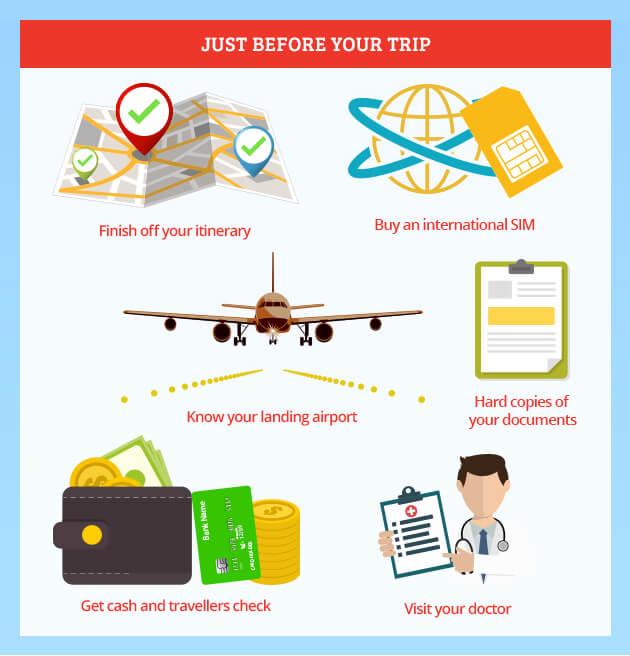 Just a few days before you start your international trip, the tasks can get overwhelming. Here's how you can be organized just before your trip.
Have the itinerary ready
After several changes, editing, corrections, now is the time to finalise your itinerary and keep a copy of the same with you. Although you would want to have a hard copy, you can create an itinerary
here
and you'll have a copy on your email and phone.
Know your airport well
Travelling internationally, the airport is one of the first things that you will arrive at. Know the airport of your destination, whether it has public transport to your hotel, what the taxi fares from the airport to hotel are going to be like and so on.
Exchange Cash
Exchange your currency to the local currency of the destination. Doing it back home will be beneficial and you'll save on exchange rates.
Get a traveller's check or a card
Contact your bank, inform them that you will be travelling abroad and ask for exchange rates on card swiping. One of the best international travel tips is to get a traveller's card that can be prepaid and swiped without losing on currency difference.
Visit your doctor
Although you might be pink and glowing in the anticipation of your international trip, it is always better to get checked by a professional so that you don't fall sick on the vacation.
Check the country's entry/exit fees
Yes, many countries charge a fee for entry/exit. Make sure you calculate it and carry that extra cash.
Spread your money
Don't keep all your money
in
one place; divide it between bags, valets instead.
Carry hard copies of important documents
Keep a photocopy of your important travel documents with you. This includes passport, visa, hotel booking, flights and transport bookings. Also keep one copy at home, just in case.
Research about a local SIM Card
If you plan to extend your stay, research about international calling card or local SIM so that you can purchase it once you reach your destination. Here's a guide on
top tips to use cell phone abroad
.
Contact your host
If you are staying in a homestay or an AirBnB, inform your host about arrival. This will help you in case the host offers to pick up or gives you directions to reach.
Download the essential apps
Translator apps, language guides and travel apps come in handy when you travel. Download them while you have an internet connection.
Download TripHobo
, if you haven't already to access your trip plans and travel guides to more than 140000 destinations on the go!
Get ready and start planning for that long pending international trip now!