Madhya Pradesh Travel Guide During Jal Mahotsav
UPDATED Sep 10, 2018
13.4K Views
As someone wisely said, "Some old-fashioned things like fresh air and sunshine are hard to beat".
However fancy and chic your urban home is, the urban chaos cannot always give you the much-needed tranquillity that the escapades of nature offer.
Madhya Pradesh
- the soulful centre point of India is replete with such places that provide you with countless opportunities to relax, to rejuvenate and have an eventful vacation.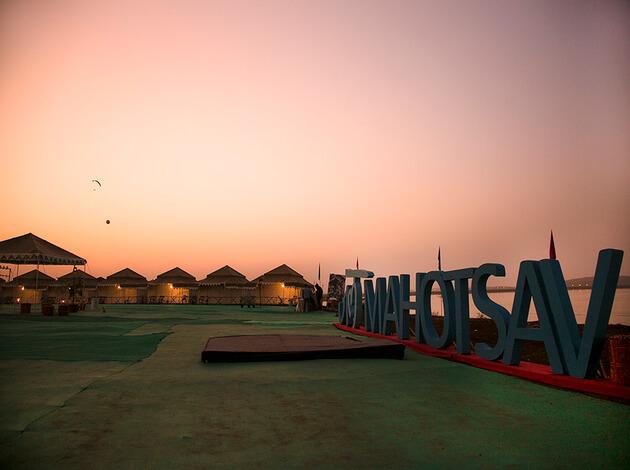 Jal Mahotsav is one such striking event organized by the
Madhya Pradesh Tourism
to create opportunities for visitors, tourists and travellers to have a splendid vacation. This year, Jal Mahotsav will take place between
15th of December 2016 to 15th of January 2017
.
Held on the pristine tourist complex of Hanuwantiya, Jal Mahotsav is a party that never ends! Happening between the months of December and February, Jal Mahotsav accentuates on the natural beauty of the Indira Sagar Dam. Indira Sagar Dam is the largest reservoir in India and is the second biggest of its kind after the Three Gorges Dam of China in the continent of Asia. The dam surrounds the area of Jal Mahotsav and with its vibrant facilities, events and accommodations, gears up to be an interesting vacation spot for one and all.
Families, young groups and solo travellers flock to this event in the Khandwa district and they sure are ready for surprises. Along with the crisp and well-managed amenities, the event manages to enthral the tourists with its array of activities.
How to Reach Jal Mahotsav:
You can reach this bounty by taking a flight to Indore, which is the nearest airport at a distance of 150 kilometres. If you have booked your tent, you will be provided a pick-up from Indore or Khandwa whichever option you prefer. This complimentary pick-up will ensure you have a comfortable journey to kick-start your trip to Jal Mahotsav.

Various Packages at Jal Mahotsav:
According to your schedule, you can pick and book from the packages offered at Jal Mahotsav. The package offerings are: 1 Night 2 Days, 2 Nights 3 Days and Island-1 Night 2 Days.
Activities at Jal Mahotsav:
Some of the top activities that you can indulge in include adrenaline pumping water sports like Banana Boat ride, Water Zorbing, Water Scooter ride and Speed Boat ride. Splash in the blue waters of Indira Sagar and turn the adventure mode on! And for those who think this is mundane, there is something better! The Water Parasailing ride where you can fly over the waters and enjoy a bird's eye view of the entire Hanuwantiya!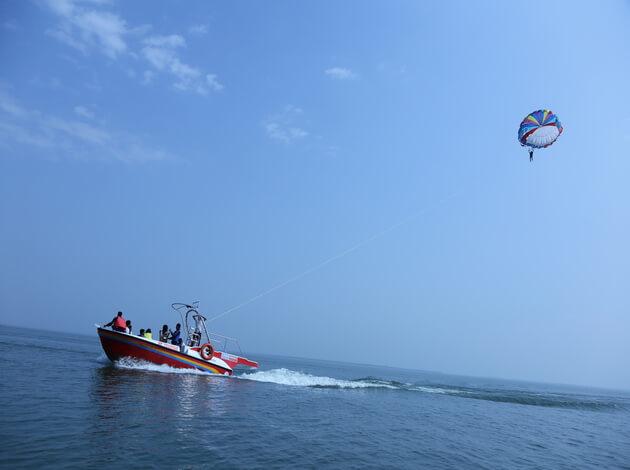 Alternatively, the paramotoring and the balloon ride can give you goose-bumps for sure!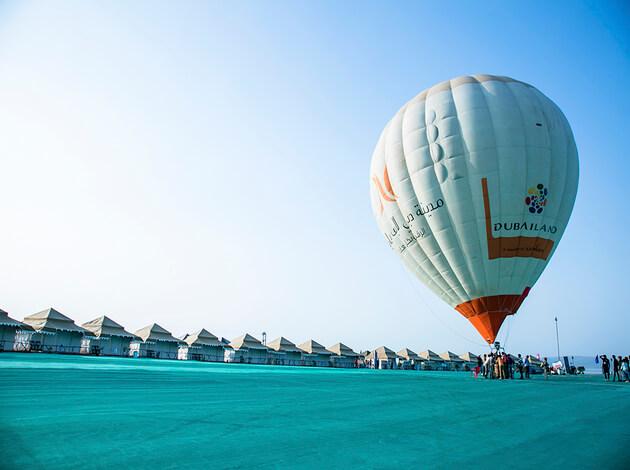 For the quaintness lovers, Jal Mahotsav is a perfect place to wake up to the sound of birds chirping, against the back-drop of blue waters. Grab a pair of binoculars and enjoy a splendid session of bird watching!
Touch your roots on your visit to the Jal Mahotsav by hopping on a bullock-cart ride and enjoying a game of kite-flying to relive your childhood.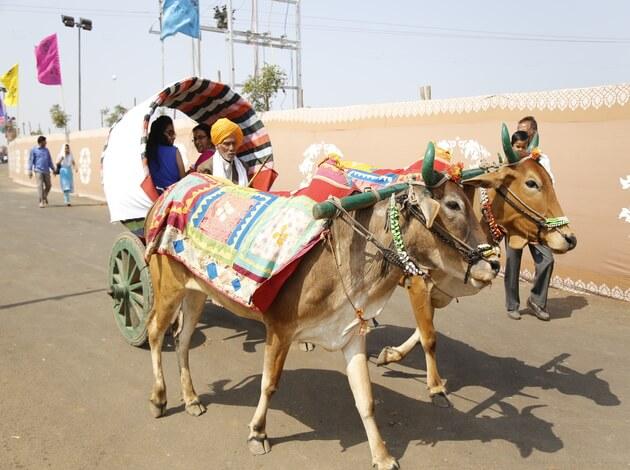 If you want to sleep under the stars, you can also opt for island camping and admire the night-sky. Plenty of other jungle activities, trekking and hiking can add to the eclecticism of your visit.
For those with itchy feet, there is a sightseeing tour to Boriyamal Island which includes cruise ride over Rewa River!
Land activities at Jal Mahotsav: Zip lining, Tug of War, Volleyball, Paint ball game, Archery game, Bull cart Ride, Kite Flying, Wall Climbing, All-terrain vehicle ride, Star Gazing, Club house and kids' activities.
Air activities at Jal Mahotsav: Land Para Sailing, Para motoring, Hot air balloon rides.
Water activities at Jal Mahotsav: Water Zorbing, Water Para Sailing, Motor Boat, Banana ride, Jet Skiing.
Night Camping: Island camping, Camp Fire.
For retail therapy, the craft bazaar offers hand-picked terracotta items, Maandna paintings, lac ornaments, woollen clothes and fabric paintings to take home!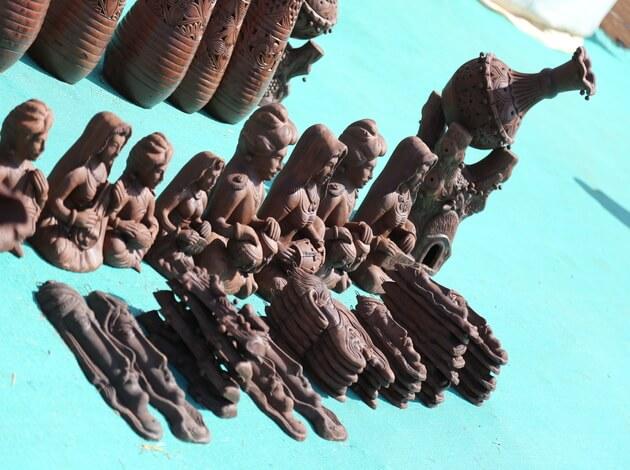 Needless to say, Activities in Jal Mahotsav are designed to suit tourists of all ages and interests!
Food and Accommodation at Jal Mahotsav:

Well-decorated, super comfortable tents await you at Jal Mahotsav. As soon as you step in the tent, you will be welcomed by rustic furniture, striking art pieces and a cosy bed that will ensure you a good night's sleep. Choose from the premium tent or the budget tent, whichever suits your pocket and enjoy a comfortable stay.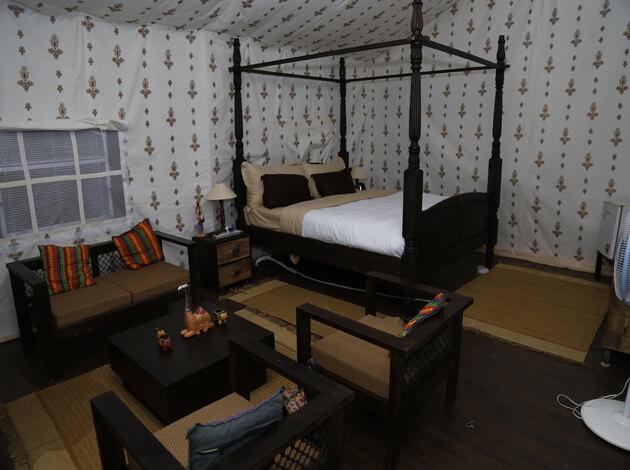 The huge open spaces around the tents give you the refreshing break from the concrete jungles and you can literally listen to the sound of the air.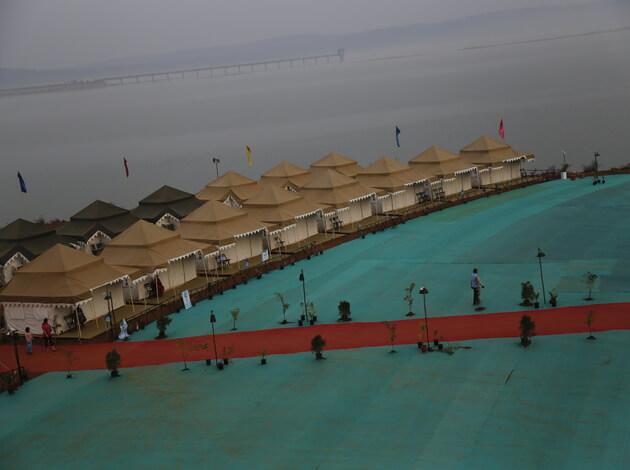 To move around the tent area, you can ride a bicycle or hop on a golf cart ride!
If staying on the land is not your thing, you have an alternative! Book the house boat and enjoy a stay on the tranquil waters of Indira Sagar Dam.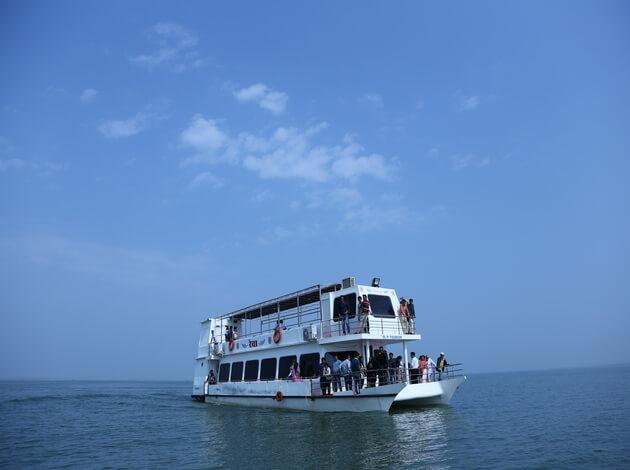 The food zone in the Jal Mahostav is equipped with multiple options to satiate the inner foodie of the visitor. Scrumptious snacks, fast food items as well as lip-smacking local delicacies can pamper your taste-buds on your visit.
Events at Jal Mahotsav:

Jal Mahotsav ensures you are entertained 24*7 on your visit. Folk performances, cultural shows and classical music performances are some of the worth catching ones!
Walk into the delightful world of Jal Mahotsav and the illuminated paradise will elevate your mood and senses! Have a delightful vacation to Jal Mahotsav, book your tickets today!