12 Stunning And Beautiful Lakes In Rajasthan
* Disclosure: This post may contain affiliate links, which means we may receive a commission if you click a link and book something (there is never any extra cost to you for using these links).
Primarily known as the desert land of India, Rajasthan surprises its visitors with various hues that lay embedded in its vast landscape. From overarching mountains to free flowing rivers, from vibrant colors to engaging traditional practices, Rajasthan offers an absolute delight to the tourists who are looking for an ensemble of Indian culture and terrain here.
There is another feature that endows Royal Rajasthan, which is its varied shimmering lakes. These water bodies are not just beautiful and pristine to look at but are also the carriers of Rajasthan's history, tradition and an ever evolving culture. So have a look at some of the most stunning and famous lakes in Rajasthan that eulogize the state's immortal allure:
1. Pichola Lake, Udaipur - The Lake that Enchants All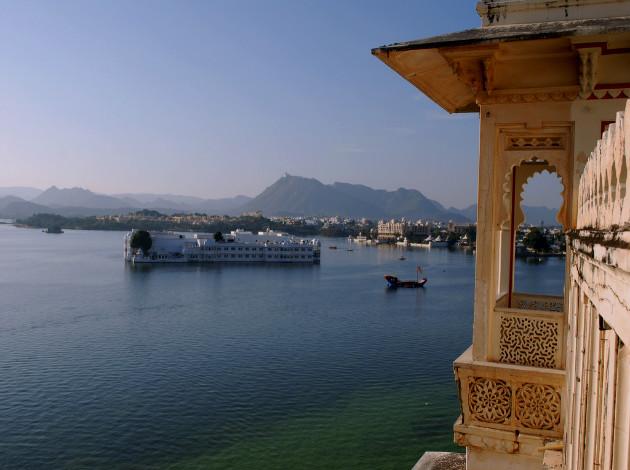 Let us begin our list with the most famous lake in Rajasthan. The crown jewel of Udaipur,
Pichola lake
is an artificial lake that is surrounded by magnificent palaces, temples, bathing ghats and elevated hills. Home to four islands namely, Jag Niwas, Jag Mandir, Mohan Mandir and Arsi Vilas, this lake is the source of beauty as well as water irrigation purpose in Udaipur. For bird watchers, lake Pichola is an interesting territory to watch many species of birds that include tufted ducks, coots, egrets, terns, cormorants and kingfishers. Pichola lake is infact one of the reasons why Udaipur is known as the
city of lakes
adorning India. Take a boat ride on it and you will actually traverse through the vignettes that dot the bewitching landscape of Udaipur. Pichola Lake's stunning beauty infact tempted Rudyard Kipling to mention it in his Letters of Marque (1899), "If the Venetian owned the Pichola Lake, he might say with justice, "see it and die".
2. Pushkar Lake, Pushkar - Where Spirituality Delves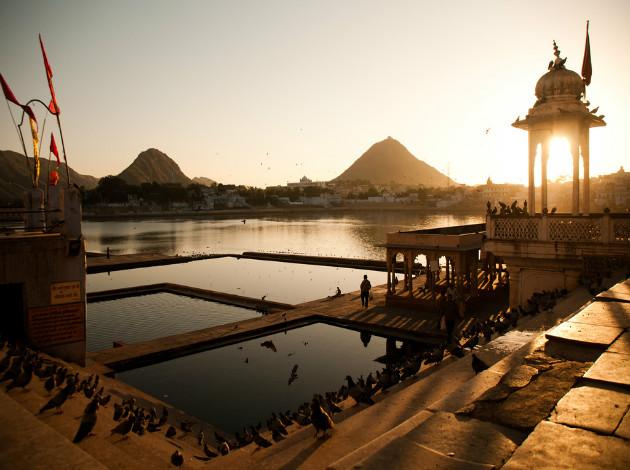 One of the most sacred pilgrimages destinations of India,
Pushkar lake
inspires awe as well as reverence owing to its mythical origins as well as cultural relevance. The lake is mythologized to have emerged out of lotus petals that fell from the hands of the Hindu God of Creation, Lord Brahma. Also described as the "Tirtha Raj", a dip in this lake is considered to be a holy act as per the Hindu religion and practice. Enveloped by atleast 400 temples and 52 bathing ghats, this lake is more than just a beautiful water body that adorns India. It personifies religion, culture and spiritual values of landscape of Rajasthan.
3. Sambhar Salt Lake, Jaipur - The Largest Inland Salt Lake in India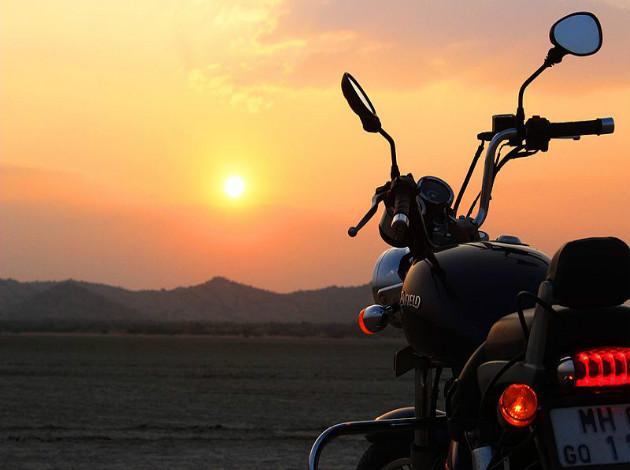 Image source: Wikimedia Commons
The Salt lake in Rajasthan finds its mention even in the epic Mahabharata and is an important part of Indian cultural legacy. Located in the municipality of
Jaipur
, this lake is a part of Sambhar Lake National Park and adds voluminously to the scenic beauty of the whole place. Apart from being the major hub of salt production in India, this lake is also a sanctuary for birds that include flamingos, storks, sandpipers and redshanks. A visit to this lake will prove to be a mythological as well as scenic indulgence.
4. Nakki Lake, Mount Abu- Nature Personified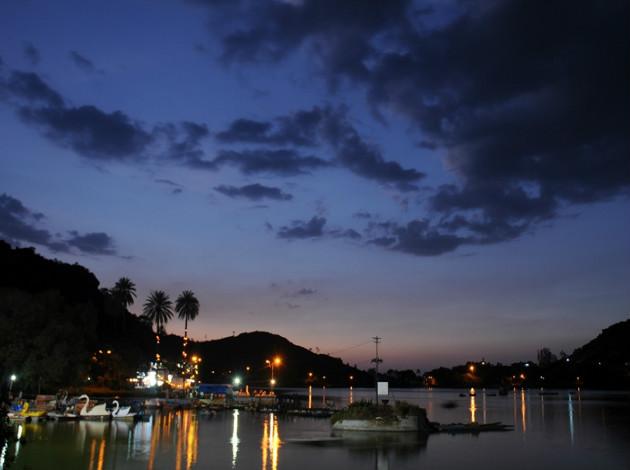 Nestled in the lap of black mountains of Mount Abu, Nakki lake offers a piece of heaven for those who wish to immerse in nature as well as culture. Also called as the love lake of Mount Abu, it is the largest manmade lake at the height of 11,000 meters in India. Boating is the main attraction that embellishes this lake and through which you can enjoy its serenity as well as allure.
5. Man Sagar Lake, Jaipur - The Royal Lake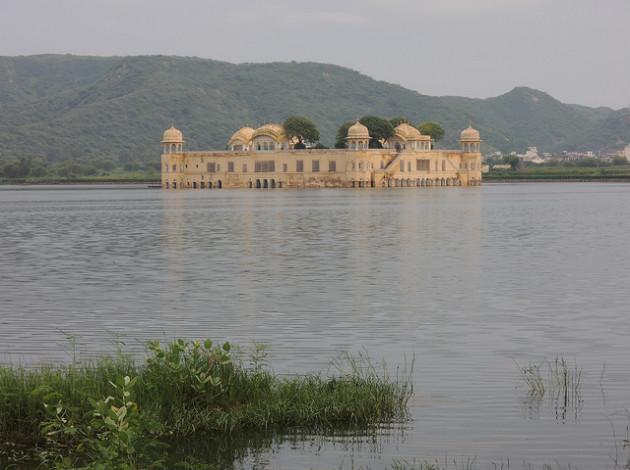 Man Sagar lake is probably how you would like to characterize Rajasthan with. What will strike the viewer about this lake is the very presence of a royal palace in the midst of its shimmering waters. Aptly called as the "Jal Mahal" (water palace), this is one of the lake palaces of Rajasthan that have added a whiff to the state's tourism. This palace is accessible only via boat that adds to its quintessential royal charisma. Constructed in 18th century as a shooting lodge by the Maharaja Jai Singh II, this lake has been a thriving home to diverse wildlife that includes a large flamingo population.
6. Jaisamand Lake, Udaipur - Asia's Second Largest Artificial Lake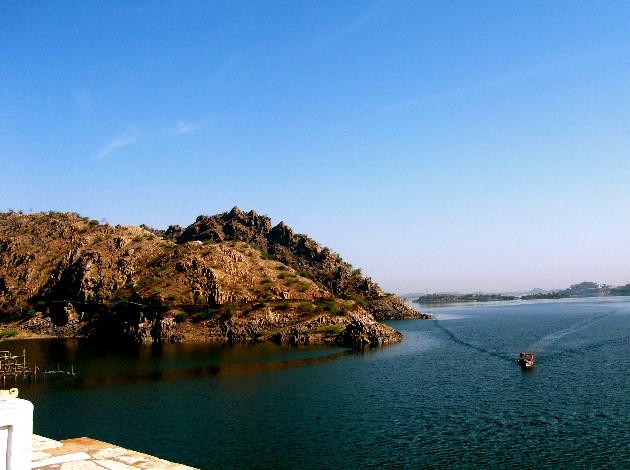 Image Source: Wikimedia commons
Not many of you would have heard about the Jaisamand lake. However, those who know it would also know that it is Asia's second artificial lake, located in the Udaipur district of Rajasthan. Also known as Dhebar lake, this water body looks massive and picturesque enough to catch your fancy. Built in 1685 by Maharana Jai Singh while making a dam on the Gomti River, this lake coalesces Rajasthan's rich past with the modern present. A summer palace for Udaipur Queens offers an ideal backdrop to Jaisamand Lake, making it look more bewitching.
Plan a trip to Rajasthan with Triphobo's trip planner
7.
Ana Sagar Lake, Ajmer - A Lake that Preserves History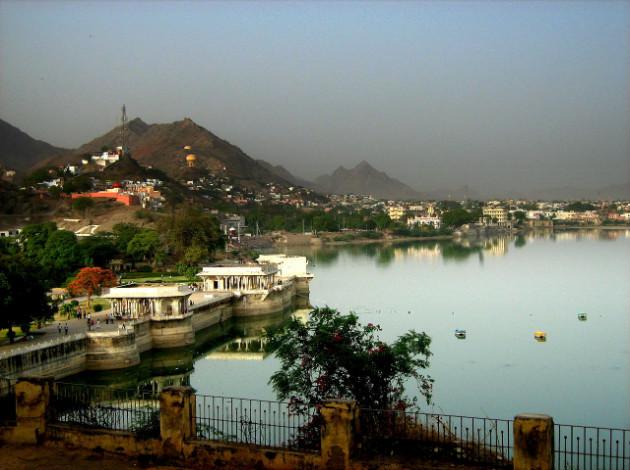 Image Source: Wikimedia Commons
Rajasthan's history is rich with legends and its landscape bespeaks the presence of those immortal stories passed on in the form of legacy. Ana Sagar lake was founded as an artificial lake by the grandfather of Prithivi Raj Chauhan, King Anaji Chauhan between 1135 -1150 AD. Together with "Ajmer-e-sharif", this lake is one of the coveted places to visit in Rajasthan.
Plan a visit to the most famous Forts of Rajasthan
8. Kaylana Lake, Jodhpur - A Perfect Picnic Spot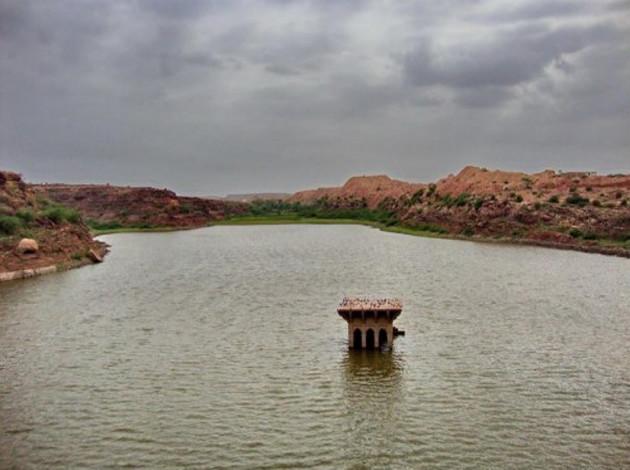 Image Source: Wikimedia Commons
For those who love bird watching, Kaylana lake offers a perfect sanctuary to spot and photograph the beloved creatures. Located in Jodhpur, this artificial lake was built in 1872 and covers an area of 8 kms. It an ideal point from where you can enjoy the view of a spectacular sunset. Thus, for those who are looking for a perfect picnic spot in Rajasthan, this is the place to be.
9. Lake Foy Sagar, Ajmer - For Those Stunning Views of Aravalli Mountains
Named after an English engineer, Mr. Foy, the lake Foy Sagar embellishes the ancient city of Ajmer. The lake was built with a purpose, which was to offer itself as a water body to the locals during the famine of 1892. Although the purpose with which it was built might have been fulfilled long time back, this lake still offers as a scenic backdrop to the city of Ajmer. While standing on its edge, you can enjoy spectacular views of the Aravalli mountains and the glowing sunset.
10. Balsamand Lake, Jodhpur- Nestling the Royal Lake Palace
Located in the historic environs of Jodhpur, Bal Samand Lake is probably best known for nestling the stunning Balsamand Lake Palace, thereby offering a blend of nature and architecture. Built in the Rajput style of architecture, this palace served as the summer residence of the Jodhpur Maharajas. The lake complements the lush green lawns and staggered terraced gardens of the property.
11. Fateh Sagar Lake, Udaipur - Overlooking the Magnificent Aravalli Hills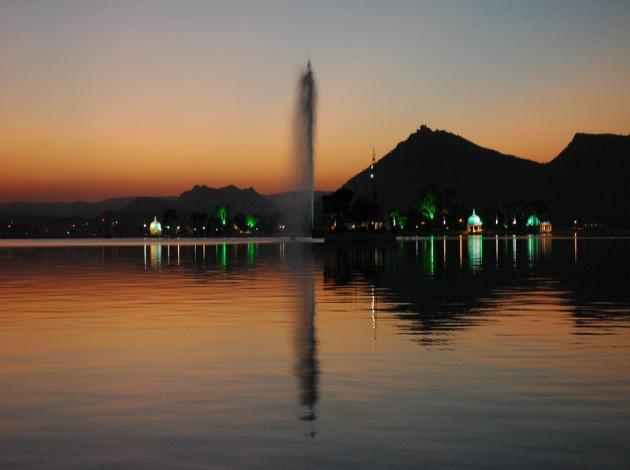 Image Source: Wikimedia Commons
Fateh Sagar lake offers a perfect ensemble. It overlooks the massive Aravalli hills, its water is azure and it nestles three islands which you can treat as picnic spots. Constructed in 1678, this artificial lake boasts of being one of the four beautiful lakes in the city of Udaipur.
12. Gadisar Lake, Jaisalmer - An Oasis Amidst Desert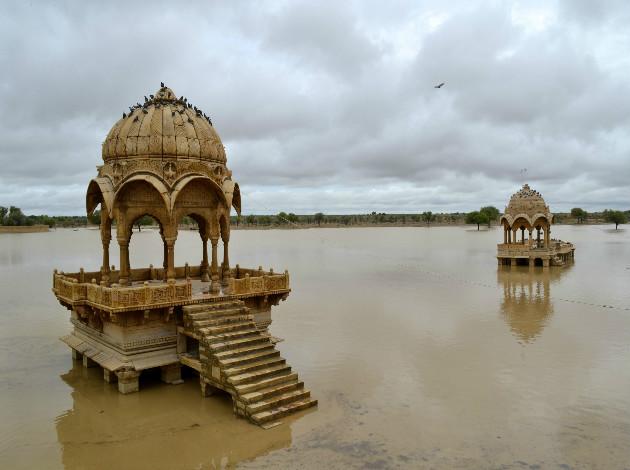 Image Source: Wikimedia Commons
Jaisalmer might be more famous for its golden sand dunes. However, Gadisar lake offers an equally charming sight here as the sand dunes seem to be nurturing its shimmering waters. The lake is not actually a natural oasis but was built a water conservation tank in around 1400 A.D. by the then Maharaja of Jaisalmer, Maharwal Gadsi Singh. Surrounded by temples and shrines, this lake however looks like an oasis amidst the dazzling deserts of Jaisalmer.
So which of these lakes would you like to behold during your next visit to Rajasthan? Let us know.