7 Best Lakes Near Pittsburgh To Visit in Summers 2018
* Disclosure: This post may contain affiliate links, which means we may receive a commission if you click a link and book something (there is never any extra cost to you for using these links).
Summers are fast approaching and with it come the hot sunny days. As beads of sweat start trickling down the back, all we wish is to take a dip in cool waters. And what better way to do that than visit a tranquil lake, which not only offers a leisure swim, but many other recreational activities.
Take out an old album and you will see that your childhood summer holiday pictures are ruled by day-outs by the lake. With many calm lakes near Pittsburgh, why not head towards them to revisit some fun childhood memories?
1. Lake Arthur: One-stop for many recreational activities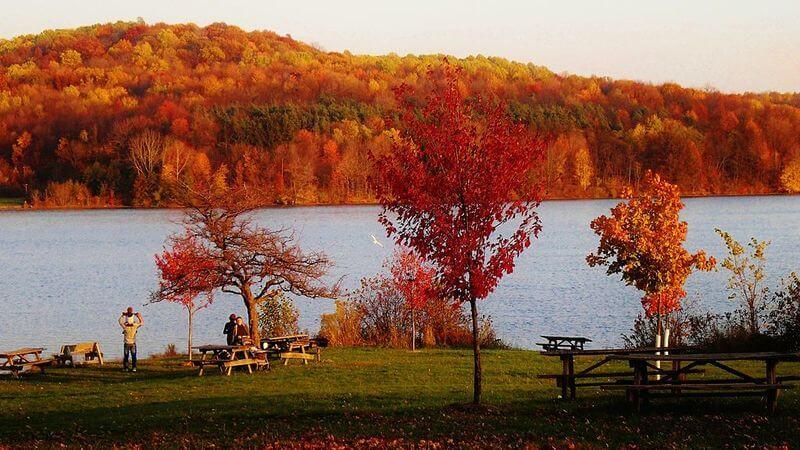 Image Source: Wikimedia Commons
Nestled in the Moraine State Park of Pennsylvania, Lake Arthur is endlessly expansive, pristine, and much more. Spread across 3,200 acre, this lake is a favorite summer recreational hub amongst Pittsburghers. Nothing can match kayaking or canoeing at this crystal clear lake on a warm sunny day. You will also see sailboats, motorboats, and pontoon boats surfing the waters of the lake. It is popular amongst those who love fishing and windsurfing. With two swimming beaches in its store, Lake Arthur sees large crowds during summers. So, take my word and visit it in fall when the lake water would be chilly but the surrounding vividly colored foliage will simply take your breath away.
How to reach: If you drive down from Pittsburgh along route I-279 and I-79, it would take you around 45 minutes to reach Lake Arthur.
2. Keystone Lake: Enjoy the panoramic views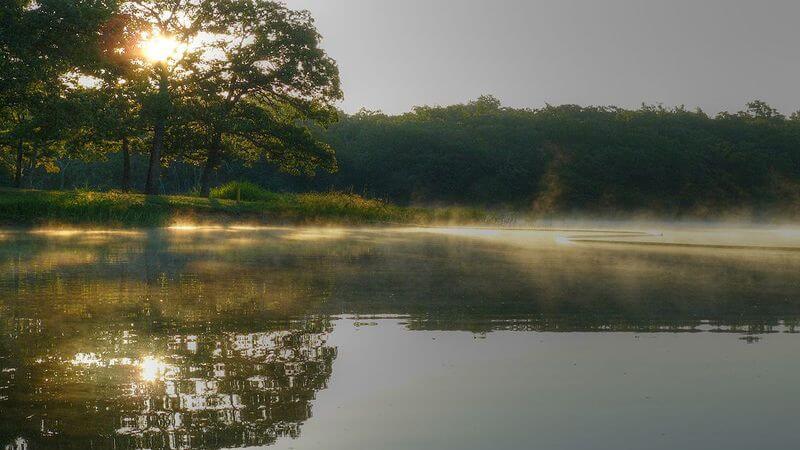 Image Source: Wikipedia.org
At Keystone Lake, the small sandy beach, the crystal clear waters, and the lush green mountains beyond, simply make for a postcard perfect picture. Perch a chair on the banks here and you can sit for hours together, letting the gentle breeze brush your face and blow your hair. This man-made lake is spread over 78 acre and has been the prime reason to pull crowds to Keystone Lake Park since its establishment. Pack you fishing gear and you may get lucky with a variety of fish including carp, northern pike, tiger muskellunge, and many more. Kayaking and swimming are other common activities that visitors love to indulge in at Keystone Lake.
How to reach: Drive along the route I-376 E and US-22 E to reach Keystone Lake within 40 minutes
Check Out: Best Things to do with Family and Kids in Pittsburgh
3. Twin Lakes: A place with two reservoirs for you to enjoy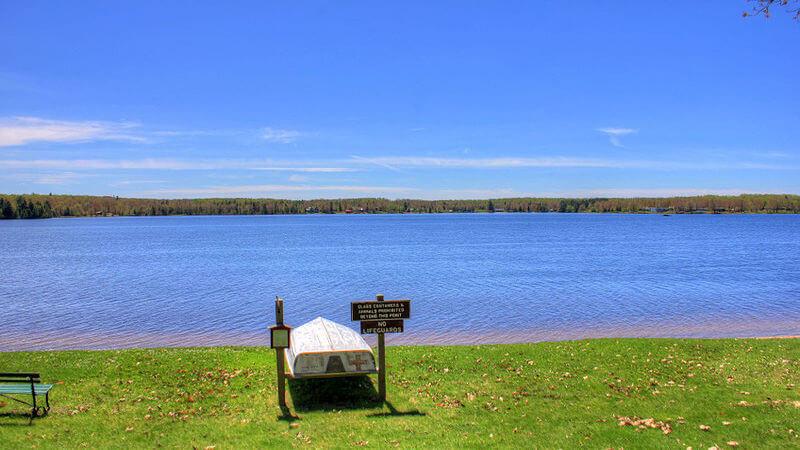 Image Source: Wikimedia Commons
Twin Lakes are two separate reservoirs in the Twin Lake Park, located 36 miles away from Pittsburgh. Commonly known as Upper and Lower Lakes, these are frequented by Pittsburghers during summers. With the Twin Lake Boathouse located on the banks of the Lower Lake, it is one of the best lake for boating near Pittsburgh. You may choose pedal boats, canoes, or rowboats to access the gentle waters. You may even sit on the benches along the shores and enjoy the serenity of the tranquil lakes. Twin Lakes are also visited during winters since they are a hot-spot for ice fishing. Both the lakes are well-stocked with a variety of healthy fish, attracting many fishing enthusiasts all year round.
How to reach: Drive along the route I-376 E and US-22 E, and you will reach Twins Lake Park within a short period of around 35 minutes.
Check Out: Top Amusement Parks in Pittsburgh
4. Conneaut Lake: Best place to visit with kids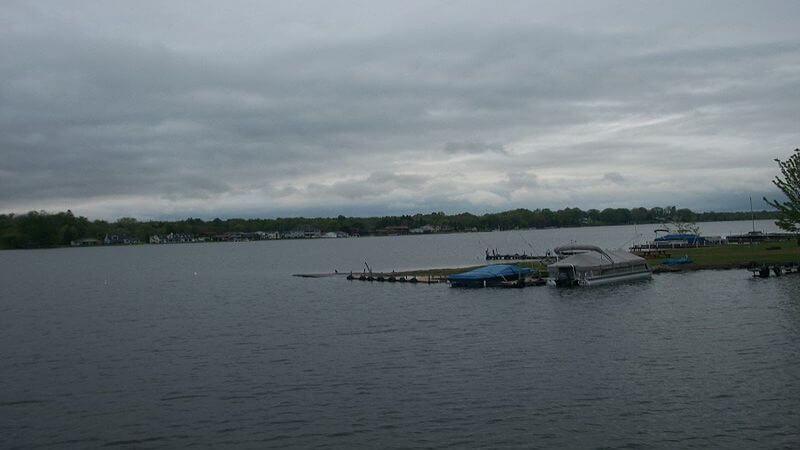 Image Source: Wikipedia.org
Conneaut Lake is the largest in Pennsylvania region and by far is the most crowded during summers. This is one of the best lakes near Pittsburgh to visit with kids since there is also an amusement park near the lake. The lake is equipped with a boat ramp allowing you to access the tranquil waters. There is also a small beach ideal for sunbathing. Since the waters are quite shallow near the shores, you may also enjoy a cool dip on a hot sweltering day. You will also see kids trying their hands at catching a fish here. Conneaut lake is a must visit to spend the summer holidays a fun-filled way. There are a few houses by the shore which are even offered for accommodation during the holidays. Pick one and enjoy a good stay by the lake.
How to reach: If you choose to drive along the route I-79 N from Pittsburgh, it would take you around one and a half hour to reach Conneaut Lake.
5. Crooked Creek Lake: The most crowded place in summers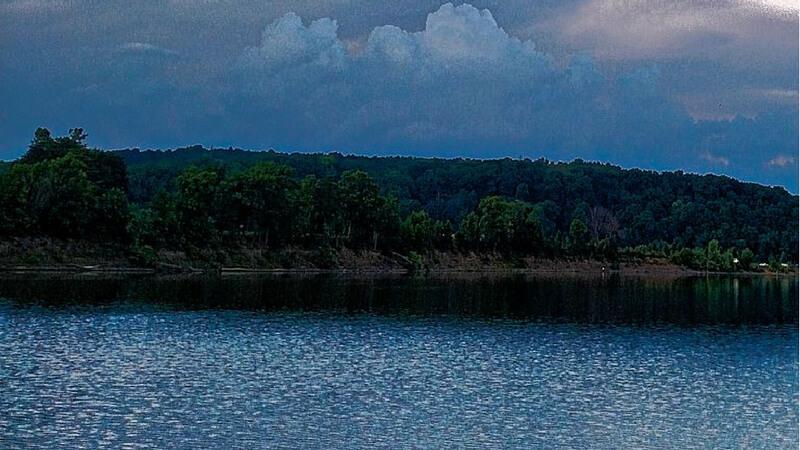 Image Source: Wikipedia.org
If you wish to escape the summer crowds and yet want to enjoy some time by tranquil lake waters, then head towards Crooked Creek Lake. This is one hidden gem in Pennsylvania, hardly 42 miles away from Pittsburgh. Although small, Crooked Creek Lake allows you to enjoy all those recreational activities that you would indulge in at any other popular lakes near Pittsburgh. You can launch your boats in the water using the ramp or go swimming in the waters to make the most of your time. However, this lake is more of a favorites amongst fishing enthusiasts. You will see many people patiently waiting for the fish to catch the bait. Carry your fishing gear and test your fishing skills.
How to reach: Follow route PA-28 N to reach Crooked Creek lake within 50 minutes.
6. North Park Lake: A place you would want to return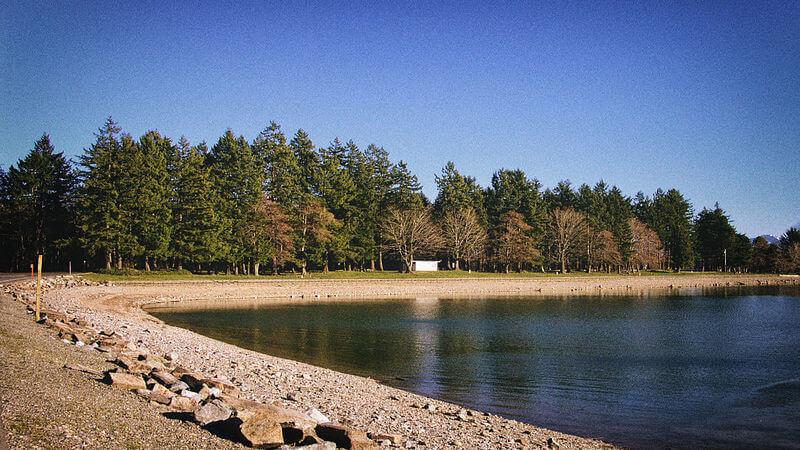 Image Source: Wikimedia Commons
North park Lake is the nearest lake in Pittsburgh. Located just 10 miles north to the city, this lake is frequented by many locals during summer. You can go paddling, canoeing, or kayaking in the lake. You may even sit by the shores and enjoy the picturesque views of the lake and surrounding greenery. With the boathouse located on the shores, you may gorge the delicious quick bites offered here. The rental house is ideal to occupy during summers. Stocked with many fish species, this lake is also great to try your hand at fishing. Just cats your line and wait to catch a fish. Besides the recreational activities at the lake, you may also go hiking or bicycling along the trails around the waters.
How to reach: Drive along the McKnight road and Babcock boulevard to reach North Park Lake in 20 minutes.
Check Out: Best Dog Parks in Pittsburgh
7. Cross Creek Lake: Unleash the finishing enthusiast in you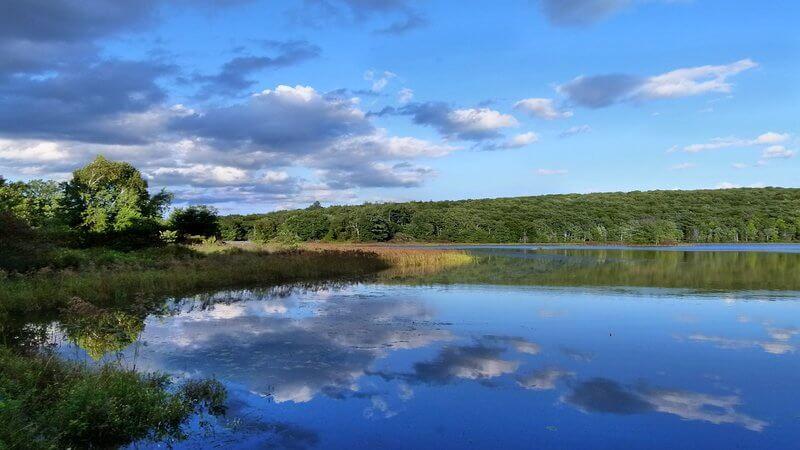 Image Source: geograph.org.uk
Cross Creek Lake is one of the best lakes for fishing near Pittsburgh. Many fishing enthusiasts flock to this lake at the next opportunity they get. If you aren't much into fishing, you may even sit by the shores and just enjoy watching the fisherman. There is also a boat ramp here, using which you can access the cool waters. It is advised to not swim in the lake, since the waters may be too deep. Restoration of the lake is also underway to pull larger crowds in near future. One must watch the sunset at Cross Creek Lake which makes for a sight to behold. As the sky gets painted in orange hues, its reflection in the water leaves you mesmerized.
How to reach: Driving along the route PA-50 W from Pittsburgh, you will reach Cross Creek lake in 40-50 minutes.
As the summers are fast approaching, it is time to decide how you would like to spend them. Getting drenched in sweat sitting at home or making cool memories by the shores of a lake near Pittsburgh.
Also Read: