Las Vegas Souvenirs That Can't Be Missed!
* Disclosure: This post may contain affiliate links, which means we may receive a commission if you click a link and book something (there is never any extra cost to you for using these links).
Okay, we agree! The 'Sin City' has many charms to it, drawing sinners, ahem, we mean people from all over the world. The seemingly unending crowd, the 24 hours bustling casinos and that broodish 'I don't care' attitude marks Vegas with an appeal that is hard to forget. Of course, you don't need a memorabilia to remember this place (the happening memories will be there to haunt you forever and even propel you to come back!), yet it is always a great idea to keep a thing or two from your Las Vegas trip to relive those amazing travel moments.
For those who are planning a trip to this entertainment hotspot soon, here are our recommendations for the best Las Vegas souvenirs that you have to have in your bags on your Las Vegas return. Check them out!
1. A Mini 'Welcome to Fabulous Las Vegas' Sign

PC: Pixabay.com
Save 4%
Who can forget this quirky sign post that has apparently appeared in a dozen of Americana movies by now? Representing the city itself, this behemoth bestseller is the perfect souvenir to take home with you and light up your shelf; just like the insignia did the Las Vegas Strip. It was designed by Betty Willis in 1959 to add some zing to the city's character and my, it has done it so well!
From where? - Bonanza Gift Shop on 2460 Las Vegas Blvd. S. for $42.99
2. The Las Vegas Monopoly Edition

PC: Wikipedia.org
How about picking a souvenir that can be a sweet reminder of the city's infamous casino culture and your wonderful time spent here? Believe it or not, this Las Vegas monopoly edition comes very handy when you are putting hefty stakes on Vegas's famed resorts and casinos and not getting jeopardised for it! To top it off, you can do it as many times as you want! A great (and legal) gift for children too.
From where? - Caesars Gift Store in The Forum Shops at Caesars for $36.
3. The Dicey Treat

PC: Yelp.com
Blame it on its myriad gambling dens, but dice is a popular thing among Vegasians. You can always see a dice souvenir floating around wherever you go. As corny as it may seem, picking up those fuzzy dice sets or going for a striking Las Vegas dice clock is a good omen for tourists that are cheap on the wallet too. Ensure to get one on your way back!
From where?- Mr. Deli on 3961 Las Vegas Blvd. S. for $22
4. First edition of "Fear and Loathing in Las Vegas"

PC: headstuff.org
Not everybody would know it, but the book has a special place amidst the book loving community. The first-edition of "Fear and Loathing in Las Vegas" is a much-cherished souvenir for anyone who is into books and reading! The well-preserved collection is a gift from Hunter S. Thompson that bespeaks a rocking road trip to Las Vegas. Buy the book and let it set your imagination on fire as you compare the author's journey to yours!
From where? - Bauman Rare Books in The Shoppes at The Palazzo for $1,500.
Also Read - 15 Spring Break Destinations In USA
5. Elvis Presley in a Box!

The King of Rock n Roll still rules the heart of many and many of those ardent followers would surely like to have a piece of him in their memory box. The reason why souvenirs like his unique autographed microphone and classic rock & rollers sunglasses (with those shimmering gold rims!) are such a craze among peeps. While they might cost you a little, you'll hardly find yourself reminiscing over its worth. Some things are priceless, afterall!
From where? - The Art of Music in the Miracle Mile Shops at Planet Hollywood Resort & Casino for $8,500
6. A Jawbone Business Card Holder

PC: vegascoroner.com
You guessed it right, this souvenir is actually as bizarre as it sounds. Inspired by famous TV series 'CSI' and its weirdly cool character- County Coroner, this token of awesomeness will be a great gift to take back home for friends and surprise them. You can also pick up one of those logo boxers and t-shirts as you go! Just imagine this spunky card holder, with its human jaw like design adorning your office. Exquisite, or maybe not.
From where? - The Clark County Coroner's Office on 1704 Pinto Lane for $10
7. A Slice of Soap

PC: Etsy.com
Looking for a trinket that is cheap yet unique to Las Vegas? How about an exclusive bar of Macarons or Pair-A-Dice soap that is as Vegas-y as it gets?! Yes, it may not be the most innovative souvenirs in the market, it certainly makes for a useful and sustainable one. And what's more? Its variety with leave you spoilt for choices! Go for 'champagne and citrus' or cocoa, mint and clover' and keep your memories afresh for a long time.
From where? - Great Basin in The Grand Canal Shoppes at The Venetian for $5.99.
8. Mac King's Suitcase-O-Magic

PC: Youtube.com
Having your own pixie dust might seem a far-fetched idea, but not in Las Vegas. We all know about the Vegasian's love for magic and you can easily get a glimpse of it at Mac King's Magic Show. Watch the show and afterwards, buy its unique Suitcase-O-Magic as a souvenir. Mac's exclusive collection, it consists of a bunch of handpicked tricks and props that will let you create your own magic. A fantastic gift for kids.
From where? - After his show at Harrah's for $14.99.
Also Read: Amazing Roller Coaster Rides in Las Vegas
9. A Las Vegas tattoo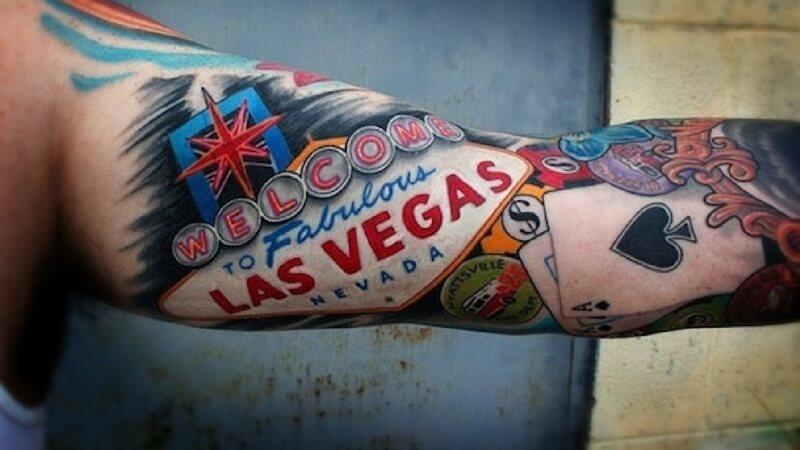 PC: Groupon.com
Getting inked in Las Vegas is a trend that you should definitely try once. Gone are the days when it was specific to band members, gangsters, and rebels. Now though, everybody can be seen carrying one, entertaining the fad and flaunting their style. If you too want to immortalise Vegas, donning a tattoo as a souvenir can be the best bargain to get.
From where? - King Ink in The Mirage
Where to Buy the Rest!
1. Bonanza Gift Shop

PC: Sarah Nichols/flickr.com
Everyone in Las Vegas, tourists and folks alike, knows of this shop! It is one of the best places to get cheap Las Vegas souvenirs and that too with a variety that will astound you. The range of trinkets and articles is just so huge, from key chains, magnets, shot glasses to hats and t-shirts, that you will be hard pressed going for one. Come to this 'World's largest gift shop' and bill yourself a t-shirt with glittery Las Vegas print on it!
2. Gamblers General Store

PC: Yelp.com
It is hardly a surprise that world's largest gambling superstore resides in the city of Las Vegas. More like a general store for gamblers, the place owns over 15,000 items including vivid chipsets, cards and such, to make one's gambling experience more fun. Apart from these, it also offers mini-casino sets that can be a great souvenir for many. If you are looking for something simpler, check out the other items like ashtrays, glasses, and bottle openers that are found in abundance here and are easy on pockets.
3. Houdini's Magic Shop

PC: Yelp.com
Magic is a significant part of Las Vegas culture and Houdini's Magic Shop is a great way to explore just that. The shop is diversely located in four different places, hence expect a Houdini's to be somewhere nearby while looking for a takeaway. The place is like a super-cool combo of entertainment and shopping, offering magic performances alongside its stores. The variety of magic sets, cards, coins and what not you'll get here provides plenty of options for Souvenirs and gifts.
4. GOLD & SILVER PAWN

PC: Yelp.com
If you are a 'Pawn Stars' fan like me, you will definitely want to stop here and meet the show leads for a talk (or buy a souvenir or two). The famous pawn shop is apparently Las Vegas's top touristy site too and a great place to land in for an antique pick. Just name the thing and you will get it here. Not to mention the rare opportunity to check out if Rick and Corey are just as happening in real as they appear on TV!
Also Check out: Best Souvenirs from Washington DC
5. Town Square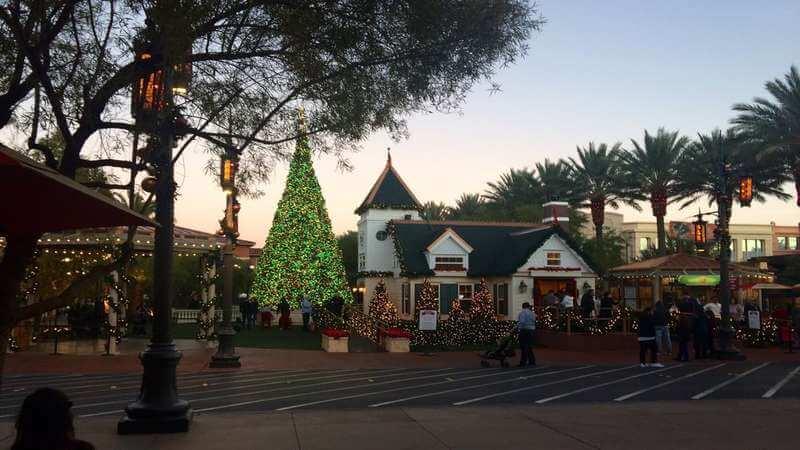 PC: Yelp.com
If you are looking for the best places to get Vegas souvenirs, this bustling town square might be your answer! It has a bit of everything and you can spend an entire day checking out all that it has to offer. Grab one of those exclusive Las Vegas t-shirts from H&M or have a bite in the eateries around, rest assured to have loads of fun while you're here!
A great Las Vegas trip needs a great souvenir to complement it with. Check out all the places listed above and go for the one that can make your Las Vegas memories cherishable!
You may also like to read:
Best Souvenirs from Around the World