Leisure Destinations Of Madhya Pradesh
* Disclosure: This post may contain affiliate links, which means we may receive a commission if you click a link and book something (there is never any extra cost to you for using these links).
More often than not, the overwhelming beauty of Himalayas, the grandeur of the Sahyadris, the hues & vibrancy of Rajasthan and Gujarat overpower the peaceful, stunning and versatile state of
Madhya Pradesh
. Like they say, 'A heart knows things your mind can't explain', this 'Hindustan Ka Dil' entombs secrets that are enticing, captivating and inviting.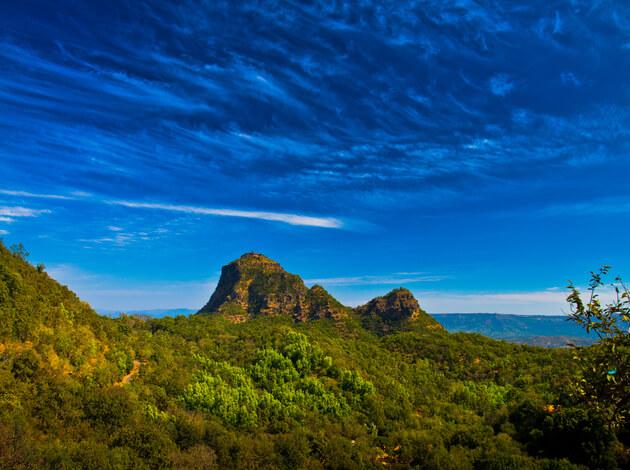 Hidden in the petite villages, bustling cities and the stream of thunderous Narmada River of Madhya Pradesh, is a panache that can be rarely seen from its enormous exterior. Walking through its labyrinths of ancient temples, drenching in its beautiful waterfalls shining in the emerald green backdrop and witnessing what can be called as surreal, the Indian Tiger are some of the things offered by this magnetic state of India. Tall, proud and the geographical centre of the country,
Madhya Pradesh Tourism
has so much to offer that it can practically satiate the itchy feet of any type of traveller.
The state is a kaleidoscope that displays myriad dynasties, multi-hued cultures and the oh-so-exotic wildlife. It is an ideal destination for a leisure vacation where you can simply kick back, relax, rejuvenate and have a holiday in close proximity of unadulterated nature. If it isn't on your bucket-list already, it totally should be!
Explore the eccentric plethora of destinations in Madhya Pradesh that are perfect for your next leisure vacation:
Pachmarhi- Tranquil Paradise of Satpura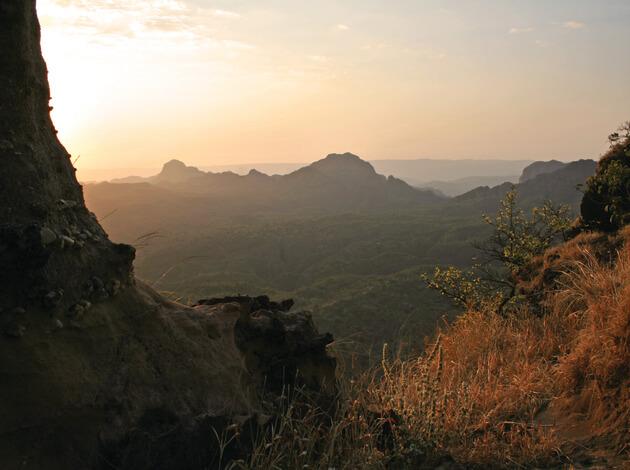 When you are planning a trip to Madhya Pradesh, you will realise that everything in this state has a historic or a mythological background. Being the epicentre of Bharat Varsh, Hindustan and later, India, the state has so many myths, facts and tales surrounding its every destination that you will be baffled. The beautiful hill station of Pachmarhi is no exception.
According to a legend, the Pandavas of Mahabharata stayed here during their exile and excavated five caves which give the place its name. A bio hotspot and UNESCO biosphere reserve today, this serene hill station is a popular honeymoon destination in Madhya Pradesh, thanks to its pink weather that is perfectly cool all-round the year.
Drench in its pearly white waterfalls of Rajat Pratap, catch a magnificent sunset from the Dhoopgarh, hike to the rocky Mahadeo Hills and revitalize your soul in the abode of nature, Pachmarhi assures you the much-needed sanity and leisure time on your vacation. As a green initiative, Madhya Pradesh Government has taken active measure to make Pachmarhi as plastic-free zone adding to its rustic allure!
Quirky experiences: Retaining its colonial charm, Pachmarhi boasts of beautiful bungalows built during the British Raj. To have a walk down the memory lane, you can enjoy a comfortable stay in Hotel Amaltas which is a British-built bungalow converted into a spacious hotel by MP tourism. Some other similar bungalow-turned hotels include Rock End Manor, Glen View and Champak Bungalow that are ideal for a leisurely stay. Drive up in a gypsy to Dhoopgarh and climb the rocky hillocks to catch a splendid sunset as you sip on hot masala chai. If you are visiting Dutchess fall in the mango season, you can binge on some enroute your trek!
Best time to visit Panchmarhi: October to March
Nearest Airport to Panchmarhi: Jabalpur (260 kilometres), Bhopal (230 Kilometres) and Nagpur (258 Kilometres)
Nearest Railway Station to Panchmarhi: Pipariya (50 Kilometres)
Hanuwantiya Tapu- An Island of Serenity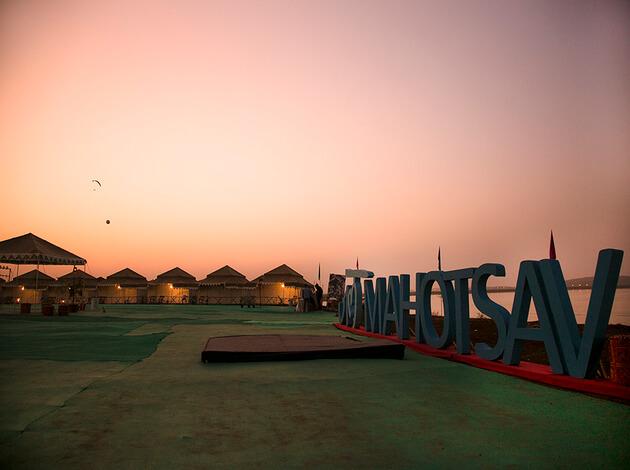 If hills are not your vacation type, head to Hanuwantiya Island. Set on the backwaters of the gigantic Indira Sagar Dam, Hanuwantiya is a picturesque destination perfect for a weekend getaway or a long holiday break in Madhya Pradesh. Indira Sagar Dam has the highest holding capacity in India and is second only to the famous 3 Gorges Dam reservoir of China in the whole of Asia; interesting, isn't it?
As you relax in your comfortable room overlooking the deep blue waters, you'll lose the track of time. The atmosphere breathes of tranquility, freshness and peace and you can practically hear the thoughts in your head. What better for a quality time!
If you are an outdoorsy traveller, you can indulge into activities that will instantly pump-up your adrenaline like speed-boating and water scooters! For a romantic evening, you can go for a cruise ride over the pristine waters in the evenings and catch a glorious sunset. Some of the popular activities include bird-watching and island camping.
All in all, this is a perfect leisure destination in Madhya Pradesh for families, solo trips or honeymooners!
Quirky experiences: Visit Hanuwantiya Tapu during the Jal Mahotsav and you will see a totally different aspect of the otherwise composed island. During this event which happens around 15th December to 15th of January, Hanuwantiya offers exciting activities like Para-motoring, Land parasailing, Hot-air ballooning and water zorbing. The place also offers a perfect opportunity to photography enthusiasts!
Best time to visit Hanuwantiya Tapu: October to April
Nearest Airport to Hanuwantiya: Indore (150 kilometres)
Nearest Railway Station to Hanuwantiya: Khandwa (50 Kilometres)
Tawa The Blue to Beat your Blues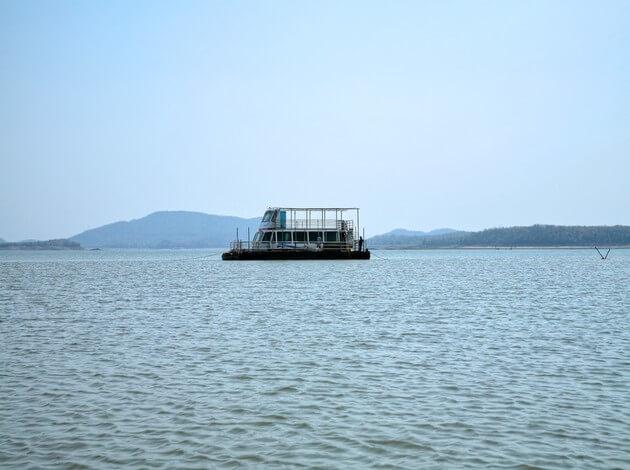 Imagine waking up with the first ray of sun to the melodious sound of birds,
Tawa
is a paradise that can make you one with the nature. The Tawa dam and reservoir serves as a scenic getaway for those who want to experience the raw beauty of nature. Set on the peaceful Tawa River, the dam borders the exotic Satpura National Park and the Bori Wildlife sanctuary.
Hop on the evening cruise over the reservoir and leave all your blues away. Catch a glimpse of the setting sun as you pass by the petite islands that stand peacefully over the waters. This is also a great base to start your excursion of Saputara Forest.
But if you are looking for a leisure vacation destination, Tawa in itself is the best place to rewind! To combine your leisure vacation with a tinge of adventure, you can also stay at the nearby Madhai which serves as an entry point to Satpura National Forest. Madhai is perfect for jungle safaris and bird watching.
Quirky experiences: While choosing an accommodation, pick a room with a lake view and you can spot beautiful birds early morning. Opt for the excursion to Satpura Tiger Reserve by a Ferry and you'll witness some crocodiles on your way!
Best time to visit Tawa: October to February
Nearest Airport to Tawa: Bhopal (120 kilometres)
Nearest Railway Station to Tawa: Itarsi (35 Kilometres)
Shivpuri- A Tourist Village for Travellers
Who says leisure has to be hard on your pocket! If you are on a shoestring budget and looking for a sublime destination for a leisure vacation, head to Tourist village Shivpuri. A budget-friendly resort ideal for a weekend break, Shivpuri tourist village overlooks the Sakhya Sagar Lake and boundaries the stunning Madhav National Park.

Around 447 kilometres from Delhi, this is also a ideal weekend getaway from Delhi and can transform your mundane weekend into a refreshing vacation.
What sets this resort village apart from the others is its extremely unique construction style. A perfect amalgamation of
Royal style of Gwalior
and a quirky Mediterranean touch, Shivpuri presents an elegant retreat away from the city chaos.
Perfect for staycations, Shivpuri is also an ideal destination for family trips or corporate outbounds. Binge on lip-smacking food, have a romantic candle-light dinner, go for a boat ride over the Sankhya Sagar; possibilities are endless! Wildlife lovers can also opt for a Jungle safari to Madhav National Park.
Quirky Experiences: Take a short trip to Banganga which is famous for its 52 kunds and has a mythological story behind it. For a little adrenaline rush, go mountain-biking! In the wilderness of Madhav National Park stands the captivating George Castle built by Jiwaji Rao Schindia (the local King) to commemorate King George V's visit to India. Located on the highest point of the Park, the Castle offers stunning views of the entire area; visit it around sunset, it looks straight-out-of-the-fairytale!
Best time to visit Shivpuri: October to February
Nearest Airport to Shivpuri: Bhopal (120 kilometres) and Gwalior (120 kilometres)
Nearest Railway Station to Shivpuri: Gwalior (120 kilometres)
Discover these brilliant
tourist destinations of Madhya Pradesh
on your next leisure vacation. Immerse in the relaxing aura of the jungles, the waters and the sky and we hope you have an enriching vacation guaranteed!