11 Lesser Known Facts About Hampi In India
* Disclosure: This post may contain affiliate links, which means we may receive a commission if you click a link and book something (there is never any extra cost to you for using these links).
Every year thousands of tourists visit Hampi to admire its structure and antiquity. Strewn with antique ruins, Hampi does not fail to jolt you with its glaring legendary and mythical aura. Situated on the southern bank of the river Tungabhadra in Karnataka, this place was the seat of the mighty Vijayanagara Empire and that explains the reason why there is certain grandeur and royalty that emanate through its structures. From the mythical to legendary and to historical, Hampi would come to define Indian landscape even after ages in future. Since you must have been aroused with curiosity about Hampi, we will tell you 11 more points about this place that have probably been less known and less chronicled.
Fact 1. The Sugriva's Cave Where Sugriva Lived
As you would move away from Kodandarama Temple, you shall come across the Sugreeva cave located almost on the river shore. Formed naturally, this cave is characterized by huge boulders with one leaning over the other. It's believed that this is the place where the mythical monkey warrior, Sugreeva lived. He used the cave to hide the jewels dropped by Sita, when the demon king Ravana abducted her. Later Sugreeva met Rama & Laxmana nearby the riverside searching for Sita. The colored pattern at the rock in locale parlance called Sita Konda. It depicts the pattern on the saree of Sita.
Make your travel experiences count. Plan with itinerary planner of TripHobo.
Fact 2. Vijaynagar's main coin mint is believed to be located in Hampi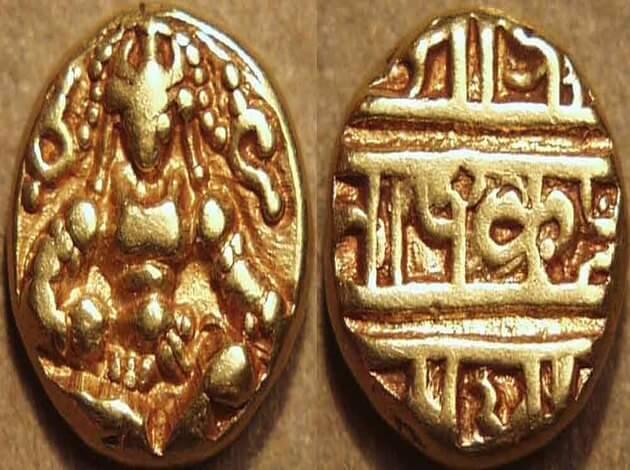 Image Source: coinindia.com
Vijayanagara had a sophisticated currency system. Coins were minted from many mints in the empire. The main one was located in Hampi. What is now believed to be the ruins of a mint can be seen inside the walled enclosure west of the royal enclosure.
Fact 3. Traces of Hampi settlement can be found back to 1 CE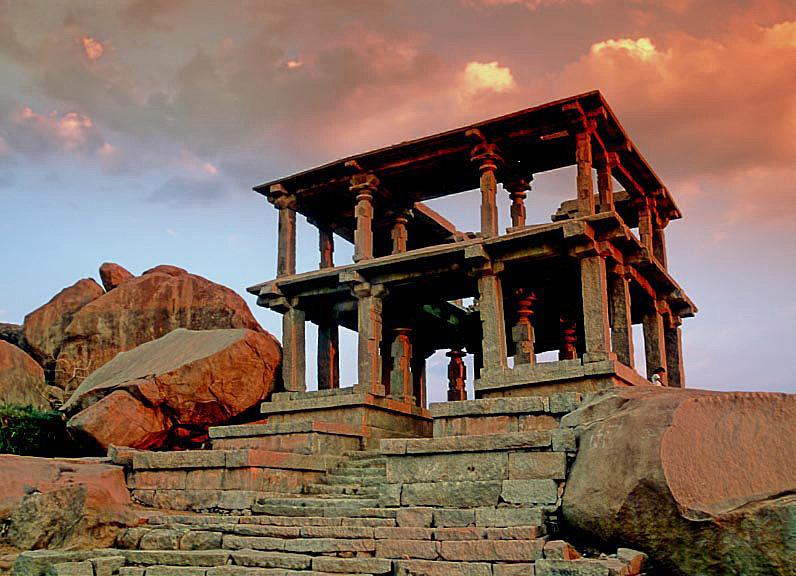 Image Source: eisamay.indiatimes.com
Hampi was an important part of the Vijayanagara Empire that was founded by the brothers, Harihara I and Bukkaraya I in the 14th However, the first historical record of settlement in Hampi dates back to 1 BC. There are evidences that suggest that the region of Hampi was under the rule of Ashokan Kingdom during the 3rd century BC.
Fact 4. Virupaksha Temple - One of the Oldest Functioning Temples of India
The Virupaksha Temple also known as the Pampavathi Temple rises over 120 feet. Apart from the sculptures of Lord Shiva, this temple also contains shrines of the erotic statues Bhuvaneshwari and Pampa. Virupaksha actually means 'the one with oblique eye'. This refers to Lord Shiva, as he has three eyes. It has been estimated that this temple has been functioning ever since 7th century AD uninterruptedly.
Fact 5. The 56 Musical Pillars in Hampi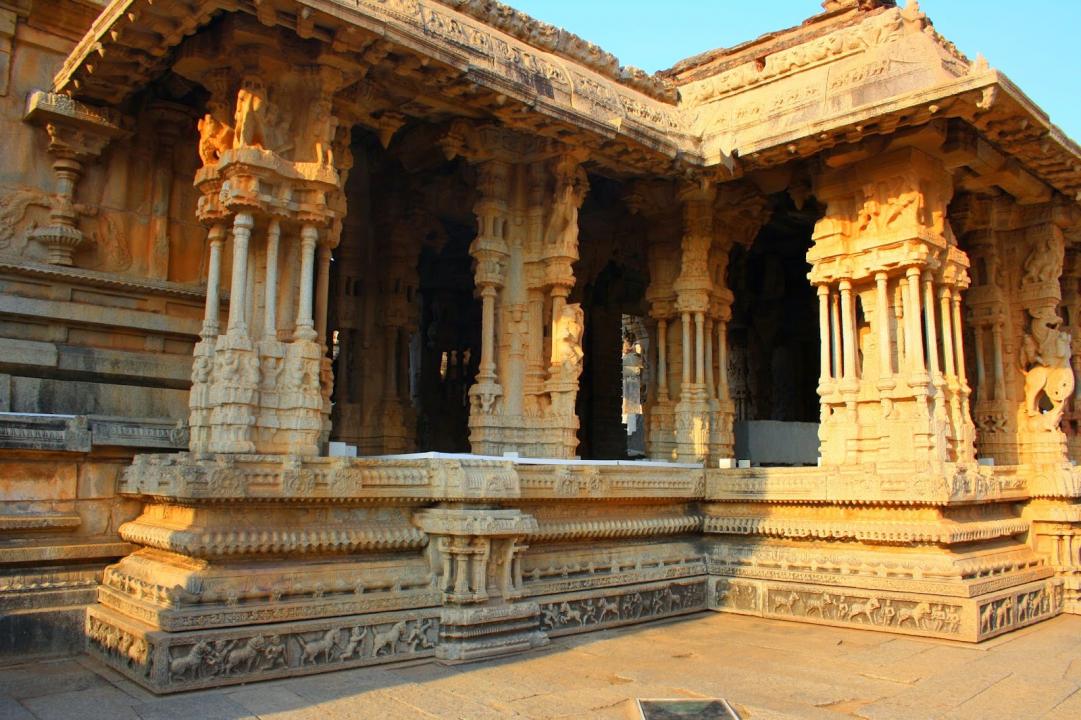 Image Source: hdwallpapers36
One of the most attractive structures in Hampi is the Vittala Temple. This ancient temple is known for its splendid architecture. However, the temple is also known for another special quality. It has 56 musical pillars. These pillars, when tapped gently, produce musical sounds. The most interesting fact is that the pillars are made from solid stone and are not hollow inside. The musical pillars of Vittala Temple are also known as SAREGAMA pillars.
Fact 6. Hampi's Connection with Ramayana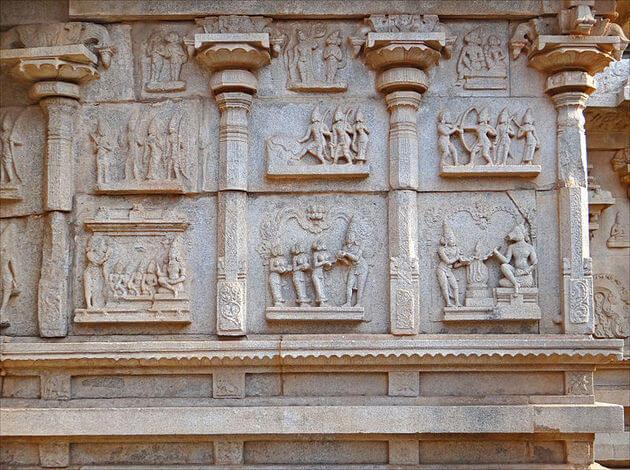 Image Source: Wikimedia Commons
The Hazara Rama Temple in Hampi is famous for its bas-relics that depict the story of Ramayana. The outer walls of the temple are decorated with bas-relics of Rama and Krishna. The relics also portray processions of horses, elephants, attendants, soldiers and dancing girls. But the lesser known fact is that the relics found on the walls of the Hazara Rama Temple are among the most extensive ones to be found anywhere in India.
Fact 7. Hampi- the Most Googled Historical Place in Karnataka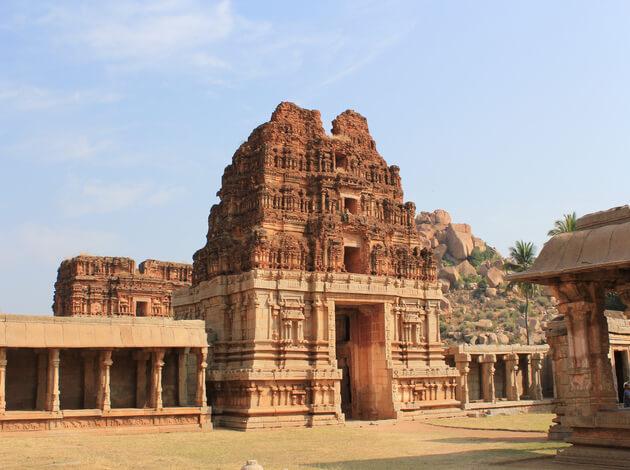 Image Source:Arian Zwegers/Flickr
Technically, this is not a fact about Hampi but nonetheless it delineates our interest in this historical theatre. According to the statistics of 2014, Hampi is the most searched historical place in Karnataka on Google.
Fact 8. The Historic Hampi Marketplace (Hampi Bazaar)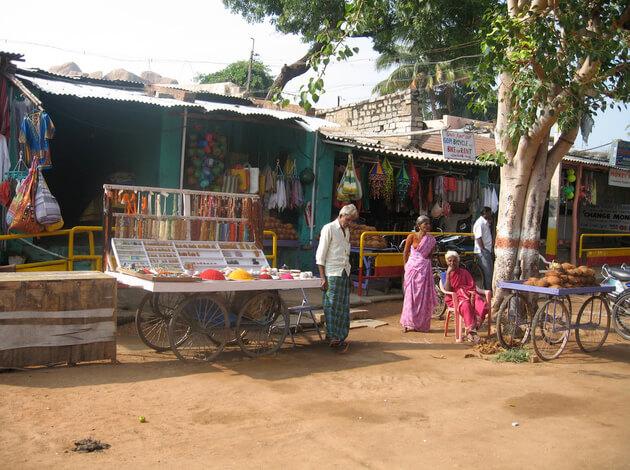 Image Source: Nadya Mercado/Flickr
Today, Hampi bazaar might be encroached by new shops and hotels. This market is lined with a series of old pavilions, some of them are two storied on both sides. You will be amazed to know that these structures were once part of a thriving market and residence of the nobles. Further, precious gems and stones were sold by the sacks in the markets of Hampi.
Fact 9. Lord Rama Had visited Hampi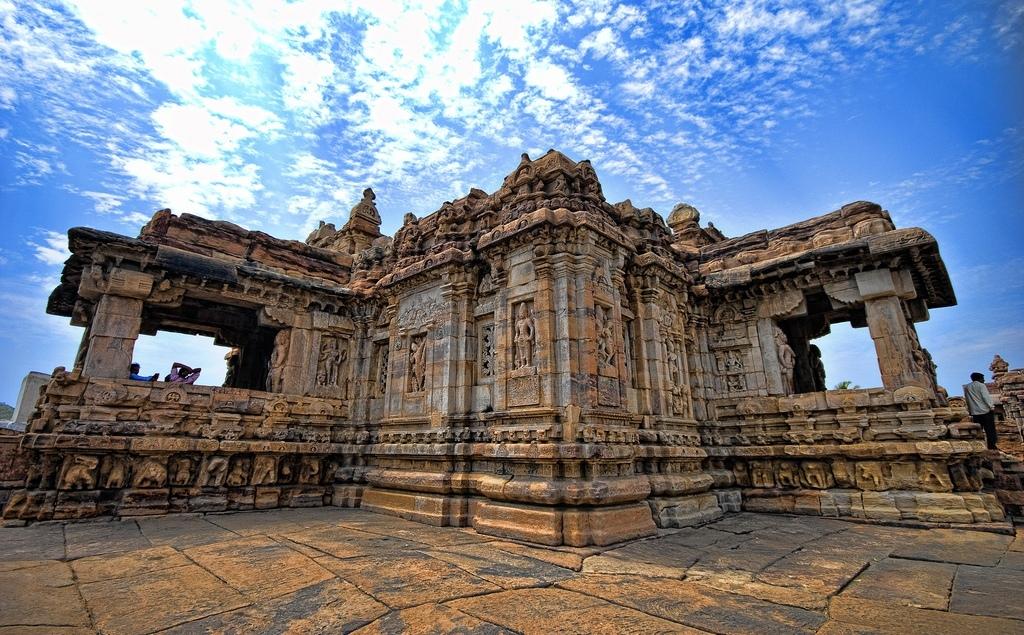 Image Source: Wikimedia Commons
According to the Ramayana, Lord Rama and his brother had visited this region, while looking for Sita. They visited this region to seek help from Vali and Sugreeva, who ruled the region.
Fact 10. Marine life Motifs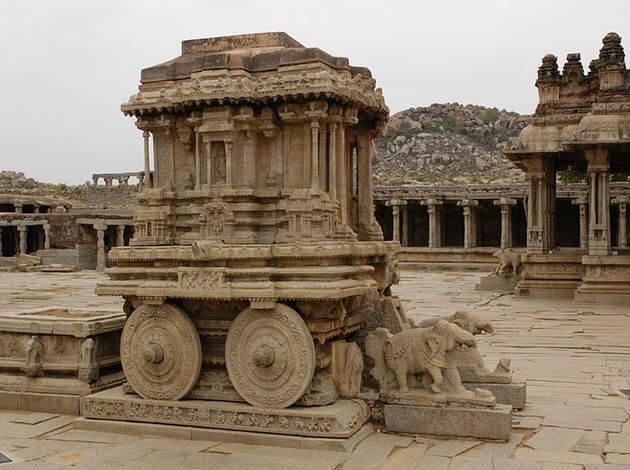 Image Source: Wikimedia Commons
The Malyavanta Raghunathaswamy Temple in Hampi is believed to flaunt peculiar motifs of fish and marine creatures.
Fact 11. The Hampi Stepped Well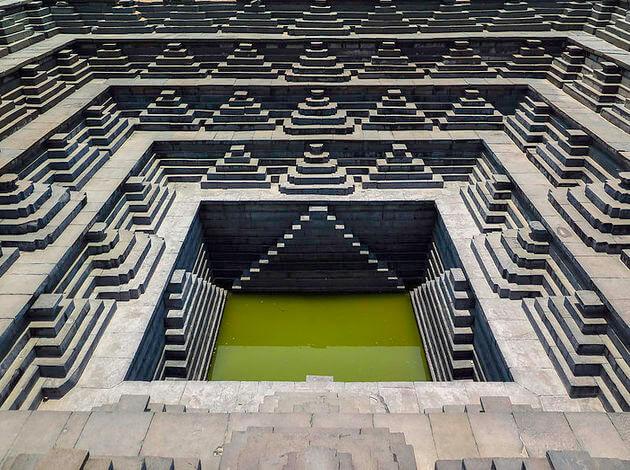 Image Source: Wikimedia Commons
There is a large stepped pond style well near the ruins of Hampi, similar to Chand Boari, but with four symmetrical sides.
Every historical place unravels its own story, more so the case with Hampi. Inspiring imagination, this place is a must visit if History, art and legends entice you.
You may also like to read: