11 Unknown Historical Places In India
UPDATED Oct 12, 2018
25.6K Views
India is full of rich historical heritage that is embedded in its culture and traditions even today. A plethora of historic sites are testimony to India's wealth of heritage that bears fascinating stories of people and civilizations from centuries ago.
When you think of historical places in India, there are many popular sites that instantly pop to mind. The resplendent palaces of Jaipur and Udaipur and the gorgeous carvings of Ajanta and Ellora are definitely on top of the list of historical wonders in India. There are, however many lesser known sites that speak volumes about the ancient India. This blog not only cover the most interesting sites, but it consists of historical places in India with pictures and information that will blow your mind!
Here are our top picks for unknown historical places in India that offer you a unique peek into the heritage of the country:
1. Unakoti, Tripura
Dating back to 7th and 9th centuries, this Shaiba pilgrimage is a truly marvelous site that features rock carvings, murals and natural waterfalls. According to legend, this place was where Lord Shiva rested on his way to Kashi. When all the other gods and goddesses could not wake up in time in the morning, Lord Buddha set out on the journey by himself cursing the others to be turned to stones. This is why we see one less than one crore stone images and carvings in Unakoti. The Unakotiswara Kal Bhairava is Shiva's rock cut carving that is about 30 feet high, surrounded by rock effigies of two females.
Best time to visit: April, during the 'Ashokastami Mela'

Image Source: Wikimedia Commons
2. Asir Garh, Burhanpur
Nestled on one of the most important trade routes in ancient India, this fortress was once called the 'the key to the Deccan'. During the Mughal rule, the starting point of Deccan was Asirgarh and the area leading from here to Delhi was called Hindustan. Not only is this fortress astoundingly beautiful because of the surrounding views and the massive scale it was built on, it also holds an interesting part of history. Akbar is said to have besieged the fort when Miran Bahadur Khan refused to pay homage to him. According to local legend, the spirit of Ashwatthama still visits the Gupteshwar Mahadev temple each morning to worship his lord. Besides Asirgarh, there are a number of intriguing historical monuments scattered across Burhanpur.
Best time to visit: September to December

Image Source: Wikimedia Commons
Check Out: Oldest Languages in the World
3. Lothal, Gujarat
Arguably one of the most extensively excavated sites of the Harappa civilization, Lothal is a treasure chest of artefacts that reveal a lot about one of the oldest civilizations in the world. The museum set up here displays a number of excavations like seals, jewelry, everyday utensils etc. that throw light on the way people lived in that era. The site of Lothal exhibits old wells and structures that were found in the archaeological excavation of this area.
Best time to visit: November to February

Image Source: Wikipedia.com
4. Buddhist Temples, Sanchi
One of the most sacred destinations for a Buddhist pilgrimage, Sanchi holds a number of important historical sites that have been recognized as a world heritage as well. Ashoka built the Great Stupa at Sanchi as penance for all the horrors he had inflicted on the world around him. Surrounding this stupa are five other stupas and gateways that date back to 35 BC or earlier. The monasteries here depict the transition between Hinduism and Buddhism and are a stark evidence of the early influences of Lord Buddha. This site definitely makes the list of historical places in India that has test the time.
Best time to visit: October to January

Image Source: Wikipedia.com
5. Pattadakal, Bagalkot
This UNESCO world heritage site is where you will get to explore a number of ancient temples that date back to the 8th century BC. The seat of the Chalukya kings, who built a number of extraordinary temples between 7th and 8th centuries, Pattadakal is a living example of the marriage of the Dravidian and Nagara style of temple architecture. A glorious site that has been immaculately maintained, Pattadakal is the ideal place to experience exquisite craftsmanship and historical inscriptions.
Best time to visit: September to January

Image Source: Wikimedia Commons
6. Chand Bawdi, Rajasthan
The Chand Bawdi is an ingenious piece of history that has made sure that the people from the Abhaneri region did not fall short of water. This 13 storey well was built between 800 and 900 AD but still looks stunning because of its lovely architecture that is made of porous volcanic stones. The well is said to be 5 to 6 degrees cooler than the outside atmosphere, making it less susceptible to the heat of this region. A true historical treasure, this stepwell is an absolute must visit for any history buff.
Best time to visit: October to March

Image Source: Wikimedia Commons
7. Vaishali, Bihar
Surrounded by lush rice fields and banana groves, Vaishali is an unassuming little town with an iconic history. It was once the epicenter of trade and industry during the Gupta and Maurya dynasty. Historians also maintain that one of the earliest democratic republics flourished here as far back as 6th century BC! Lord Buddha's last sermon was held nearby, a life size brick stupa commemorates this. The museum here displays the excavations that were discovered here. Check out the black basalt images dating back to Gupta and Pala period that are simply breathtaking.
Best time to visit: February to April

Image Source: Wikimedia Commons
8. Chittorgarh Fort, Rajasthan
A repository of folklore, historical events and rich cultural heritage, Chittorgarh draws thousands of backpackers and historical travelers every year. The Chittorgarh fort is a proud monument that is proof of the heroic battles fought by warriors like Maharana Pratap, Gara and Kumbha. The whole town is dipped in historical splendor with beautiful monuments surrounding you everywhere you go. The Vijaystambha, Kirtistambha, Padmini's palace and Bassi fort are some of the other historical places in India that speak volumes about the Mauryan dynasty and its subsequent successors.
Best time to visit: October to January

Image Source: Wikipedia.com
9. Pancha Rathas, Mahabalipuram
A brilliant example of monolithic rock-cut architecture, the Pancha Rathas date back to the 7th century AD. These structures are unprecedented in history as they were an innovative experiment of Prince Narasimhavarman. Parts of the UNESCO World Heritage site of Mahabalipuram, these five outstanding structures were never consecrated as temples as they remained incomplete after Narasimhavarman's death. According to local legend, they were dedicated to Pandavas from the epic of Mahabharata and their wife Draupadi although this claim was refuted by the ASI later.
Best time to visit: September to November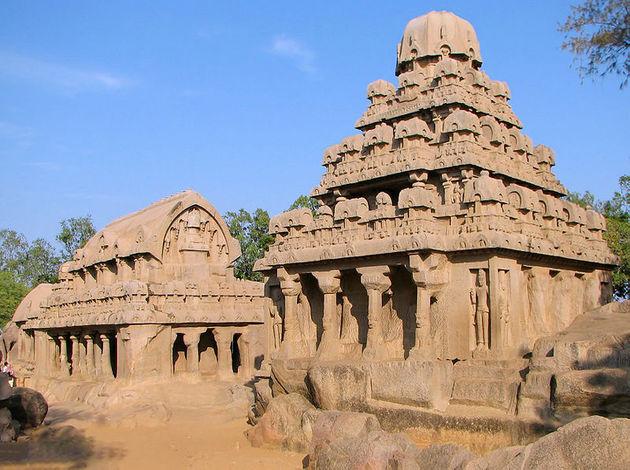 Image Source: Wikipedia.com

10. Gol Gumbaz, Bijapur
Gol Gumbaz, which is the mausoleum of Mohammed Adil Shah is a fine example of simplicity and elegance in architecture. It is known as the 'structural triumph of Deccan architecture'. The intersecting arches of the dome inside are made in perfect geometry and look absolutely ravishing. The 'whispering gallery' surrounding the hall has impeccable acoustics, making every whisper clearly audible. The mausoleum is the biggest single chamber spaces in the world.
Best time to visit: September to January

Image Source: Wikimedia Commons
11. Chausathi Yogini Temple, Orissa
Built by Queen Hiradevi of the Brahma dynasty, this temple dates back to the 9th Century BC. It is located at a distance of 20 kilometers from Bubhaneshwar at Hirapur in Khurda district. The notable features of this temple are the statues of the Goddess Kali. Legend says that Goddess Kali took the form of 64 demi goddesses to defeat a demon. The impressive idols express a variety of emotions like rage, sadness, pleasure, joy and happiness.
Best Time to Visit: December to April

Image Source: Wikimedia Commons

To fully fathom the depth of India's historical heritage, visiting its smaller corners is necessary. These monuments hold riveting stories and myths that are immersed in the Indian psyche and make this country the magnificent place it is. So, which unknown historical place in India would you want to visit?
Have You Read?
20 Most Stunning Ruins Across the World