10 Mystique Hotels in Rajasthan no one told you about!
* Disclosure: This post may contain affiliate links, which means we may receive a commission if you click a link and book something (there is never any extra cost to you for using these links).
When the holiday bells tingle, the perfect way to rediscover yourself is to dwell in unexplored places. It is no secret that Rajasthan is one among the famous travel destinations in India. Every attraction hymns royalty and grandeur from the times of the great Rajput warriors! But beyond the regular touristy places, there are many unheard hidden gems offering best of comfort and incredible stay.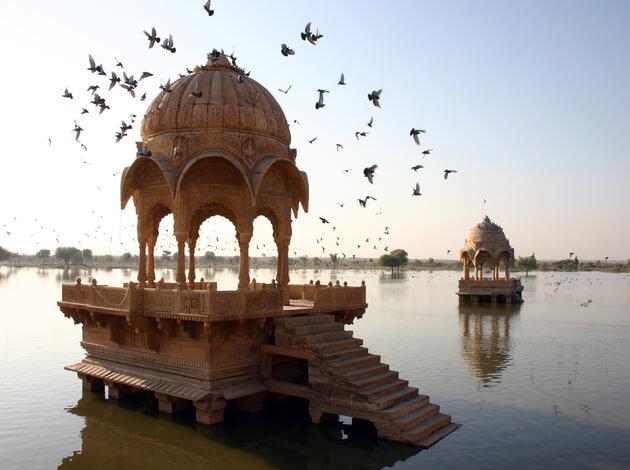 Image Source: Wikipedia
This year, skip the popular circuit and explore these best 10 off-beat lesser known Rajasthan hotels that will guide you for a perfect vacation.
10. Garh Jaisal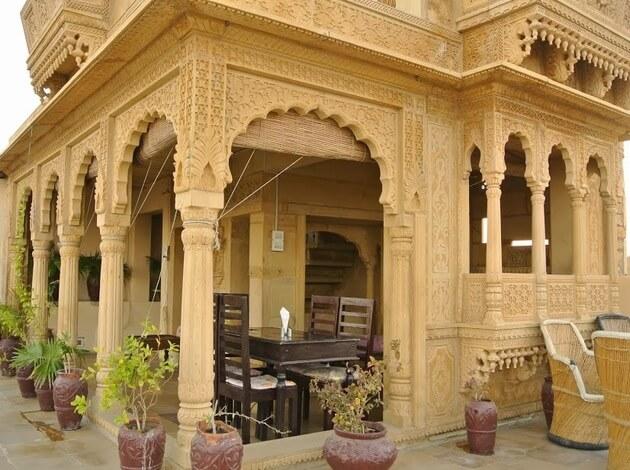 Image Source: Garhjaisal
Set within the 11th-century Jaisalmer Fort, this upscale, historic hotel is 1 km from both the Desert Cultural Centre and the Folklore Museum. Featuring ornate, carved wood furnishings, rich textiles and window seats with fort views, the uniquely decorated rooms and interiors offer the best of comfort. A rooftop terrace also provides terrific views of the ancient city. Imagine tantalizing your taste buds with delicious Rajasthani food while taking a trip down the memory lane of our the Indian history.
Must Experience - An incredible overnight camel trek into the Thar Dessert, offering a cozy sleep in a tent under the star-filled sky.
Handpicked tours & activities with guaranteed lowest prices throughout the year.
9. Hotel Fifu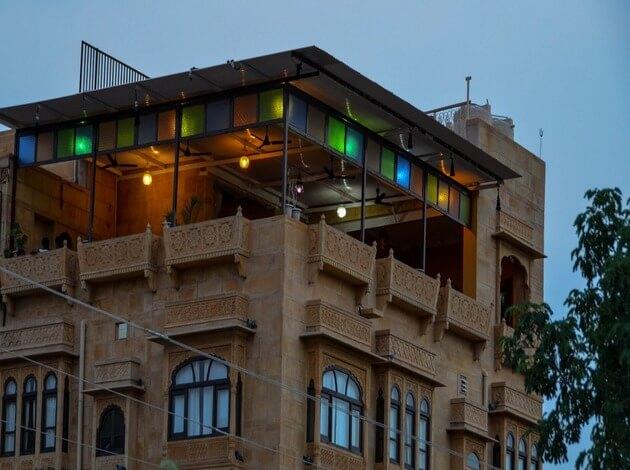 Image Source: Hotel Fifu
Located in the quite street of the southern part of Jaisalmer city, Hotel Fifu brings out the true Jaisalmer charm. Encompassing beautifully artistic stone works on walls and Jharokas (balconies), this unique hotel makes use of colourful embroidery and contemporary Jaisalmer textiles as decorations. Now, that's gulping the best of vegetarian dishes amidst the realism of Jaisalmer structural design.
Must Experience - Stride for a heritage walk within and outside of the city that invites you to watch the best sights and sounds of Gadisar Lake, Jaisalmer Fort and Badabagh.
Handpicked tours & activities with guaranteed lowest prices throughout the year.
While you are staying there plan your trip to these best places to visit in Rajasthan
8. Devi Bhawan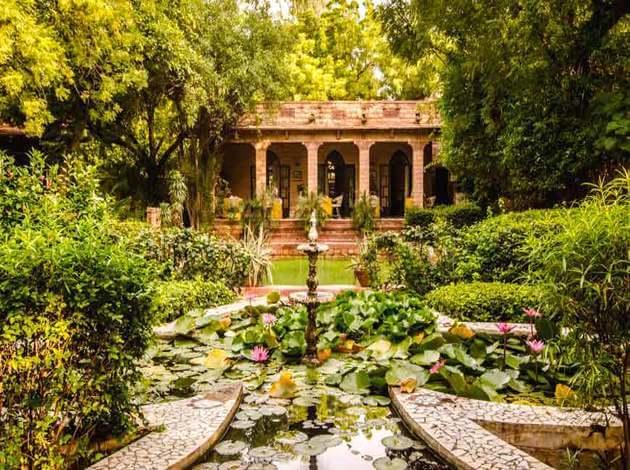 Image Source: Devi Bhavan
Devi Bhawan is an 80-year-old residence of Thakur Ratan Sing and his family, it is a peaceful and calm oasis of Rajput hospitality and charm. Located in the Jodhpur, it offers old world elegance with modern comforts. Devi Bhawan helps you relax and rejuvenate with comfortable rooms and serene atmosphere. Its old world charm takes you back in time with the period furniture and Indian textiles. All the rooms overlook the garden which makes it the perfect place to soak up the sun while you enjoy a cup of tea.
Must Experience - The village safari by Jeep is the perfect way to sight-see around the town, the safari takes you through magnificent sand dunes of Osian dhanis (Hut's) of local artisans to wildlife sightings.
Handpicked tours & activities with guaranteed lowest prices throughout the year.
7. Dera Rawatsar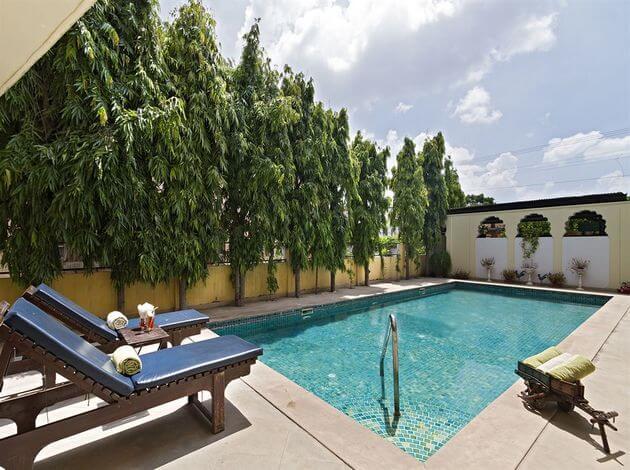 Image Source: Dera Rawastar
While the Devi Bhawan is the grand king for travellers seeking out historic elegance, this family boutique hotel is set for those who love modernism at the best.Known as Dera Rawatsar, this place is run by the House of Rawatsar who clan from the Kandhlot Rathore, famous for their generosity and hospitality. Located in the heart of Jaipur, all the famous places in and around the city are easily accessible from the hotel. With its magical exterior and interiors, the hotel blends traditional Indian warmth and modernism. They also offer super deluxe to lovely royal rooms for accommodation.
Must Experience - The pool is the perfect place to relax and unwind after a long day or sightseeing and shopping. Puppet show, folkmusic and dance are also showcased in the hotel.
Handpicked tours & activities with guaranteed lowest prices throughout the year.
MAke sure you plan a visit to these Famous forts of Rajasthan
6. Hotel Shahi Palace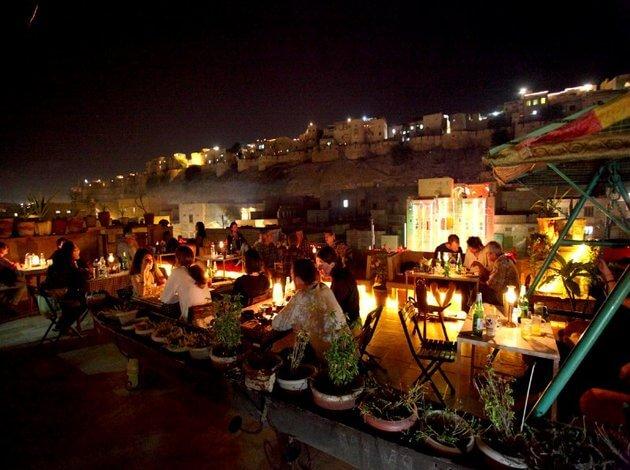 Image Source: Shahi Palace Hotel
As an ideal spot for a family holiday, Hotel Shahi Palace in Jaisalmer, is a modern styled charming Haveli that makes one reminiscence the best of Rajasthan. What is unique about the palace is that every room is individually contructed with exquisite yellow sandstone walls and decorated with beautiful pink silken curtains. A place can be described as "Home away from Home". The high ceilings and stone walls help to reduce the desert heat to ensure a great summer visit.
Must Experience - Fantastic roof top acting as the perfect chill out zone. Make sure you also take that amazing ride in a jeep or camel into the extraordinary Thar desert.
Handpicked tours & activities with guaranteed lowest prices throughout the year.
5. Madri Haveli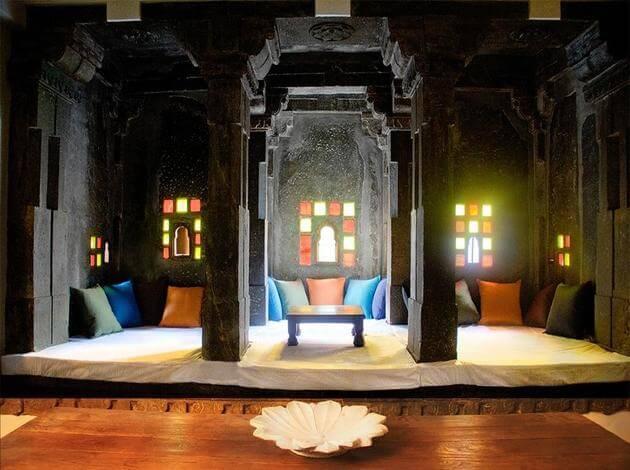 Image Source: Madri haveli
Located in the beautiful Udaipur city, Madri Havel is a 300-year-old historic royal residence turned into a boutique hotel. It features upscale rooms feature exotic touches and original elements, and offer free Wi-Fi, flat-screen TVs, and minibars, plus iPod docks. Suites are in the original structure and have elaborate period furnishings, stained-glass windows, and art. There's an interior courtyard, as well as gardens to revive your days and relinquish your nights.
Must Experience - While you enjoy the relaxing stay, you should visit the city palace which was built in 1559.
Handpicked tours & activities with guaranteed lowest prices throughout the year.
Have you seen these Best heritage hotels in Rajasthan?
4. Jaiwana Haveli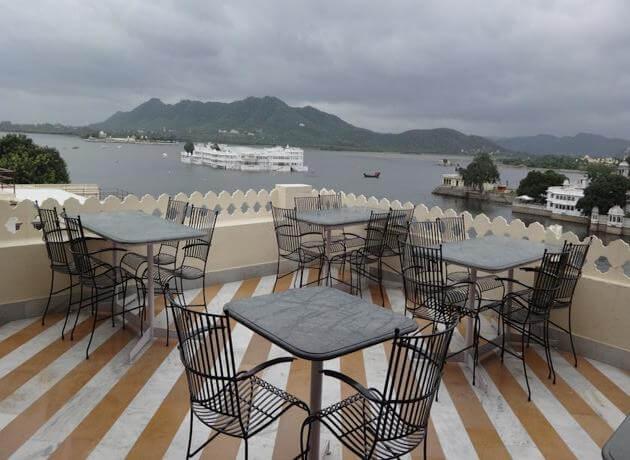 Image Source: Jaiwana Haveli
For a stylish hang about and sophisticated environment, Jaiwana Haveli in Udaipur should never be missed on your list. Nestled in the eastern bank of Lake Pichola, the sparkling waters and majestic Aravali Mountains serve as a memorable panoramic view from the roof top restaurant that serves the best Mewari cuisine. Being a stone's throw from the Udaipur centre, one of the best attractions of the Haveli are the old bazaars that showcase profitable deals for shopaholics and fascinate explorers for cultural surprises.
You need to visit Udaipur Itinerary 2 Days to explore Udaipur in a best way
Must Experience - Choosing to go for a boat ride on Lake Pichola is highly recommended to obtain a diverse perception of the superlative waterfront or enjoy an extravagant sunset.
Handpicked tours & activities with guaranteed lowest prices throughout the year.
Must see: Lakes in Rajasthan  
3. Rathambore National Resort
For those who are not on a budget holiday, Rathambore National Resort in Modhapur is a great pick! Being a breath-taking 16thcentury inspired fortress, everything about this place brings out the poet in you! Proximal to the National Park, this Rajput enthralled luxury palace has a well-established comfort spa and 100 palatial rooms with courtyards and terraces. Surrounded by a step-well like pool, the hotel welcomes you to beautifully carved interiors and dazzling lights.
Must Experience - While enjoying the great stay, never forget to indulge in adventurous jeep safari that tours the fascinating Rathambore National park!
Handpicked tours & activities with guaranteed lowest prices throughout the year.
2. Sardar Samand Lake Palace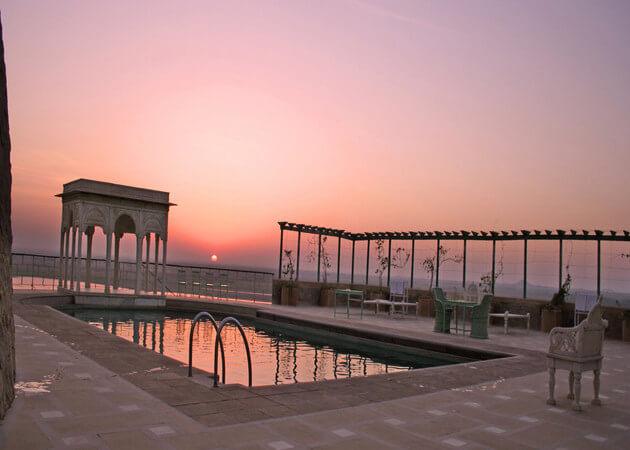 Image Source: Sardar Samand
A palace with an innovative contrast, Sardar Samand Lake Palace in Jodhpur, stands 2nd in the list, as a testimony to the mighty state of Rajasthan. Initially constructed as a hunting lodge by Maharaja Umaid Singh in 1933, this place help recreate the romance of a long forgotten era while still according all the comforts and superlative amenities. Done up in inexplicable paintings and a magnificent display of trophies from the various hunting researches, it is a living, breathing history that literally transports one into a royal island. The deluxe suites are tastefully done up to a steal deal for the memorable experiences.
Must Experience - Apart from lazing around in your room or by the lake, a green walk in the landscaped Oriental gardens in the evening can help you get the glimpse of an amazing sunset. For birding enthusiasts, this is heaven.
Handpicked tours & activities with guaranteed lowest prices throughout the year.
1. Udai Bilas Palace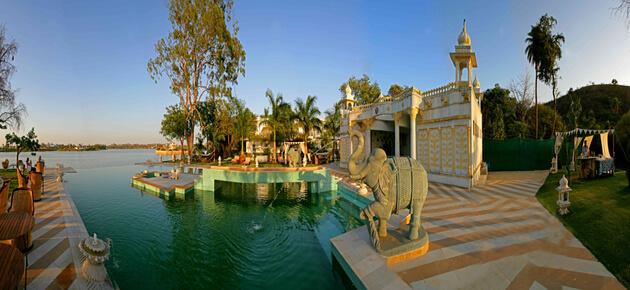 Image Source: Udai Bilas Palace Hotel
Cuddled in the Aravalli Hills near Udaipur is the enchanting Udai Bilas Palace. Overlooking the quaint town of Dungarpur, this palace tops the list with its inexplicable hosting of a fantastic combination of art deco and Rajput architecture that are fit for kings. Sweeping staircases and mirrored floors embody the magical setting that blows away travelers. Offering four-poster beds with an amazing view of extensive gardens, the palace is a visual treat for nature lovers as they nurture a wonderful flora that habitats over 120 species of birds. The opulent time warp, which couple of hours away from Udaipur, is definitely an inviting respite from the hustle bustle of Rajasthan.
Must Experience - Don't miss to swim in the perpetuity pool and laze around the miniature aviary, after an exciting game of tennis on the palace grass courts.
Packed up already? Run along, shortlist from the above and get your bookings done for exploring the true Rajasthan! Life's calling!