9 Luxury Trains in India To Board At Least Once
* Disclosure: This post may contain affiliate links, which means we may receive a commission if you click a link and book something (there is never any extra cost to you for using these links).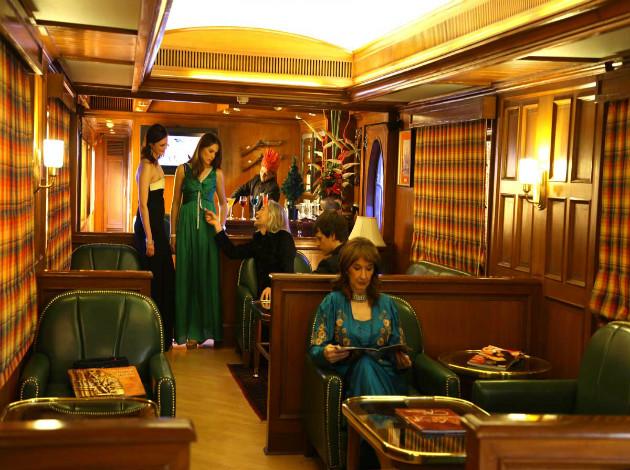 Luxury trains in India showcase a cultural picture. They are the emblems of royalty that signify ultimate luxury and an innate Indian charm. Blending tradition, modernity and comfort, these trains have become one of the tourist attractions of India that the foreign tourists simply desire to enjoy. Covering the vast terrain of Indian exotic locations, the luxury trains can let you have a rendezvous with the country in the best possible comfortable and splendid manner. Today, let us explore the best luxury trains in India boarding into which will take you to another world all together:
1. Palace on Wheels - A Journey Through Royal Rajasthan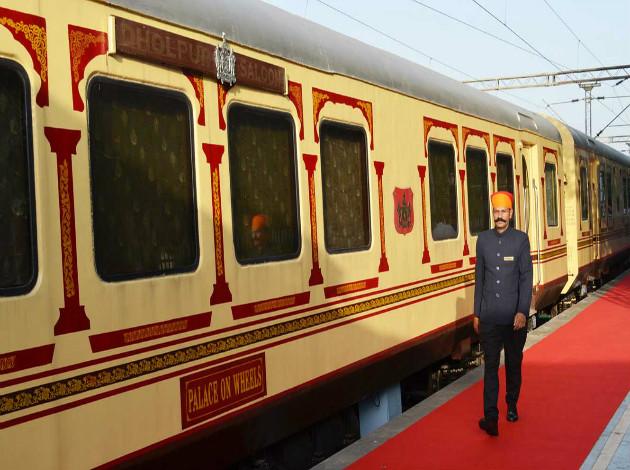 PC: palacesonwheels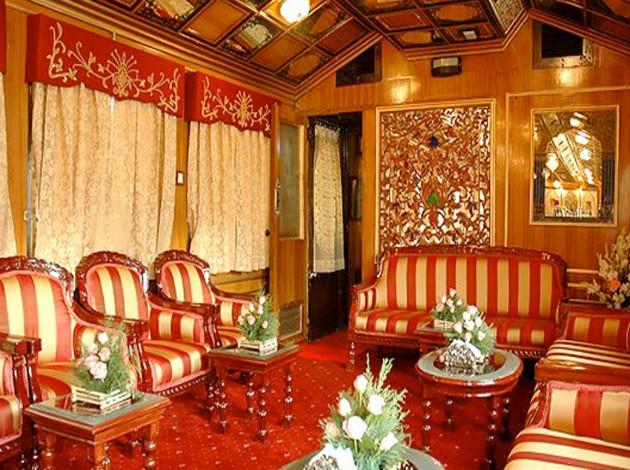 PC: wheelsjocintra
Officially, the Palace on Wheels is India's first pan-country super luxury train that was started on January 26, India's Republic Day, in 1982. Later on the train was refurbished and made to look more in August 2009. Today, it is the best Royal Indian Train and 4th best luxury train in the world. The special feature of this train is that it has 14 salons named after provinces of Rajasthan, two Restaurant named as Maharaja Restaurant and Maharani Restaurant, with other world class facilities like exotic bar, Spa, Live TV, internet connectivity, music and security. Capturing the vibrant and exotic attraction of royal state, Rajasthan, the mention of this train comes first when we talk of luxury trains not just in India but all over the world.
Tour Cost : 50 Thousand to 5 lakh per person
Palace on Wheels : 8 Days To 13 Days
Destinations Covered : Delhi - Jaipur - Udaipur - Swai Madhopur - Chittorgarh - Jaisalmer - Jodhpur - Bharatpur - Agra - Delhi.
2. The Maharajas Express - The Royal Sojourn between Mumbai and Delhi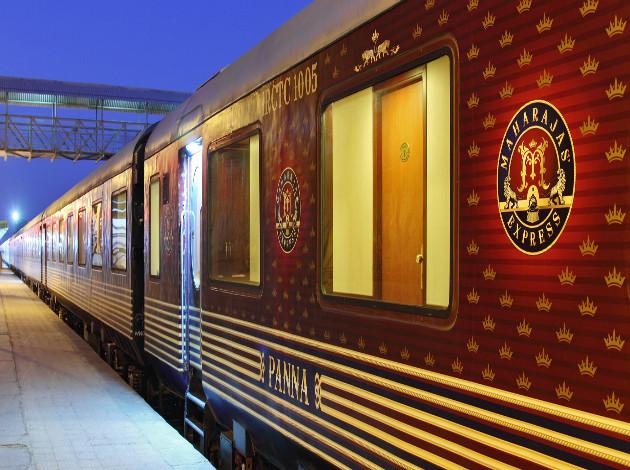 PC: tourismkit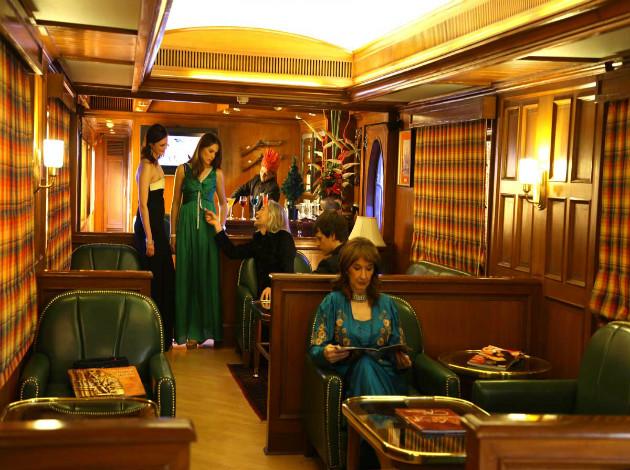 PC: themaharajas
Travelling between the two most important metropolitan cities of India, the Maharajas Express is a joint venture of IRCTC and travel agency Cox and Kings India. This is the newest and costliest luxury train in India that comes along with world class facilities including large dining, bar, lounge, generator, LCD TVs, direct dial phone, internet, individual temperature controls and in suite bathroom as well. Travelling between Mumbai to Delhi over a span of 8 days and 7 nights, this train will introduce you to some of the best attractions in between, one of them being Agra.
Tour Cost : 2.75 to 10 lakh per person.
Destinations Covered : Delhi - Agra - Ranthambore - Jaipur - Bikaner - Jodhpur - Udaipur - Vadodara - Mumbai.
3. The Golden Chariot - The South Indian Queen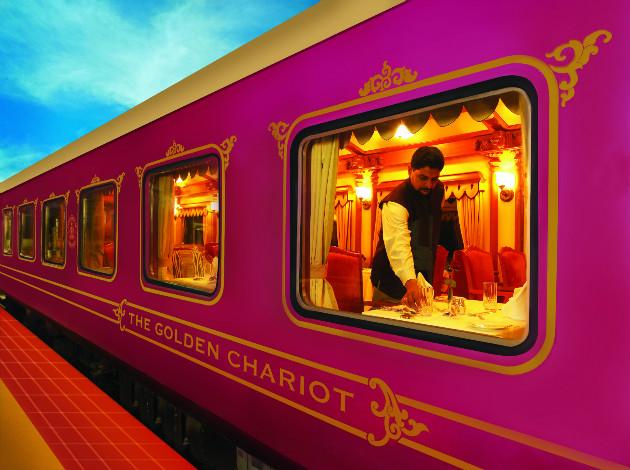 PC: luxurytrains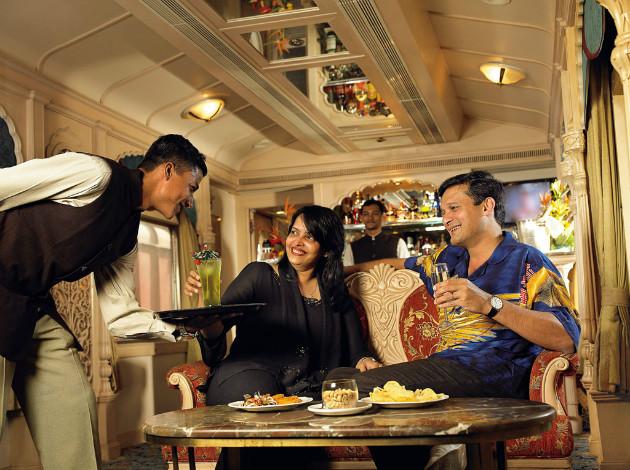 PC: indianluxurytrains
The Golden Chariot is a luxury tourist train started by the KSTDC to connect most popular tourist spots within the states of Karnataka and Goa. This luxury train has 19 coaches that have been colored purple and gold in sync with the name of Golden Chariot. It has two restaurants, a lounge bar, conference room, gym and spa facilities. The ultimate luxury train was named after the renowned 'Stone Chariot' of Hampi and lets you explore the fascinating architectural designs and exotic natural landscapes of south India in an ideal way.
Tour Cost : 25 to 50 Thousand per person
Pride of the South : 7 Nights / 8 Days
Destinations Covered : Bangalore - Mysore - Hampi - Belur - Kabini - Badami - Goa - Bangalore.
4. Royal Rajasthan on Wheels - A Slice of Rajasthan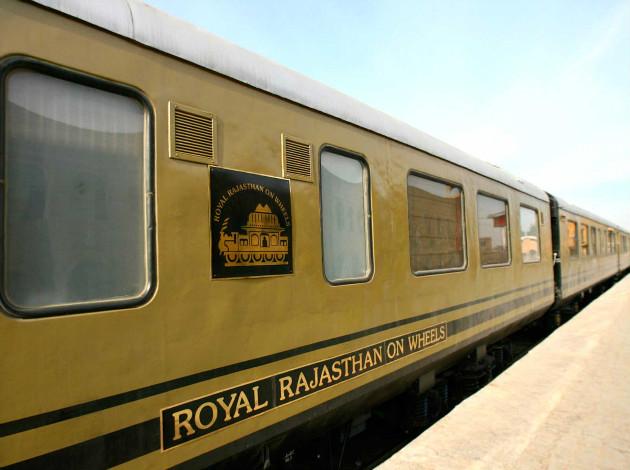 PC: royalweddingonwheels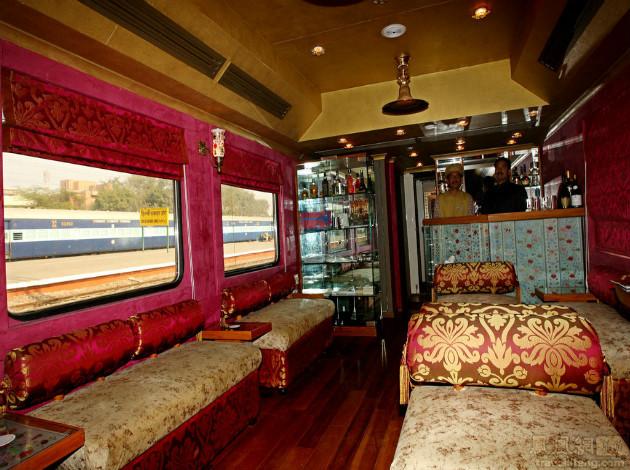 PC: fashion.ifeng
Rajasthan has been home to the best royal experiences in the world. The Royal Rajasthan on Wheels is luxury tourist train run by RTDC to promote Rajasthan tourism. Equipped with facilities like super deluxerooms, Restaurants, bar, board room, fitness center, spa, saloons and enabled Wi-Fi, this train lets you explore the beautiful exotic locations of Rajasthan. It also takes you to the heritage destinations of Rajasthan and Agra.
Tour Cost : 50 to 80 Thousand per person
Royal Rajasthan : 8 Days/ 7 Nights
Destinations Covered : New Delhi - Jodhpur - Udaipur - Chittorgarh - Sawai Madhopur - Jaipur- Khajuraho - Varanasi - Agra - New Delhi.
Plan a visit to Rajasthan with Triphobo Trip Planner.
5. The Deccan Odyssey - A Journey Across Splendid Maharashtra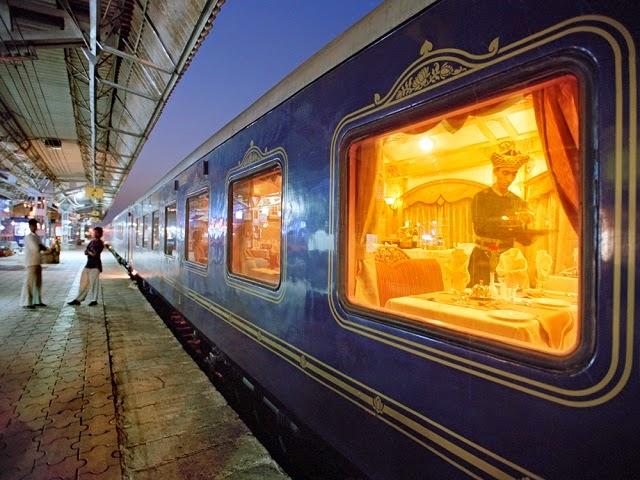 PC: indianluxurytrains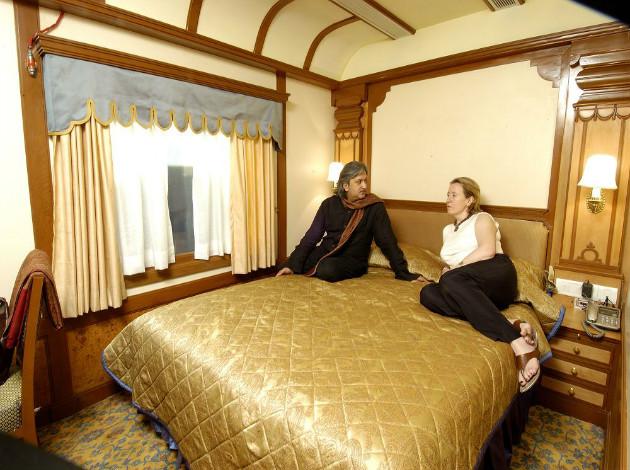 PC: cinnaisseursvoyage
Run by the venture of Maharashtra MTDC and Indian railway, this train can be easily termed as a 5-star hotel on wheels that covers the heritage site of Maharashtra while running on Konkan route. The new express luxury train of India has total of 21 luxury coaches equipped with restaurants and a bar, a sauna, business center, Computers and internet connectivity.
Tour Cost : 3 to 8 lakh per person.
Silver to Platinum Class: 7 Nights/8 Days
Destinations Covered : Mumbai - Ajanta & Ellora Caves - Udaipur Lake City - Ranthambhore Tiger Reserve - Pink city of Jaipur - Taj Mahal - Delhi.
6. Royal Orient Train - Exuberant Gujarat and Rajasthan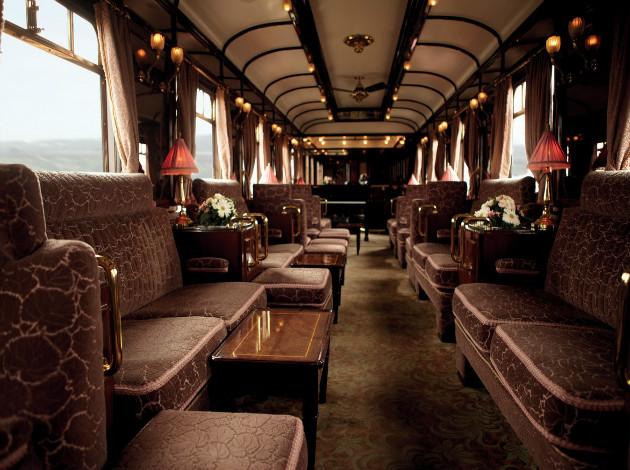 PC: homegrown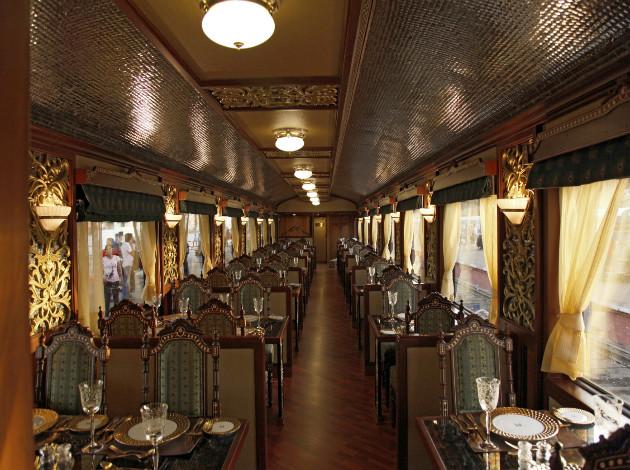 PC: louisemore
True to its name, the Royal Orient train introduces you to cultures and travel places of Gujarat and Rajasthan in India. The Royal Orient train among other 5 star facilities also includes a lounge in every coach where passengers can read books and magazines, watch television, listen to music and interact with other passengers. What makes this train interesting is that it has 13 coaches named after erstwhile kingdoms of Rajputana. Modelled on the popular Palace on Wheels, India's first luxury tourist train, the train offers tourists a taste of royal luxury while "showcasing the best of Indian culture and heritage".
Tour Cost : Rs 2 to 3 lacs per person
Destinations Covered : The 7 day journey of this luxury train starts from Delhi and covers Chittorgarh all the way to Palitana in Gujarat.
Hotels in Gujarat! Book with us with an additional Bargain feature.
7. Fairy Queen (locomotive) - Proud to be the World's Oldest Steam Engine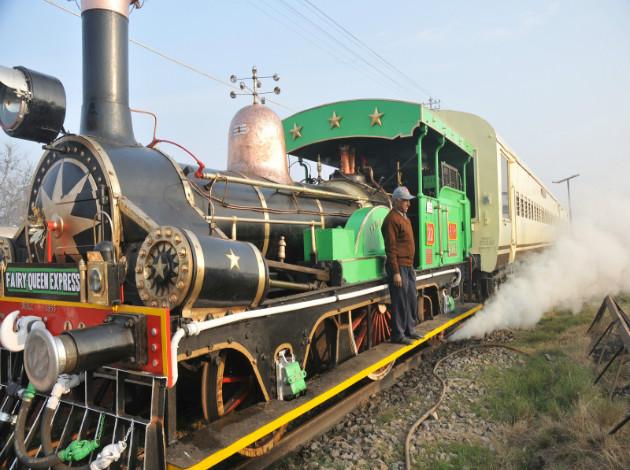 PC: viresattached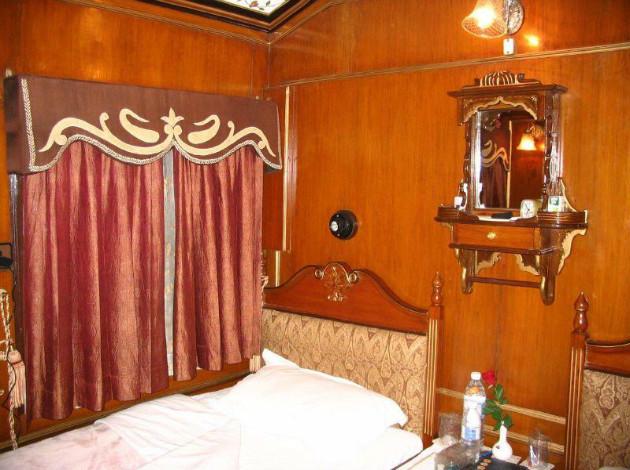 PC: wata
The fairy queen is the world's oldest steam engine still operational as it covers the distance between New Delhi to Alwar in Rajasthan, India. The star attraction of this train is its adventure tour around the Sariska Tiger Reserve. Recently, the Fairy Queen Engine has been replaced by another Steam Locomotive- WP 7161, built at Chittranjan Locomotive Workshop in 1965 & easily recognized by it's cone shaped bulging nose, with a silver star devise painted on it. The train trip has now been renamed as Steam Express Tour & departs every 2nd & 4th Saturday morning from New Delhi to Alwar.
Tour Cost : 8600/- Adults, 4300/- Children (Round Trip)
Destinations Covered : Delhi - Alwar - Sariska - Alwar Delhi
8. The Darjeeling Toy Train - Get Enamoured of Scenic Darjeeling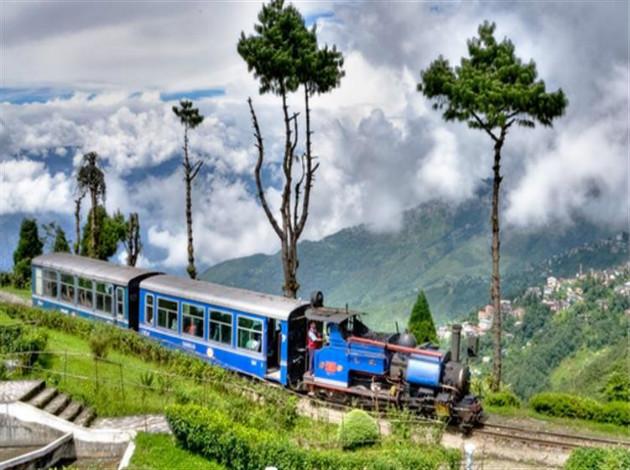 PC: tourism-review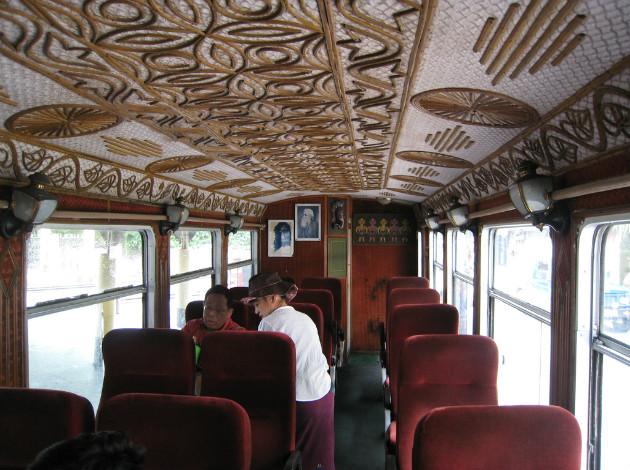 PC: skyscrapercity
Anybody living in India would be aware of the Darjeeling Toy Train. This iconic train is one of the oldest in the country. Introducing you to the beautiful locations across Darjeeling, this train offers an experience that is a blend of nature and technology. Embedded with a British charm that has inspired many Bollywood hindi songs, this train also offers luxury coaches to offer ultimate comfort. Do not forget to behold the mighty Kanchenjunga and Bengal beauty through this heritage train!
Tour Cost : 2090/- per person (Round Trip)
Destinations Covered : Toy train joy rides operate from Darjeeling Railway Station. It's a 2-hour round trip from Darjeeling up to Ghum and back covering a total distance of 14kms.
9. The Deluxe Rail Motor Car - The Mountainous Beauty of Shimla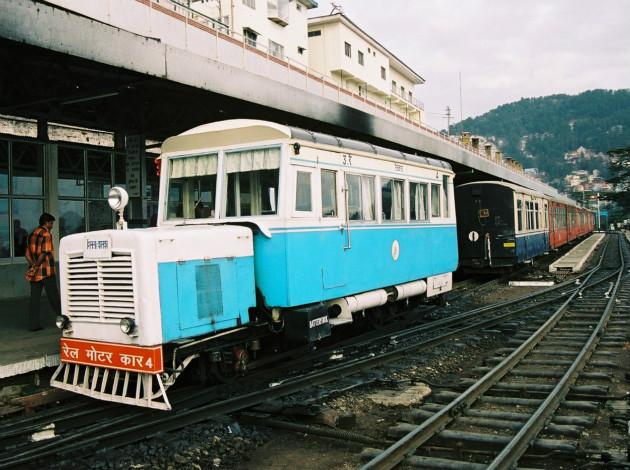 PC: indiamike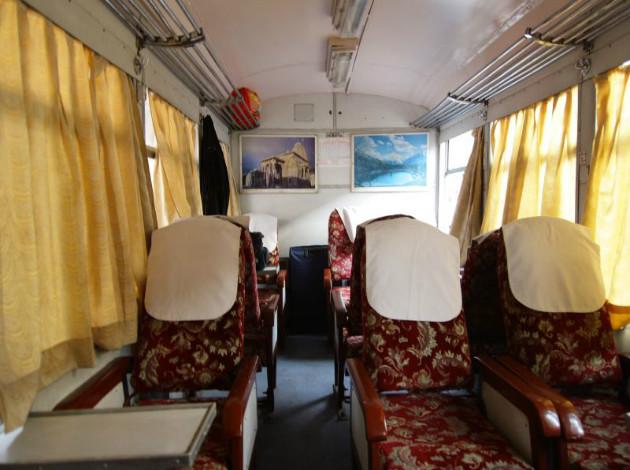 PC: indiamike
It is a toy train route that traverses through some of the most scenic routes between Shimla and Kalka. Travellers can cover this short journey by undertaking a trip in any of the four - The Deluxe Rail Motor Car, The Shivalim Deluxe Express, The Shivalik Palace Tourist Coach and The Shivalik Queen Tourist Coach. Riding on these luxury trains will bring back the memories of yesteryear in your mind!
Tour Cost : 8,285/- per person (both ways)
Destinations Covered : Scenic Kalka Shimla Rail Route.
So which of these luxury trains would you like to take a journey on?
You may also like to read: