Best Fascinating Magic Shows In Las Vegas
* Disclosure: This post may contain affiliate links, which means we may receive a commission if you click a link and book something (there is never any extra cost to you for using these links).
The hotpot of entertainment has a fair share of magicians who fondly call vegas their home and are sensational in their own right. Here are our top picks for mind-boggling magic shows in Las Vegas. Ensure to check them out!
1. Nathan Burton Comedy Magic Show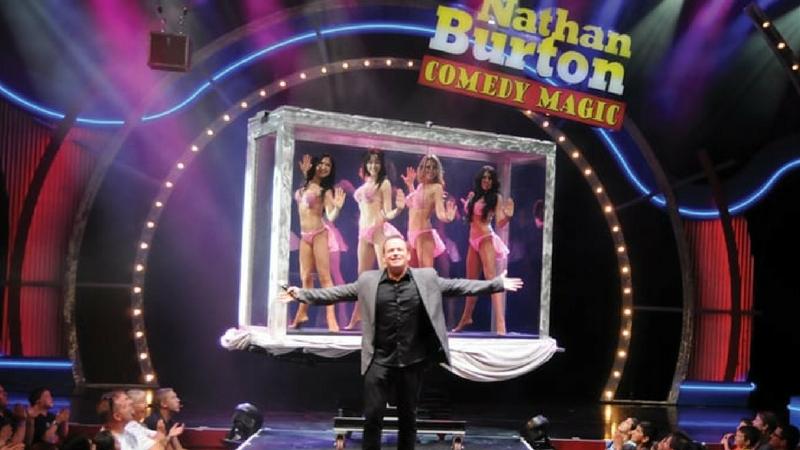 Image Source: Yelp.com
There is a reason why Nathan Burton show is such a rage among the audience in Las Vegas. He makes things entertaining by using his boyish charm, comedy gimmicks and numerous magic tricks. Welcoming to all groups of ages, this funny guy will lead you through a plethora of laughs often accentuated by themes like sleepover party, dream date and the likes! It is very engaging and undoubtedly one of the best things to do in las vegas with kids. Count on Nathan to be the perfect show host and enchant you with tricks like the bowling ball, newspaper, and his famous snow magic!
Location: Saxe Theater, Planet Hollywood
Show Times: Almost every day at 4:00 pm, dark Mondays
Age limit: None
Make your travel experiences count. Plan with travel planner of TripHobo.
2. David Copperfield Magic Show

Image Source: youtube.com
The most distinguished traits of this master illusionists is that he likes to keep it simple. No dancers decked in flashy costumes nor any other extravagant setting. Still, what lures people in is his touchwood finesse and charm with which he executes his acts and enthrals them all. Hailed as the finest in the coliseum by many, his shows often includes acts like disappearances, levitation, predicting lottery numbers and such. Not to forget his tongue-in-the-cheek humour that will have you laughing out loud for hours.
Location: MGM Grand David Copperfield Theatre- MGM Grand
Show Times: Everyday at 7:00 PM and 9:30 pm and on Saturdays at 4:00 pm (Matinee Show)
Age limit: 5+

3. Criss Angel Mindfreak Live!

Image Source: facebook.com
Music, acrobats and magic, if there is one artist who can successfully pull this complex equation off, it is Criss Angel. Most of us remember him as the master illusionist in the hit TV reality show Criss Angel: Mindfreak! If you thought that TV show was awesome, wait till you stumble upon its 'Live'. The stage version of his formerly acclaimed show is apparently even better with its dramatic 3D effects, pyrotechnics, RGB Laser explosions and LED lighting. Come here and watch as the Magician of the Century unleashes his charm and leave you speechless!
Location: Luxor Theater - Luxor Hotel & Casino
Show Times: Wednesday-Sunday at 7:00 pm and 9:30 pm
Age limit: 5+
Length: 90 Minutes
4. Paranormal - Frederic Da Silva

Image Source: Yelp.com
Having an element of mystery is what makes things spicier and saucier for the audience. And no one gets it better than Frederic Da Silva. Held in Las Vegas's Bally's, the show includes hypnosis and other tricks that need heavy mental stimulation. His acts like mind reading, bending a spoon, freezing a clock and such isn't something be missed! Buckle up for a thrilling performance which will have you rack up your brains in order to figure out what's real and what's not!
Venue: Windows, Bally's, Las Vegas
Date & Time: Wednesday-Monday at 4:00 pm and 9:30 pm
Age Limit: 5+
5. Penn & Teller's

Image Source: Yelp.com
Penn & Teller is all about expecting the unexpected. Great entertainers and even greater illusionists, these folks have everything in their hats to leave you spellbound and amazed. Their USP lies in the fact that they are very transparent in their ways, even going to the lengths of revealing their secrets during performances; which also makes it somewhat of a challenge for many who are keen to unravel their mystery. Come without any prejudices and you will get more than what you've bargained for!
Location: Penn & Teller Theater - Rio Hotel
Show Times: Saturday-Wednesday at 9:00 pm
Age limit: 5+
6. Mac King Comedy Magic

Image Source: Yelp.com
Mac King Comedy Magic is a place for fun, laughter and even more laughter as the comedy king places himself on the centre stage, garbed in his checked retro suit and odd 90's era hairdo. While he is popular for his underhanded tricks, his style and self-deprecating humour is what makes people haul into chuckles, even the children! Rich in satire and penned with hilariously funny dialogues, his shows contains magics like rope tricks, disappearing money and an illusion of coins. One of the best daytime magic shows in las vegas to come with children and enjoy.
Show Times: Tuesday-Saturday at 1:00 pm and 3:00 pm
Location: The Theater at Harrah's
Age limit: 5+
7. Mat Franco

Image Source: yelp.com
If you are in the mood for a highly entertaining evening, the Mat Franco show is the perfect place to be in! The winner of 'America's Got Talent', this magic craftsman brings some very unique tricks on the table that will have you glued to your seats in anticipation. You can never guess- with his finesse and professionality, that he has been a self-taught prodigy, amazing audience since he was ten. Amongst all, his most popular gimmicks are iPhone trick, jumping cards, cushion and snowman. Despite having it simple, Mat Franco is considered to be one of the bests in the arena.
Venue: The LINQ Hotel and Casino
Show Times: Thursday-Tuesday at 7:00 pm
Age limit: None
8. Xavier Mortimer's Magical Dream

Image Source: yelp.com
After creating a sensation in his own country (and all around Europe), Xavier Mortimer, France's renowned illusionist has marked the sin city as his next destination for showcasing his artistry. The french magic connoisseur has an elegant style of executing his tricks which sets him apart from his other counterparts. His shows consist of 14 different acts, often featured with illusions of shadows and self-composed music. Come here to watch this master magician's magical mirror act and actually get transported in a magical dream the show had been so aptly named after.
Location: Sin City Theatre, Planet Hollywood
Show Times: Thursdays - Tuesdays at 7:00 pm
Age limit: None
9. Tommy Wind

Image source: yelp.com
Tommy Wind is known for employing his own unique elements in his shows that often includes stunning martial arts tactics, comedy stints and a lot of mentalism. His obsession with music is not hidden either, given that most of his trick incorporates music or musical instrument in one way or other. You can even see him playing many of those to the perfection during his acts. The harmonious blend of everything coupled with his signature tricks like floating antique table trick and mind reading creates an enchanting atmosphere for viewers- children and adult alike.
Location: Tommy Wind Theater
Show Times: Tuesday through Sunday at 6:00 pm
Age limit: None
10. The Mentalist

Image Source: yelp.com
One of the most seasoned artists on the stage, Magician Gerry McCambridge has been entertaining guests since past 30 years. A mentalist, his proficiency lies in those unbelievable acts which require heavy mental prowess. Reading people's mind and hypnotism are some of his most popular stunts. One might even think that the artist is psychic, but McCambridge refutes all those claims saying he merely uses his diverse skills to create the illusion. Whatever the case, it is undeniable that this man possesses the skill deserving of all the praise he gets.
Venue: V2 Theater
Show Time: 7:30pm
Age Restriction: 16+
11. Murray Celebrity Magician

Image Source: Yelp.com
Relying more on a light-hearted side, Murray's proudly stands among the most popular magic shows in Las Vegas. The artist came to the limelight a few years ago when he exhibited his vast and varied range of expertise on stage. His acts usually consist of an amalgamation of comedy, illusions of disappearances and sleight-of-hand magic tricks. Watch as this former Tropicana magician alongside his clumsy sidekick put forth a fascinating show and spellbind you for the time being.
Show Times: Saturday-Thursday at 4:00 pm
Location: Sin City Theater, Planet Hollywood
Age limit: None
12. Redneck Comedy Magic

Image Source: Yelp.com
The show is apparently a humorous take on the life of rednecks and their monotonous existence. Brought onto the stage by commedian and magician James Michael, it blends the various elements of cheap comedy, sarcasm and magic and cashes laughs from audience through sattire. And the best part is, it is held at stratosphere! Grab a drink or two and let yourself loose. His jokes can be a little crude but nonetheless will leave you in the heaps of laughter.
Venue: Dragon Room
Show Time: 6 pm
Age Restriction: 21

So here were our top picks for trendy and nail biting magic shows in the sin city, all free for you to head to and explore! Ensure to let us know which ones you liked the most?!
Also Check out: