9 Destinations to Plan Monsoon Road Trips in India
* Disclosure: This post may contain affiliate links, which means we may receive a commission if you click a link and book something (there is never any extra cost to you for using these links).
Apart from bringing respite from heat, monsoon in India also offers you with some thrilling road trips which can help you embrace the nature.
Misty clouds, mountains clad with green blanket and picturesque waterfalls, the view while you are travelling through the well-built roads is nothing short of breathtaking.
This monsoon, if you're tired of your daily routine and desperately need a change, then surely you're in for a treat.
Here's a list of some of the best monsoon road trips in India which will assure you a thrilling experience:
1. Mumbai-Pune Expressway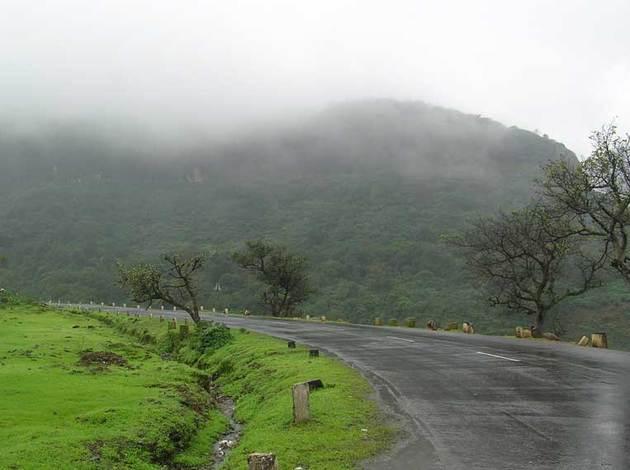 Source: Elroy Serrao/Flickr
This is one of the most popular weekend monsoon trip for residents in Mumbai and Pune. The 93 km long expressway is considered to be one of the best spots for monsoon road trips in India from Pune. Be it Khandala, Lonavala or Malshej Ghat, Mumbai-Pune expressway has caught attention of tourists, birdwatchers, photographers and nature lovers, since ages.
Hence if you want to beat the boredom and escape the fast paced life of big cities like Mumbai and Pune, this scenic expressway is your kind of place.
Must Read: Places to visit in Monsoon in India
2. Bangalore to Coorg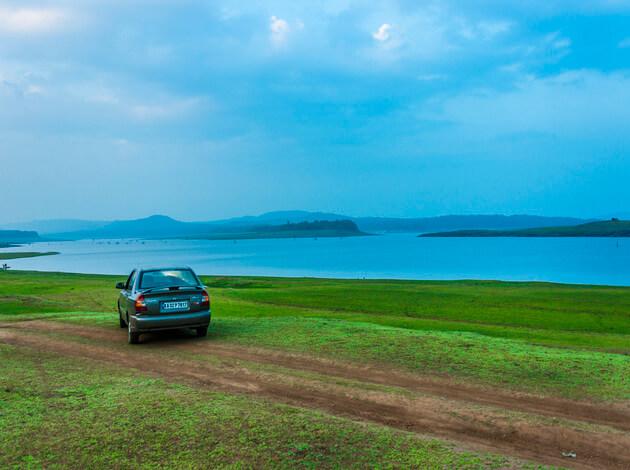 Source: Shreyas Jayappa/ Flickr
Coorg also known as Scotland of India is considered as one of the most beautiful and popular hill stations in India . Madikeri is the headquarters of Coorg (also known as Kodagu district) which is well connected by road to Bangalore, the IT capital of India.

The road has peppercorn, ginger and coffee plantations on both sides of the road which will make your trip, an unforgettable experience in monsoon.

On your way to Madikeri, you can witness the gigantic Abbey falls, the historic Tibetian Monastery or Talacauvery, the origin of river Cauvery.

Located at a distance of 252 km from Bangalore, Coorg is a must go destination for travel junkies. This is one of the must plan road trips in monsoon from Bangalore.
Check Out : All inclusive resorts in India
3. Chennai to Munnar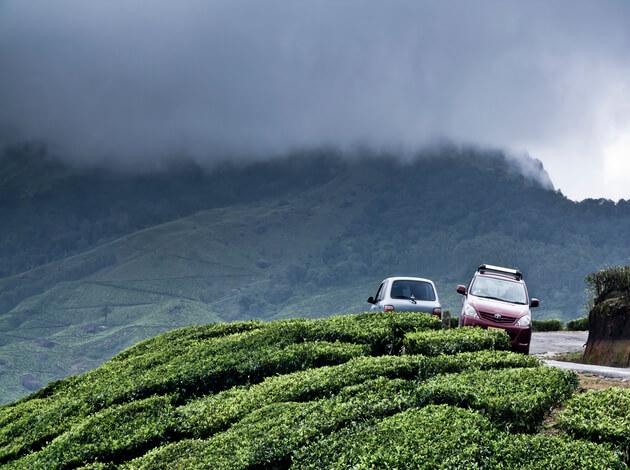 Source: Nishanth Jois/ Flickr
Weather in Chennai can drain all your energy and heading to Munnar by road can help you the beat the deadly heat.

Even though the distance between Chennai and Munnar is 620 km and the time required is approximately 11 hours, the breathtaking locales will make up for the long distance and time.

Munnar, which is surrounded by Kundala, Mudrapuzha and Nallathanni mountains, is one if the most important destinations for tea trading in India. The best way to reach Munnar is to take the Chennai-Trichy-Dindigul-Udumalai-Munnar route which is quite convenient and scenic than the other routes.

If you love trekking, Anamudi, the highest peak in Munnar is the place where you should head to. In addition, Munnar also has the most famous Rajmala waterfalls and several lakes, waterfalls and forests which will make you feel closer to the nature.
Check Out : Michelin star restaurants in india
4. Chennai to Pondicherry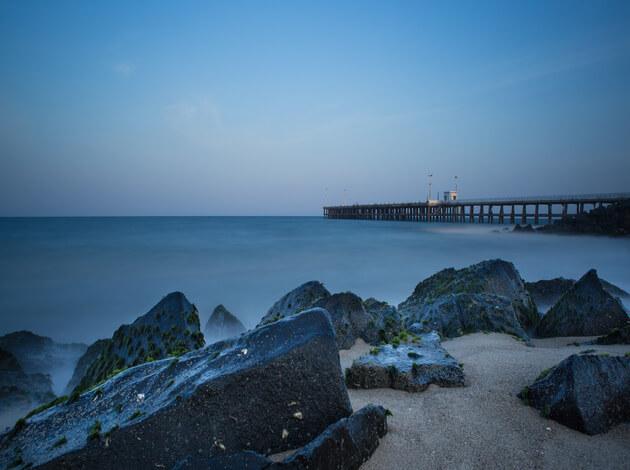 Source: Vincent Mivelaz/ Flickr
One of the most beautiful roads with the east coast on one side, a road trip from Chennai to Pondicherry should be on the top of your to-do list in monsoon.

The stretch from Chennai to Pondicherry is about 160 km and one can reach the union territory in approximately 3 hours. Pondicherry, which still has a heavy French influence, makes up for an ideal destination for a road trip near Chennai. Auroville, Gingee Fort, Promenade Beach, Jawahar Toy Museum are some of the popular tourist spots in Pondicherry.
5. Chandigarh to Kasauli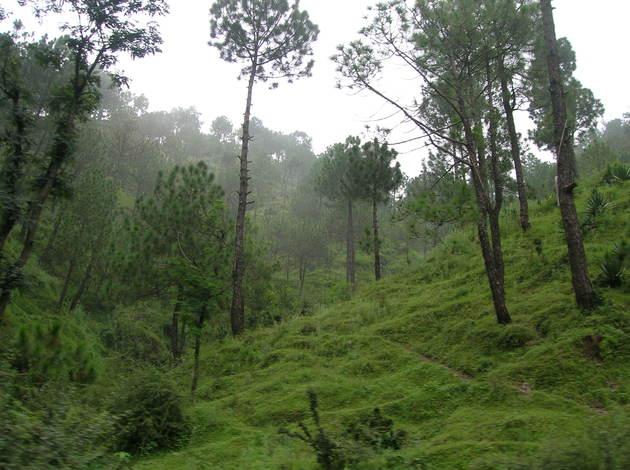 Source: Priyadarshi Dutta/ Flickr
Snow clad mountains and beautiful valleys will make up for a thrilling ride if you are planning a road trip from Chandigarh to Kasauli.

Located at a distance of 59 km from Chandigarh, Kausauli is a popular weekend getaway near Chandigarh for avid travellers who love to encounter pleasant scenes through the narrow ghats. It is also Asia's oldest brewery where the distilling equipment of the popular Old Monk was imported from England and Scotland.
During monsoon don't forget to have Bandsamosa, or buns stuffed with samosa which will just add to your trip.
6. Delhi to Rishikesh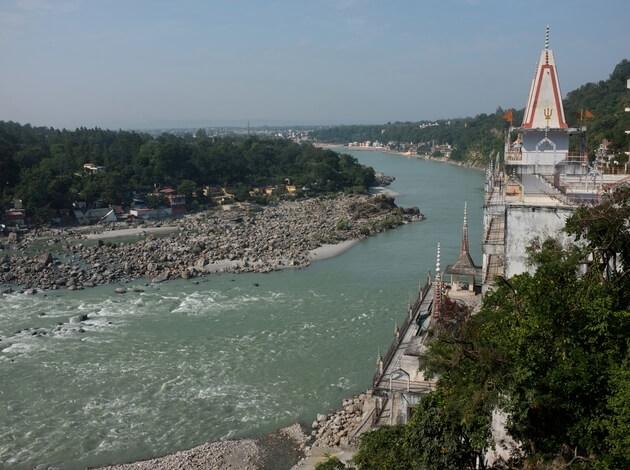 Source: Aleksandr Zykov/ Flickr
If you want to try a place which is not your regular hill station. If you are a religious person or just love adventure, then Rishikesh is the perfect amalgamation of religion and adventure.

One of the oldest cities in India, Rishikesh also has a lot of temples, Yoga ashrams and teaching institutes. It is also a popular destination for adventure sports like camping, rafting and bungy jumping. Road trip in monsoon along the Ganga River will add to a memorable experience.
7. Mumbai to Goa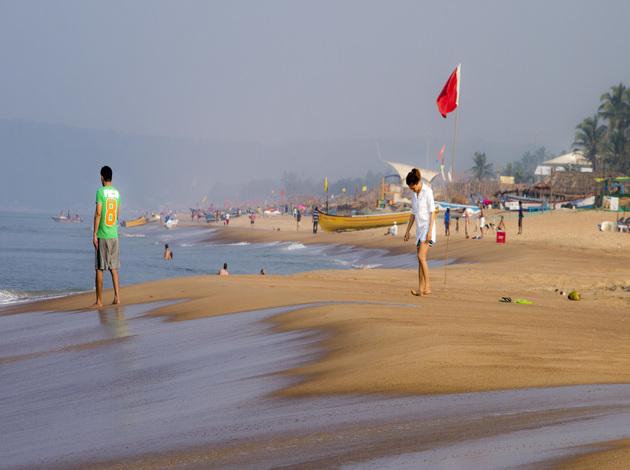 Source: Ian D.Keating/ Flickr
Trust me! All of us have planned an unsuccessful Goa trip with our friends. The road trip of Dil Chahta Hai, way back in 2001, gave us serious travel goals.

This monsoon, try to turn your dream road trip in reality by visiting the fun and happening Goa. Even though, tourists prefer to visit Goa during December, but in monsoon, Goa looks more beautiful than ever.

If you want to witness the mesmerising locales of this coastal state, plan and execute the much delayed Goa trip..ASAP!
Must Read: Mumbai to Goa by Road & Things to do in Goa in Monsoon
8. Puri to Konark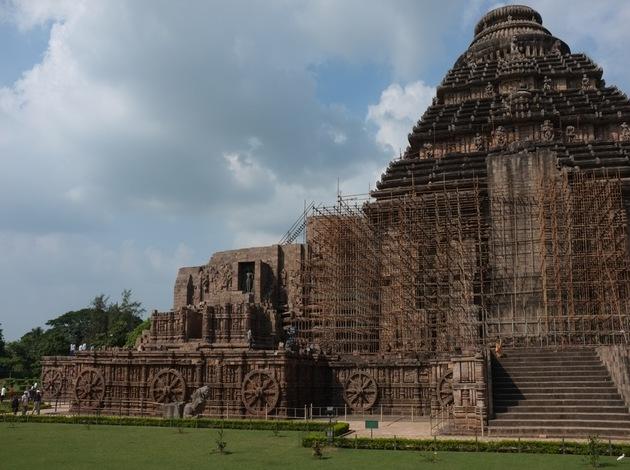 Source: Aleksandr Zykov/ Flickr
Odisha has to be the most underrated states in India if tourism is considered. The eastern state can put several tourist destinations in India to shame when it comes to its beautiful locations.

The canopy formed by the trees on the Puri Konark highway makes it one of the most beautiful roads and is a treat for photographers.

If you want to witness the artistic glory of India, then the Konark temple is the place you need to visit. The architectural masterpiece belongs to the Sun God and his decorated with 12 pairs of exquisite wheels.
9. Manali to Leh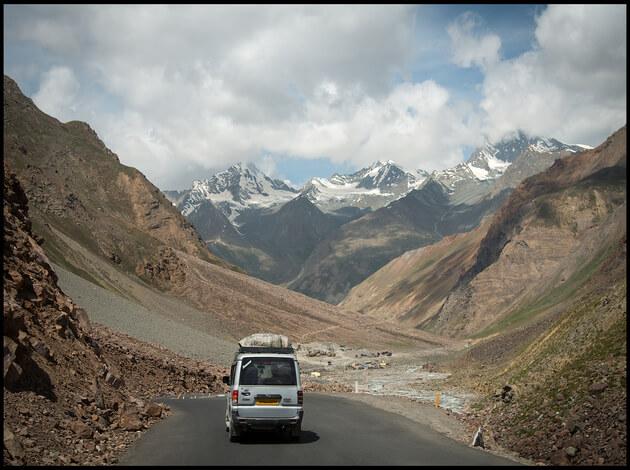 Source: Waldemar Halka/ Flickr
If you hate getting drenched in the monsoon and want to visit on a much calmer but equally beautiful place, then Manali to Leh highway is just your kind of destination. Leh being a water shed area, it doesn't rain much in monsoons. Hence, if you want to enjoy the pleasant weather, head straight away to Leh which will assure you with breathtaking visuals of rugged terrains and sky touching mountains.

While I'm writing this, I'm feeling an urge to get on my bike and head onto one of these destinations. But what are you waiting for? Call your friends right now and plan a monsoon road trip this weekend.
*fb cover pic: wikimedia.commons
You may also like to read:
Bike Trip from Kanyakumari to Kashmir