13 Best Botanical Gardens In The World
* Disclosure: This post may contain affiliate links, which means we may receive a commission if you click a link and book something (there is never any extra cost to you for using these links).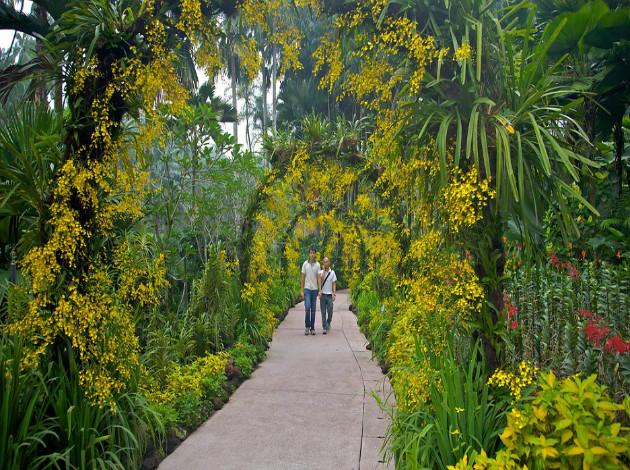 For a person who is unaware, a botanical garden is the same as a garden that has been well pruned and well taken care of. However, what makes a botanical garden different from the usual garden is that it is dedicated to the collection, cultivation and display of a wide range of plants that are labelled with their botanical names. So while you make a visit to a botanical garden you can get engaged in tours, educational displays, art exhibitions, book rooms, watch open-air theatrical and musical performances, and other entertainment, something that is not done in a simple garden. In a nutshell, a garden might please your eyes, but a botanical garden educates and gives you a better understanding of the plants and flowers through which you will be strolling around. Let us have a look at some of the best botanical gardens in the world that will awe you with its beauty!
1. Singapore Botanical Gardens, Singapore

PC: travelwithjoshcohen
Singapore is actually known for its botanical garden. Established in 1859, the Singapore Botanic Gardens is a 183-acre botanical garden that nurtures the plants and flowers in the best way possible. The central attraction of this garden is the National Orchid Garden which is a hilly three-hectare site housing a collection of more than 1,000 species and 2,000 hybrids of orchids. There is also a small tropical rainforest of around six hectares in size which is a part of this garden. While taking a stroll over here, you will come across an evolution garden, a ginger garden, wild monkeys, terrapins and much more.
Also Read: Rainforests of the World
2. Kirstenbosch National Botanical Garden, CapeTown, South Africa

PC: cape-town-tourism
South Africa boasts of a unique flora and the Kirstenbosch National Botanical Garden was founded with the purpose of preserving the same. Established in 1913, this garden is spread over an area of 89 acres and houses some of the most indigenous collection. The iconic flower of this garden is the Crane Flower. From savanna, to fynbos, to karoo and others, this garden has all.
3. Orto Botanico di Padova, Padua, Italy

PC: panoramio
What makes Orto botanico di Padova stand out amongst the rest is that it is the oldest surviving botanical garden in the world that had been once the world's first botanical garden, created in Padua in 1545. Still maintaining its original shape and layout- a circular central plot, symbolic of the world, surrounded by a ring of water- this garden attracts many a visitor from Italy as well as abroad. Making this not only a great tourist attraction but also one of the best botanical gardens in Europe.
Also Read: Biggest Beer Garden In The World
4. Jardin Botanique de Montreal, Montreal, Canada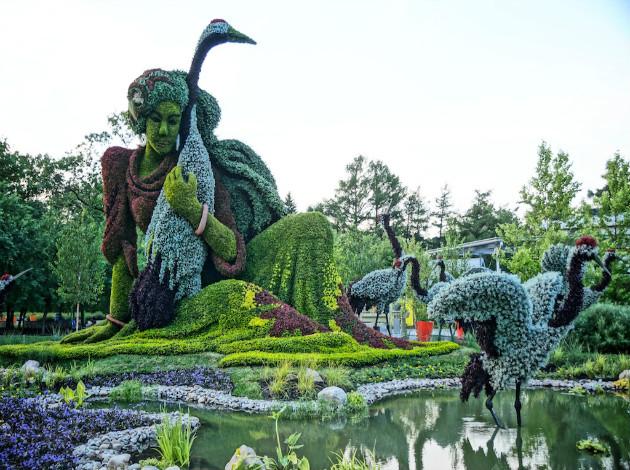 PC: imagestotake
Founded in 1931, the Jardin Botanique in Montreal offers a unique layout that consists of both indoor and outdoor spaces. Because of this, it can be visited throughout the year. In the warm months, the 30 themed gardens are the best place to visit. Some of the attractions here include the largest Chinese Garden outside Asia and the Japanese Garden, that features beautiful bonsai and water bodies. In the cold season, the visitors can go indoors to the Insectarium that houses 160,000 live and preserved bug specimens.
Also Read: Go Green! 6 Elevated Parks In The World
5. Hawaii Tropical Botanical Garden, Hawaii

PC: Long Bach Nguyen
Save 7%
Located amidst a picturesque valley, the Hawaii Tropical Garden is a nonprofit botanical garden that preserves nature on its 4 mile scenic route. This garden overlooks the Onomea Bay, and features streams, waterfalls and a boardwalk along the ocean. Inside, there are over 2,000 plant species, representing more than 125 families and 750 genera, with good collections of palms, heliconias and bromeliads.
6. Botanischer Garden Munchen, Munich, Germany

PC: wikipedia
Established in 1809, this garden boasts of being Munich's first botanical garden, designed by Friedrich Ludwig von Sckell. Housing a huge collection of around 14,000 species on 18 hectares, this garden aims at educating the people about the rare plants and European bee species. Attractions here include an alpine garden, arboretum, collection of moor and steppe plants, rhododendrons, rose garden, and systematic garden. There is also an extensive greenhouse complex, including rooms for bromeliads and arecaceae, cactus and succulents, cycads, ferns, orchids, and Mexican plants.
7. New York Botanical Gardens, New York, America

PC: officeoftourism
The attractions of New York Botanical Gardens include: an 1890s-vintage, wrought-iron framed, 'crystal-palace style' greenhouse; the Peggy Rockefeller Rose Garden; a rock garden; a 37-acre conifer collection; extensive research facilities including a propagation centre, 550,000-volume library, and an herbarium of over seven million botanical specimens dating back more than three centuries. For those who wish to explore further can enter inside its old-growth forest, which reminds us of the terrestrial nature of New York before it was inhabited by the European settlers in the 17th century.
8. Royal Botanical Gardens, Sydney, Australia

PC: izi.travel
The Royal Botanic Gardens overlooks the iconic structure of Sydney, the Sydney Harbour Bridge. Established in 1816, this garden is the oldest scientific institution in Australia and one of the most important historic botanical institutions in the world. To talk about its layout, this garden forms a large natural amphitheatre, surrounded by the 'stage' of Farm Cove. This cove is further divided into four major areas called the Lower Gardens, the Middle Gardens, the Palace Gardens and the Bennelong precinct. This is definitely on the list of the largest garden in the world, try not to get too lost in its beauty.
9. Longwood Gardens, Philadelphia, USA

PC: visitphilly
Longwood Garden was once a private estate but today it is open for public to see. Covered over an area of 1,000 acres, this garden includes 20 outdoor and 20 indoor small gardens, maintained in a mile-and-a-half of heated greenhouses. The highlights of this garden include: The Orangery, Silver Garden, Acacia Passage, Orchid House, Cascade Garden, Palm House, Mediterranean Garden, Tropical Terrace and the Outdoor Water Garden. With such unique flora it's very hard not to crown this as one of the most beautiful botanical garden in the world!
10. Kew Royal Botanical Gardens, London, England

PC: wikipedia
The Kew Royal Botanical Garden in London is the world's largest collection of living plants. Established in 1840 from then exotic garden at Kew Park in the London Borough of Richmond upon Thames, this garden today displays atleast more than 30,000 different species of plants, while the herbarium has over seven million preserved plant specimens. Covering this garden would mean walking down 320 acres of landscapes and gardens, including a soaring treetop walkway, 18 metres high and 200 metres long, tropical glasshouses, art galleries, a serene lake and waterlily pools. Attractions here range from Waterlily House, exotic rainforests in the Palm House, to 10 climatic zones in the Princess of Wales Conservatory.
11. Jardim Botnico, Rio de Janeiro, Brazil

PC: bikooch
Though Rio de Janeiro is famous across the world for its carnival, it is also home to something pretty and soothing. Located at the Jardim Botnico district, the Jardim Botanico gardens are home to around 6,500 species that lay preserved at the foot of the Corcovado Mountain, far below the statue of Christ the Redeemer.
12. Nong Nooch Tropical Botanical Garden, Chonburi Province, Thailand

PC: Qsimple/flickr
Spread over an area of 500-acre, the Nong Nooch Tropical Botanical Garden is one of the attractions of Thailand. Opened relatively recently in 1980, this botanical garden consists of a French garden, European garden, Cactus & Succulent Garden, ant tower, butterfly hill, flower valley, orchid garden and more.
13. Acharya Jagadish Chandra Bose Indian Botanic Garden, Kolkata, India

PC: snapflycook
Originally founded in 1786 by Colonel Kyd, this garden houses about 12,000 living plants and over two and half million dried plant specimens in the herbarium collected from all over the world. Also the oldest botanical garden of India, this garden boasts of being the same place from where the tea now grown in Assam and Darjeeling was first developed. This garden includes the trees of the rarest kinds, from Nepal, Brazil, Penang, Java and Sumatra.
Also Read: Fun things to do in Lal Bagh, Bangalore
So which of these best botanical gardens would you like to visit?
You may also like to read:
9 Places that Come Very Close To Heaven
25 Incredible Places That Potray The Fairytale