6 Places For Cheap Shopping In Goa - The Must Visit Flea Markets
* Disclosure: This post may contain affiliate links, which means we may receive a commission if you click a link and book something (there is never any extra cost to you for using these links).
A Goan holiday would definitely mean beach and booze with lots of food to you. And why not! Thats what the blessed land is all about. A sweet escape to Goa is all about parties and shopping and getting that sexy beach tan. For a foodie, food can never be an issue here as every nook and corner serves finger licking delicacies. However, we often find the need to shop for Goan stuff that we can take back home. Like be it the famous Goan sausages, dry fish, Goan sweets like bebinca, dodol, or the lovely fenny and wine. The cheap clothes and accessories sold here are also a style statement that the state carries off very well. So, here are a few places for cheap shopping in Goa where you can shop big and shop in budget.
1. Flea Market Baga And Anjuna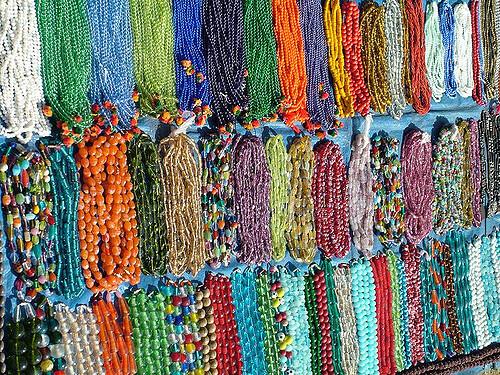 Image Source: Tony Bowall Photography/flickr.com
If you wish to taste the actual shopping style of Goa, the flea market between Baga and Anjuna is where you should head to. The market exhibits a wide range of fancy stuff like bags, scarves, jewelry, clothes, and various other fascinating items. At this market you also have food stalls, restaurants, live music bars and more. The Baga River adds to the lovely atmosphere as the market is spread on the river bank.
Must try these vegetarian restaurants in Goa
2. Anjuna's Wednesday Flea Market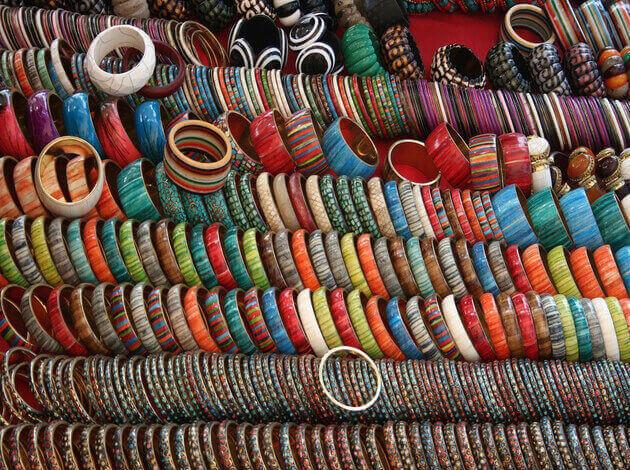 Image Source: Nagarjun Kandukuru/flickr.com
Located right near Anjuna beach, this market is a combination of Kashmiri, Gujarati, and Tibetan shops. The stalls at the market sell a variety of Goa's foreign denizen designed clothes and accessories. The flea market sells almost everything from head to toe. There's a fleet of restaurants, shacks, bars and more that surround the market, as well.
What are the other things to do in Goa? Let's explore.
Indulge in Goan Shopping with a foolproof plan!
Add these street shopping places when you plan your trip using our travel planner so that you don't miss out on some shopping that's light on your pocket.
3. Chapora Fish Market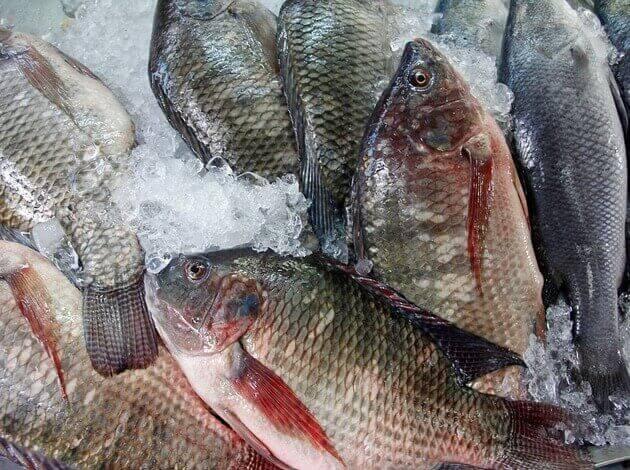 Image Source: Pixabay.com
The fishing village located by the jetty of River Chapora sells their daily catch. You can stock up on mussels, lobsters, prawns, crabs, pomfrets, kingfish and more on a visit here. A myriad of fisher mongers line up here with fresh colorful fish at affordable prices. If you're a cat when it comes to fish, the Chapora fish market should sure be your next stop.
4. Tibetan Markets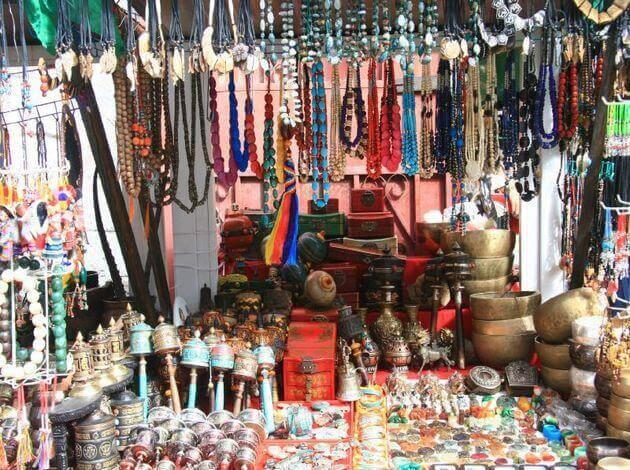 Image Source: Wikimedia Commons
This is a series of markets by Tibetan traders. They set up stalls selling souvenirs, precious stones, jewelry, pearls, photographs, furniture, and plenty of other stuff. These markets are put up usually in October and are here till May. The stuff sold is fascinating and the prices are luring. The Tibetan market is of course a recommended market for shopping in Goa.
*Explore Mumbai to Goa by road
5. Margao Market
Image Source: Aaron C/flickr.com
In the Heart of Margao lies Goa's largest market the Margao market. This is the best place in Goa to shop for fish, Goan sweets, alcohol, cashews, and various other local specialties. This famous market in Goa also has stalls for clothes, shoes, spices, handicrafts, souvenirs and more.
Stay at these budget hotels in Goa
6. Mapusa's Friday Market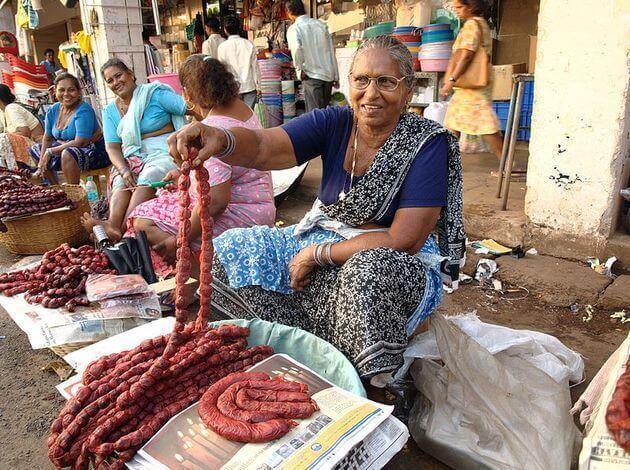 Image Source: Wikimedia Commons
The Mapusa Friday market is more like a farmers market so the famers in Goa gather at this market to sell their local produce. No doubt the stuff is cheap but it is also fresh. You have dry fish, pork sausages, and various other Goan specialties on sale here. The market is open from dawn to dusk. Youd also find clothes, belts, scarves and other accessories here.
Get year around hotel deal with TripHobo Hotels. Book Now, Pay Later!
Goa is perceived as an expensive state but most of us habitus know that it isn't very expensive if you know where to stay and eat, what things to do in Goa. Similarly, if you know where to shop in Goa, you can give your wardrobe and house a complete makeover in a finger snap. The aforementioned markets may seem expensive on the first go, but, the best part about them is that you can bargain and buy your stuff at the price you wish to (in most cases). Having that said, also consider the seller as that is all they earn for a living.
6 places for cheap shopping in goa - the must visit flea markets
When exactly does the large special market next to Margao bus station take place this December. Please, start and end?

Answer

Report Abuse

Margao Market is said to be open from early morning to around 8.30 in the evening and may remain closed for a couple of hours in the afternoon.

Report Abuse