Must Explore National Parks of Madhya Pradesh
* Disclosure: This post may contain affiliate links, which means we may receive a commission if you click a link and book something (there is never any extra cost to you for using these links).
Hello Wilderness! The bountiful state of Madhya Pradesh is bestowed with stunning natural beauty that can entice you every time you stumble upon it. The home of the Shere Khan, Madhya Pradesh proudly highlights its ecological delights that peacefully stay in the gorgeous National Parks.
These National Parks are ideal for a vacation, an adventure escapade, an off-beat leisure break from the urban jungle and even a totally out-of-the-box honeymoon.
Home to around 9 National Parks, 6 Tiger Reserves and 25 Wildlife Sanctuaries, wildlife enthusiasts can have a holiday here that never ends.
We bring the handpicked top 6 National Parks of Madhya Pradesh that you should totally plan your next visit to:
1. Bandhavgarh National Park- Verdant Escapade in the Abode of Shere Khan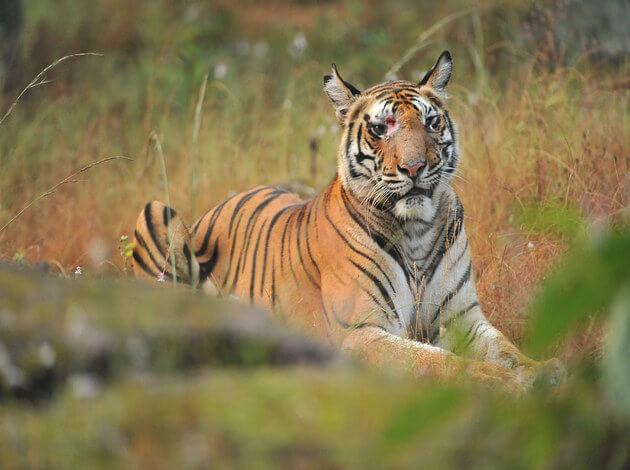 Being one of the most prominent national parks of India, Bandhavgarh is one destination in Madhya Pradesh that is perfect for a leisure vacation. Ideal for solo trips, family holidays or even a quirky and off-beat honeymoon, this national park stands in the shadow of a hillock-
Bandhavgarh
which literally means hill of the brother. Believed to be gifted by Lord Ram to his beloved brother Laxman, this park is a bio hot-spot and if you encounter a leopard just out for his morning walk, don't be surprised.
The park has the highest population of Bengal Tigers in India and makes for a perfect leisure destination in Madhya Pradesh for wildlife lovers. The park offers safari rides that are perfect for spotting the animal in the verdant forest. You can opt for an accommodation within the park to immerse in its bounty at any of its resorts. Varying from high-end to standard affordable, the resorts around Bandhavgarh offer a tranquil stay in the lap of nature. The Nature Heritage resort, Mogli Resort, Syna Tiger Resort, Celebration Van Vilas and The White Tiger Forest Lodge are some of the recommended places to stay.
Nearest Airport to Bandhavgarh National Park: Jabalpur (200 Kilometres), Khajuraho (250 kilometres)
Nearest Railway Station to Bandhavgarh National Park: Umaria (35 Kilometres), Katni (100 kilometres)
Places to see in Bandhavgarh National Park: Bandhavgarh fort, Baghel Museum, Village Tala, Fossil national Park, Badi Gufa, Shesh Shaiya, three cave point and Jwalamukhi temple.
Ideal Duration: 2-3 days
2. Kanha National Park- The Largest National Park in Madhya Pradesh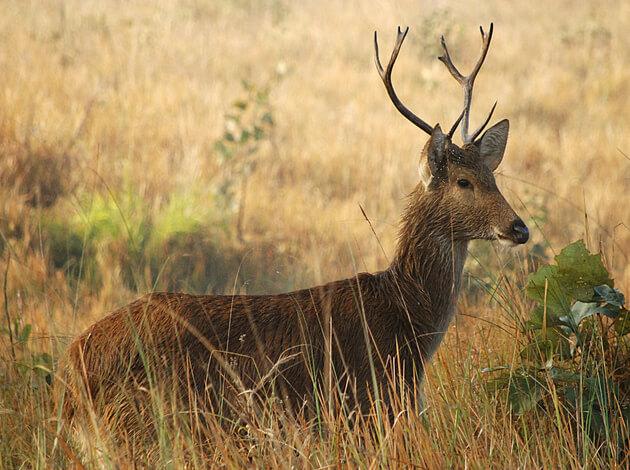 A delightful forest and National Park in Madhya Pradesh, Kanha resonates with the nature and is one of the very few places in India where you can spot the Royal Bengal Tiger. The park has an excellent vibe to it and this may be one of the reasons why the animal on the verge of extinction, Barasingha (Swamp Deer) which is the state animal of Madhya Pradesh also calls this place home.
The park is known to be one of the best-managed parks in Asia, a good reason why you should be planning a trip here. Add to that the striking population of wildlife that you can spot and you have a winner!
Every nook and corner is full of surprises that will please the nature lover inside you. If you aren't one already, the park has the capacity to turn you into one.
More than 350 species of birds and fauna await you in this park and so do the Leopards and Wild Dogs. Catching a stunning sunset against the backdrop of fragrant meadows of Saunf (Fennel), relaxing in the beautiful resorts that take you closest to the jungle life and taking the jungle Safari in the interiors are some of the most mood-elevating, rejuvenating, activities that you can indulge in, on your visit.
The Grand Tiger Resort, Krishna Jungle Resort, Tuli Tiger Resort, Satya Ashoka Resort, Mogli Resort and Baghira Jungle Resort are few top recommendations if you are looking for a place to stay near the park.
Nearest Airport to Kanha National Park: Jabalpur (170 Kilometres), Nagpur (290 kilometres)
Nearest Railway Station to Kanha National Park: Bilaspur (175 Kilometres), Jabalpur (214 kilometres)
Places to see in Kanha National Park: Kanha Museum, Shravan Tal, Sonf Medows, Sindoor Medows, Lapsi Kabar, Bamni Dadar
Ideal Duration: 2-3 days
3. Pench National Park- The Canvas of Rudyard Kipling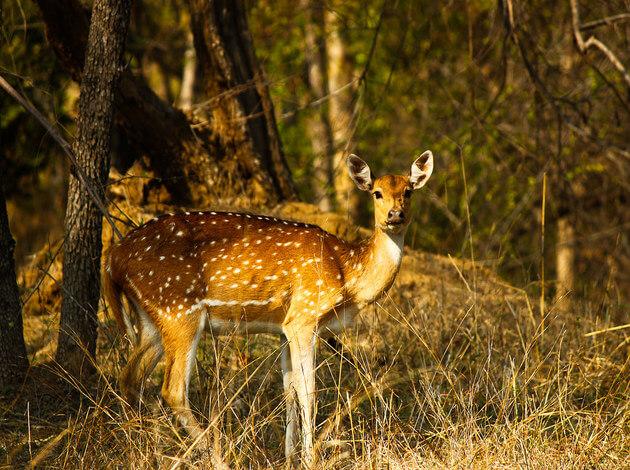 As a child, The Jungle book is one of the most captivating pieces of literature that occupied my mind for the longest time. The life of Mowgli that was replete with interesting characters that made it a legend in its own right was based on in the wildlife of Pench National Park .
Sir William Henry Sleeman's pamphlet (written in 1831) named 'An Account of Wolves Nurturing Children in Their Dens' describes a little boy living with the wolves. This document is considered to be the inspiration to Rudyard Kipling's Mowgli! The entire idea of living in the jungle is enthralling. The Tigers, leopards, vultures find solace in the forest of Pench and it in return nurtures them to the fullest. The park becomes a humble abode to several migrated birds and you can spot more than 285 species of birds that flock here seasonally.
Experience the magnificent balance of nature stroked to perfection at Pench. Enjoy calm walks around the water bodies, click numerous pictures of alluring birds that fly over the Pench Skies and yes, don't miss out watching 'Collarwali' the beautiful tigress that was featured in various documentaries like Spy in the Jungle. The Collarwali is known for her charismatic grace and the fact that she is a mom to 22 tiger cubs, the highest recorded by any tigress in India!
Nearest Airport to Pench National Park: Jabalpur (192 Kilometres), Sonegaon Airport Nagpur (92 kilometres)
Nearest Railway Station to Pench National Park: Nagpur (92 Kilometres), Jabalpur (192 kilometres)
Places to see in Pench National Park: Pench Reservoir, Sitaghat, Piyorthadi and Baghin Nala
Ideal Duration: 2-3 days
4. Satpura National Park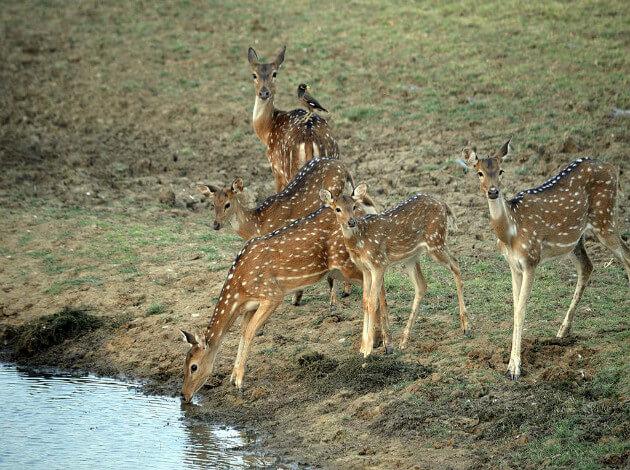 The mighty range of Satpura gives this National Park its name. Spread over an enormous area of 202 square miles, this ecological hotspot is unique in its own charming way. The first thing that you will notice on your visit is the extremely varied geography that comprises of gorges, ravines and sandstone peaks that adore the entire area.
The best part about visiting
Satpura National Park
is that it is less crowded and can offer the much-needed tranquillity for a leisure vacation. With a variety of 1300 flora and fauna like Spotted Dear, Indian Bison(Gaur), Tigers, Leopards, Wild boar, Wild dog (locally called Dholes), Sloth bear, Blackbuck, Porcupine, Sambhar, four Horned antelopes (Chowsingha), Smooth otter, Pangolin, Marsh crocodile and Languars, wildlife and outdoor lovers are in for a treat! Though bird watching is also a popular activity here, the main attraction of the park has to be the Giant Squirrel spotting. These large rodents can usually be seen high up in tall trees making huge jumps between the branches, giving the appearance of flying.
The Tawa resort by Madhya Pradesh tourism is a great place to stay and enjoy the Satpura National Park. Bison Resort is also a great property where you can opt to stay while visiting Satpura National Park.
Nearest Airport to National Park: Bhopal (170 Kilometres), Jabalpur (230 kilometres)
Nearest Railway Station to Satpura National Park: Itarsi (40 kilometres), Bhopal (170 Kilometres), Jabalpur (230 kilometres)
Places to see in Satpura National Park: Tawa Dam, Madhai Range
Ideal Duration: 1-2 days
5. Panna National Park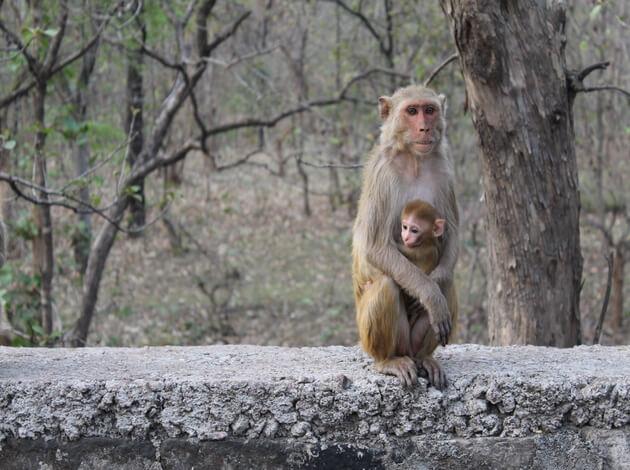 This secluded bounty of nature is special for more than just its wildlife, it has banned the use of diesel vehicles inside its area and hence, can give you a feel of fresh air like nowhere else!
Once home to the tigers,
Panna
today has about 200 species of migratory birds, aquatic animals like Maggar and Gharial along with fish and turtles and a bunch of wildlife species that include Tiger, Leopard, Carcal, Four-horned antelope, Indian Wolf, Pangolin, Rusty Spotted Cat and Sloth Bear. You can also catch a glimpse of monkeys jumping on the trees around!
Explore the wildlife on a jeep ride, drench in the beautiful waterfalls that add to the panorama of the forest and enjoy a stay in the rustic huts available within the park and you'll not miss home!
Nearest Airport to Panna National Park: Khajuraho (25 Kilometres)
Nearest Railway Station to Panna National Park: Satna (90 Kilometres)
Places to see in Panna National Park: Pandav falls, Gatha falls and Ken River.
Ideal Duration: 1-2 days
6. Sanjay National Park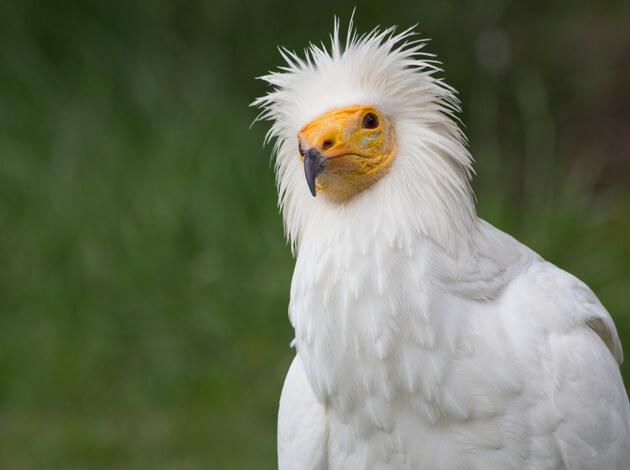 Part of the majestic Sanjay-Dubri Tiger Reserve, Sanjay National Park is one of Madhya Pradesh's best kept secrets. Known for tall Sal forest that presents an extremely unique panorama, the Sanjay National Park is known for its bio-diversity and can serve as an offbeat destination for a thrilling holiday.
Around three hundred species of birds fly over the park skies making bird watching a popular activity here. You can get a glimpse of the beautiful Golden Hooded Oriole (Yellow), Racket-tailed Drongos (blue), Red-headed vulture (red and black), Egyptian vulture (white) which make a stunning rainbow in the sky. Other birds to watch out for are Indian Pitta, Cinereous Vulture, Nightjars, Indian White-Rumped vulture, Rufus-Treepie, and Lesser Adjutant.
You can also see a host of animals like the porcupine, Sambar deer, spotted deer, Chinkara, Neelgai and Leopard in the Park. Tiger of course makes a royal appearance!
The River Banas flows through Sanjay National Park and there is even a patch of 4 kilometres, called Parsili, where visitors can enjoy a barefoot walk on the soft river bed while viewing the spectacular wildlife of the forest.
The Sal and Bamboo trees add to a greenery of the park and it is also a great place for nature photography.
Nearest Airport to Sanjay National Park: Khajuraho (25 Kilometres), Jabalpur (225 Kilometres)
Nearest Railway Station to Sanjay National Park: Rewa (107 Kilometres)
Ideal Duration: 1 day
Explore these bewildering
National Parks of Madhya Pradesh
that offer a sneak-peek into the wildness of the state. Witness the spectacular Indian Tiger, the idyllic charm of exotic forests and have a striking bird watching session on your visit and you will have a holiday to remember!