What to do on New Year's Eve 2017 in New York City
UPDATED Mar 16, 2018
1.9K Views
Undoubtedly the most exciting city of USA, come New Year's Eve and the excitement goes a notch higher. As the clock strikes 12, the world wants to witness the dazzling lights and bustling energy of Times Square. One of the hottest New Year's Eve parties, and more than that a long-driven tradition. With an estimated one million people, present live and over a billion watching throughout the world, the famous New Year's Eve Ball descends atop One Times Square. But there is a plethora of other activities and events that New York holds, to make for a memorable New Year's Eve. Whether you want a free, low-key night watching fireworks in Central Park, or you want to shell out big bucks to don a black-tie attire at the Rainbow Room, the Big Apple has got you covered.
And so, if you have been contemplating New Year's Eve in New York City, take a cue from these amazing activities, events and great hotels to stay, for one memorable New Years'!
Some great activities and events for New Year's Eve in New York: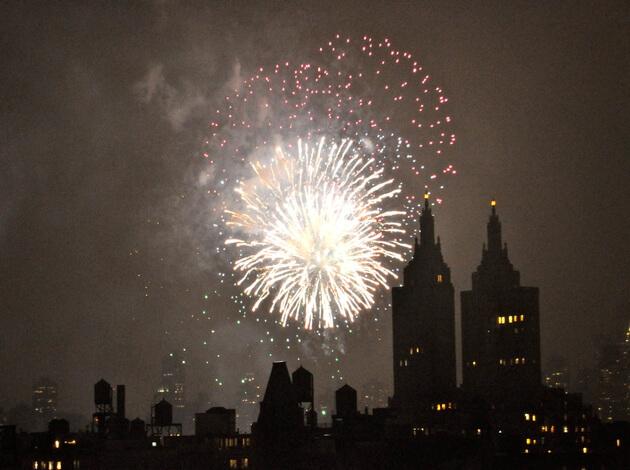 Image source: flickr.com/Sarah_Ackerman
Of course, there are a million
activities to do in New york
and many more events to bring in the New Years', but the following are the creme of all.
1. Behold the mesmerizing fireworks at Central Park
Iconic lights and neon drama, leave people spellbound as they behold the firework panoramas with their drink/ hot cocoa in hand. This is one of the best free things to do in NYC on a New Years' Eve. Launched at midnight from Central Park's Naumburg Bandshell, the fireworks can be seen from virtually any spot in Central Park.
2. Midnight Run in Central Park, for a fit start of the year
Runners take off on a four-mile run from the 72nd Street Transverse, as the clock strikes midnight. What better way to get your eternal 'New Year's Resolution' going, than starting at midnight! Prior to the run, there is a dance party at 10 p.m. and a costume parade and a contest at 11 p.m. at Central Park's Naumburg Bandshell.
3. Cruise the New York Harbor
The Manhattan skyline is at its best view, with fireworks lightning the sky like magic. Fireworks exploding from the Statue of Liberty are a sight to witness from a cruise in the New York Harbor. There are plenty of yacht and riverboat cruise options available, from luxury to budget, offering various activities on board like an open bar, hors d'oeuvres, a dance party with DJ, and a toast at midnight.
4. The Rainbow Room
A glorious black-tie event, The Rainbow Room indulges you in a four-course dinner with unlimited Osetra Caviar and white truffles, an open bar, and dancing from 8 p.m. until 3 a.m. in its legendary Rainbow Room Ballroom. With an orchestra playing until midnight, the space transforms into an after-hours disco.
5. Bike Ride into the New Year
A non-profit environmental activist group famous for Critical Mass bike rides, Time's Up has bikers and skaters gathering at the arch in Washington Square Park at 10:30 p.m. Following their annual trek to Belvedere Castle in Central Park, to then celebrate the New Year some dance and enjoy the Central Park fireworks.
6. Enjoy a Great Concert or Show on New Year's Eve
Pulling out all the stops, New York assures you a time-of-your-life on New Year's Eve. On this eve, you can catch an amazing act performing at one of New York City's great performance venues. New Year's Eve Gala with the New York Philharmonic at Lincoln Center, Barge Music, New Year's Eve Concert for Peace, Phish at Madison Square Garden and the Big Apple Circus are some of the best shows. All these makes New York one of the
best US cities for New Years Celebration
.
7. Feast Your Way into the New Year
If fitness and shows are not your thing, indulging in some of delicious food to round up the year, is a great idea. With restaurants, big on New Year's Eve special menus, this is a great time to pander without any guilt. A Jean-Georges Restaurant is a preferred choice of many. Don't forget to make prior reservations.
Great hotels to check-in for New Year's Eve in New York:

Image source: booking.com
So, you want to ditch the crowd and have your own party with your closest people or just want to enjoy luxury, cuddling your way into the new year with your lover, these hotels are just right.
1. St. Regis New York
Experience the timeless glamor of The St. Regis, New York's premier luxury hotel. The rooms are chic, and the services will spoil you! This is where uptown sophistication and New York city fine dining meets downtown chic. Even the culinary heritage is contemporary glamorous that promises a dynamic dining experience.
2. The NoMad Hotel
Housed in a turn of the century Beaux-Arts building, that has been fully restored to its original grandeur with interiors by French designer Jacques Garcia, the NoMad Hotel spells luxury. With 168 rooms that are residential in feel and decorated in his classic, timeless style, staying here is a unique experience.
3. Four Seasons Hotel New York
A modern-deco landmark of New York; at the Four Seasons Hotel, you get to experience five-star NYC hotel living. Offering 368 ultra-spacious Manhattan luxury suites and hotel rooms, each of these is a sanctuary with comforts more reminiscent of a private residence. Watching Central Park's fireworks from here makes your New Year's Eve even better.
4. The New York EDITION
Bringing together lasting comfort, extraordinary style and an exceptional level of service in a uniquely individual environment, The New York EDITION seamlessly blends the integrity and character of a prestigious landmark building with a simple, sophisticated design sensibility. The rooms are stylish, cozy and modern.
Free things to do for New Year's Eve in New York:

Image source: huckleberrybar.com
Money can't buy happiness, and these things stand testimony to that!
1. Ball Drop at Huckleberry Bar
In the 'Billyburg' Huckleberry Bar, the party starts at 6 pm! The bar has sounds by Jonny Santos & DJ Rafik along with a ceremonious champagne opening at midnight via a sword.
Where: 588 Grand St., Williamsburg, Brooklyn.
2. Down the Hole at Black Rabbit
With all the picturesque party favors in hand noisemakers, hats, and a midnight champagne toast, this venue is no less of a wonderland. Fall down the hole at 8pm.
Where: Black Rabbit, 91 Greenpoint Ave., Greenpoint, Brooklyn.
3. Leftfield
Despite being in mainstream Manhattan, this place will give you a far-away feeling with Jermaine Jagger spinning everything from "a fever dream of rock, power pop, vogue beats, electroclash, danceable," and more. Champagne toast at midnight, music video art from Derek Mega, and puppets from the Strangemen Theater Company are some more things here.
Where: 87 Ludlow., Manhattan.
Cheap yet fancy things to do for New Year's Eve in New York:

Image source: flickr.com/Ryan Hyde
If you thought New Year's Eve in New York City was all things extravagant, here's some enlightenment. You don't always have to shell out a fortune to experience some glitz-n-glam, these places show you how!
1. Karaoke at Union Hall
Here you have Chris Goldteeth and Lord East playing the perfect hosts while Huustle Cuss soundtracks your night at this monumental version of "Karaoke Killed the Cat"! Starts at 10 pm 702 Union St., Park Slope, Brooklyn.
Where: 702 Union St., Park Slope, Brooklyn.
2. LT Bar and Grill
LT Bar & Grill has the cheapest general admission tickets than those "popular" nightlife spots, which are in fact more fun if you don't like the clichéd midtown crowd.
Where: 8 W. 40th st., Manhattan.
3. Coco 66
Hosted by the Subway Soul Club, at Coco 66 you can enjoy Motown and more! This affordable themed party starts at 8 pm.
Where: 66 Greenpoint Ave.
4. Fashion-Forward Start at Fashion Avenue News Magazine's fourth annual free party
Your chance to witness NYC's most happening fashion scene, join the Fashion Avenue News Magazine for their fourth annual free party. Dress the code, or go home! Tickets are free and limited, so advance booking necessary.
5. "Kiss Me at Midnight" Party
There couldn't be a better way for reggae and Afrobeat lovers, than Angel of Harlem's "Kiss Me at Midnight" Party. Featuring Superhero DJ Jon Quick, a complimentary champagne toast at midnight, RSVP to get a free cover is essential.
6. Sign up for Jivamukti's yoga
Ever considered how blissful would it be to meditate your way into the new year, while the rest of the world is getting wasted?! The famous and beloved Jivamukti yoga studio offers chanting of sacred mantras from 8 p.m. to 9 p.m., followed by three hours of silent reflection. Perfect to greet the new year, we say!
Things to do post-midnight:

Image source: villagepowerhouse.com
After ringing in the new year, you want some more and not ready to go home yet! These places are good scenes, with music and food and fellow greedy people.
1. Late Night Early Mornings at 2am
Open to everyone the after-party goes on until the sun is up. The only caveat here would be a black and white dress code.
Where: 172 Classon ave. Clinton Hill, Brooklyn.
2. Village Pourhouse
The Upper West Side location is such a relief from the downtown disaster.
Where: 982 Amsterdam Ave. (between 108th and 109th st.), Manhattan.
Planning New year in NYC? Celebrate with an unbeatable plan using NYC trip planner! HNY!
We have you covered on all the New Year's Eve in New York City possibilities, and assure you a great one!