Offbeat Things to Do in Goa at Night: Experience The Other Side
* Disclosure: This post may contain affiliate links, which means we may receive a commission if you click a link and book something (there is never any extra cost to you for using these links).
If you have been thinking that Goa is all about sun, sands and beaches, then you wrong. With a nightlife that fails to turn into day, this part of India definitely dazzles in immense pleasure, parties and a culture that knows no boundaries. Come to think, this super tourist destination of India has something that can touch the hearts of everyone- whether it be beach rum, a party reveler or for that matter a person who likes to revel in the tranquil corners of nature. Let us see the reasons for which Goa's nightlife seduces the plurality of tourists who flock in here. Well we are not just going to talk about parties that render the glitter here but also those offbeat things to do in Goa at night that will amaze you with their beauty.
1. Free Booze to Keep Your Spirits High

PC: huffingtonpost.co.uk
Where: The famous lane of Tito's Club, Shores and Guru Bar at Anjuna Beach, Britto's at Baga beach, Found Things at Palolem beach are few top listers.
Till: Early morning.
Free Booze to Keep Your Spirits High: Booze and that too free! Are you aware that in August most of the pubs and bars in Goa offer free drinks to people thereby keeping that buzz and spirits quite high. Serving till late in the morning, these places become the most sought after destinations in Goa especially at night for youngsters and singles.
Also Read: Best Things to do in Goa
2. Take that Ride to Experience Goa at Night

PC: Joel's Goa Pics/Flickr
Where: Throughout Goa
Till: Literally throughout the night
Goa is a different place altogether in terms of its culture, architecture and people than the rest of India. Why not just go on a ride to watch its mesmerizing Portuguese structures at night against the majestic backdrop of the Arabian Sea? You can easily get hold of a bike on rent and explore its Gothic as well as glittery side on your wheels.
3. Join Silent Noise Parties

PC: theweek.in
Where: Palolem Beach, South Goa
Till: Midnight
Every Saturday night, near Palolem Beach, a party takes place known as the Silent Noise. Here, people mostly foreigners, teens and youngsters gather around, plug into the headphones and listen to different genres of music like trance music, hard rock, pop music, etc while they groove on the dance floor. Silent Noise parties are a unique concept which is popular abroad and has quickly seeped into the party scene in Goa. Places like the Laughing Buddha in Palolem beach are a great place to witness Silent Noise Parties.
4. Go Stargazing on Beach at Night

PC: uditha wickramanayaka/Flickr
Where: Arossim beach, South Goa
Till: Whole night would be too short a duration for this
This is for people who love to spend some time alone for introspection. Watching those stars at night against the vast expanse of sea is stuff that dreams are made of. Lie down on a beach far from the noise and merriment, watching the sun set into the horizon and as night sky takes its place dazzling with stars. Feel the soothing sounds of the waves and gentle wind having a therapeutic effect on you.
5. Visit Tiatr Theater

PC: youtube.com
Where: you will find many theatres registered with Tiatr Theatre in Goa
Till: 11 pm
Why not turn to culture for some time? There is definitely more to the culture of Goa than just the parties and beaches for which it is famous for. One among the many fun things to do in Goa is a visit to the Tiatr theatre that will make you think hard on socio-political issues rampant in our society. Not to forget the Goan culture that shrouds them.
6. Shop Till You Drop in Night Flea Markets

PC: Ashwin Kumar/Flickr
Where: Arpora Hills, Mackie's Night Market on the banks of the river Baga
Till: Throughout the night
Get on the sights and smells of Goa with the Saturday Night Flea Market on Arpora Hill between Baga and Anjuna. It is a complete mix of live music, food, bars, jewellery/clothes stalls, restaurant stalls of different cuisines and much more. These night flea markets in Goa let you meet different people from different parts of the world and experience their cultures while you bargain for an old blue antique or enjoy a quiet drink and meal amidst them. A little ahead along the Baga beach, there is a smaller market called Mackie's Saturday Night Bazaar in Goa which has a relatively smaller crowd but equally good food, music and things to shop for.
7. Jam Nights that Stir Up the Musician in You

PC: youtube.com
Where: Loekie Cafe, Arambol
Till: Midnight
Time to be inspired by that music! Walk down to Loekie Cafe with your guitar and stir up the musical notes with travelling musicians from all over the world. This blue shack cum restaurant coalesces music with local delicacies and organizes frequent jam nights turning the place into a lively extempore orchestra and a flash mob.
8. Enjoy Your nights at Party Cruises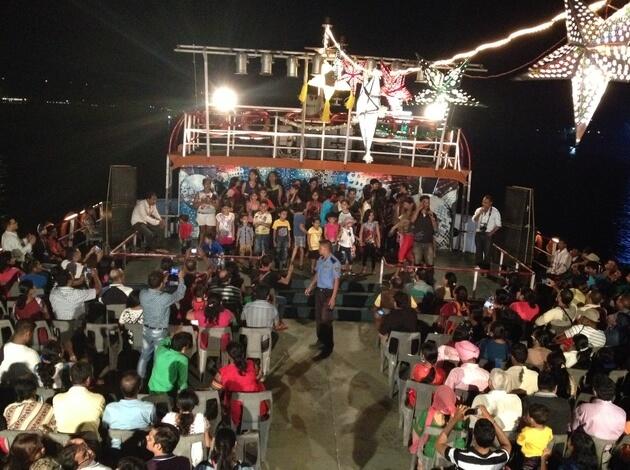 PC: Priya Saha
Where: You can book for these cruises from Panjim
Till: Throughout the night
Party Cruises from Mandovi River, Panjim offer an exciting alternative to spending the night in Goa. Rather than spending the night on beaches in a pub or beach shack, you can choose to spend your night in Goa on a cruise. There's music often live music, dancing and some delicious food while you cruise along the Mandovi River.
9. Try Luck at Casinos that Operate Throughout the Night

PC: pixabay.com
Where: Deltin Royale, Casino Pride, Deltin Jaqk are to name a few
Till: whole night
What can be a better way to immerse in the culture of Goa than to just spend those starry nights in a casino? Not to forget that gambling is legal here! With a large number of casinos, both onshore and offshore, tourists are in for a great time. They can be found in the most upscale hotels and resorts in Goa, as well as on the local beaches.
10. Go Gluttonous with Goan Food at Curlie's

PC: curliesgoa/Facebook
Where: Curlie's, Anjuna Beach
Till: 3 am
Curlies at Anjuna is one of the best beach-side shacks in Goa. They serve yummy food, and those who love seafood must certainly try the prawns here. The pancakes too deserve a mention. You could sit at this place for hours, eat and drink to your heart's glory and to watch the sun set here is one great experience!
11. Out of the box stay in Floating Tents

PC: Wikimedia Commons
Where: Mayem Lake near Bicholim
Till: 11 am
Now spending nights on water beds is no longer a matter of day dreaming in India. Spice up your life staying in a one bed room floating tent, a concept recently introduced here in Goa. One needs to go to Mayem Lake near Bicholim to check into floating tents. After checking in at any of these tents one can laze or even go for a shikara ride or even for a bumper boat ride.
So just decide how would you like to experience Goa at night? Let us know.
You may also like to read:
Lesser Known Restaurants in Goa
Secluded Beaches In Goa You Have To Visit Before They Go Mainstream!
How To Look Like a Million Bucks in Goa