8 Offbeat Destinations in Karnataka
* Disclosure: This post may contain affiliate links, which means we may receive a commission if you click a link and book something (there is never any extra cost to you for using these links).
Are you tired of visiting the beaten to death places in Karnataka? Then don't worry, we will disclose 8 places in this beautiful state that shall entice you with their beauty and grandeur. Karnataka is laden with natural resources and cultural emblems that do look out for travelers to unravel them. Let us see where all you can go this weekend and enjoy these Offbeat Destinations in Karnataka:
1. Karighatta Black Hill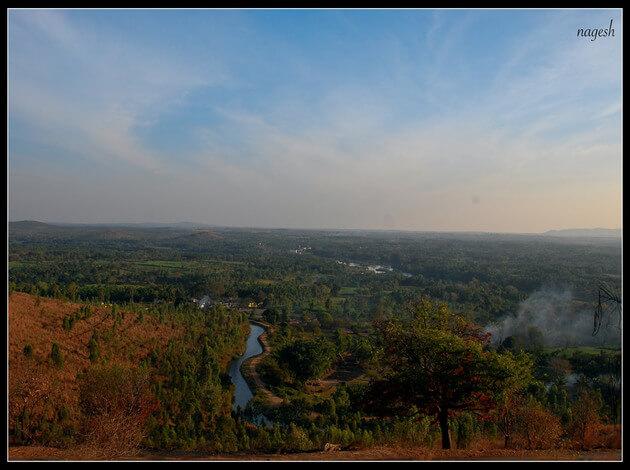 Image Source: Nagesh Kamath/Flickr
Distance from Bangalore: 125 km via Mysore Road
Attractions: Lokapavani River, Hill Trekking, Karigirivasa Temple, natural vegetation
Best Time to Visit: Throughout the Year
This offbeat destination in Karnataka has been off the cards for travelers as it was primarily seen only as a pilgrim destination owing to its famous temple- Karigirivasa Temple. However, today apart from its religious significance, the trekkers would love to trek to this place to have beautiful views of magnificent green trees and faraway land from the hilltop. The tributaries of Cauvery and Lokapavani flowing together are a wonderful sight from a high altitude. You can either drive to this place or take a tourist bus that runs on the Arkere-Bannoor route.
Don't miss out other interesting places around Karighatta Black Hill with this free Trip Planner.
2. Ramanagara
Image Source: pixabay.com
Distance from Bangalore: 50 km via Mysore Road
Attractions: Ramadevara Betta hill, where the legendary Hindi movie 'Sholay' was filmed. Kanva reservoir and Magadi Fort are some of the tourist places.
Best Time to Visit: September to February
Best known for offering as a backdrop to the legendary Bollywood movie Sholay, Ramanagara is a hilly landscape and the wide open spaces of relatively untouched nature makes this place a beautiful escape from the hustle and bustle of the metropolitan cities in Karnataka. Several local tour companies offer day treks and hikes to these hills. Camping is also a viable option for those adventurous enough to try it.
3. Karwar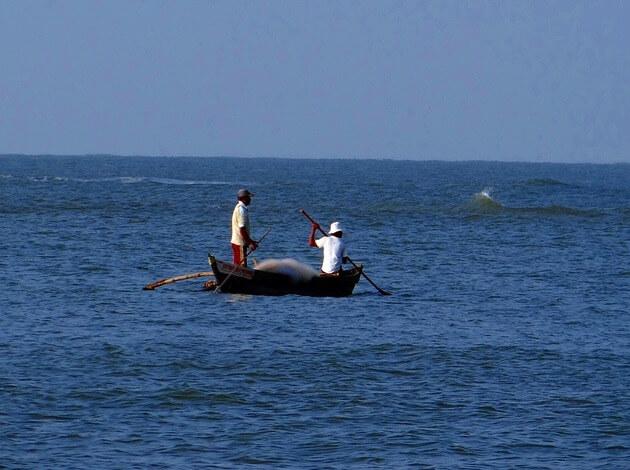 Image Source: pixabay.com
Distance from Bangalore: 521 km via NH4
Attractions: Devbaugh Lighthouse, Devbaugh beach, Karwar beach, Sadashivgad Fort, Durga temple, Venkatrama Temple, boat rides and water sports are some of the main attractions for Karwar visit.
Best Time to Visit: Winter months from November to February
An ideal destination for the lovers of Beach, Karwar shares a lot of culture with Konkani region. It has a good stretch of idyllic beaches and offers stay on two islands located just off its coast i.e. Kurumgad and Devbagh. As it is a natural harbor that lies in close proximity to the spice treasures of Kochi, the Portuguese, the British, the Arabians and now the Indian Navy have taken advantage of its location. The Kali River joins the Arabian Sea very close to Karwar, where the famous Sadhashivagud Fort has been built next to the Kali River Bridge. The river, the bridge, the fort in the distance and the gently swaying coconut trees paint a perfect picture for tourists.
Further Reading: Honeymoon Destinations in Asia
4. Jog Falls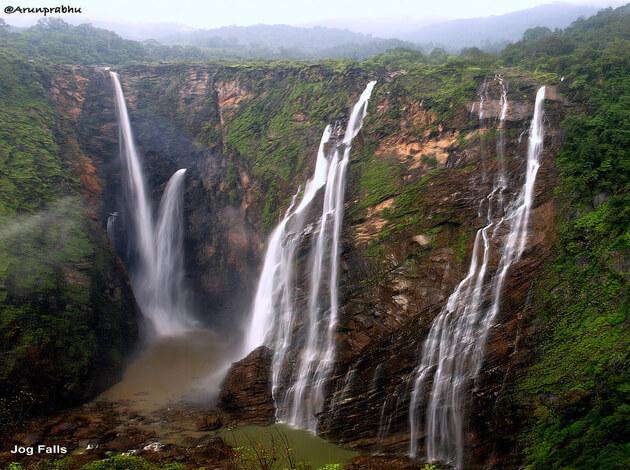 Image Source: Arun Prabhu/Flickr
Distance from Bangalore: 416 km via NH4
Attractions: Sharavati River, Tunga Anicut Dam, Thyvare Koppa Lion & Tiger Reserve, Linganmakki Dam and BRP Dam
Best time to visit: The monsoon season is the best season to visit Jog falls, as the beauty of the place is enhanced during monsoons. You can also visit this place during winters when the temperatures remain relatively cool.
One of the highest waterfalls in India, the sheer beauty of Jog falls' cascading water cannot be summarized in words. Its height is 830 feet and is located on Sharavati River. The falls are in four distinct cascades called as, Raja, Rani, Roarer and Rocket.
Also Check: 10 Trekking Destinations To Take Near Chennai
5. Yana Rocks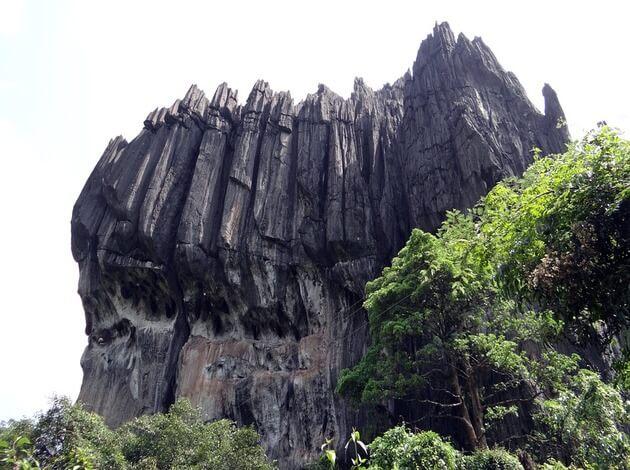 Image Source: pixabay.com
Distance from Bangalore: 440 kms
Attractions: Attractions include the Limstone peaks known as Mohini and Bhairaveshwara peak, Shiva Temple, trekking in the deep forested area near Yana.
Best Time to Visit: Months of September and October
Located in the picturesque green background of the Sahyadri Mountains, the peaks around Yana Rocks are a feast to the eyes of any nature lover. The rock hillocks are surrounded by thick forests and water streams, trekking in this part of the Western Ghats is a dream of every adventure lover. Here, in the midst of dense forest, two black limestone needle sharp gigantic peaks stand out and are the major attractions because of their weird shape.
6. Honne Mardu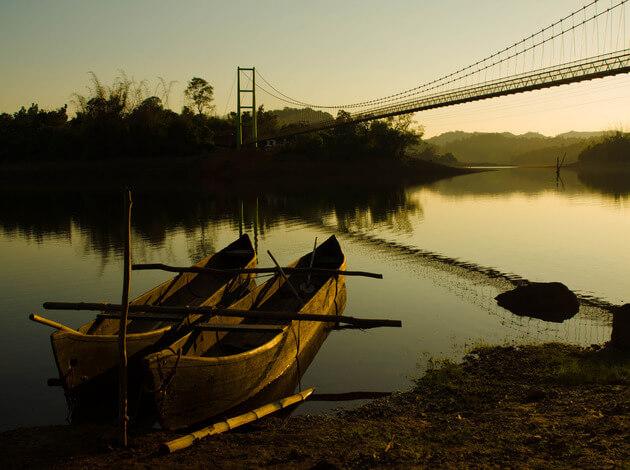 Image Source: Ashwin Kumar/Flickr
Distance from Bangalore: 414 km via NH4
Attractions: Mainly known for its water sports activities like windsurfing, kayaking, and river rafting in the backwaters of Sharavathi River. Other attractions include natural flora and fauna, forest trekking trails, scenic view from Linganamakki Reservoir and camping adventures.
Best Time to Visit: The best time to visit Honnemardu is post monsoon season from late August to December.
Honne literally means timber and mardu means lots. Honnemardu, a lesser known attraction in Karnataka is a visual treat, offering a view of the mountains, verdant trees, vast expanse of water, islands. The place offers a spectacular vista of the glorious sunset and sunrise. The village of Honnemardu has been submerged under the Linganmakki reservoir. Since its predominantly a water area, it's an ideal destination to indulge in water sports such as windsurfing, coracling, canoeing, Kayaking and Scuba Diving.
7. Hebbe Falls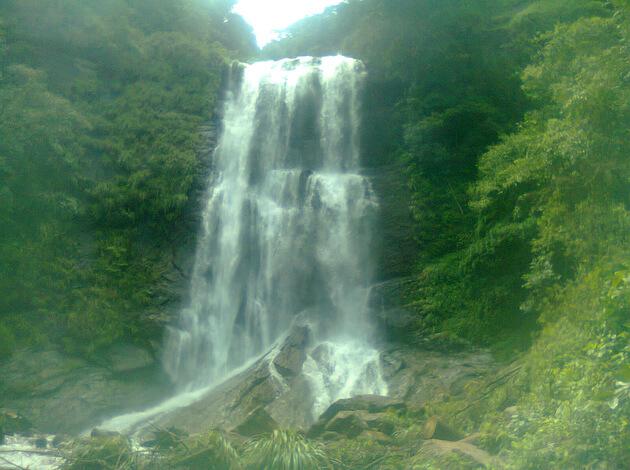 Image Source: Abhishek Kumar/ Flickr
Distance from Bangalore: 276 km via NH48
Attractions: Coffee plantations, lush forest areas, scenic landscape, flora and fauna
Best Time to Visit: The best time to visit Hebbe falls is early winter
Among the exotic hill stations at Kemmangundi are the beautiful Hebbe falls in Karnataka. It is in Chikamagalur district in West Karnataka, 8 hour drive from Bangalore. Kemmangundi hill station is said to be the summer retreat for the erstwhile Wodeyar ruler, Krishnaraja Wodeyar IV. It has beautifully laid gardens, magnificent mountain ranges and splendid valleys, and is an excellent visual treat for the tourists. One can take 8 kms trek to reach the unexplored waterfall in Karnataka.
Further Reading: Best Hill stations in India
8. Dandeli Wildlife Sanctuary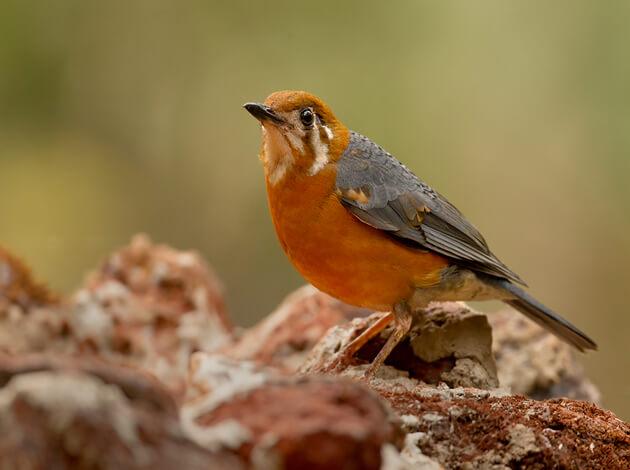 Image Source: Wikimedia Commons
Distance from Bangalore: 480 km
Attractions: Here you can see wild animals such as leopards, elephants, antelopes, tigers, bears, reptiles (snakes and crocodiles). Visitors can enjoy water sport activities like river rafting and kayaking. The place is haven for trekkers and mountain bikers.
Best time to visit: Between March and October
The sanctuary covers part of the rich forests of the Uttara Kannada District, on the banks of the river Kali. In the jungles of Dandeli, one can spot several animals as well as birds including many endangered species provided the reasonable ground for the government to declare the Dandeli forest, a National Wildlife Sanctuary in 1956. There are so many attractions and opportunities on offer at Dandeli Wildlife Sanctuary, whether you choose action and adventure with white water rafting or slow the pace down with peaceful birdwatching and wildlife photography. You'll be spoilt for choice here!
So which destination would you like to visit this time in Karnataka? Let us know.
Check out few interesting tours with TripHobo to explore Karnataka in the best way.
You may also like to read:
Best Places to Visit Near Bangalore