The Best of California's Pacific Coast Highway Road Trip
* Disclosure: This post may contain affiliate links, which means we may receive a commission if you click a link and book something (there is never any extra cost to you for using these links).
Enough has been said in praise of the Pacific Coast Drive, also called the California State Route 1, that we ought to be tired of belabouring those points over and over again. But we can't help ourselves. Just look at that drive. Look at it! How can anyone not feel the helpless urge, for the umpteenth millionth time, to try and capture its beauty in words?
Let's get it out of the way, then.
Winding and twisting its way over dizzying cliffs and frail looking bridges, the road runs along the always aquamarine Pacific Ocean. Vista after vista will demand that you stop, get off your vehicle, and pay it homage. A dropped jaw, perhaps accompanied by a low whistle. A photograph, even though you just know there's no way mere pixels could possibly capture the full extent of your feels that no frozen memory will ever replace actually being there!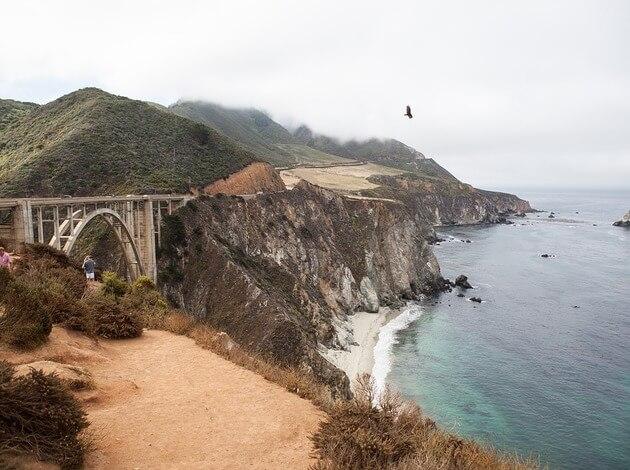 That's quite enough waxing lyrical. Let's talk about the drive itself.
Technically, the road stretches for 1500 miles along USA's West Coast. But most of the dramatic scenery is concentrated into a much smaller 147 mile stretch between Cannery Row and Morrow Bay. And that's the bit we're going to be focusing on today.
How are you going to do it? Well, you could do a speedrun, we suppose - drive the stretch in three hours flat. Only that would defeat the whole point. Remember what we said about getting out of your vehicle? Unless you do that, it would really be a case of missing the trees for the forest... and the trees here are really, really important.
That's why we've compiled a definitive list of stuff you need to stop and take in. To rev up for your drive, we recommend well, just staying in one place actually! You're starting out in Monterey, which means you can't miss out on the Aquarium, Cannery Row, and the Old Fisherman's Wharf - these places are rich with history. The Monarch Grove Butterfly Sanctuary is worth popping into as well.
The next bit, the 17-Mile Drive, is where your trip kicks off for real. There's a tonne of things you have to watch out for - golf courses, elegant mansions; the Lone Cypress, which is the most photographed tree in the world; Bird Rock, a sandy cove which, won't you know, is thick with birds; and the Del Monte Forest of Monterey Cypress trees, which only grow in this area.
PC: Wikimedia Commons
Before you know it, you'll have looped around to Carmel-by-the-Sea, a city famous for its hyper-rich art heritage. And which writer wouldn't want to live here? A light stroll will take you clean through a town of art galleries, cafes, beaches, and restaurants of really good food. Have a late breakfast here.
You'll be passing by the 'crown jewel' of California state park system next - Point Lobos. And though you won't quite have time to really hike its trails, you can do a quick loop of its inner roads to get an idea of what its pretty, pretty coves and forests look like.
Must Read: Things to do in USA before you die
The next ten miles of uninterrupted driving will bring you to Bixby Creek Bridge, one of the tallest single-span concrete bridges. Its smooth design and unsurpassable location have made it a favourite subject for photographers. Next up, Big Sur!
The younger crowd's interest in Big Sur, this eye-candy of a winding, frequently misty, and cliffy bit of coast, saw a spike of interest a while back. It probably had nothing to do with Taylor Swift's impromptu vacation there with Karlie Kloss. Yeah, nothing at all.
While you could drive straight through Big Sur, you have an option for pulling off the road and slowly navigating down the narrow Sycamore Canyon Road to Pfeiffer Beach (yes, we're going to stop using words such as 'beautiful' and 'lovely' now. Just take it for granted, okay?). And in theory, you could camp here for the night. We're gonna assume you snapped a few pics and mosied right along.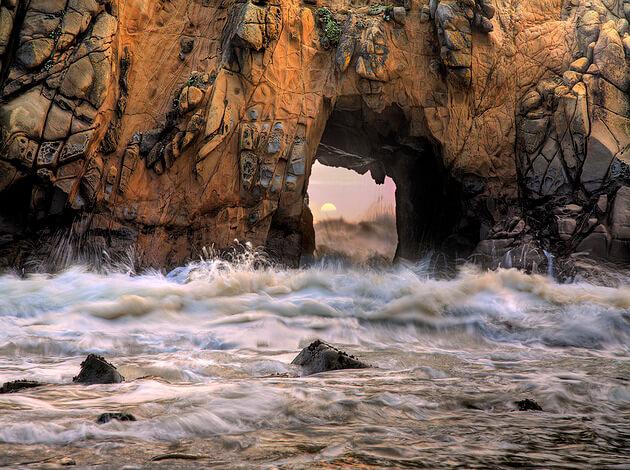 PC: Wikimedia Commons
Lunch! How have you not noticed how hungry you've got? Sierra Mar Restaurant! Here's hoping your wallet is thick and heavy, because this upscale fine-wine-and-dine eatery pinches a pretty penny for the panorama from its lounge. Worth it.
Must Read: Best small cities to visit in USA
Another ten miles ahead, you might get off and take a little walk to see the McWay Falls pour directly onto the Pacific tide. Actually getting to the beach is nearly impossible without a boat, so get going again. Don't feel too bad, for there's another nice and long stretch of uninterrupted driving coming your way, all the way to Jade Cove. Again, get off and follow the bluff trail down to the beach, where yeah, the name is literal, because you get to pluck a couple of actual jade stones from the beach.
Wow, those rides are really stretching out now, aren't they? The Piedras Blancas Elephant Seal Rookery should be coming up, a six mile long stretch of shore line where the mighty elephant seals may be spotted hanging out in their hundreds.
Oh, no. Have you reached Morrow Bay already? Only wow, did it all really take you eight hours? Even with all the stopping that was way too quick!
Whatever! You're just gonna have to head back tomorrow!
You May Also Like to Read
10 Ultimate Cross Country Road Trips In the USA
12 Best Road Trips From Chicago
Checklist of Car and Bike Accessories For Long Roadtrips