10 Best Pilgrimage Destinations in Madhya Pradesh
* Disclosure: This post may contain affiliate links, which means we may receive a commission if you click a link and book something (there is never any extra cost to you for using these links).
How often do we rediscover ourselves? How many places in the world actually touch our souls and create a vibration that awakens our conscience? India's soulful state of Madhya Pradesh is surfeit of such places that resonates with our inner being and can define our lives in a meaningful, spiritual manner. Madhya Pradesh is a land that has been a witness to prime events in history and ancient Indian mythology which has bestowed it with some of the finest places in India for a pilgrimage. The magnificent Vindhya Mountain range, the exotic forest of Chitrakoot and the bountiful Narmada River have been a centre point for mythology, religion and spirituality since time immemorial.
"Tvadiiya-Paada-Pangkajam Namaami Devi Narmade"
Even today, you will find men and women drawn to the magnetic aura of Narmada River where thousands of Pilgrims undertake the tedious and life-changing Narmada Parikrama which involves walking (barefeet) along the banks of the river for hundreds of kilometres and live austerely throughout the journey to connect to the inner self. While this is certainly not a cake-walk, there are plenty of small spiritual sojourns that you can embark on, in Madhya Pradesh.
If you are looking for a
vacation
to rediscover yourself and relive your roots, there is be no better destination than the state of Madhya Pradesh.
1. Ujjain- The Pearl of River Kshipra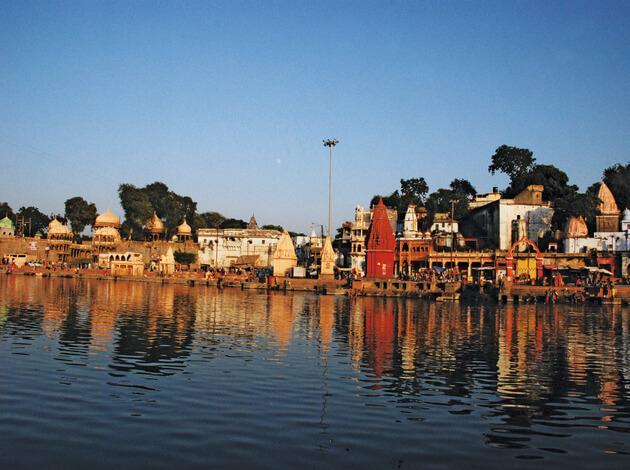 An ancient political centre, Ujjain is one of the holiest cities of India. Dating back to 600 BC, the city is considered to be one of the seven holiest cities in ancient India. It's breath-taking temples breathe spirituality which you have to see to believe. As ancient Indian poet aptly describes, it is 'The town fallen from Heaven to bring Heaven to Earth'. It is one of the 12 jyotirlingas of the Indian subcontinent.
Home to prominent temples that belong to different faiths within Hinduism like Shaivties, Vaishnavites and Shakta; thousands of pilgrims flock to the city to attend the sacred KumbhaMela which is held once in 12 years, the latest being in 2016.
As you take a stroll in the city's magnificent temples, you will be stunned to feel the spiritual vibes of the holy places.
The Mahakaleshwar Jyotirlinga temple of Ujjain is one of the most prominent pilgrim sites for the devotees of Shiva. Considered a Swayambhu temple on the edge of RudraSagar Lake, the temple has an idol of Shiva facing the south and also has images of Ganesh, Parvati and Karttikeya. The bhasm aarti offered at the pre-dawn hours of the day is a special ritual of this temple. Visit the temple during the Mahashivaratri and witness the grandeur of the festivals.
Must-visit pilgrim sites in Ujjain: KalBhairav temple, Chintaman Ganesh temple, GopalMandir, Harsiddhi Temple, Gadkalika temple, PatalBhairva temple, Mangalnath temple, Bade Genshji temple, and ISKCON temple.
Must-visit attractions in Ujjain: Sandipani Ashram, Ram MandirGhat, Bhartrihari Caves, JantarMantar, Kalidasa Academy, VikramKirtiMandir Museum, Kalideh Palace, Ankapata and Shipra River.
Nearest Airport: Indore (55 Kilometres)
Nearest Railway Station: Ujjain Railway station
2. Orchha- Timeless Tale of Spirituality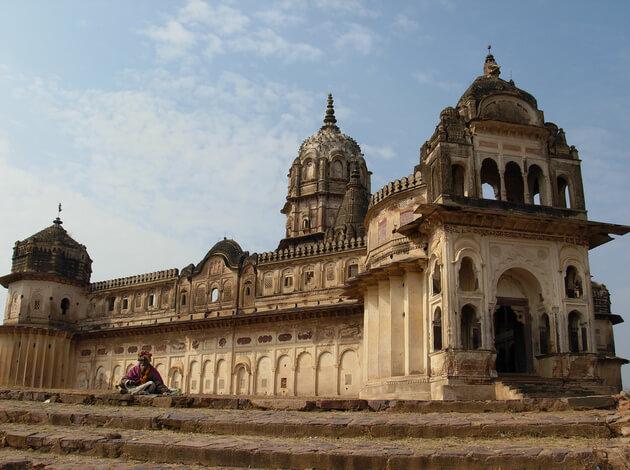 The timeless beauty of Orchha defines another level of divine experience with its temples, forts and palaces. Combining the best of history and folklore, Orchha brings forth an eclectic amalgamation of both till a point where it merges to create a sublime experience to the devotees who come to its doorsteps.
The highlight of Orchha is the Raja Ram temple where Lord Ram is celebrated and prayed not just as a god, but also as a great king that he was. Housed in a magnificent palace that was built for the Queen, the temple is a focal point for devotees. The temple boasts vibrant walls and an atmosphere of sanity and peace.
Must-visit pilgrim sites in Orchha: Raja Ram Temple, Laxmi Narayan Temple and Chaturbhuj temple.
Must-visit attractions in Orchha: River Betwa, Orcha Fort that houses Raja Mahal, Jahangir Mahal, RaiParveenMahal, Chhatris, DinmanHardaul's Palace and Orchha Wildlife Sanctuary.
Nearest Airport:Gwalior (113 Kilometres) and Khajuraho (155 Kilometres)
Nearest Railway Station: Jhansi Railway station (15 Kilometres)
3. Maheshwar & Omkareshwar- Magnetic and Mighty
Another jewel on the banks of the Narmada River, Maheshwar is a holy town dedicated to Lord Shiva. Popular for Maheshwari Sarees, the town is the perfect base to explore the prominent Jyotirlinga of Omkareshwar- which is a holy island shaped like "Aum" in Sanskrit language. Omkareshwar is replete with temples that re-establish the faith in supreme power and fill your senses with a purity that is unmatched and incomparable.
Maheshwar was the capital of Malwas during the Maratha-Holkar era and hence has many other historically and culturally significant places that you can visit on your trip. As you enjoy an awe-inspiring sunset over the Narmada Ghats, you will be filled with joy and happiness oozed out by the holiness of the temples that surround the place.
Must-visit pilgrim sites in Maheshwar:
Omkareshwar
is dotted with multiple prominent temple sites like Siddhanath temple, OmkarMandhata, GauriSomnath temple, ,EkMukhiDatta Temple, Rajarajeshwara Temple, Jaleshwar Temple, Ahileshwar temple, Pandharinath temple
Must-visit attractions in Maheshwar: Ahilya Fort, Holkar Fort,Mandaleshwar, Narmada Ghat andKasrawad for shopping colourful MaheshwariSarees.
Nearest Airport:Indore (95.5 Kilometres) and Bhopal (287 Kilometres)
Nearest Railway Station: Barwaha Railway station (39 Kilometres), Indore (95.5 Kilometres) and Bhopal (287 Kilometres)
4. Amarkantak- Spirituality in the Proximity of Nature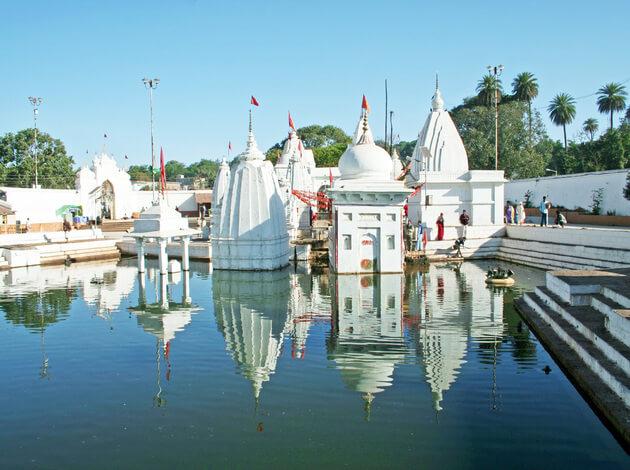 Amarkantak is blessed with abundant natural beauty that gives its rustic charm, exotic pull and an undying spiritual sensation that invites thousands of seekers every year. Located at a towering 1000 metres from the sea level, this Teerthraj or king of pilgrims is a scenic destination in Madhya Pradesh. A point where Vindhya and Satpura Range, Amarkantak is also the holy site of origin of three rivers- Narmada, Sone and Johila. The Narmada Ugam temple commemorates the origin of the Narmada and was built by a local on the orders of Goddess Narmada. Amarkantak hence is the apex point of anyone who embarks on the Narmada Parikrama.
The holy site is also home to ancient PataleshwarMahadev temple that will practically tranport you into another era, into another time. On your visit, do see the majestic Kapildhara falls that will wash your sorrows away!
Must-visit pilgrim sites in Amarkantak: NaramadaKund, ShriJwaleshwarMahadev, Keshav-narayan Temple, Ancient temples of Kalachuri- PataleshwarMahadev and Macchendranath, Sonakshi Shaktipeeth temple, Trimukhi temple and ShriSarvodayaDigambar Jain Temple.
Must-visit attractions in Amarkantak: MaakiBagiya, KapilDhara, KabirChabutra, Sonemuda, Confluence of three rivers.
Nearest Airport:Jabalpur (300 Kilometres) and Patna (159 Kilometres)
Nearest Railway Station: Pendra Road Railway station (40 Kilometres)

5. Chitrakoot- On the footsteps of Lord Rama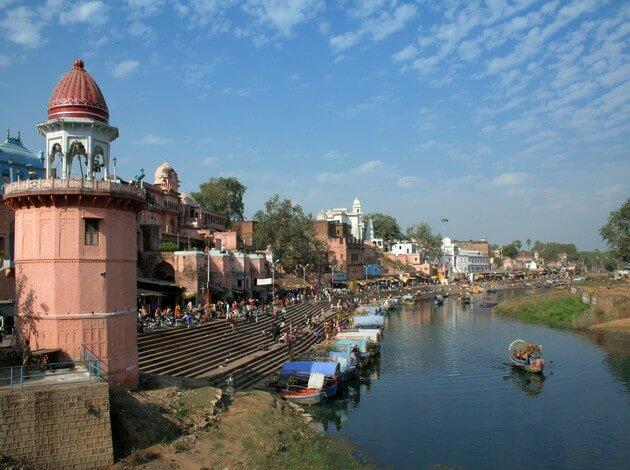 One of the holiest sites in India, there is something about Chitrakoot which has made it a hotspot for holy saints and gods to make it their abode. Right from the saints like Rishi Atri, Sati Ansuya, Maharishi Markandeya, Dattatreya which shaped the Indian mythology, religion and spirituality to Lord Ram and Sita, Chitrakoot has an atmosphere that can turn anyone into a believer.
Home to Kamadagiri hill that is dotted with temples dedicated to Lord Rama, a Parikrama (trail along its edges) is believed to fulfil wishes of anyone. As you take a stroll and spend moments of peace on the banks of Madakini River, you will sense the sanity that the place exhales. It is believed that the very point where Lord Ram met his brother Bharat, the place where Ram and Sita spent their last moments before her abduction as described in Ramayana, took place in Chitrakoot. No wonder why, this is the place where Tulsidas was blessed by Lord himself!
Must-visit pilgrim in Chitrakoot: Kamadgiri- chain of temples, Bharat Milap Temple and Sati Anusaya Ashram.
Must-visit attractions in Chitrakoot:Mandakini river,JankiKund, Ram Ghat, Hanuman Dhara, Gupt Godavari, SitaRasoi and SphaticShila
Nearest Airport:Jabalpur (300Kilometres), Khajuraho (190 Kilometres) and Varanasi (270 kilometres)
Nearest Railway Station: Karvi Railway station (12 Kilometres)
6. Burhanpur- Holiness manifested into a City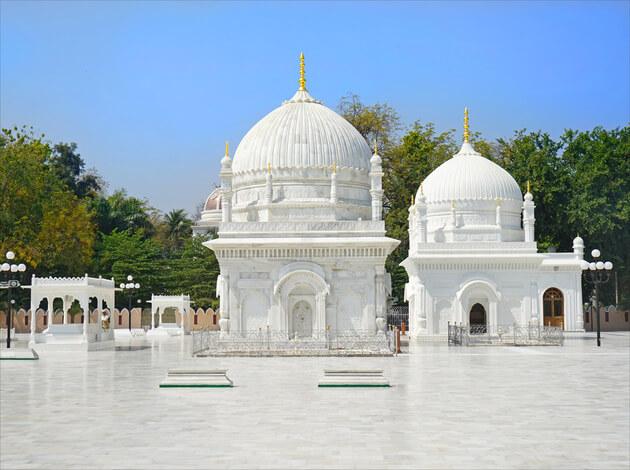 Very few places in the world have an aura that radiates the spirituality of different faiths. Burhanpur in Madhya Pradesh is one such pilgrimage destination in Madhya Pradesh that calls the people of varied faiths. Through its temples, mosques and Gurgudwaras, Burhanpur manages to be a centre of faith and holiness to Hindu, Islamic and Sikh devotees alike.
The grave of Abdul QadirHakimuddin- a DawoodiBohri saint invites pilgrims from all over the world. The tomb complex known as 'Dargah-e-Hakimi' spans over a huge area that encloses mosques, gardens and also offers comfortable accommodation facilities for the pilgrims.
For Sikh pilgrims, the Gurudwara in
Burhanpur
is as important since it the place where Guru Gobind Singh stayed enroute South in AD 1708. Spread over 16 acres of area, it is a sacred place that can fill you with peace. Swami Narayan and Ganesh temples are few holy sites in Burhanpur for Hindu pilgrims.
Must-visit pilgrim sites in Burhanpur: Black Mosque, Gurudwara, Biwi's Mosque, Swami Narayan Temple, Ganesh Temple
Must-visit attractions in Burhanpur:Asirgarh, AkbariSarai, Shahanwaz Khan's Mausoleum, Begum Shahsuza's Mausoleum, Aahukhana, Karara or Mahal Gulara Palace, Water supply system.
Nearest Airport:Indore (210 Kilometres)
Nearest Railway Station: Burhanpur Railway Station
7. Sonagiri- The Mountain of Gold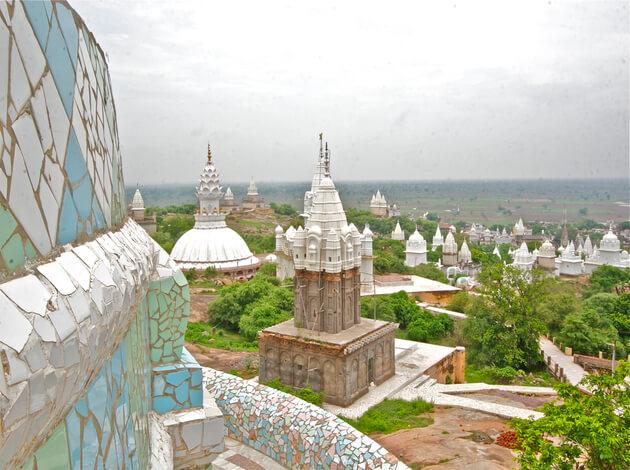 A prime pilgrim site for Jainism, Sonagiri is a huge temple complex spreading over little hills and dating back to the 9th and 10th century. Known for its holiness since the time of Chandraprabhu who has the 8thTeerthankar, Sonagiriis known to be the holy land where thousands of ascetic saints have attained salvation or Moksha. The area is famous as LaghuSammedShikhar which covers an area of 132 acres spanning over two hills and 77 temples. The temple no. 57 which belongs to Lord Chandraprabhu is the most visited.
The striking deity along with the statues of Lord Sheetalnath&Parsvanatha exhibit the sanctity of the place.
Must-visit pilgrim sites in Sonagiri: 77 beautiful Jain temples
Nearest Airport: Gwalior (65 Kilometres)
Nearest Railway Station: Sonagiri Railway Station
8. Bawangaja, Badwani- Land of Tall and Divine Idol
Known for its megalithic statue dedicated to the first Jain Tirthankara Lord Adinath, what will strike about this pilgrim site is the fact that the statue is carved in a mountain. As you hike up to the top, you will be filled with a sense of delight and contemplation, no matter what faith you belong to. Located at a height of height of 1,219.4 metres (4,001 feet) in the mighty Satpura Range, the pilgrim site or the Jain Kshetra has various other temples and is the site where many Jain scholars studied, meditated and attained Moksha.
Must-visit pilgrim sites in Bawangaja: The main temple, 3 ancient foot images of Indrajit, Kumbhakarna, Chulgiri temple
Nearest Airport: Indore (215Kilometres)
Nearest Railway Station: Indore (215Kilometres)
9. Sonkatch-Pushpagiri- Eternally Sublime and Divine
Near the town of Sonkatch lies Pushpagiri which is holy site for Jain pilgrims and rightfully so, has a huge area of 250 acres along with a temple dedicated to Lord Mahavir. The pilgrim site is dotted with multiple Jain Sthanaks and a tall and impressive 108 feet idol dedicated to Lord BhagwanParaswanath. What makes this idol different than the other idols of the Lord is the unique posture it depicts. Lord sits in a Yogic pose of Padmasan and is one of the tallest Jain idols.
Must-visit pilgrim sites in Sonkatch: The temple around the Jain Kshetra area including the Jain Sthanaks.
Nearest Airport: Indore (75 Kilometres), Bhopal (122 Kilometres)
Nearest Railway Station: Indore (75 Kilometres), Bhopal (122 Kilometres)
10. Sanchi- The Land of Great Stupa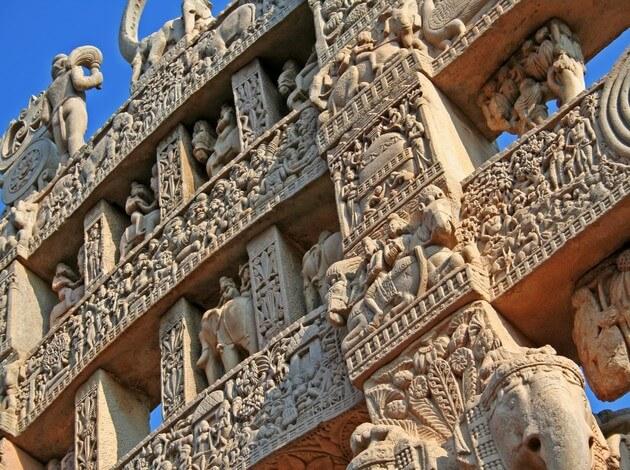 Although not really a pilgrim site, this UNESCO World Heritage Site houses some of the most important Buddhist relics and temples that are considered one of its kinds in the world. Home to the Great Stupa which is the oldest stone structure in India built by Emperor Ashoka the great in 3rd century BC. A spreader of peace and sanctity, the place is full of magnetic vibes that speak of history, art, religion and spirituality. During the Chethiyagiri Vihara Festival, Buddhist monks flock to the site and the place brightens up even more!
Must-visit attractions and pilgrim sites in Sanchi: The Great Stupa,
Sanchi Museum
, Ashoka Pillar, Gupta temples, Buddhist Vihara, Great Bowl and BijaMandal.
Nearest Airport: Bhopal (55 Kilometres)
Nearest Railway Station: Bhopal (55 Kilometres)