Places to Visit in Kerala During Monsoon
* Disclosure: This post may contain affiliate links, which means we may receive a commission if you click a link and book something (there is never any extra cost to you for using these links).
There is something about Kerala that lures visitors all around the year, but the monsoons just seem to elevate the reasons further. All the characteristics of this God's own country begin to captivate the essence of the state at a magnitude that can be deciphered only by a first-hand experience. Whether it is the blissfully therapeutic Ayurvedic treatments, the piping hot sambar, redolent coffee or the lingering warm fragrance of spice gardens, rainy season in Kerala beckons of sensory delights. Plus, there is no dearth of places to visit in Kerala during monsoon to seize this plethora of unworldliness.
If this has tempted you to head to The Land of Parasurama, you must know that this Godly state has two monsoons, Edavapathi and Thulavarsham. While Edavapathi is brought by the Southwest monsoon winds from June to September, Thulavarsham comes with the Northeast monsoon winds from October to November. Thus, Kerala receives fairly a large amount of rainfall, with June and July being the peak months.
Indeed, to embrace the monsoon goodness at its best, June or July is the best time to visit Kerala. And so, we bring to you these top Kerala monsoon destinations that are certain to leave you rejuvenated with a host of experiences.
1. Kochi, the Gateway to Kerala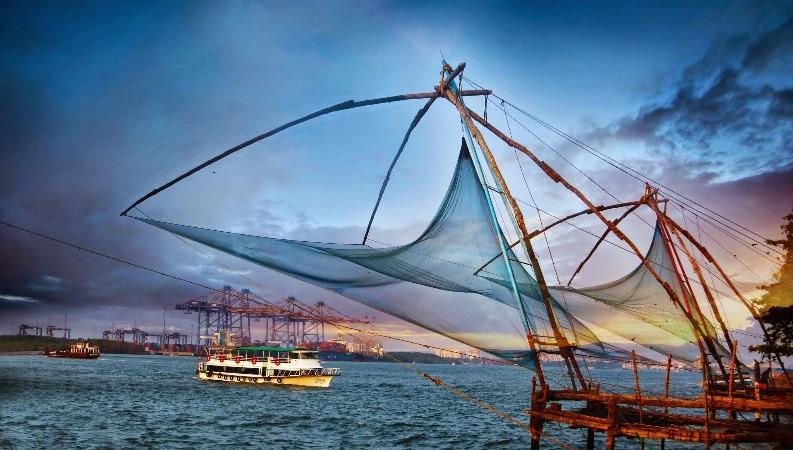 Of what is monikered as the Gateway to Kerala, Kochi is a land of blending cultures, Chinese fishing nets and lots of interesting fish markets. Owing to its past as a European colony and trade relationships with China this city oozes a potpourri of customs and heritage. Abundant with homestays, heritage properties and resorts alike, staying in Kochi is living the authentic Kerala life. Since this is an off season in Kerala, you can explore all its attractions that come alive with the rain, at your own pace.

Top things to do in Kochi- Ayurvedic massages, Mattancherry Palace, and Fort Kochi
2. Munnar and its spellbinding tea estates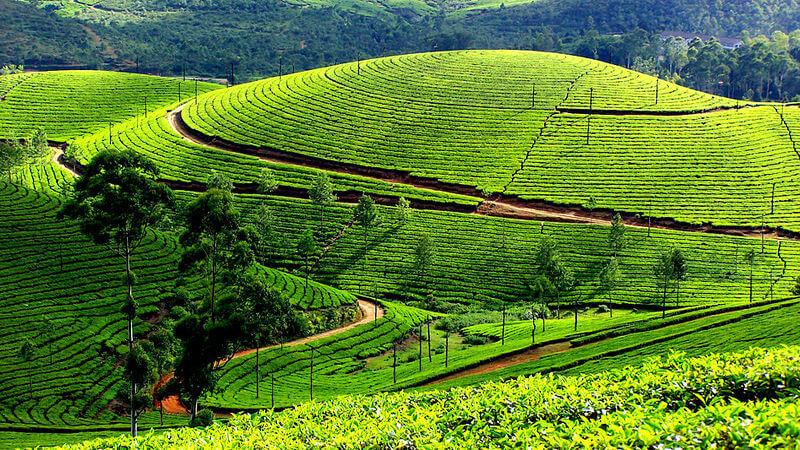 Tea estates fading into eternity, unexpected encounters with elephants on the streets, an eye pleasing contrast of the blue hills and lush green terrains, spice shops doting the narrow town streets and more; Munnar is termed as one of the best places to visit in Kerala during monsoon for more reasons than one. Evenings are perfect for dreamy strolls, with a sweet fragrance of tea leaves lingering in the air.

Top things to do in Munnar- Hiking South India's highest peak, Anamudi
3. Kannur, the Land of Looms and Lores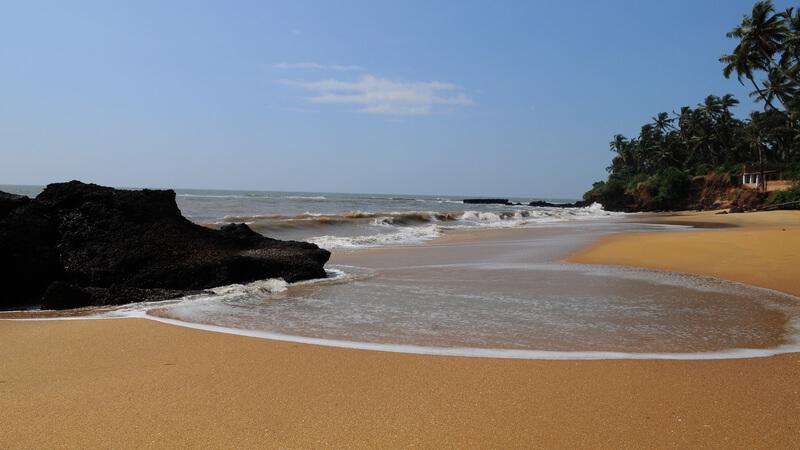 PC: keralatourism.org
Kannur or Cannanore is one of the top-rated honeymoon destinations in Kerala. Apart from several temples and charismatic ruins that are covered by the city's attractions, it is the city's popularity as the Land of Looms and Lores owing to a burgeoning weaving industry. A major reason for the women to be happy! In monsoon, the whole experience of sightseeing through its ancient Hindu temples, watching the sea percolate all the rain from the many beach houses here, and of course shopping, can be experiences in their own.

Top things to do in Kannur- Muzhappilangad Beach, Muthappan Temple, St. Angelo Fort
4. Alleppey for the USP of Kerala- Backwaters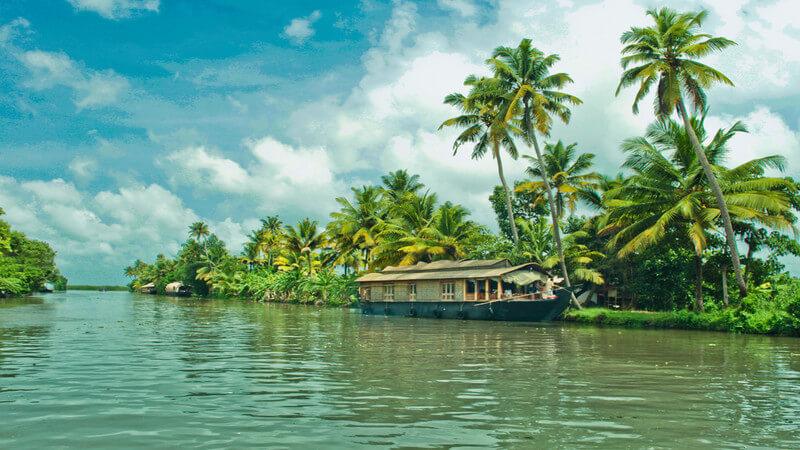 PC: Sarath Kuchi/flickr.com
Alleppey or Alappuzha is what one first looks for while contemplating the trademark backwaters experience. Stay in a houseboat to make one cherishing memory. In fact, just staying at a houseboat can be a lovely experience. Imagine waking up to the sounds of rain on your boat's roof and a panorama of the backwaters getting drenched in the rain, and of course a wholesome local breakfast in bed! As the evening draws, relish some local rice wine accompanied by indulging seafood.

Top things to do in Alleppey- snake boat race at the end of July or early August
5. Trivandrum, for the capital goodness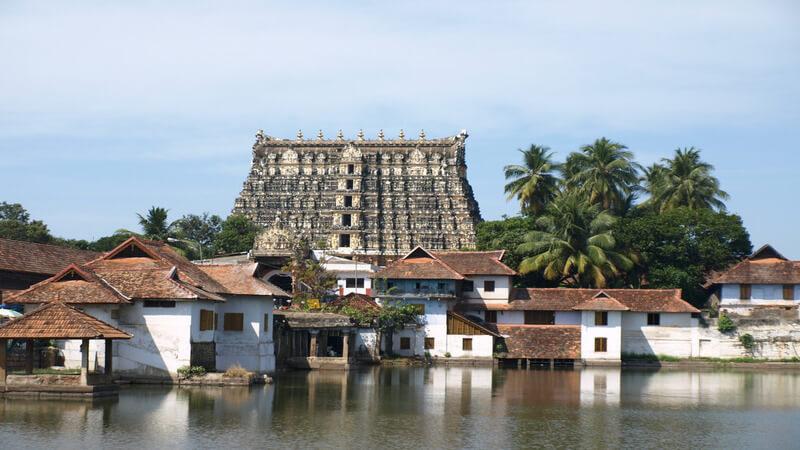 PC: jynxzero/flickr.com
Now this one is particularly mentioned separately from its very popular beach region of Kovalam for specific reasons. Firstly, unlike the latter you get to experience a lot more than just beaches. Secondly, if you are avid history lover you are ought to love Thiruvananthapuram or Trivandrum in monsoon. The Victorian museums and temples here enliven in the monsoons telling you tales of the city's colonial past and mythological happenings, respectively. And if you want a breather, you can always head to the beach destinations of Varkala and Kovalam lying in close vicinity.

Top things to do in Trivandrum- Padmanabhaswamy Temple, Napier Museum, Attukal Temple and Kowdiar Palace
6. Kovalam for one of the most beautiful beaches in Kerala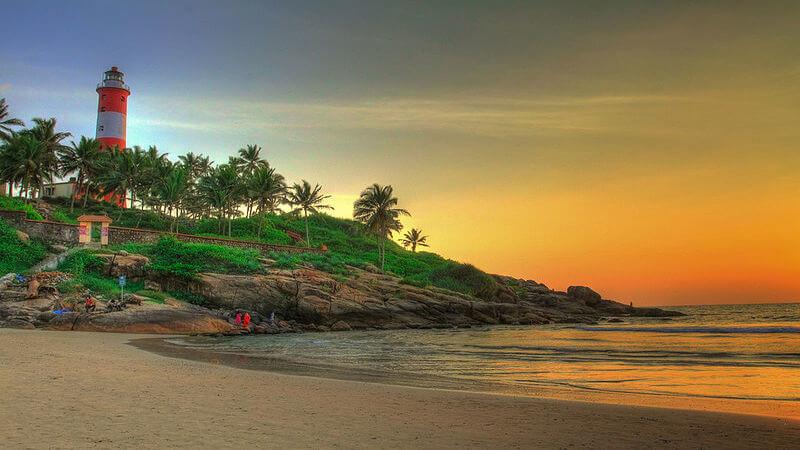 Tangerine, crescent sunsets over the Arabian Sea and vast stretches of surprisingly untouched beaches, despite a soaring popularity the Kovalam beach and town is a gorgeous place to live the monsoons one moment at a time! Staying true to its name that literally translates to a grove of coconut trees, this place has a surfeit of coconut-y beauty. Whether it is in the form of food, drinks or vistas, there is coconut everywhere. There are three beaches here that can be visited for some monsoon nirvana.

Top things to do in Kovalam- Lighthouse Beach, Hawah Beach and Samudra Beach
7. Varkala and its Papanasa hills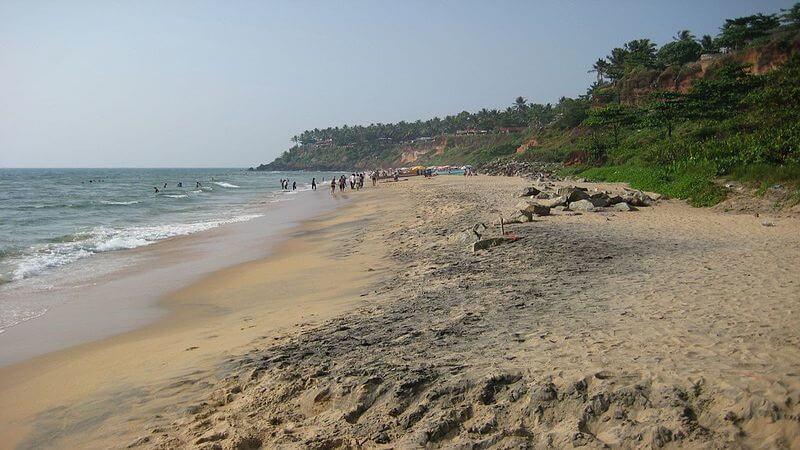 If you are looking for places to visit in Kerala in June, Varkala has got to be on your list. The patent features of this spiritual town; red laterite cliffs, the gentle uproar of the Arabian Sea, endless stretches of wet beaches and lots of temples housed in heritage properties are exhilarated further as the downpour begins. This place is especially, more apt for someone considering a spiritual getaway in the monsoons. The city commendably owns its juxtapose of spirituality and an unexpected bohemian avatar.

Top things to in Varkala- temple hopping and chilling at the hippy cafes
8. Chalakudy for some adrenaline rush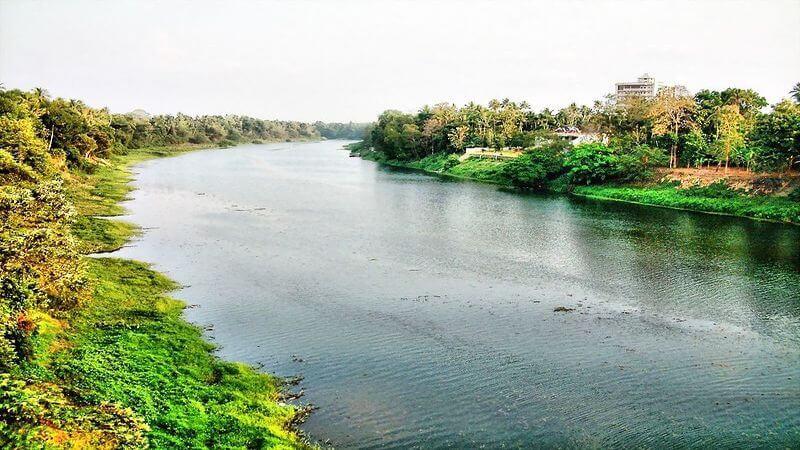 PC: Wikimedia Commons
If you are one of those who awaits monsoon for all the cascading waterfalls and trekking that entail with this season, you are certain to love the town of Chalakudy. It is located adjoining the gorgeous Chalakudy River. Its diverse terrains, home to the Vazhachal and Athirapally Falls are an important highlight of this place. Given its proximity to Kochi, this place is very easy to be accessed which also makes it an ideal place to head out for a day trip from Kochi. Beautifully scenic drive guaranteed! For these reasons, Chalakudy is counted as one of the prettiest places to visit in Kerala in July.

Top things to do in Chalakudy- Vazhachal Falls, Parambikulam Wildlife Sanctuary, Sholayar Dam and Athirapally Falls
9. Kumarakom for a more rustic experience than other backwater places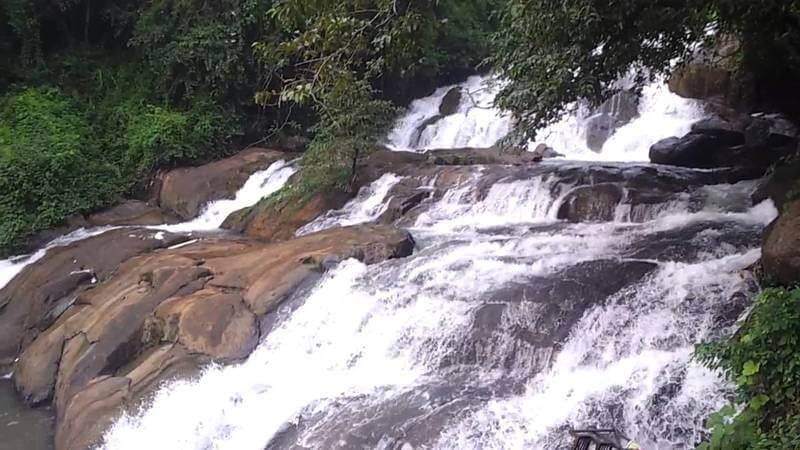 PC: Youtube.com
It is easy to be spoilt for choice when it comes to the backwaters of Kerala. Choose Kumarakom if you are a sucker of rural locales and vernacular beauty. This one is much smaller in size as compared to Alleppey, thus, more intimate on the experience front. Further, Kumarakom has a plethora of 4-star and 5-star accommodations. The longest lake in India, the Vembanad Lake lies in this town. Several attractions embracing nature in its true form mark the must-see places in Kumarakom. Look forward to bird sanctuaries, waterfalls, and temples while exploring Kumarakom in monsoon.
10. Vagamon for lazy afternoon naps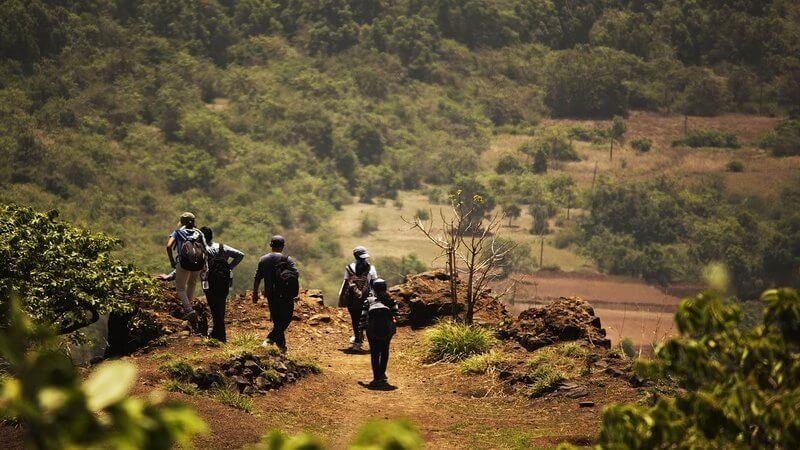 What could be a better way to bask in the monsoons than a place blanketed by thick vegetation of a forest!? Known to be a popular honeymoon destination, Vagamon boasts of fun things to do like paragliding. However, these may be subjective to the time of your visit. This hill station is also a famous backpacking spot. Untouched by commercialization, exploring Vagamon is a pleasant delight. It's sleepy, laidback vibe is perfect to enjoy relaxing naps absolutely any time of the day. Because isn't sleeping the best thing to do when it is raining outside?
11. Palakkad of temples, waterfalls and several rivers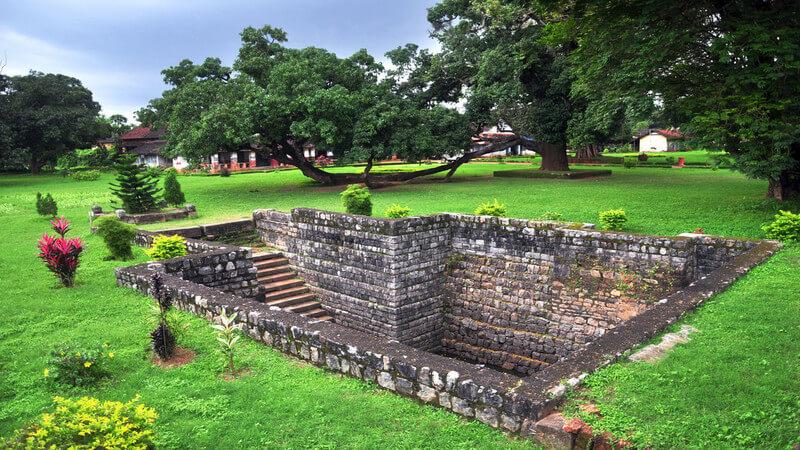 PC: Raj/flickr.com
Palakkad or Palghat is one town that is abundant with tiny rivers gushing out of absolutely nowhere. You can only imagine how this place resembles paradise with streams and rivers making for awestriking panoramas and clouds that come down to plant a peck on your cheek! July is the wettest month that Palakkad experiences with an average annual rainfall of 83 inches. The town is engulfed by a forest home to several elephants. Lots of temples that make for gorgeous sights as it pours are another highlight of Palakkad. If you are looking for offbeat waterfalls in India during monsoon, this place is a great idea.

Top things to do in Palakkad- Trekking, Palakkad Fort, and Dhoni Waterfalls
12. Marayur and it sandalwood forests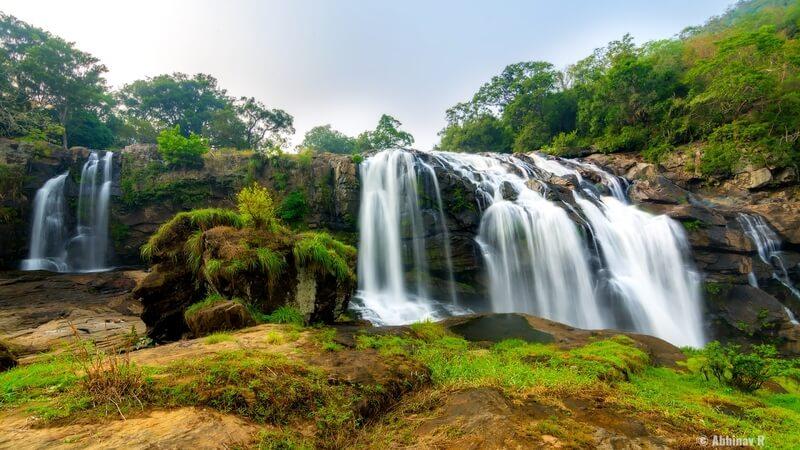 With its proximity to Munnar, Marayur is often visited to see its highlight of aromatic Sandalwood forests. This is another place in Kerala that can be very enlightening to history buffs given its possession of rock paintings that are believed to be dating back to the Stone Age. There are several striking dolmens too across the town. These dolmens also referred to as the Muniyaras date back to the Iron Age. During the monsoons, visiting the nearby Karimutty waterfalls is an absolute essential.

Top things to do in Marayur- Karimutty waterfalls, Chinnar Wildlife Sanctuary, Thoovanam Waterfalls and Kanthaloor

With this list of places to visit in Kerala during monsoon, we have got you covered on the best. So, what are you waiting for? It is already raining there!
Also Check Out:
Places to Visit in Monsoon near Bangalore
Places to Visit in Monsoon near Chennai
Places to Visit in Monsoon near Hyderabad