15 Best Places To Visit In South Goa
* Disclosure: This post may contain affiliate links, which means we may receive a commission if you click a link and book something (there is never any extra cost to you for using these links).
Most people associate Goa only with music, nightlife, and parties. But what they forget to understand is the fact that South Goa is totally different from North Goa and the differences are vividly contrasting. South Goa has a typically laid-back atmosphere with a subtle charm, adorned by wonderful Portuguese style buildings, pristine beaches, and historically significant churches. The place is totally intoxicated with an air of tranquility and freedom that seeps in through your senses and offers a feel of satisfaction. And the best way to get a hold of South Goa is to visit its famous attractions. Here are some of the best places to visit in South Goa.
1. Colva Beach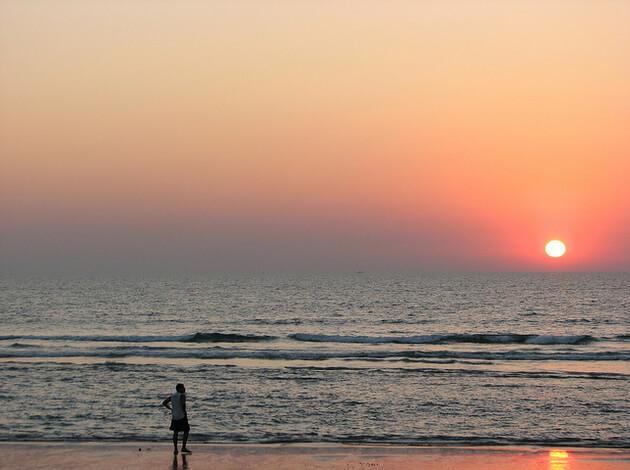 PC:Abhishek/flickr.com
Colva is a small fishing village located on the shores of Arabian Sea and is just a 30-minute ride from Margao. The place is mainly famous for white sandy, Colva Beach that is an ideal choice for most of the travelers and families alike. The beach is the longest in Goa sprawling across a length of 20 kilometers and owing to its popularity, it is mostly packed. To keep the crowd entertained, there are plenty of adventure activities like jet skiing, parasailing, and speed boat rides. During the dusk head to Leda Lounge & Restuarant which is a popular cocktail bar in Colva and listen to some live music while you sip in your mojitos.
2. Palolem Beach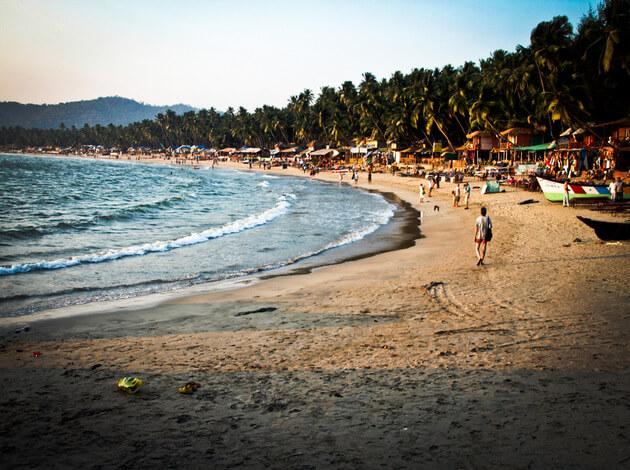 PC: Nico Crisafulli/flickr.com
Palolem beach is one of the most famous and picture perfect beaches in Goa. Situated in Canacona in South Goa,& Palolem Beach is naturally beautiful, unspoiled and is regarded as the best beach in Goa. Take a boat ride to spot the dolphins, shop in the ever bustling flea markets, enrol in a yoga class that takes place fresh in the morning as the cool breeze sways from the ocean and when it gets dark, party hard at the Silent Noise Disco that stays abuzz till the wee hours of the day. There are a plenty of beach hut accommodations along the shores of the beach and a stay in one of those means you can catch a sight of the amazing morning sunrise that paints the coastline with a tinge of bright orange and red.
3. Dudhsagar Falls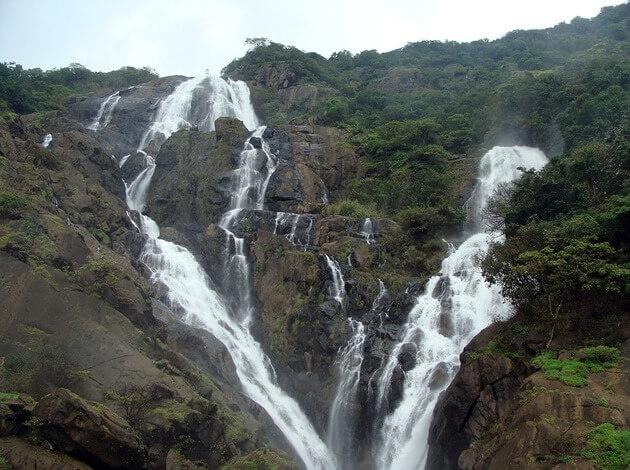 Set at a height of 310 meters, Dudhsagar falls is amongst the highest waterfalls in India and the most famous tourist attraction in South Goa. A trip to Dudhsagar falls is one of the must do things in Goa. Stay transfixed at the sight of the cascading waterfalls that comes down thundering and looks totally spectacular, especially during the monsoon season. The whole area is totally scenic and splendid covered in deciduous forest and inhabited by a rich flora and fauna. If you're planning a trip to Dudhsagar falls, start early as the taxi quota is less and once you miss out on a vehicle, it is hard to get another. Extend your trip from Dudhsagar a little and make sure you visit the storybook town of Castle rock that is in close proximity.
4. Jungle Book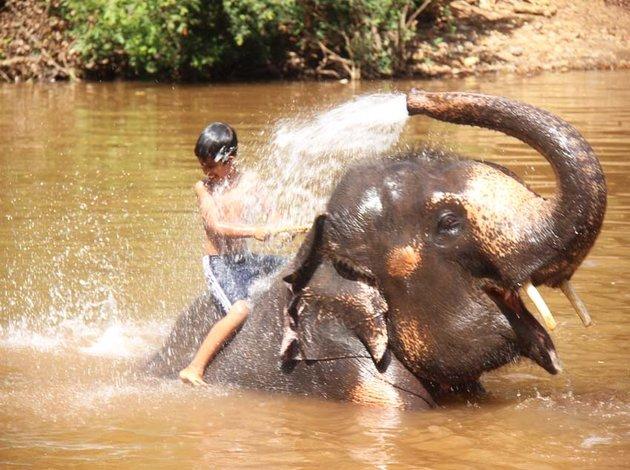 PC: Goa Eco Tourism
Jungle book is one of the scenic locations in South Goa that is a part of Goa tourism. It is a one and half hour ride from Vasco Gama and when you reach Jungle book, you will be greeted with plenty of activities. Take a look at the miniature versions of some of the significant figures of India by engaging in Glimpses of India tour, feel the rush of adrenaline by indulging in a zip line adventure, taste the traditional flavors of India from the jungle village, explore the jungle by walk, go kayaking in the waters of the jungle or ride on jeep, and sit on the backs of an elephant to have an amazing elephant shower bath. Stay overnight in one of the delightful cottages in the midst of nature and wake up to the sound of the chirping birds and the sight of pleasant scenery. There is also an option to have a Maharaja style wedding!
Check out other adventure activities in Goa
5. Netra Vali Wildlife Sanctuary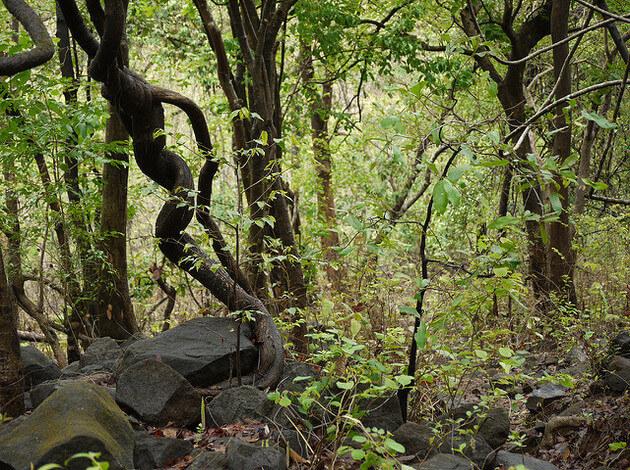 PC: Dinesh Valke/flickr.com
Spread across an area of 211 square kilometers in the western ghats range, Netra Vali Wildlife Sanctuary has a moist deciduous forest setting that sustains a good amount of mammal population including Black Panther, Great Pied Hornbills, Slender Loris, King Cobra, and Giant Squirrel. Named after Netravali or Neturli, Netra Vali Wildlife Sanctuary is a significant source of fresh water and is an ideal spot for short adventure breaks and picnic. The wildlife sanctuary is also home to two major waterfalls: Savari and Mainapi. Some of the activities in the Netra Vali Wildlife Sanctuary include rock climbing, trekking, and waterfall rappelling. If you want to experience something other than the beaches, a visit here must be on the list of things to do in South Goa.
6. Tambdi Surla Mahadev Temple
PC: Commons.wikimedia
Tucked away in the lush environment of Bhagwan Mahaveer Wildlife Sanctuary, Tambdi Surla Mahadev Temple is a Shaivite temple of Lord Mahadeva that dates back to the 12th century. The temple is set in the midst of the dense jungle and it looks as if the temple appears from nowhere. Intricately built with so many carvings, Tambdi Surla Mahadev Temple is one of the oldest temples from the Kadamba dynasty that has survived years of time and stands as a symbol of everlasting glory. Historically significant and in total harmony with nature, this hidden gem is a perfect place to strike up a connection with the divine.
Must visit these other most fascinating historical places in Goa
7. Three Kings Church
Set at the top of Cuelim hill, Three Kings Church is one of the quietest places in South Goa and is one of the beer cast places to visit that is free from all the crowd. The view from up the top is truly amazing as it offers a panoramic view of the entire South Goa and plan your trip in such a way that you can eithtch sight of a sunrise or sunset. The road to the church is very steep and please be careful while driving during the evening as there are little to no lights. The church is known for the celebration of the feast of the three kings that is celebrated on the 6th of January every year. Although there are a plenty of rumors that surround the church stating that it is haunted, none of it is actually true. If you are a photographer, there isn't any better spot than this in South Goa.
Know More About: Shopping In Goa
8. Margao
Margao is the second most populous city and the commercial center of Goa that is located approximately 33 kilometers from Panjim. Margao is very much famous for its market that is very big and is the ideal place where most of the locals do their shopping from. Colorful stalls decorate the Margao market that stretches from the southern end of the main square up till the railway station. As you take a stroll across the stalls, you will be captivated by the aroma of the fresh spices that will make sure they are bought. And please make sure that you indulge in some serious bargaining when you are shopping from the market. Some of the famous attractions that you should visit in Margao include Church of Holy Spirit, Sri Damodar Temple, Our Lady Of Grace Church, Margao Municipal Park, and Sri Chandranath Temple.
Check out: What to wear in Goa!
9. Cavelossim Beach
Cavelossim is a beautiful beach in the village of Cavelossim in South Goa that offers a contrasting image of white sand and black rocks. The warmth of the beach can be truly felt as it welcomes you with its clean waters and litter free surrounding. And the most amazing thing about this beach is it is yet to be commercialized and proves to be an excellent spot to spend some quality time in solitude and to have a romantic experience with your loved one. Swim in the crystal clear waters of the beach, relax under the mild rays of the sun and go on a boat ride to spot some dolphins for this is is one of the best places to visit in South Goa. If you are looking for extravagant night parties and a thriving atmosphere then Cavelossim is not for you.
Check out: 11 Coolest Hostels In Goa For Your Next Trippy Trip!
10. Majorda Beach
The village of Majorda in South Goa is most famous for its Majorda beach that shimmers with its blue waters. Well connected with Margao through road - including buses, taxis and auto rickshaws, Majorda is easily accessible in South Goa. Explore the scenic Majorda beach to the fullest and when you are hungry head to one of the many beach shacks that specialize in serving amazing Goan food. The place has a plenty of beach resort options to choose from so finding a decent stay in Majorda is not difficult. Majorda beach is also famous for its Christmas carnival celebration that takes place every winter. When you are here, visit the landmark church of Mother of God.
11. Cotigao Wildlife Sanctuary
Home to a plenty of blooming flora and fauna, Cotigao Wildlife Sanctuary in Canacona is known for its dense, tall trees. Taking a walk inside the dense forested area of the sanctuary is a great change from the normal, mundane life. Some of the animals that you can spot in the sanctuary include Malabar pit viper, flying lizard, four-horned antelope, golden-back gliding snake, Malayan bittern, flying squirrel, slender loris, mouse deer, and hump-nosed pit viper. The sanctuary also provides options to stay overnight. And when you are here, check out the treetop watchtower that is set at a height of 25 meters above a watering hole where the wild animals reach out to drink. The sanctuary is open daily from 7am - 5.30pm.
12. Indian Naval Aviation Museum
Located in Bogmalo, Indian Naval Aviation Museum is one of the two military museums present in India and is one of the best places to visit in South Goa. Divided over two floors, the museum showcases various aircraft depicting the evolution of Indian Navy over the years. Some of the aircraft on display includes Short Sealand, Fairey Firefly TT, Hawker Sea Hawk, and HAL HT-2. If you're looking out for a place to visit in South Goa along with your family, then Naval Aviation Museum is the ideal place to visit. And if you're also fascinated about aircraft and navy, then Naval Aviation museum will be a treat for you. Naval Aviation Museum operates from Tuesday to Sunday and it stays open from 9.30am - 5pm.
13. Dudhsagar Spice Plantation and Farmstay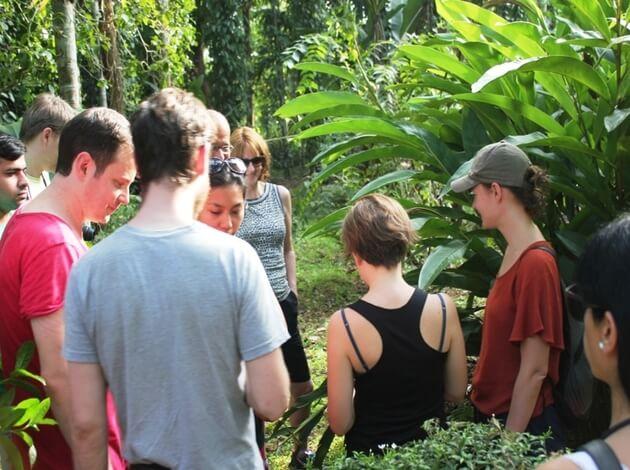 PC: Dudhsagar Plantations
Have you ever been on farm stay while also exploring spice plantations? I am sure most of you wouldn't have and I must say, it is one of the most rewarding experiences to take. If you're planning a trip to Dudhsagar falls, then you should definitely drop into Dudhsagar Spice Plantation and Farmstay in Karmane village. Taken care of by gracious hosts, you will be taken on a guided tour around the spice plantations where you will get a chance to know more in depth about various spices, medicinal plants, and the information as of how to use them. And that is not it, you will also be treated to a delicious homemade meal, after which you can doze off in one of the cozy guesthouses that are nestled the midst of palm trees.
14. Johnny Cool's Club
Want to have a taste of the electrifying, nightlife in Goa party experience, then Johnny Cool's club & restaurant near Colva beach is the place to hit. The club is pretty much crowded every day with youngsters who add in some real energy to the place. Hang out with your best buds, have a couple of beers or maybe feni and dance away to the rhythm of the local music. Johnny Cool's club is moderately priced and the specials include feni, cocktails, beers, and snacks.
15. Vasco da Gama Port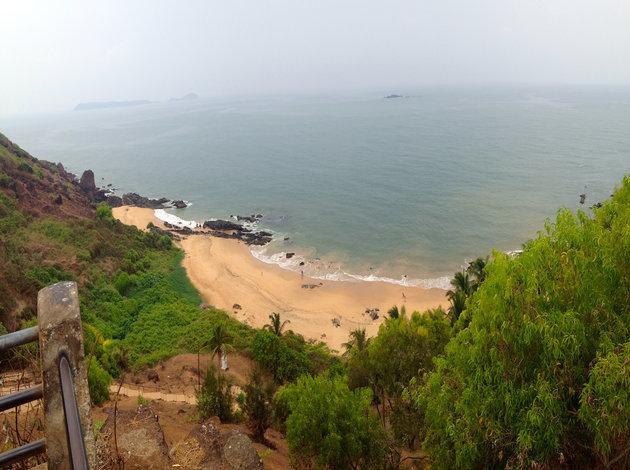 PC: Ptwo/flickr.com
Called in short as 'Vasco', the port city of Vasco da Gama is a major tourist attraction in South Goa. Named after the explorer Vasco da Gama, the former Portuguese territory is a bustling seaport and a major hub for most of the travelers visiting Goa, as the place is well connected to all the major places inside India and in the world. When you are in Vasco da Gama - book a kayaking tour, explore the beaches of Bogmalo, Velsao, Issorcim, and Baina, visit the serene St. Andrews church, go scuba diving in the beach of Bogmalo, shop in the Vasco's municipal market, and relax in the Japanese Garden.
You May Also Like To Read: