Places to Visit in USA in Summer
UPDATED Aug 24, 2018
1.6K Views
One never has a hard time deciding places to visit in USA in summer given the plethora of opportunities this country has to offer. Whether you want to go all out for a hot summer at the Californian coasts or beat the heat at the cooler national parks, USA is a leading protagonist with some of the best summer vacation spots in the world. And now, with the current trends like backpacking, solo tripping as well as the traditional, good ol' family holidays it is only getting better to explore these summer vacation destinations like never before. With the advent of summer, here is a low down on 15 best places to visit in USA in summer.
1. Santa Barbara, California

Image Source: Pixabay.com
The ultimate old-school charm of a Californian summer still manages to lure even those not-so-old-school. The quieter and more pristine neighborhood of Los Angeles, Santa Barbara may only look like what one would refer to a calm town. But dig a little deeper and you will realize how this city bestows you with some quintessential summer activities like swimming in the sea, hiking the cool trails of Seven Falls or just generally wandering through the quaint lanes of its downtown. These are well balanced with just the right amount of eating out options like wineries and hip cafes besides conventional restaurants.
2. Portland, Oregon

Image Source: Pixabay.com
There is no debate on why summers in Portland are one of its kind. Firstly, one cannot miss out on the fact how every terrain here varies within barely an hour's drive, offering you a diverse range of things to do. So, you can gallivant through its rainforests, explore its sand dunes or hike up its plenty gorges and mountains. The beer festivals that are a season-long affair here, are the perfect place to quench your thirst after all the exploration. With parks becoming locals' living rooms in the summer, one can never run out of good food festivals in Portland. Everything from ice cream, burritos to the lobster roll come with a seasonal touch here, so go ahead and indulge.
3. Jackson Hole, Wyoming

Image Source: Wikimedia Commons
Popular for its world-class ski resorts, Jackson Hole sure is a favored winter destination in USA, but here are just a few reasons why it is a great idea for summers too. First and foremost, the marginal price drop in the lovely luxury villas, where we insist you stay, along with other activities and general factors determined by tourism. Secondly, lesser crowds. Nestled at an altitude of 6,200 feet, summers in Jackson Hole are anything but hot. With the spring just over, the vegetation around is vibrant green making for a great environment to carry out activities. Mountain biking, hiking, kayaking, canoeing, golfing and white water rafting are some of the most undertaken summer activities in Jackson Hole.
4. Seattle, Washington

Image Source: Pixabay.com
Having a glorious reputation of a city engulfed with spectacular hikes, Seattle has so much more to it. Summer has also been noted as one of the best time to visit Seattle after observing a steep rise in accommodation tariffs. The warm mornings, cool nights and no rain make for the perfect ambiance to attend one of the many music festivals that happen downtown during summers. These cool nights also call for outdoor movie fiesta, that are mounted almost all across the city. Watching a movie with some frozen treats in your hand like the summer specials of ice shave, alcoholic shakes, or the classic popsicles can be a cherishing memory of summer in Seattle!
Check out: Best Day Trips From Seattle
5. Ithaca, New York

Image Source: Doug Kerr/flickr.com
With lots of hiking and wineries, Ithaca seems to be a good option for those looking at best cities to visit in summer. Upping the appeal of this place is the fact that this is a pedestrian-friendly town, perfect for basking in the joy of walking around a town. As you do so, you will be bestowed with sights of these quaint boutiques with eclectic fabrics, home décor items, and some unusual couture. The old-world charm of this town is backed by some more of its features such as the farmer's market and its variety of local produce. On the activities front, you can boat and canoe in the Cayuga Lake here.
Must Visit: Flea Markets in New York
6. Austin, Texas

Image Source: Matthew Rutledge/flickr.com
One upon a time, Austin in summers meant learning about wildflowers and indulging in geocaching. But today, the city has witnessed a gradual rise in the number of summer music festivals. While Austin City Limits is the most popular of the city summer festivals, there are plenty of others too suitable for every budget. Lunges across Austin are also known for their live performances, perfect to end the day! And then, of course, being in Texas one cannot not give into all things Tex-Mex. Taking a cruise ride in the evening around central Texas is another must-do thing in Texas, best experienced in the summers.
7. San Juan Islands, Washington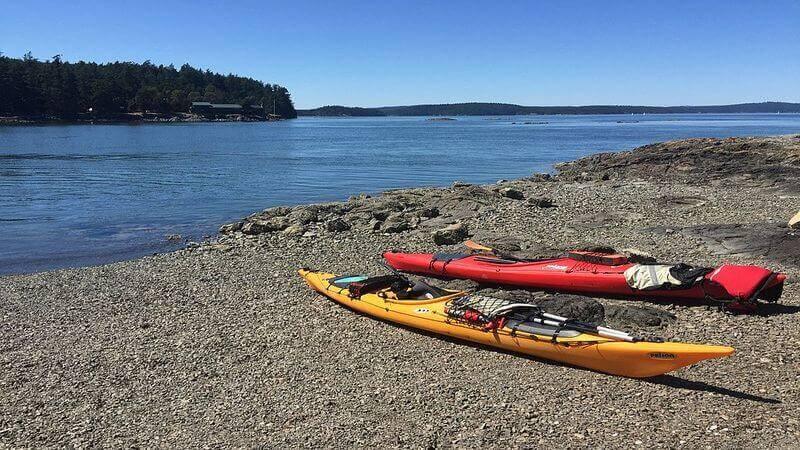 Image Source: Wikimedia Commons
If Seattle does not appeal as much to you, then a trip to its neighboring San Juan Islands is a good alternative. Perched picturesquely against a backdrop of several mountains, San Juan islands is a rustic getaway. Make the most of this location by checking into of its mountain lodges. These cozy accommodations that form a major part of the local tourism, make the San Juan Islands a favored choice for couples and families alike. Lavender cultivated terraces, farms with sheep and cows grazing, vineyards, and a colorful panorama of houses against the azure waters of the harbor are the characteristics vistas you will get to see everywhere here. Whale watching, kayaking, cycling, hiking the Mount Constitution and driving along the San Juan Islands Scenic Byway are what make this city one of the best places to visit in USA in summer.
8. Providence, Rhode Island

Image Source: Wikimedia Commons
The hustling hub of Rhode Island, Providence is one city that is synonym to best summer vacations in US for families. Of all the things, Providence bestows you with several opportunities to engage as a family. Speaking of which, one must know that the eating out scene here is really big. Grabbing a bite, perhaps with a picturesque view is one of the most common things to do in Providence followed by indulging at the many sidewalk cafes. To view its rich culture heritage, sign up for a historical tour for some interesting enlightenment. In summers, the go-to place of locals is the Roger Williams Park as it is constantly buzzing with some or the other activity.
9. Birmingham, Alabama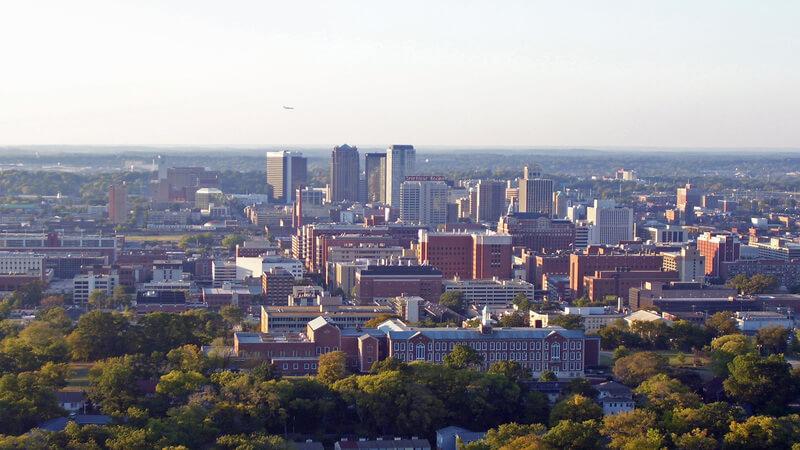 Image Source: Wikipedia.org
What's not to love about a place that has rich history, a great music scene and of course lots of good food and drinks?! Birmingham with its good dose of paid as well as free events, is in more ways than one of the places to visit in USA in summer. If you happen to be a beer chugger, festivals like the Magic City Brewfest will totally win you over. Get yourself an inflatable bed and float through the Cahaba River for a true local experience, as this what the locals love doing. There are plenty of weekly markets too that you must explore, only if you don't dread walking up early while on a vacation!
10. Wellfleet, Massachusetts

Image Source: Wikimedia Commons
If you are a sucker for all things laid back, then a trip to Wellfleet is one of the best places you can visit in Massachusetts. The easygoing vibe of this place is perfect to get the most of activities such as kayaking and surfing. The 1000-acre (approximately) Wellfleet Bay Wildlife Sanctuary is often resorted to hiking, for all those who don't mind a little thrill on their vacay. Apart from all these activities, what has set Wellfleet apart over the years is the city's distinct art. You can get a close glimpse of this at the several galleries across the city, that open on summery Saturday evenings.
11. Denver, Colorado

Image Source: Dhaval Shreyas/flickr.com
Famous for its iconic architecture, Denver is also notable for its mountain-town lifestyle. Indeed, being a mountain town, like many across the country, this city too boasts of amazing hiking destinations. But thankfully, there is more to Denver. Its equable vibe goes hand in hand with the umpteen brewpubs sprawling through the gamut of town. Coupled with art festivals like the Cherry Creek Arts Festival, Denver Chalk Art Festival, Buskerfest, Cherry Blossom Festival and many more themed around the summer, Denver is a great choice for a summer vacation. Most of these are free festivals, so it only gets better.
Check out: Cross Country Road Trips in USA
12. Dominica, Caribbean

Image Source: Reinhard Link/flickr.com
Fancy some swimming under waterfalls, snorkeling through the reefs, or relaxing in hot water springs? Head to Dominica without a second thought! Bequeathing you with an out and out Caribbean experience, this tiny island country is an absolute rejuvenation for all your senses. In fact, this island with its blissful cover of vegetation barely makes you realize its summer. So, rent a boat and sail across the Indian river, or swim at the pool created by the cascading Titou Gorge waters, say hello to all the fish under Champagne Reef's geothermal waters; the choice is yours! For lovebirds who love the wilderness Dominica is also one of the best summer vacation ideas for couples!
13. Knoxville, Tennessee

Image Source: Wikimedia Commons
What can you expect from this picturesque town lying on the banks of the river Tennessee?! Apart from heap loads of serenity, an adorable experience you will cherish forever. Come summer, and you have all the bakeries' and local eateries' owners coming out to display their stock on beautiful wrought iron furniture. There is plenty of art to catch up on with several attractions having art as their crowd puller. Not just restricted to attractions, you will come across several public arts as you meander around the city. If you happen to be around Knoxville on Labor Day you've get to catch the event of Boomsday that has been titled as the "largest Labor Day fireworks display in the nation".
14. Anchorage, Alaska

Image Source: Wikimedia Commons
Alaska, sounds like the place to be to beat the summer heat, right? Well it is. With a plethora of things to do ranging from cruise rides to trekking glaciers, Anchorage in Alaska is an incredible place to experience summer. One cannot miss the astounding share of day light this place receives, of course owing to its location. There are several family-friendly trails that can be taken in and around the city, and owing to the daylight, there are no time constraints either. The Tony Knowles Coastal Trail is one of the most popular trails in Alaska. While attractions such as the Anchorage museum, Alaska Center for the Performing Arts, and the Alaska Native Heritage Center are a must-visit, look out for festivals like the Anchorage Market & Festival for an absolutely novel experience.
Check Out: National Parks in Alaska
15. Las Vegas, Nevada

Image Source: Pixabay.com
And last but not the least, we have the trouble-maker, the ultimate sin city of Las Vegas. Needing no introduction, this one is a hotspot for vacations all through the year. But, it is only in the summers when the kids have their vacations and families get here and the whole city scene is really spruced up. While you can play a gamble or two at the city's bad boys- MGM, the Palms, Red Rock Casino or the M Resort Spa Casino among others, but heading to more humble places like the Hard Rock Café, Peppermill Restaurant, El Dorado Cantina and the Ellis Island Café sure won't break your bank!

Did we miss out any? What are your favorite places to visit in USA in summer? Let us know in the comments section down below !