13 Amazing Places to Visit near Jaipur
UPDATED Mar 16, 2018
3.1K Views
The Pink City of Jaipur has long been known for its rich historical legacy that has had people coming here in droves, looking for a nice indulgence in its stunning architecture, affluent culture, myriad festivals and an array of culinary delights. But if you think this gateway of Rajasthan is all it has to it, you are wrong! There is way more to explore!


Delve a little further (or around maybe) and you will come across with some amazing places that are equally exhilarating in terms of experience. And what's more? You don't need a week long holiday to explore them all. All you need is a two day weekend and you are set! Here we bring you some of the most intriguing and vibrant places to visit near Jaipur that will make your weekend a helluva one! Read on to know.
1) Ajmer Sharif Dargah, Ajmer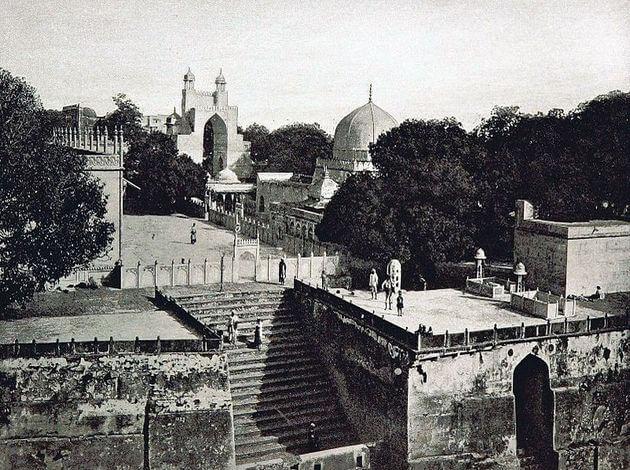 Image Source: Wikimedia Commons
If a serene and spiritual escape is what you are seeking, then this might be the place for you. The final resting place of Saint Moinuddin Chisti is one of the most revered pilgrimage destinations among Muslims and is quite frequented by people from all across the globe. Do you know, it has a very interesting story to it? It is said that the great Mughal Emperor Akbar and his wife used to come here on foot every year to seek blessings for their family. Undoubtedly, it was very prominent and its glory can still be witnessed during the days of Ramadan when the place is flocked with visitors coming here to offer their prayers.

Nicely tucked at the base of Taragarh hills, the dargah is one of the most beautiful buildings in the city. The elegant marble structures sprawled across two courtyards are beautifully backed by a grand gate and an equally mesmerising Akbari Mosque giving it its picturesque character. All of which when coupled with its tranquil vibes and quiet surrounding makes it a great place to visit.
Distance from Jaipur: 130 kms south-west of Jaipur.
Make your travel experiences count. Plan with Jaipur Trip Planner of TripHobo.
2) Neemrana Fort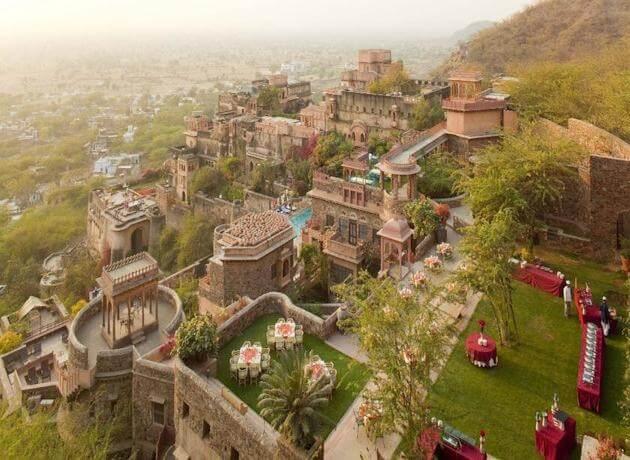 Image Source: Booking.com
Not one of your usual heritage resorts, Neemrana Fort is a heady mix of culture and history put forth with a dash of modernity and colour. The perfect weekend getaway destination sits a hundred kilometres away from Jaipur and offers an assortment of fun and frolics to its visitors. It is for anyone looking for a respite from their daily routine and wishes to indulge in the glamour of the old world.

The oldest of all, the fort actually dates back to 15th century when its residents had been numerous Rajput warriors, apparently the descendants of Prithviraj Chouhan. It now rests amid a rocky surrounding providing beautiful rugged views of hillocks and as you walk through its premises, climbing the cobbled stairway, rushing into its massive rooms all decked in colours, vintage decor and antiques, you can feel the surge of past rush through you. As for amenities, the hotel has around 55 rooms, all coupled with hanging gardens, pool, spa, and restaurants, not to forget the hospitality that makes it every traveller's delight.
Distance from Jaipur: 157 kms on Delhi-Jaipur Highway.
[ Up for witnessing something great? Check out these best things to do in Jaipur. ]
3) Sariska National Park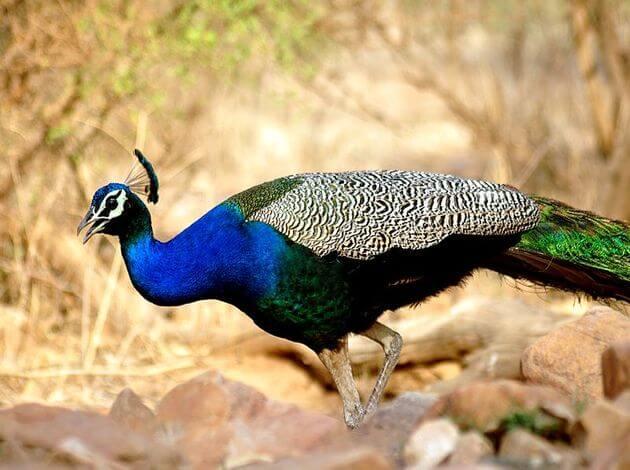 Image Source: Wikimedia Commons
Spend some quality time amid the lap of nature in Sariska National Park and interact with wildlife up and close. Home to an extensive range of animals, the park is actually a known reserve of tigers, especially the Bengal tigers. You will be lucky if you catch a glimpse of them during your tour! Rich in wildlife, the place boasts of many other rare species such as golden jackal, four-horned antelope and Indian peafowl. Despite being nestled in a rocky surrounding, it is rich in flora and fauna and is quite a place to spend a day or two. Come here for a picnic, click some pictures and relish the excitement while looking out for all the wild things.
Distance from Jaipur: 133 kms
Check Out : Best Resorts in Jaipur
4) Haridwar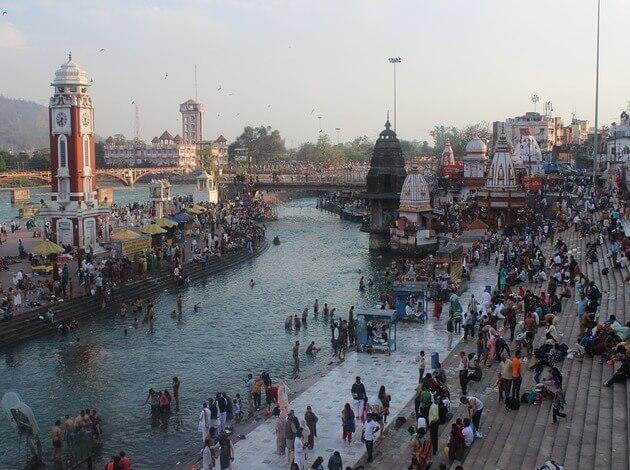 Image Source: Pixabay.com
Roughly translated as 'Gateway to God', this one place will literally charm your soul! One of the holiest destinations in India, Haridwar is quite hip in providing a peaceful hiatus to its visitors. It is for anyone who wishes to experience Indian culture and its history closely. You just won't believe how many temples it actually has! The spirituality and sacredness that floats in the air is one experience you must not miss. Just walking around these temples, paying offerings to the deities and having a dip in the Sacred Ganga will not only calm your soul but leave a lasting impression on your mind. Ensure to have a taste of the city's delicious street foods while you are at it!
Distance from Jaipur: 567 kms
5) Mount Abu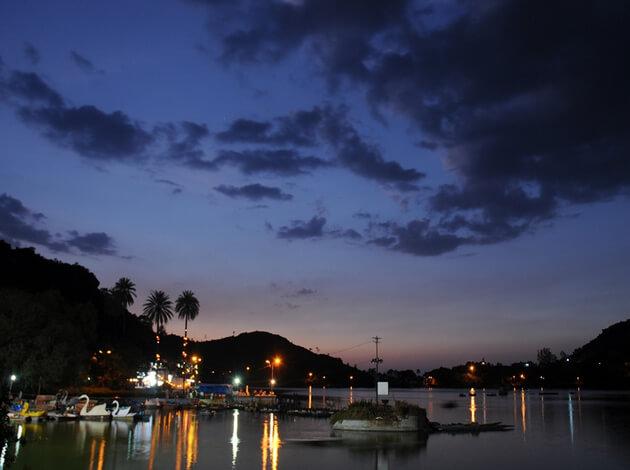 Image Source: Koshy Koshy/flickr.com
The only hill station in Rajasthan involuntarily grabs your attention when you look at its surrounding green forests and dazzling mountain views, which will surely prompt you to click a picture or two. A popular honeymoon destination, it is no less of a delight for nature lovers and recluses who come here seeking refuge from the daily bustle of life. The place is decked with numerous waterfalls and a slightly chilled atmosphere, which is a complete contrast of Rajasthan's otherwise hot climate. Not only the natural surrounding but Mt. Abu is also home to some very beautiful temples and forts including Achalgarh fort, Adhar Devi Temple and much more. If you are more of a sports junkie, stay rest assured! With numerous trails, campsites and adventure activities, you will not be disappointed either. Walk around the trails, go on a camping expedition, and just explore this must visit place in Rajasthan.
The town is set amidst the Aravali mountains and is surrounded by Mt Abu Wildlife Sanctuary, which you can definitely visit during your detour.
Distance from Jaipur: 487 kms
6) Agra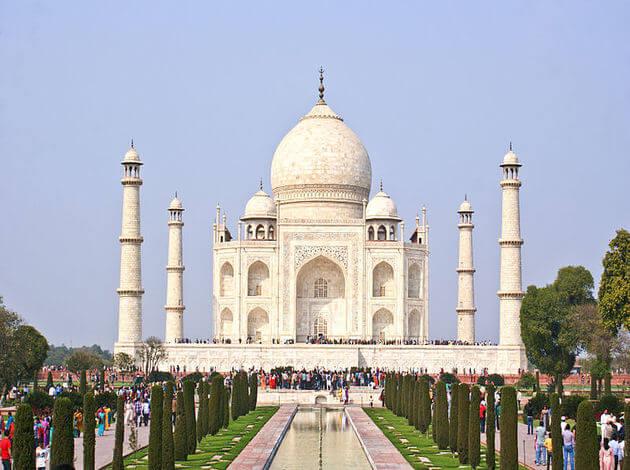 Image Source: Wikimedia Commons
The city of Agra is known for many things, most prominently the Taj Mahal. While many people come here to witness this exemplary piece of architecture, the place is much more than that. Really! Once the centrepiece of the Mughal rule, the city today boasts of forts and palaces, mosques and bazaars, all melding together to give the place its rustic charm. To add more to it, it is not very far from Jaipur and can be easily mapped by a bike. A must place for those who shares an ardent love for history and architecture. Not one for history? The place is a heaven for foodies too! Relish the city's quintessential range of food (Agra petha is a must!) that will just melt your heart. Among all the places, the Agra Fort, Moti Masjid and Fatehpur Sikri are some of the most prominent heritage sites in Agra.
Distance from Jaipur: 237 kms
7) Mandawa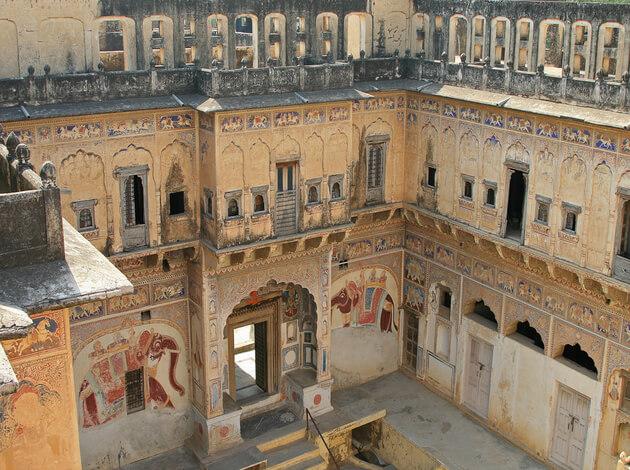 Image Source: Allan Grey/flickr.com
More for quiet getaways, the place is known for its magnificent Mandawa fort and numerous Havelis that dots this city amiably. An easy weekend grab, it offers detour to a world of past with its age-old relics and ancient architecture. There are various havelis in the city with the Murmuria Haveli and Goenka Chattri being the prominent ones. You can witness intricate designs, carved throughout the buildings, on its walls and exteriors and wonder just how elaborately everything must have been planned. The subtly hinted glamour perfectly hides behind a more modest approach, regardless, the place is definitely a feast for the eye. In fact, the entire city is called 'Open Art Gallery', thanks to its exclusive art-etched buildings.
Built by king Thakur Naval Singh, the fort is located in the Shekhawati region and now stands as a heritage hotel where you can stay up for one night by paying a quite affordable sum. Spend a weekend here and have a walk back in past in those glorious times of the Rajput rule.
Distance from Jaipur: 168 kms
8) Bharatpur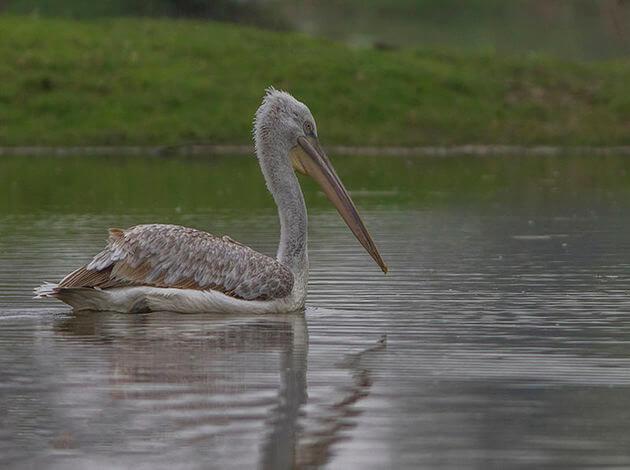 Image Source: Wikimedia Commons
This one is for bird lovers who will definitely love it here, given the city is home to the famous Keoladeo National Park. A mere hundred kilometres from Jaipur, the city, with its bird sanctuary, will welcome for a nice bird watching and picture clicking session. You won't believe the variety of migratory birds you will get to see here! If that's not enough to suffice you, embark on a sightseeing journey that will take you through the beautiful buildings like Deeg Palace and Loha Garh. If you are visiting anytime near Holi, you may as well experience the exclusive Brij festival that takes place here every year. Ensure to stop by at the Government museum nearby to check out its art pieces.
Distance from Jaipur: 186 kms
[ Check Out: Fairs and Festivals in Rajasthan ]
9) Chittorgarh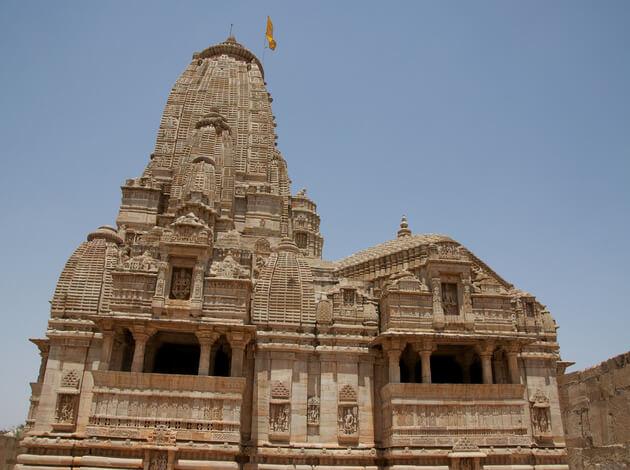 Image Source: Jon Connell/flickr.com
This city is all about history and impeccably retells the splendour and glory of its former kings. Coming here would give you a chance to get acquainted with heroic tales of Rajputana heroes, wonderful specimens of architecture and archaics, and the heavy dosage of culture and tradition. Though it will be better to come here with some extra time as a leverage. You can always walk around imagining all the events that must have happened here and relish its calm surrounding. One of the various historical sites, Chittorgarh fort is a prominent example of fort complexes in the country and a must visit here. Of all the legends the fort is associated with, the tale of Rani Padmavati's courage and her act of Jauhar which she had committed here intrigues the tourists the most.
Distance from Jaipur: 306 kms
10) Nawalgarh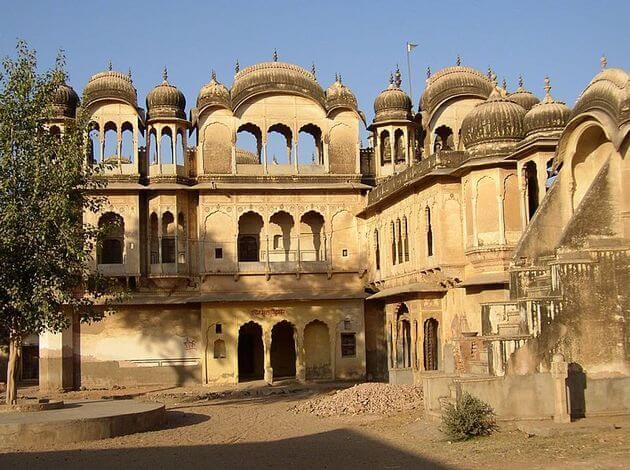 Image Source: Wikimedia Commons
By all means, it is a picture postcard town that should definitely top your list of 'must visit' in the country, and apparently that's what makes it such a great place to visit. It is uncrowded and excellently settles in the midst of Shekhawati region with its numerous Havelis and forts. The colours, the vibrancy and the cultural depth are what puts it forth as a tourist destination. You can start exploring it by visiting the palaces and studying its architecture, then move on to the bustling markets and shop your heart out there. In the nights, stay in one of the accommodations which are quite cheap and provides you with a homely vibe.
Distance from Jaipur: 142 kms
11) Bikaner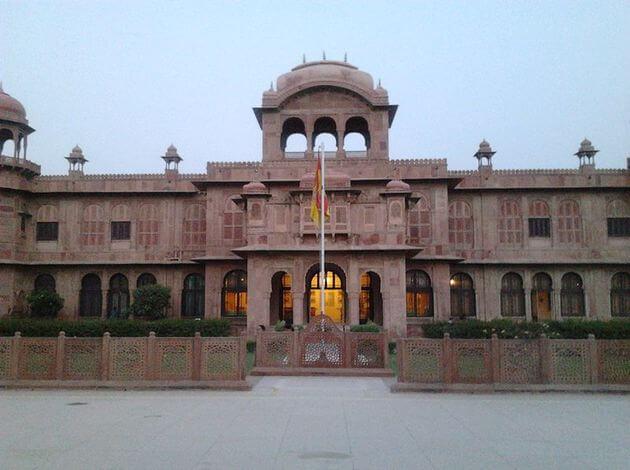 Image Source: Wikimedia Commons
It may not be the most popular destination in the list, but it is every bit worth exploring, we tell you! The place is home to stunning palaces and relics, all speaking of a proud legacy of Rajputs who had once ruled here. Coming here you will witness camels, sand dunes, myriad markets full of hustle with vendors selling everything from local artefacts and clothing to statues, sculptures and farm produce. If you are more of a backpacker looking for a cultural experience, go for a camel ride (yes, they have camels for real) which will take you through the nooks and corners of the city. Do interact with folks while you are at it! There are some very popular places in the city which you must definitely chalk out like Jain Haveli, and Lalgarh Palace. The city hosts the annual Camel Festival of Bikaner in January, so if you are coming here this time, do indulge in its festivities which will be a burst of culture, food and fun.
Distance from Jaipur: 336 kms
12) Vrindavan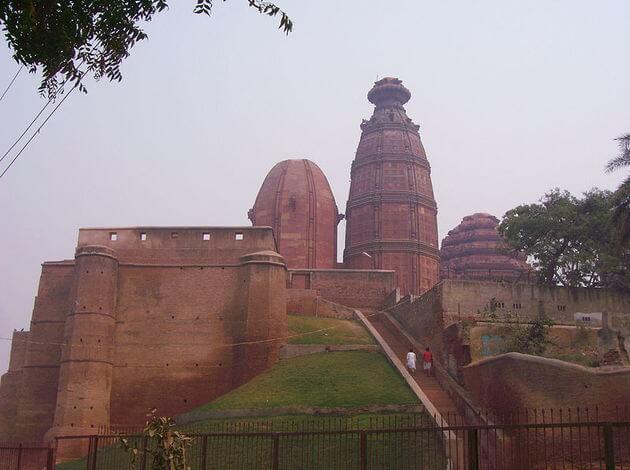 Image Source: Wikimedia Commons
More known for its extravagant Holi celebrations than anything else, Vrindavan is a great place to visit once in a while. The sought after pilgrimage site is certainly a solace for more spiritual souls who come here driven by its allure, peace and charm. The place is a few hours away from Jaipur and can easily be visited during weekends. Decked with numerous temples (probably one in every corner), it is fun to see how the rush and noise beautifully juxtapose against the more serene side of it. Walk down the streets in the morning, hear the soulful chants of Radhe Krishna echoing from the various temples and unwind yourself from the regular chaos of life. Of all the attractions, the popular remains the Banke Bihari Temple, Prem Mandir and Radha Madhava Mandir. Ensure to visit the markets while you are at it. It will certainly test your bargaining skills, but the colours and array of items will keep you engaged.
Distance from Jaipur: 235 kms via NH11
13) Rishikesh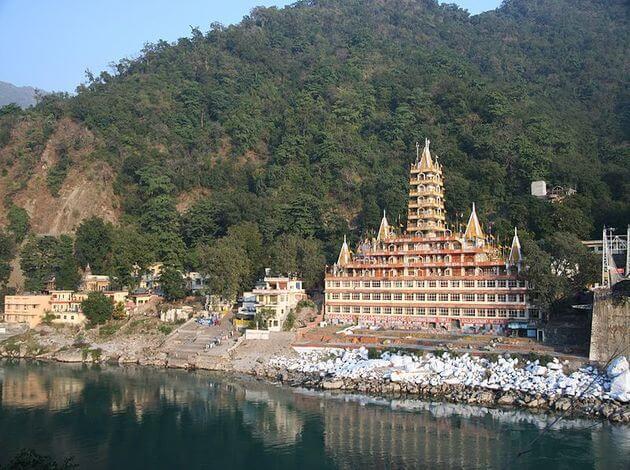 Image Source: Wikimedia Commons
If there is one place that can challenge the so-loved Mt Abu in terms of popularity, it is Rishikesh. It is a perfect abode that has a little of everything you might want to experience in a getaway trip. On one hand, there are religious temples beguiling the travellers for visits, on the other hand, lies a cluster of activities which will provide you with a nice adventurous endeavour. It's funny how 'The Yoga Capital of the World' is often frequented by adventure lovers who get their adrenaline pumping with activities like white water rafting, trekking, hiking, camping and such. Did I mention it is a 'Yoga Capital'? Yes, you can certainly see its evidence in the myriad Yoga classes and meditation centres that are spread throughout the city. You have to come here at least once in your lifetime to witness it all by yourself. The temples like Nilkanth Mahadev Temple and Kunjapuri Temple are some of the best attractions to enjoy some solitude and tranquillity.
Distance from Jaipur: 513 kms
So these are some of the best places to visit near Jaipur that will totally make your weekend a fascinating one. We bet you will be having a hard time choosing one of them since there are so many, but fret not! A little research will help you there. Take an idea from the above-mentioned list and plan out your next weekend getaway today!
Heading for a trip soon?
Leave all your travel planning worries behind! We've got the perfect solution for you!