10 Amazing Places to Visit in Monsoon Near Pune
* Disclosure: This post may contain affiliate links, which means we may receive a commission if you click a link and book something (there is never any extra cost to you for using these links).

It's pouring out there and you are sitting in your small cubicle meeting deadlines thrown at you by your boss. Are you feeling a sudden urge to skip your boring job and enjoy the mesmerising monsoon? Then wait till you know. While the whole of India looks ethereal during rains, there are a lot of beautiful places to visit near pune in monsoon.
So, if you are living in Pune and fed up of your daily routine, plan a trip to these monsoon getaways near Pune.
1. Lonavala Khandala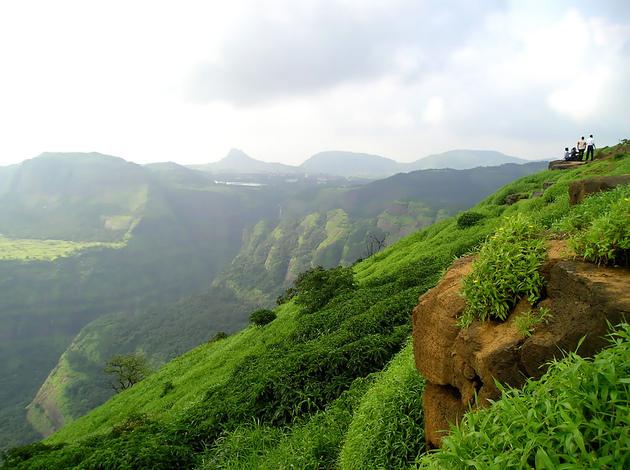 One of the most popular monsoon getaways near Pune, Lonavala-Khandala is known for its stunning locales. The twin hill stations look even more beautiful in monsoon. The sparkling water of the lakes or the picturesque mountain ranges, Lonavala-Khandala has something in store for everyone. It's just impossible not to fall in love with the mesmerising locales of Lonavala and Khandala. You can also visit caves like Karla, Bhaja and Bedsa and forts like Lohagad and Visapur. Located 6.5 km away from Lonavala is Chhatrapati Shivaji's fort Rajmachi in addition to the popular Vaghjai Dari.
2. Thoseghar falls

Source: Youtube
The magnificent Thoseghar falls in Satara is bliss in monsoon. If you want to witness the enchanting view of water falling from a height, then this is just your kind of place. You can also visit Kass plateau which is also one of the most beautiful destinations in Satara. There is a series of waterfalls, the highest being 500 metres in height. If you want to get the full view of the waterfalls, you have to walk all the way to a small village named Chalkewadi.
3. Sinhagad - An easy trek

Another popular destination near Pune is the gigantic Sinhagad. The fort has historical significance and is in the centre of other forts like Rajgad, Torna and Purandar. The fort has also seen many battles which also includes the most famous Battle of Sinhagad in 1671. Amidst the Sahyadri mountain range, the best time to visit the fort is undoubtedly in monsoon. You can trek all the way to the tip of the fort and enjoy some kanda bhajis and amazing Maharashtrian cuisine. This makes Sinhagad, a must visit place for a one day trip near Pune in monsoon.
4. Bhimashankar - Rainy season delight

Source: Flickr
If you are a religious person and want to visit an ancient shrine in the heart of Sahyadri mountain range, then head straight away to Bhimashankar, which is home to one of the twelve Jyotirlinga temples of Lord Shiva. The temple which ranges back to 13th century is known for its beautiful architecture. You can also visit the river Bhima, which happens to be the origin of Chandrabhaga river. Bhimashankar is a must visit place for pilgrims, jungle lovers and trekkers.
5. Malshej Ghats - For a monsoon road trip

Driving through the amazing western ghats tops the list of every road trip lover. Malshej Ghats is one of the most visited tourist places near Pune in monsoon which will enchant you with its beauty. You can opt for mountain climbing, trekking or just introspect in the arms of the nature. If you are much into history, then try exploring Shivneri fort, the birthplace of Shivaji Maharaj which is about 40 km from Malshej Ghats. You can easily spot flamingos, peacocks and quails, while you are here. A must visit place for every Punekar in especially in July-August.
6. Matheran - Hilly getaway
If you want to enjoy a laidback vacation, then Matheran is just right for you. Rain acts as a cherry on the cake when you are in this popular hill station which has greenery-clad mountains by all its sides. The mini toy train will help you get a detailed look at this marvel. There are about 28 points, 2 lakes and 4 major worship places to visit in Matheran which takes about 2-3 days. Hence, this place is perfect for your laidback vacation.
7. Igatpuri - Monsoon destination for trekkers

A beautiful hamlet in the arms of western ghats, Igatpuri is slowly and steadily becoming a popular tourist attraction. This scenic hill station is just riveting during monsoon. If you love trekking, some trekking organisations from Pune frequently organise treks to Igatpuri.
Distance from Pune: 239 km
8. Mahabaleshwar - Monsoon hot spot
Another hill station with breathtaking locales, Mahabaleshwar is also a very popular tourist destination for those who live in Pune. If you're fed up of your nine to six job or Pune's tiring traffic, try escaping to Mahabaleshwar. Spend some quality time with your family and binge on some fresh strawberries. The fresh air in Mahabaleshwar is refreshing and the numerous spots make it a must visit place for a cosy laid back vacation.
Distance from Pune: 121 km
9. Lavasa - One day trip around Pune

If western countries and their buildings fascinate you, then take your friends along with you to experience this beautifully planned town which has an Italian influence on it. Lavasa is best explored if you have your own vehicle. It is one of the most popular picnic spots near Pune in monsoon. Lavasa gives you a feeling of a foreign country. If you are into adventure, there are water sports for your entertainment as well.
Distance from Pune: 57 km
Type of trip: Quick short trip
10. Amboli - The best of monsoon
The last hill station of Maharashtra, situated in the southern part of the state, Amboli is still the unexplored one from the lot of monsoon places near Pune. It is known for its biodiversity and is one of the world's Eco Hot Spot. Misty clouds and numerous waterfalls just add to the beauty of this little marvel.
Distance from Pune: 347 km
We've made your work, easier. So, pause for a little and start planning your short trip to one of these amazing places near Pune this monsoon.
You may also like to read:
One Day trekking Spots Near Pune