Best Pre-Wedding Photo Shoot Locations in India
* Disclosure: This post may contain affiliate links, which means we may receive a commission if you click a link and book something (there is never any extra cost to you for using these links).
A pre-wedding shoot in my eyes is that transition period for a couple where they are just progressing from being committed to each other in each other's eyes to being committed to each other for the whole world. When the experience of courtship meets it's beautiful ending and it is right before the union of two people is acknowledged by the World. A pre-wedding shoot is basically a reflection of a lot of factors- a bride's nervousness, the comfort level of the couple, the fun that they fill in each other's lives and most importantly how colorful they are going to make their upcoming journey holding each other's hand! In India, weddings are given a completely different kind of status. So where the emphasis on a concept of that sort is never ending, we thought of combining a list for some of the best locations in India that capture those intimate moments the best and are enough to give you a memory of a lifetime:
So, here is the list of Best Pre-Wedding Photo Shoot Locations in India:
1. Park Hyatt Resort and Spa, Goa: For the quirks in traditions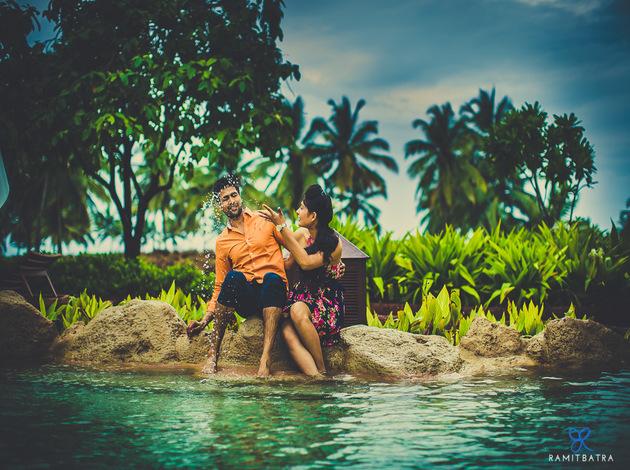 PC:Ramit Batra
Goa for one overall is considered to be the perfect wedding destination. First, it's beaches make for the perfect backdrops, the unpredictable sun is always glowing and fun is a part of Goa's air. It is a perfect destination for any kind of couple- a couple that wants to have fun, or a couple that is shy and coy or whichever kind you are- Goa is sure to give you a pre-wedding shoot that you will remember forever. Use the whites, splash hues of golden sand in the frame, add tinges of the sunny blue and put depth in your backdrops with the help of the never ending sea. Everything aforementioned is exactly what a picture of Park Hyatt Resort and Spa is like. So next time, you want to add the quirks in traditions - remember this one is calling out for you!
2. Sahara Aamby Valley: For the couple that loves change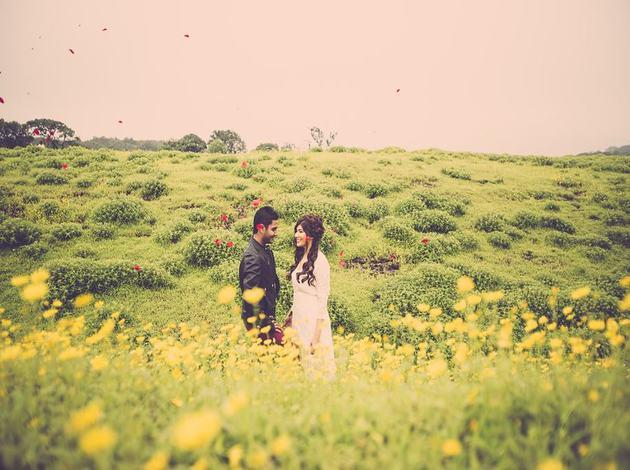 PCMonisha Ajgaonkar
Aamby Valley is one Sahara initiative which has become one of the most sought after wedding destinations in the country. Located at a close distance from both Pune and Mumbai, this destination has accessibility to it's advantage. The man-made city has everything you need to have a pre wedding shoot with any kind of backdrop that you want. There is a man-made water body at your disposal, there is beach to get the Goa feel, the set-up facing the beautiful landscape is all you need to have a pre-wedding shoot that will have balance of natural as well as fun surroundings. Pose for the camera at the fisherman's cove, take a stroll through the beach. Basically just pick your favorite location from the long list of backdrops that are available and start the fun journey of creating pictures that would be etched in your hearts forever.
Also Read: Best Honeymoon Destinations in India
3. Jadhavgadh Fort: For the history Lovers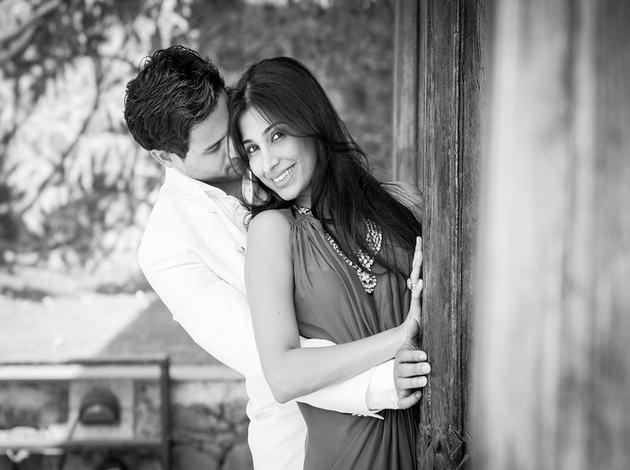 PC: weddingnama.in
Jadhavgadh fort is quite a hit in the state of Maharashtra. The fort in Pune that is converted into hotel, hosts various people who come to stay or simply enjoy a day here. The whole place has a very rustic feel to it. For a couple, that wants a slightly ancient look to the shoot- Jadhavgadh Fort is the perfect option. The stairs here whisper stories of olden times and the air is always filled with an air of traditions that are not completely lost. With the beautiful stairs to the brown in the backdrop, the colors of the bride and the groom will completely stand out. Remember that when you go to such a classic place for your shoot, you are going to be making history at least for you and your loved ones.
4. National Rail Museum Chanakyapuri: For the completely unconventional couple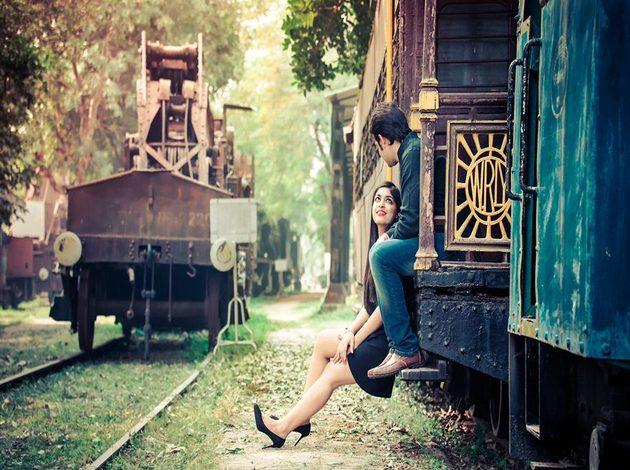 PC: Ashwin and Jhalak
This one comes second in our list of locations that are not mainstream at all as far as wedding shoots are concerned. The museum in Delhi is so beautiful that it has hundreds of artefacts to offer to you as backdrops. Even the entire rail feel that it gives is so 80s. Imagine being dressed completely British or slightly modern and having a contrast with the tracks and trains of olden times. Your love will be a metaphor of just how a train passes through various stations to reach it's destination, you as a couple as well have managed to pass through various obstacles to get to the final step of marriage. If you want something completely affordable and completely beautiful as well for your pre wedding shoot in Delhi go for the National Rail Museum!
5. Kumortuli, Kolkata : For the enchanting couple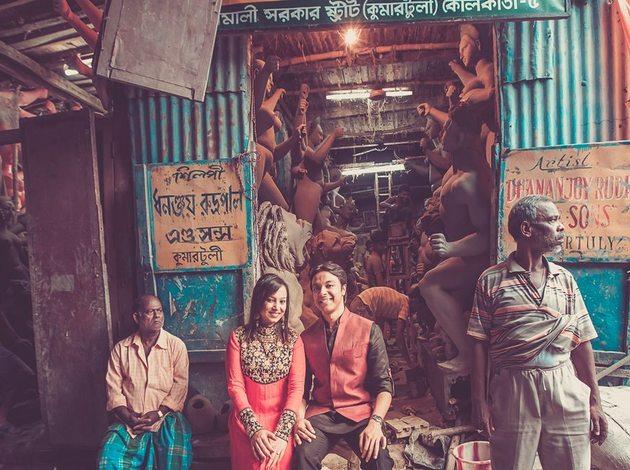 PC: phototantra
That is the thing with Kolkata, it would fit you into it's story very effortlessly. That is exactly the kind of feature you should be looking at while deciding on a location to capture all that you love. When you all are going to be promising each other to fit into each other's lives effortlessly, then why not consider a place that will promise you to do the same. The streets of Kolkata are lively to say the least. We know that this pre wedding shoot might not be very romantic, but it is sure to be an extreme fun one. With colors and hues of the city flying in and out of the frames, your pre wedding shoot will become a sort of an experience that will warm your hearts forever.
6. Kumarakom Lake Resort, Kerala: For God's Own People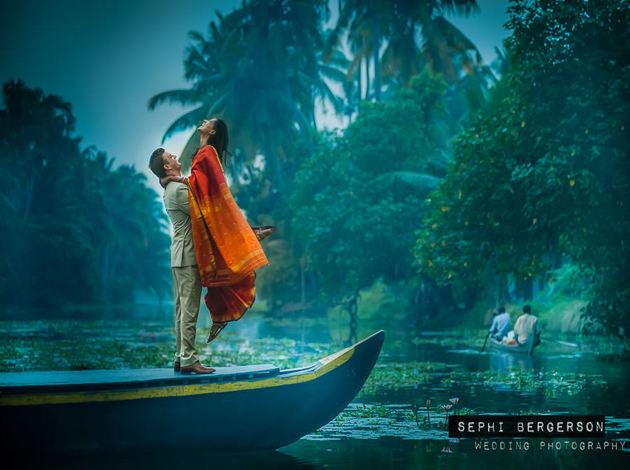 PC:Sephi Bergerson
The beauty of the backwaters do not need to be described. The mysticism of Kerala is unparalleled and no place can really match up to the magic of this place. Imagine having a photo shoot in the snake boats or in the lush green and blue backdrop. Imagine capturing the romance between you and your partner when in the background the deep waters are establishing an union with the high skies. That is the thing about Kerala, it is literally God's own country. No better destination to wait for your nuptials then Kerala. It is literally where you will have the love of your partner and the blessings of God at the same time.
While you are still planning, check out these 8 Reasons Why You Should Have a Destination Wedding!
7. Mussoorie - For the charming couple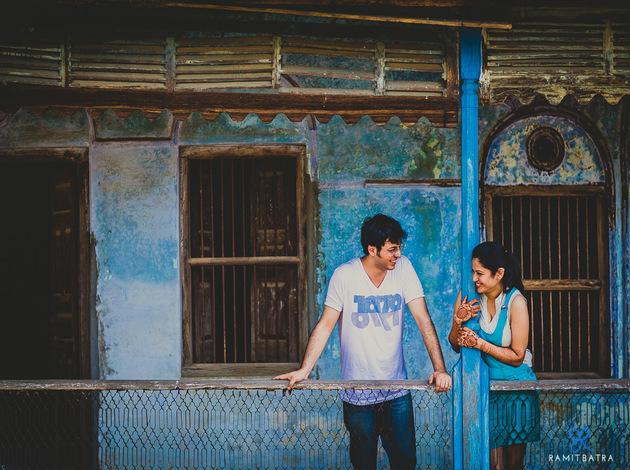 PC:Ramit Batra
Mussoorie and Dehradun have a very innocent charm running in their streets. The JW Marriott property just adds to that. The simplicity of this hill station is well contrasted by the amazing Marriott property. It has a lot to offer to you in terms of beautiful weather and a fun photo shoot. Walk through the pathways just like you are going to be walking with each other all your life. Pose near the lush greens and promise to make each other's life as colorful as the backdrop you are shooting in. Enjoy some fun moments with your partner while giving the photographer a perfect chance to capture all that he wants in the beautiful town of Mussoorie. Wedding photographers also swear by the awesomeness that the humble backgrounds of Mussoorie can add to the pictures couples that are already quite in love.
8. Falaknuma Palace, Hyderabad: For the celebrity couple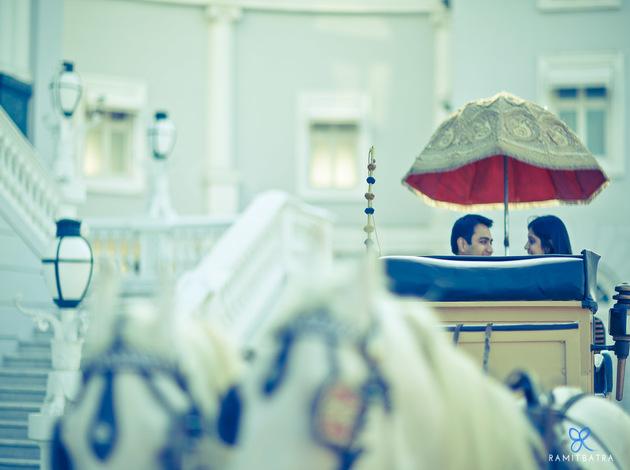 PC:Ramit Batra
When it comes to Hyderabad weddings, the first name that people would take is the Falaknuma Palace. It has recently made waves about hosting Arpita Khan's wedding and has become quite a hit amongst young couples looking to marry. The place is an absolute delight for a photographer and is sure to be enhancing the bridal glow that you already have on your face. The excitement of just being in this place will come across in the photos very easily and you will have no option but to be enchanted by the high ceilings and beautiful interiors. The royalty of the nizams is sure to be reflected in the amazing backdrop of this palace. So, while you can- pick the best photographer and go and make the picture you have been painting in your mind for so long come true.
9. Rambagh Palace: For the couple that stays together day and night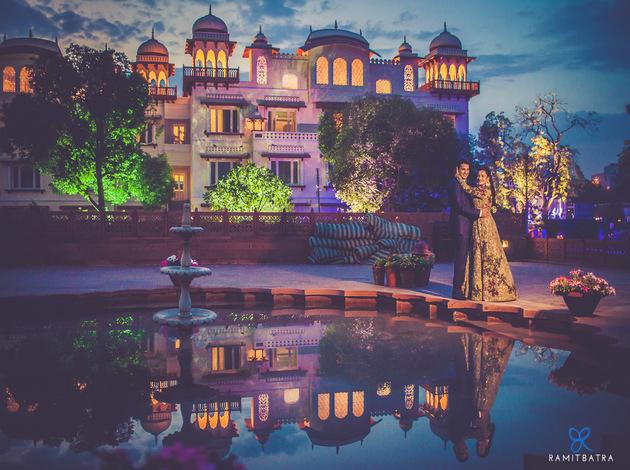 PC:Ramit Batra
Well, Rambagh Palace in Jaipur is definitely one of the best places to capture your love. It creates a mysterious romantic blanket around you for night shoots and quickly lights up your moods during day shoots. It is a perfect location for the bride who is as bright as the sun. Ramit Batra, an acclaimed wedding photographer in India considers this to be one of his most favorite locations to shoot in. Once all the wedding festivities kick start, mark down this place to be considered for a fun and yet a very royal wedding. We know class comes naturally to you and this location is sure to add all the components that you need for a perfect backdrop.
10. The Perfect Location - For the couple that never stops being candid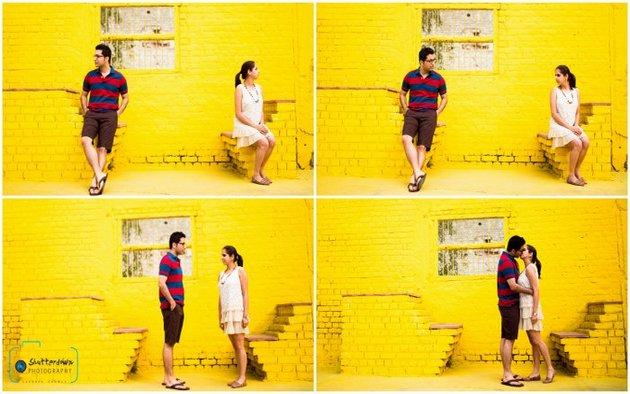 PC:Lakshya Chawla
No no, we are not rating any of the locations as 'THE PERFECT LOCATION' although this one has all the attributes to be one for the pre-wedding shoot. The perfect location is like a photo studio which photographers love to use for their shoots. You have various sets, colors, moods, accessories to play around with and the shoots are literally as fun as the weddings are. With shoots that begin in the morning, the couples who have had their pre wedding shoots here claim that this is definitely one of the most prominent memories that have of the week before the wedding. It is perfect to add the fun amidst all the stressful last minute chores of the wedding.
11. Lavasa: For the couple that wants it to be scenic and urban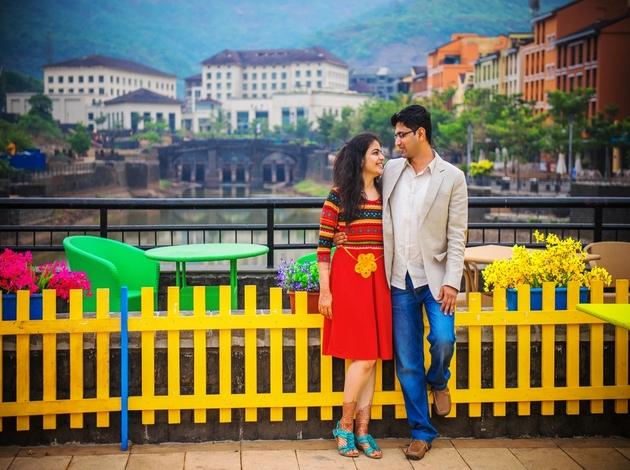 PC:Anshum M
Lavasa in Pune is slowly and eventually catching up to be one of the best locations to visit and have a good time. I also remember a couple of my friends shooting their documentaries in Lavasa for the beautiful frames and composition that it provides in the camera. Lavasa is basically a melange of old school charm with quintessential natural elements. It highlights the love and connect of the couple by very easily fitting in the backdrops. Right from the water body to the famous staircase to the long stretch of restaurants, everything about Lavasa spells beauty mixed with a little fun side.
Also Read:5 Steps To Plan A Perfect Honeymoon
12. Bhawan Palace, Jodhpur: The coolness of blue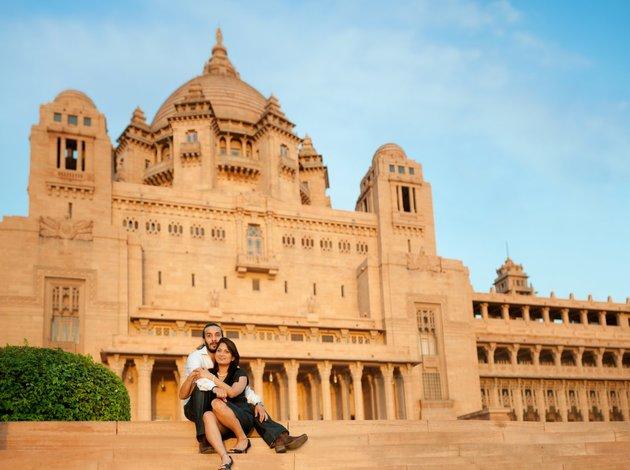 PC:asian wedding ideas
That is the thing about Rajasthan- there is a palace which has converted into hotel to give people to opportunity to have a royal wedding that they have always wanted. The blue city of Jodhpur would exactly provide you all that this color stands for- calmness, pleasantness and coolness. For any couple that possesses all the aforementioned traits, there is no better place to have a pre wedding shoot or a wedding shoot for that matter than Bhawan Palace Jodhpur. The best part is that even though it is on the royal side; it is not as highly priced as an Udaivilas to have the dream royal wedding that you have always dreamt of ever since you met your partner. You can also add a very english touch to your pre wedding shoot and have the best of both old royal worlds- the colors of Rajasthan and the subtlety of old school english attire.
13. Taj Mahal, Agra: For we know your love is eternal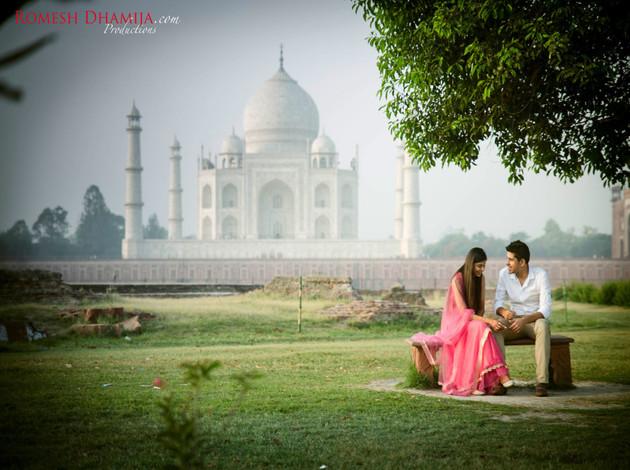 PC:Romesh Dhamija
Taj Mahal has been a symbol of love ever since it was made. For a couple that knows that their love is as symbolic as one of the biggest love stories in the history of India, Taj Mahal is a perfect location to shoot in. The white marble in the background makes any color stand out and gives a very magical sort of a feel to the entire frame. You can be as mushy as you like and express as much love as you want and nobody would judge, thanks to shooting right in front of a place that defines love.
14. Udaipur Udaivilas: For the Royal Couple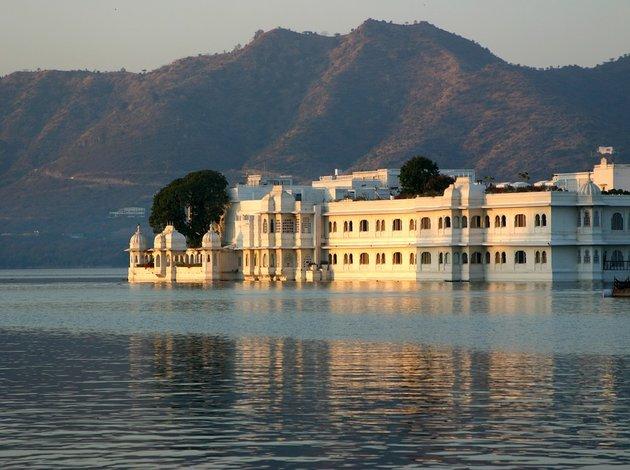 Udaipur Udaivilas by the Oberoi Group is considered to be one of the best hotels in the World. There is royalty painted on every single wall in this hotel. The terraces to the olden architecture just help spread the magic of love in the air. For a couple, that knows that class is permanent and cannot be compromised on Udaipur Udaivilas is simply the perfect destination. It is also the most preferred destination in the country for a royal wedding. I have personally seen the scope that this place has to create perfect backgrounds and different frame compositions. So when you have a high end budget for your great Indian wedding, remember to live those last unmarried moments together in the beautiful surroundings of this hotel.
This was our list of locations for you that you can consider to make love to the camera right before you are bound to each other happily for life. Let us know where you went for your shoot or would like to go in the comments section below.