Ultimate Road Trip from India to Thailand via Myanmar
* Disclosure: This post may contain affiliate links, which means we may receive a commission if you click a link and book something (there is never any extra cost to you for using these links).
When the governments of the three nations decided to link the geographical locations of India, Burma and Thailand through road, it all seemed like a dream. But the project was ultimately given a nod and was started in 2012. And today, the Myawaddy-Thinggan Nyenaung-Kawkareik section of the Asia Highway, that links India and Thailand, is now operational.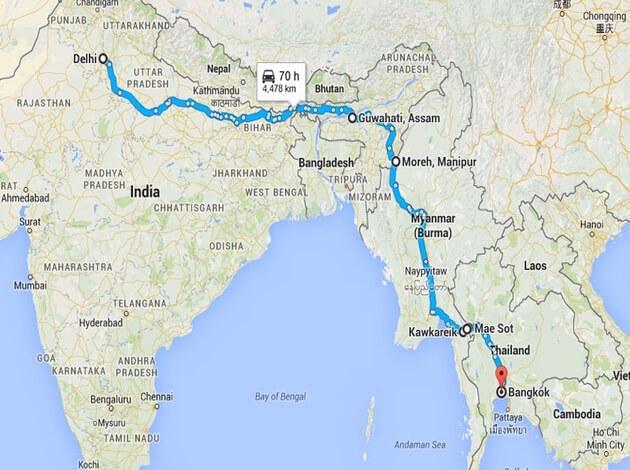 PC: easeyourtravel
As a result of this opening of the highway of 25.6 -km-long section, you can easily reduce your travel time between Thinggan Nyenaung and Kawkareik from three hours to just 45 minutes.
As a traveler, it is everyones fancy to cover different nations through road trips. You can easily come across various cultures, people, locations and experiences in such road trips. Since India has very seldom found connections to surrounding countries through road except for Nepal(well going to Pakistan is not that easy), the opening of this highway plays a significant roles in connecting it to Burma and Thailand. And yes, if you do decide to take this road trip, it would take 14 days to cover the 4,500 km once-in-a-life drive. Let us see what all you can locate during your surfing of these different countries.
1. See the beauty of Guwahati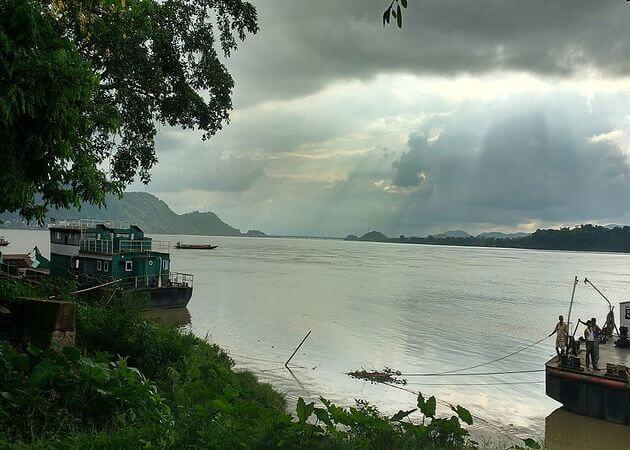 Guwahati has always been a natures paradise. Starting your trip from India, just gaze through the pristine beauty of your nation.
2. Stand at the insuperable heights of Shillong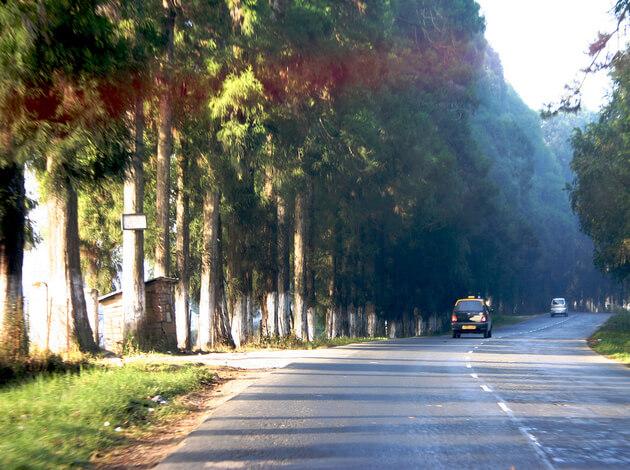 PC: Prateek Rungta/flickr.com
If you are interested in having a look at the valleys, stand at the heights of Shillong and get enamored by the panoramic beauty of the mountains around. See yourself at equal height with the clouds.
3. Visit Bagan- one of the oldest cities in Myanmar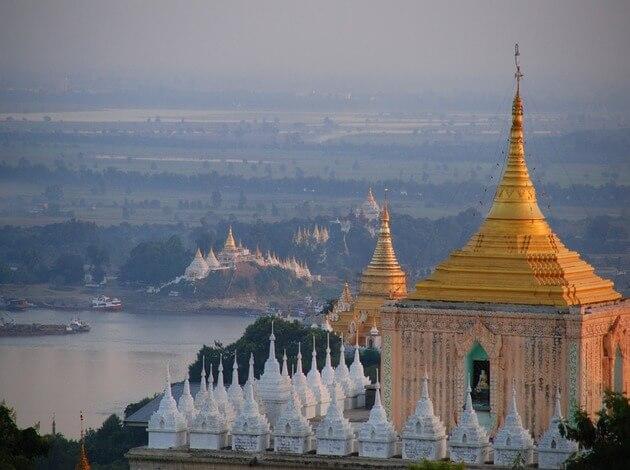 Look at the architectural beauty of Bagan, the city that has been present since 9th century. This ancient city, located in the Mandalay Region of Burma(Myanmar) has served as the capital of the Kingdom of Pagan, the first kingdom to unify the regions that would later constitute modern Myanmar. Here, you can see atleast 2200 remains of temples and pagodas that still survive to the present day.
4. Mandalay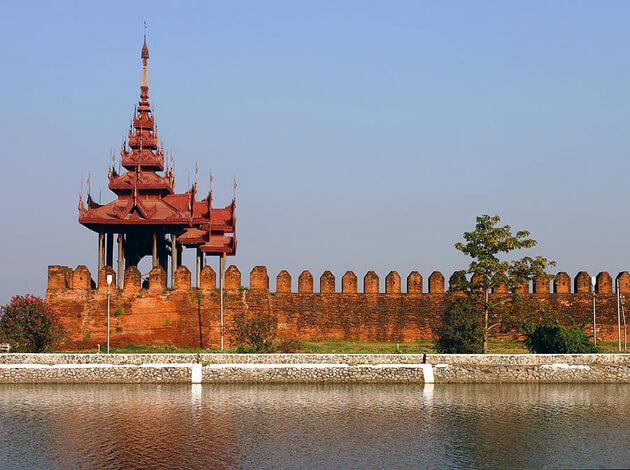 PC: Wikipedia.org
Spend some time in Mandalay, the second largest city of Burma. Here, you can encounter modern and cosmopolitan Burma as opposed to the ancient one that you saw in Bagan.
5. Look at the ancient pagodas in Naypyidaw, Mayanmar's deserted city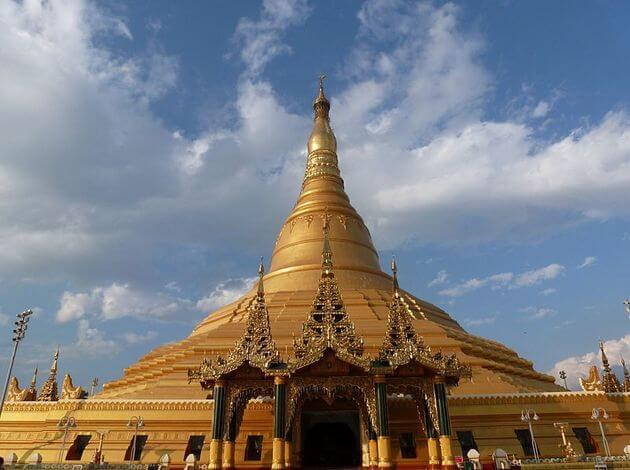 PC: Wikimedia Commons
The ancient city of Naypyidaw first became the capital of Myanmar a decade ago, but later the government decided to move the capital to Yangon (also known as Rangoon) with minimal explanation. Since then, although developed to be the size of 120 Manhattans and to have space for up to one million residents, it remains a relative ghost town today.
6. Visit Yangon (formerly Rangoon) where Bahadur Shah Zafar was kept in captivity by the British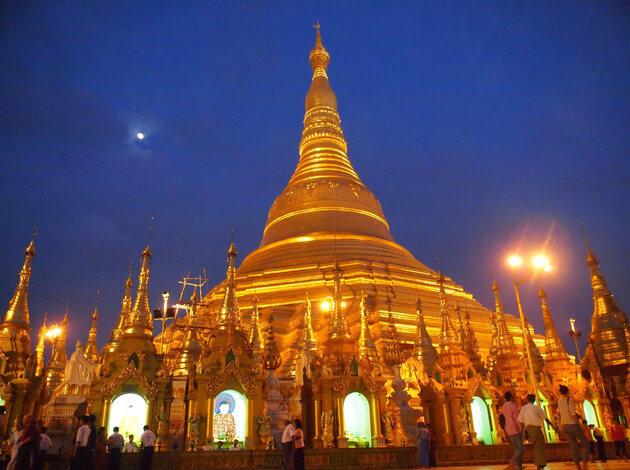 PC: Paul Arps/flickr.com
The history of India and Burma is inextricably linked. Spend some time in Rangoon, today known as Yongon, and get enticed by its leafy avenues and fin-de-si¨cle architecture. This is also the same place where Bahadur Shah Jafar, the last mughal emperor was held in captivity by British regime.
7. Bang Pa In Royal Palace, Thailand
Just before 60 kilometers (40 miles) north of Bangkok, do stop and look at the famous Bang Pa, the Royal Palace, situated along the banks of the Chaopraya River. The palace is an attraction as it has served as the summer palace of the kings of Thailand. The palace dates back to the seventeenth century, pre-dating the establishment of Bangkok as the capitol, although it did fall into disuse for a long period. All the buildings you see date from its revival by King Mongkut (Rama IV) in the nineteenth century. Today, the palace is only used infrequently, and then mostly for state occasions rather than as a royal summer residence.
8. Bangkok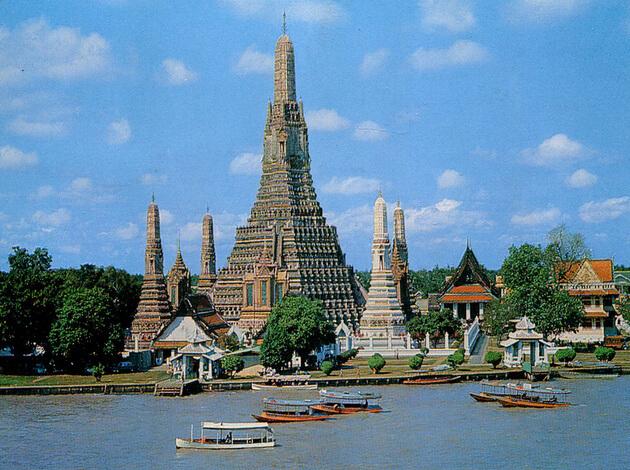 PC: Roger W/flickr.com
Finally, you arrive at Bangkok, the capital of Thailand and get lost in its noisy, crowded, colorful, exciting, infuriating, and smile inducing streets. There are ancient sites to be visited and modern shopping malls that render it a confluence of ancient and modern.
Get year around hotel deal with TripHobo Hotels. Book Now, Pay Later!
Every destination has its own beauty. But sometimes the journey is as interesting as the destination is. Do stop and wonder at these attraction on your road trip to Thailand from India.
New Delhi to Thailand by Road Distance: 4198 Km (Approximately)
India to Thailand by Road Time required: 71 Hours (Approximately)
Routes to Take:
Asian Superhighway (AH1) route
Asian Superhighway 2 (AH2) route
You May Also Like to Read
Best International Road Trips from India
Ultimate Road Trip from India to Thailand via Myanmar
15 The Best Road Trips in Europe