7 Roller Coasters in Las Vegas
* Disclosure: This post may contain affiliate links, which means we may receive a commission if you click a link and book something (there is never any extra cost to you for using these links).
Lavishly decorated hotels and neon-illuminated casinos welcome you to the entertainment capital of the world - 'Las Vegas', one of the ultimate escapes of all time. While endless nights glittering with enthusiastic showgirls defines the characteristic of one part of Las Vegas, there is another part filled with thrilling rides that will pump your hearts like a roaring Ferrari, running on full throttle. When you are bored of the ever-flowing drinks and the timeless casinos, you should also check out the thrill Las Vegas has to offer.
Hidden amidst the glamor and the exotic exuberance are these insanely amazing roller coaster rides in Las Vegas.
1. Canyon Blaster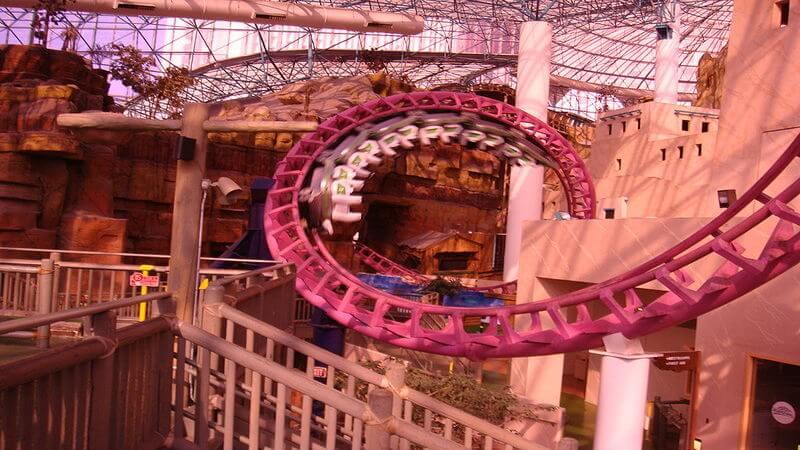 PC: Wikimedia Commons

Maximum Height: 90 feet
Biggest Drop: 90 feet
Maximum Speed: 55 mph
Set inside the Adventuredome, Canyon Blaster is an indoor double loop, a double corkscrew roller coaster which is regarded as the only roller coaster of its kind. If you are looking out for the screams from the passengers riding the Canyon Blaster to determine if it's thrilling enough, then you would be disappointed big-time as Canyon Blaster is so freaky that will leave the riders speechless and numb.
So take that talkative friend of yours to ride on Canyon Blaster and believe me, you will have the most peaceful two minutes of your life. While zipping through the series of twists and turns, grip your hands firmly on the handlebars to stay composed and you must be at least 48 inches tall.
2. The Roller Coaster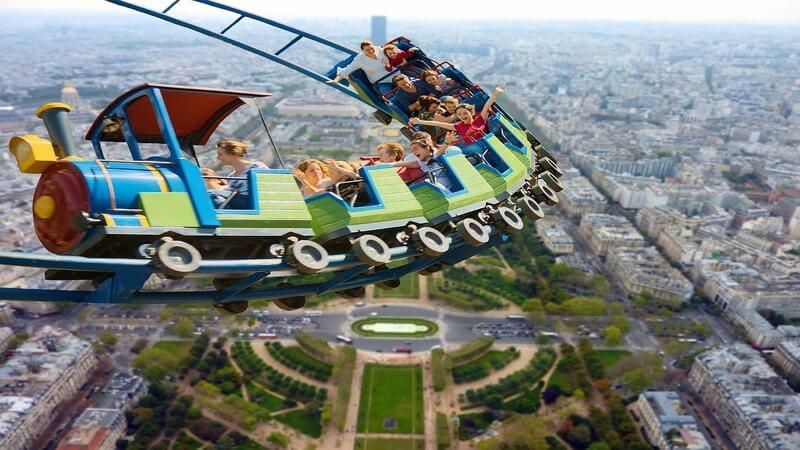 Maximum Height: 203 feet
Biggest Drop: 144 feet
Maximum Speed: 67 mph
Formerly the Manhattan Express and often referred to as the Big Apple Coaster, The Roller Coaster isn't your average upside-down roller coaster. Comprising of insane loops and corkscrews, The Roller Coaster is rough with impactful negative G-force that will get your bruised and is not for everyone. But the picturesque backdrop of the replica of Las Vegas harbor, a 150-foot model of the Statue of the Liberty and an array of eye-catchy Manhattan buildings make it an incredible experience.
Featuring towering drops, multiple loops, and spectacular views of the strip, The Roller Coaster is one of the most popular roller coasters in Las Vegas, attracting over million visitors every year. To ride on The Roller Coaster, you must be at least 54 inches tall.
3. Desperado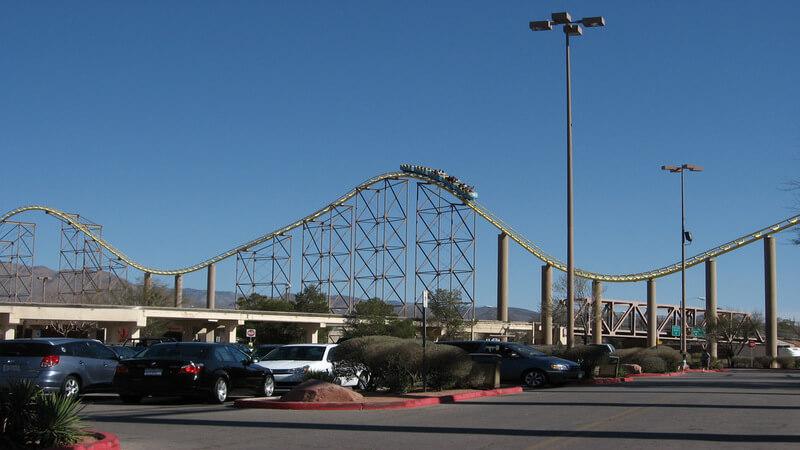 PC: Ken Lund/flickr.com
Maximum Height: 209 feet
Biggest Drop: 225 feet
Maximum Speed: About 90 mph
While the neon lights in Primm, Nevada is a familiar sight, what catches your eyes the most is the hyper coaster of Desperado. Regarded as one of the tallest roller coaster rides in Las Vegas, Desperado starts off slowly, giving you a chance to gaze at the Southwest mountain ranges and desert & as you reach 209-foot peak, it all turns chaos and you'll be soon plummeting at a speed of 90 mph with 4-G force testing your strength.
Extremely fast with twists and turns, Desperado is something out of the ordinary and is definitely not for the faint-hearted. Listed in the Guinness Book of Records, Desperado takes in riders who are at least 48 inches tall.
4. X-Scream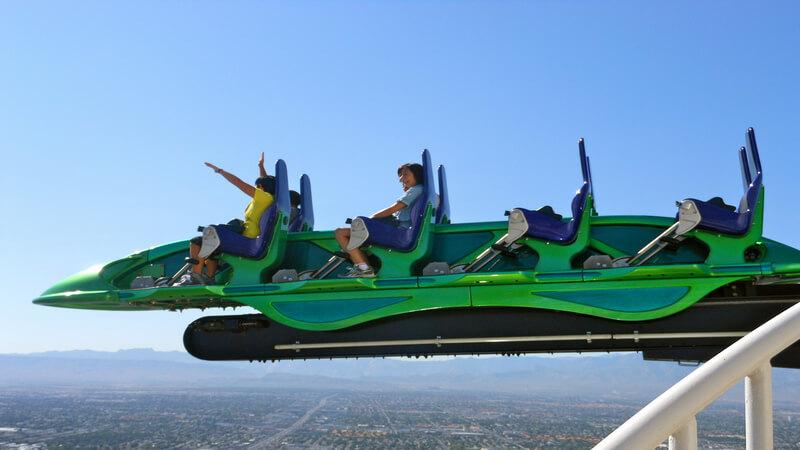 PC:
Sarah_Ackerman/flickr.com
Maximum Height: 866 feet
Biggest Drop: 29 feet over the edge of the tower.
Maximum Speed: 30 mph
Resembling a giant teeter-totter, the uniquely designed roller coaster of X-Scream is unlike anything you have ever seen. The whole experience of riding in the X-Scream is right in the name. Yes, you scream to your lungs fullest capacity all the time as you are propelled face first over the edge of the Stratosphere Hotel and Casino overlooking the lovely Las Vegas valley before getting pulled back and before you breathe a sigh of relief, X-Scream surprises you again.
Teasing every passenger's primal fear of falling, X-Scream is for the thrill seekers, who like to get their hearts beat as fast as Usain Bolt. Apart from your guts, you must be also 52 inches tall to ride on the X-Scream.
5. El Loco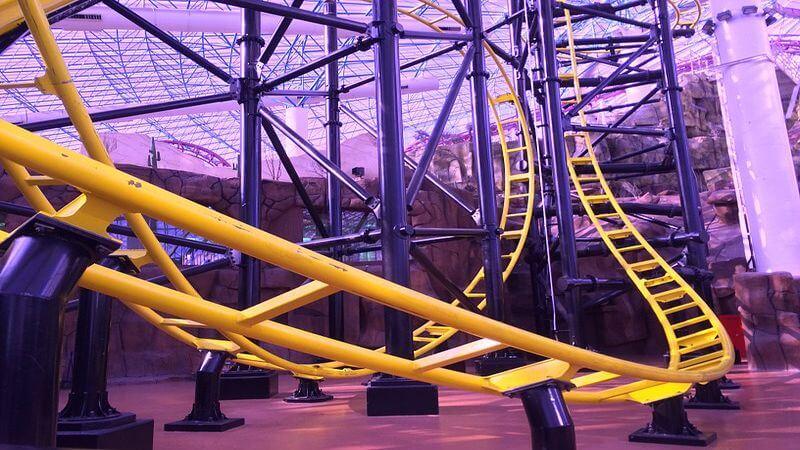 Maximum Height: 90 feet
Maximum Speed: 45 mph
So you are a little crazy and are looking for a crazy ride to get you going? Then, you have to try out the steel roller coaster ride of El Loco. Featuring a great number of twists and turns, including the highlight barrel-roll in the end, El Loco is one of the memorable roller coaster rides in Las Vegas. Sit back in your seats as you ascend to a height of 90 feet before dropping over, where you'll come in face with a 1.5 vertical G-force and it doesn't take much time for you to realize the swiftness of El Loco.
Rated as one of the top anticipated roller coaster rides in Las Vegas, El Loco comprises of speaker systems which play energetic hip-hop, latin, and rock beats customized for the ride to ease your senses. You must be at least 48 inches tall to enjoy this ride.
6. Insanity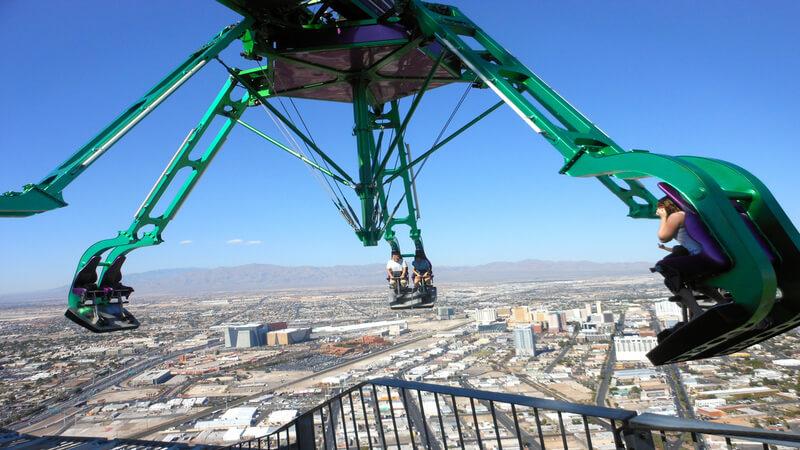 PC: Sarah_Ackerman/flickr.com
Ride Height: 40 feet from the observation deck, 906 feet above the Las Vegas Strip
Max Speed: 40 mph
Interested in heights and a lot of spinning? Hop on the Insanity ride. I am sure, the name alone would have painted a wonderful picture in your mind. But to explain further, you will be extended over the edge of the Stratosphere tower on a massive mechanical arm that will spin you and the other passengers in the open air to speeds up to 3 G-force. With that, you will be presented with the breathtaking views of the Downtown Las Vegas. And if you are that brave enough, open your eyes!
Offering unparalleled views of the Las Vegas, take the Insanity ride when you are fully hydrated and try keeping your eyes wide open. There are different versions of the same ride and you must be at least 52 inches tall.
7. Big Shot
PC: Flickr.com
Maximum Height: 1,087 feet
Biggest Drop: 160 feet
Maximum Speed: 45 mph
Rocketing right into the sky is the majestically enthralling ride of the Big Shot. Set at the top of the Stratosphere tower, you'll feel like an astronaut going on a trip to outer space. While the up's and down's in life come with a time gap and are far easier to cope with, riding up and down in the Big Shot will trigger a million butterflies in your tummy and there isn't even a fraction of a second to blink!
Experience the real feel of weightlessness as the gut wrenching 4 G-forces work on you, making you feel energized & pumped up after the ride that you'll be ready to face any challenge. To go flying in the Big Shot, you must at least 48 inches tall.
Surprisingly enough, Las Vegas literally has a special something for everyone which is evident from the list and it is highly recommended that you try out all the heart-pounding roller coaster rides in Las Vegas for a complete experience of the city.