SantaCon San Francisco
UPDATED Apr 04, 2017
2.5K Views
It is that time of the year again where you were lead to believe that an imaginary fat bearded guy visits you in a bright red costume to give you gifts. But what do you do when you grow up, do you just stop believe in Santa? Well if you are in San Francisco you don't need to! Not only you can dress up as Santa Clause you can also go pub-crawling with your friends and raise some money for charity on the way! Doesn't it sound like the perfect deal? For all those who are still scratching their head wondering what are we on about, we bring you SantaCon in San Francisco!
So what exactly is SantaCon?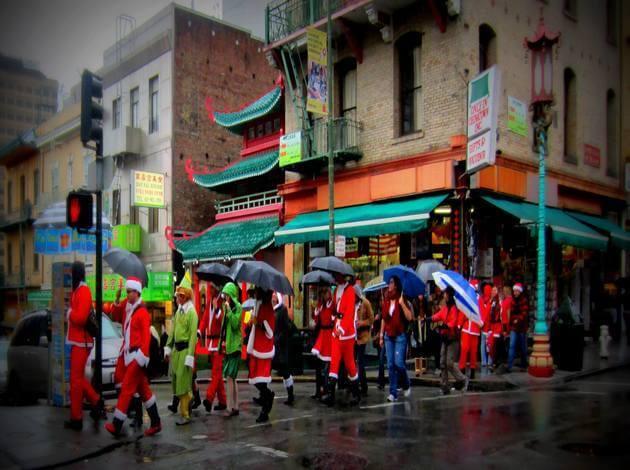 To put it simply SantaCon is nothing but an annual mass gathering of people where they dress up as Santa Clause or any other Christmas character for an amazing parade which is followed by a pub crawl. It is also used as a medium to gather funds for various charitable organizations. The official SantaCon parade is free of cost to attend, but if you're looking forward to attend one of the after-parties you have to donate some amount of money.
Why do they do it?
Few of the privately organized SantaCons have a strict admission fee to attend which is then donated towards charity. Last year one organization alone made a donation of around $60,000. But, if you are a broke college student who lives on ramen noodles don't worry we haven't forgotten about you! Most of the SantaCon events are free and everyone can participate regardless of their age. To put it in simple terms the basic concept of SantaCon is simply to have fun with your friends and bunch of other strangers dressed as Santa Clause before you go home and attend an awkward family dinner for Christmas.
What do I need to know if I want to participate?
The basic thing you need to remember before you participate is that you need to dress up in Santa outfit or any other Christmas character outfit. No a red hat with reindeers on it will not be enough. The other important thing you need to remember is that getting drunk in public is illegal and is not recommended. You don't want to dress up as Santa and start a brawl. Don't be that Santa. SantaCon usually happens right before Christmas it is recommended to wear multiple layer of clothing. Slutty Santa costumes are not recommended.
Where should I start?

Image Source: Stephen Kelly/flickr
This year (i.e 2016) the SantaCon parade is scheduled for December 10th. The location will be updated on their official Facebook page the night before it begins.
Can I bring my kid along?
Unless he/she is of legal drinking age it is not recommended.
Where should I start my pub-crawl?
Winter is also the time where bars and pubs start serving their signature winter cocktails. Isn't that the best way to celebrate SantaCon? If you do not want to follow the parade and want to plan your own pub-crawl, we got your back! Just stick to our cocktail recommendation for a perfect pub-crawl!
1. Arguello's National Frog

Image Source: pexels/pixabay
Your first drink should be perfect while you are on a pub-crawl, so how can a tequila infused cocktail go wrong? Located on 50 Moraga Avenue this bar has an outdoor patio, surrounded by high white walls, and a view of the Bay. The cocktail consists of hibiscus-infused Corralejo reposado tequila added with some some vibrant La Pinta pomegranate liqueur. The combination may sound bit weird, but hey you are the one who is getting drunk in an elf costume.
2. The Progress at The Concession

Image Source: Tony Contreras/flickr
If you ever thought popcorns are only meant to be enjoyed with movies and TV shows, think again or dress up as Santa's reindeer and do a pub-crawl. This rum based cocktail consists an unusual infusion with popcorn (no, we are not kidding) to give it a buttery taste, but the fun doesn't stop there it also consists of a cherry-cola syrup and dry vermouth.
3. Liquid Gold at STEM's

Image Source: CyberComputers/pixabay
This bay area bar is famous for the spectacular view it offers from its patio and some strong and equally delicious cocktails, the Liquid Gold is undoubtedly being best of them. It consist of orange juice blended with a base of Diep 9 Young Genever from Belgium, with garden shrub and some cinnamon. Yes, it does sound more like a protein shake rather than a cocktail, but you're going to need every bit of protein this SantaCon in San Francisco.
4. Call A Treuse at Devil's Acre's
This next cocktail on our list has so many ingredients in it that it might just feature in the next season of Masterchef America. It consists of green and yellow Chartreuse, blend of dry vermouth, lemon, vanilla syrup and egg white. The complexity of the drink makes it stand out from its competition.
5. Ragnarok at Plaj's
Ragnarok roughly translates to the end of days or to put it simply 'Dooms Day.' If you are asking yourself how a drink named after apocalypse can be good for anyone, we ask you why wouldn't it be? This tequila-based cocktail consists of lime syrup, tarragon, raspberry and sweet onion (you heard that right). You can never go wrong with sweet onions.
6. Hilo Gimlet at Hapa Ramen's
This cocktail infuses best of both American and Japanese culture with a combination of Hawaiian punch with Hi-chew (fruit-flavored based candy in Japan), you don't need to worry about it being too sweet as it also infuses tart with gin and lime to balance out all the flavors.
Get ready to enjoy the holiday season!!
Also Read:
Unusual Christmas Holiday Destinations