14 Scariest Roller Coasters in the USA
* Disclosure: This post may contain affiliate links, which means we may receive a commission if you click a link and book something (there is never any extra cost to you for using these links).
There can be nothing as scariest in the world as riding on some of the most hair raising roller coasters in the world. The plunge that makes your heart stick in your throat can be one of the most terrifying experiences. But then, we do want to deliberately take those rides that launch us right into the stratosphere. Isn't it? Let us look at these 14 most scariest roller coasters in the USA whose very appearance will make your knees go weak:
1. The Voyage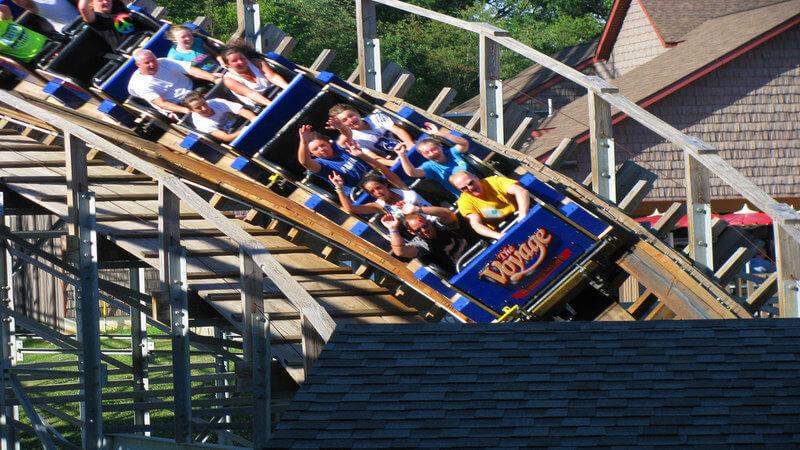 PC: Patrick McGarvey/flickr.com
Holiday World & Splashin' Safari, Santa Claus, United States
This is going to be literally a voyage! Boasting the most air-time of any coaster in the world at 24.3 seconds, it is over a mile in length, and flawlessly designed to weave into and out of a series of underground tunnels. This wooden roller coaster is certainly a spine-chilling experience.
Make your travel experiences count. Plan with the itinerary planner of TripHobo.
2. Superman: Escape from Krypton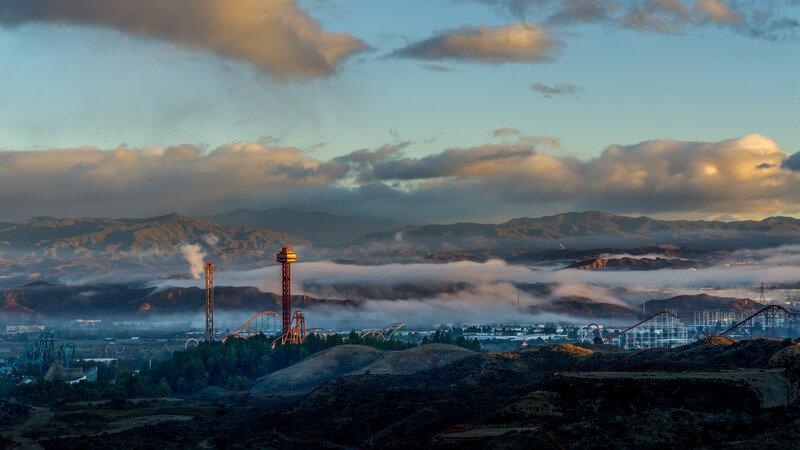 PC: Jeff Turner/flickr.com
Six Flags Magic Mountain, Valencia, CA, United States
You would want to escape this! The unique of them all- this is a reverse freefall coaster which means it propels passengers backwards and up a steep slope at a staggering speed until they're perched, weightless, at the top, and then rockets them back down. This most thrilling Roller coaster in California is waiting for you.
3. Skyrush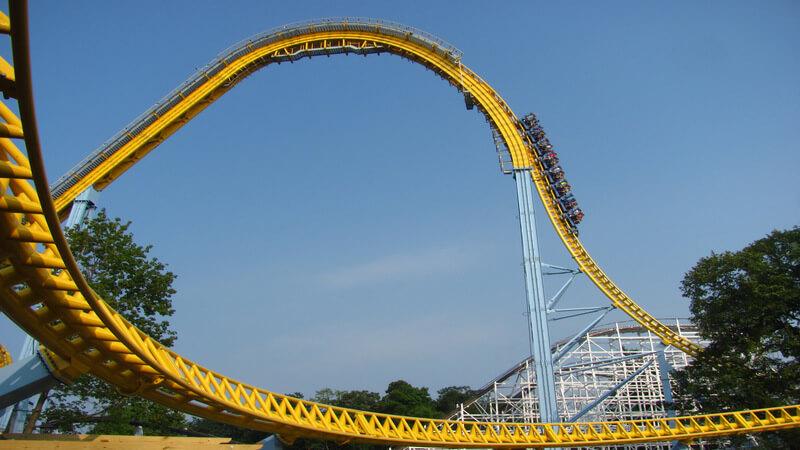 PC: Jeremy Thompson/flickr.com
Hersheypark, Hershey, PA, United States
This gravity-defying coaster in Pennsylvania focuses on huge, sweeping arcs and feels as though it's actually trying to throw you off!
4. Millennium Force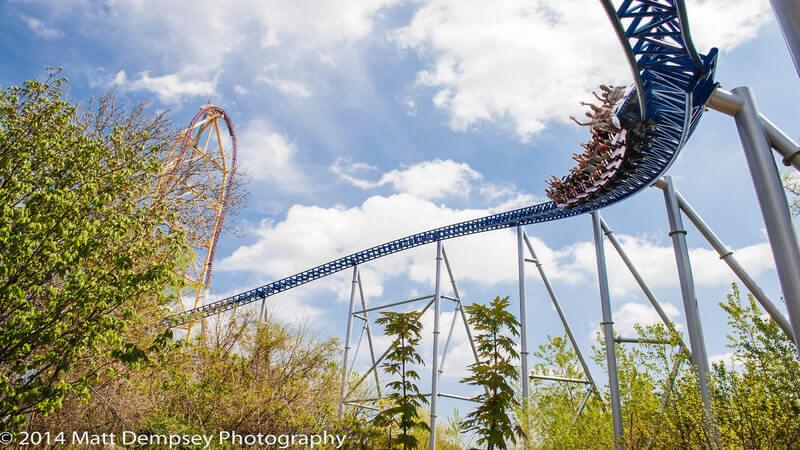 PC: Matt Dempsey/flickr.com
Cedar Point, Sandusky, United States
With 300ft drops and speeds of around 90mph, this one of the top roller coaster in the US excites you with its rapid directional reversals. How many for this one?
5. Leap-the-Dips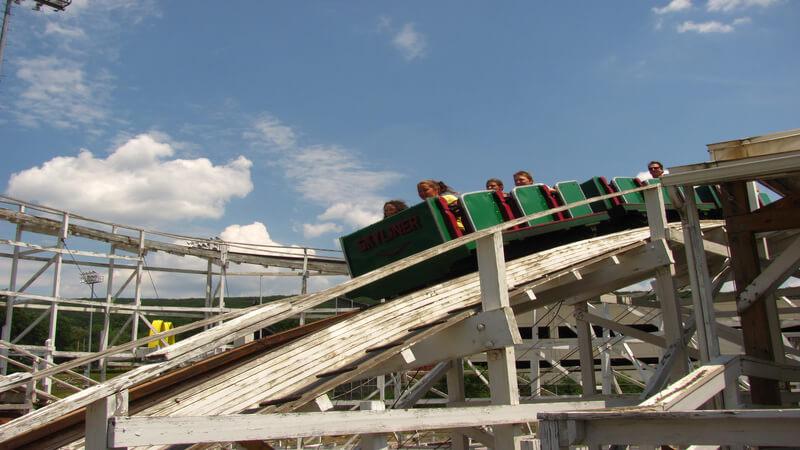 PC: Jeremy Thompson/flickr.com
Lakemont Park, Altoona, PA, United States
This is a strange entry here! Leap-the-Dips might only have a maximum drop height of 9ft, but what makes it exciting is that it is the only side-friction wooden roller coaster left in America which means that it's held on the track by the friction generated by its wheels.
6. Kingda Ka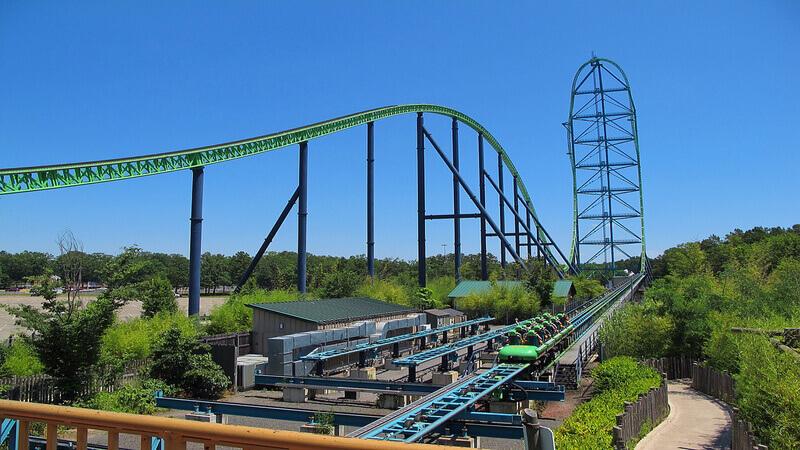 PC: Chun Yip So/flickr.com
Six Flags Great Adventure, Jackson, NJ, United States
Launched in the sky? This is the legendary Kingda Ka, the world's tallest roller coaster that will make you feel weightless, as you're accelerated out of the gate at speeds of 128mph to the pinnacle of the Zumanjaro Drop of Doom. Doom? You have heard it right! It is also the biggest roller coaster in the United States.
7. Intimidator 305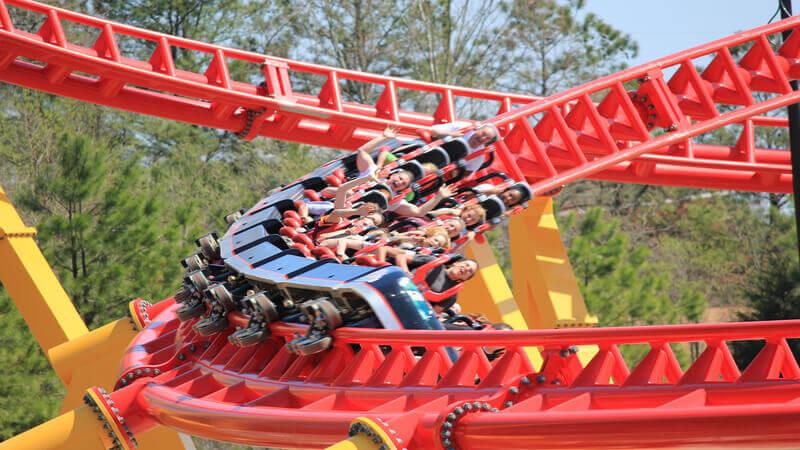 PC: daveynin/flickr.com
Kings Dominion, Doswell, VA, United States
True to its name, this is the longest drop roller coaster with 300ft at an 85-degree angle, but its real fear factor lies in its banking ability, which is on full display when it stops just short of the ground to veer off in any number of directions.
8. Goliath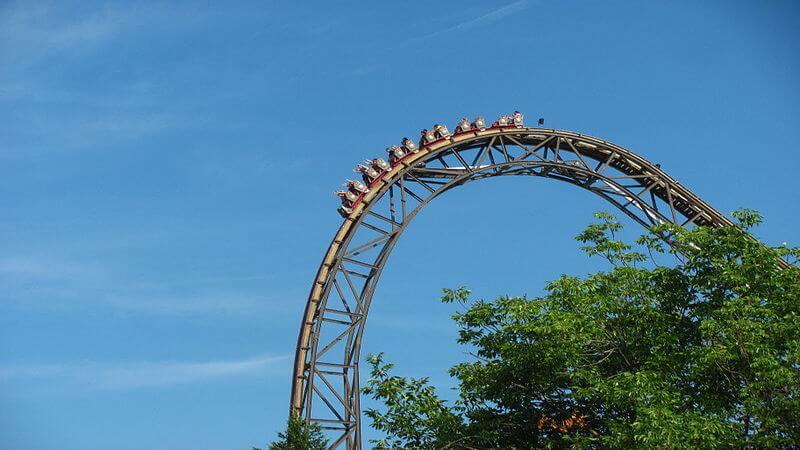 PC: Wikimedia Commons
Six Flags Great America, Gurnee, United States
This one is the fastest wooden roller coaster in America that has two zero-gravity stalling areas. Keep your accessories safe for this as your body will not know where it starts from!
9. GateKeeper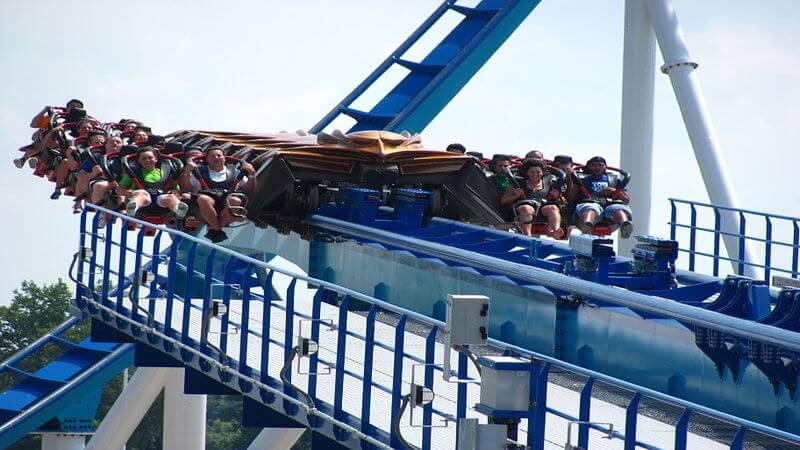 PC: Wikimedia Commons
Cedar Point, Sandusky, United States
Considered to be the Mecca of roller coasters in America, the gatekeeper flares out on either side of the vehicle, so you're basically flying already as you navigate the myriad twists and turns of this coaster. You'll also pass through two extremely narrow keyholes.
10. Cannibal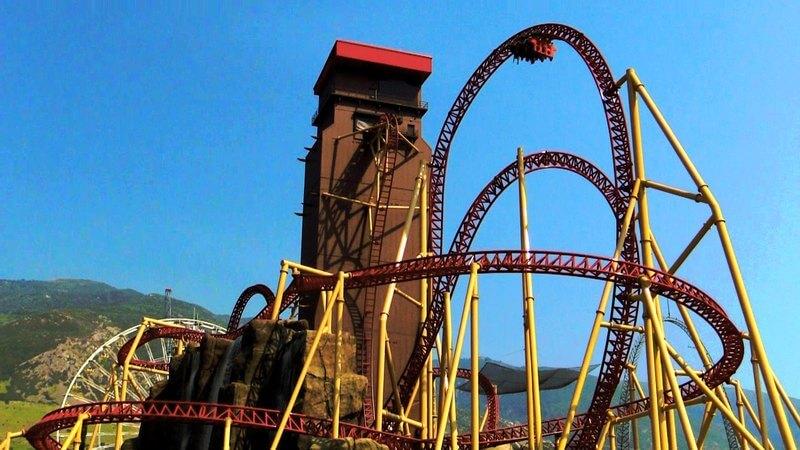 PC: Youtube.com
Lagoon Amusement Park, Farmington, United States
Although still not open, the cannibal scares you with its 116-degree drop which is one of the world's steepest, and it careens passengers directly through a tunnel that dives headlong into a 208ft tower.
11. El Toro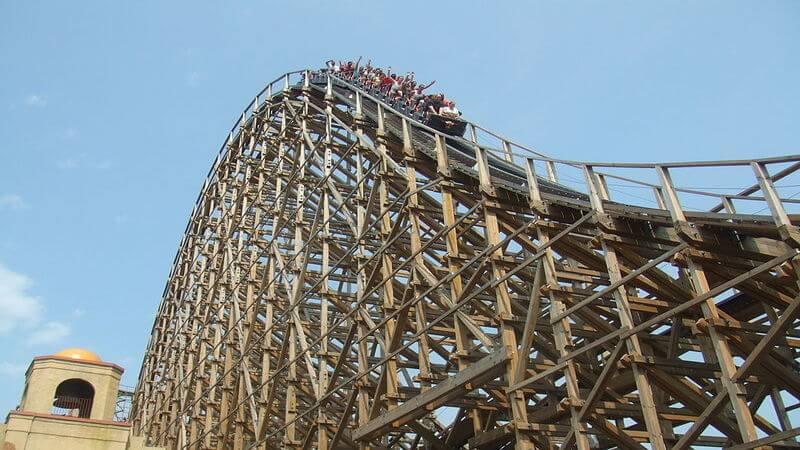 PC: Wikimedia Commons
Six Flags Adventure, Jackson, NJ, United States
Scariest feature: Multiple instances of what's called the "headchopper" effect
El Toro's 70mph speeds are impressive; especially since you'll feel weightless for so much of the ride.
12. Fury 325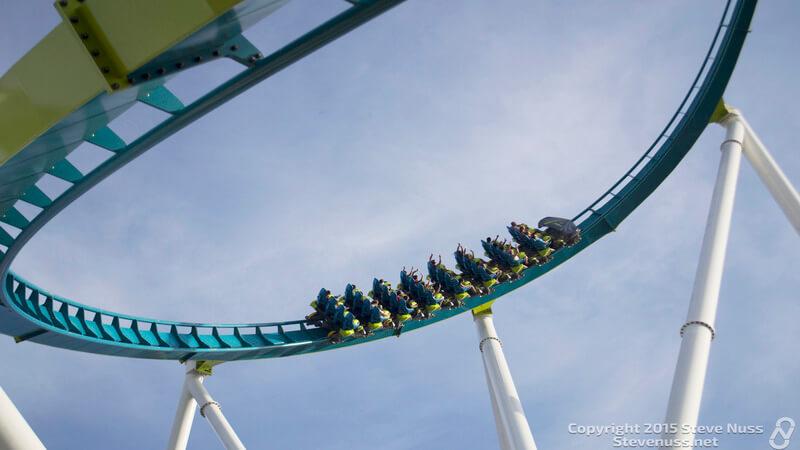 PC: Steve Nuss/flickr.com
Carowinds, Charlotte, United States
Fury's first ascent feels like an eternity. Once you're barreling down the first 81-degree drop at 95mph, you'll become immediately aware of how much precious time you have left on this thing.
13. Desperado 225ft Drop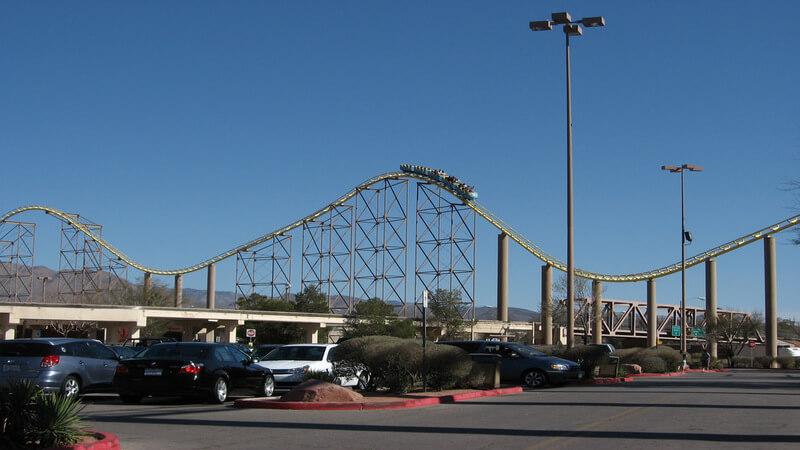 .PC: Ken Lund/flickr.com
Buffalo Bill's Casino-Resort, Primm, Nevada, United States
Desperado was among the first coasters to break the 200-foot mark. Already dizzy ah? It certainly is one of the tallest and fastest roller coasters in the entire country.
14. Top Thrill Dragster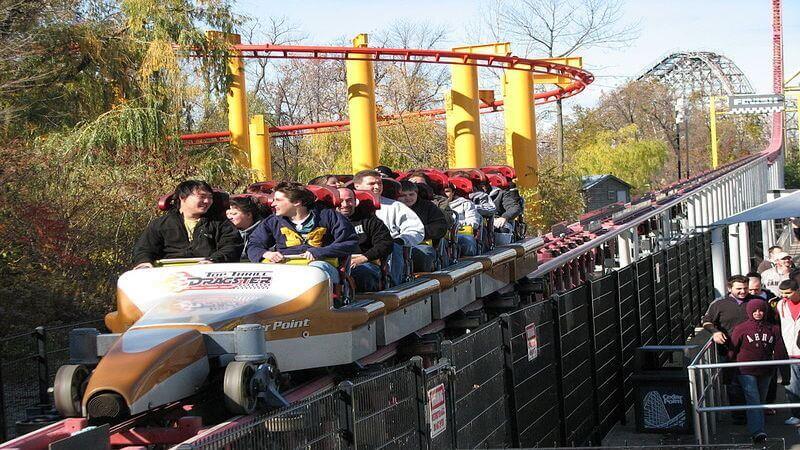 PC: Wikimedia Commons
Cedar Point, Sandusky, United States
Get propelled up the hill at 120mph! With speed and height that can inflame your vertigo, this roller coaster really stands as the scariest. Definitely not for the heart patients.
So which of these scariest roller coasters would you like to jump into for that super scariest moment? Let us know.
You may also like to read:
7 Best Amusement Parks Around The World
5 Hot Air Balloon Festivals In the USA
7 Extreme Adventure Sports And Where To Try Them