The Ultimate Schengen Visa Guide
* Disclosure: This post may contain affiliate links, which means we may receive a commission if you click a link and book something (there is never any extra cost to you for using these links).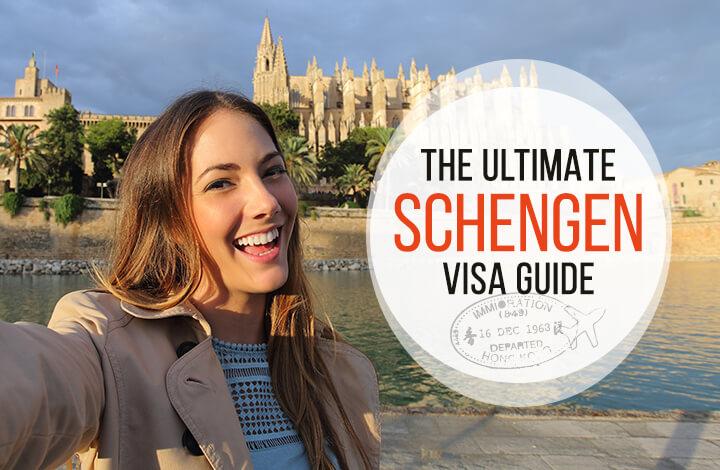 A Schengen Visa may both be difficult as well as easy to get, provided you bear in mind certain guidelines. It might seem complicated at first, but this is one visa that can be obtained easily. Following are the Schengen Visa guidelines for Schengen as well as Non-Schengen European countries.
1. What is a Schengen visa?
The Schengen agreement led to countries in Europe to abolish their borders allowing free movement for anyone who visited the Schengen countries. This visa allows you to not only travel but also stay in the Schengen agreement countries. So you don't have to apply for multiple visas if you are traveling to more countries than one in Europe.
Austria, Belgium, CZ Republic, Denmark, Estonia, Finland, France, Germany, Greece, Hungary, Iceland, Italy, Latvia, Lithuania, Luxembourg, Malta, Netherlands, Norway, Poland, Portugal, Slovakia, Slovenia, Spain, Sweden, Switzerland, and Liechtenstein are Schengen Area Countries.
2. Who needs a Schengen Visa?
Covering most of the European countries, this visa excludes the United Kingdom, Romania, Bulgaria, Croatia, Cyprus, and Ireland soon to be part of the agreement.
Anyone who wants to visit the Schengen area will need a Schengen visa. There is a mandatory visa requirement for citizens of most countries, except US and UK nationals. For US nationals, traveling to the Schengen countries for tourism or business, you will not need a visa as long as you spend 90 days or less in these countries and have a valid US passport, within its 6-month period.
As for UK nationals, citizenship of the European Union is enough to travel to any other EU country. All you need is a passport or national identity card to cross the border.
3. What type of a Schengen visa do I need?
The designated embassy/consulate will issue you a visa based on the nature and purpose of the travel. Uniform Schengen Visas (USV), Limited territorial validity visas (LTV) and the National Visas are the types of visas issued in accordance of relevant circumstances. Check more
here
.
But if you are a tourist, all you need is a Tourist Schengen Visa. With this visa, you can reside in the designated country for the maximum of 3 months/90 days unless the visa states differently. In this tenure, you cannot work, again unless the visa states differently.
Depending on the visa issued to you, you may enter the respective Schengen country once (single entry) or more (multiple entry). You cannot stay longer than 3 months 90 days per year in between the period of 6 months.
4. Where do I apply for the Schengen visa?
While you may visit any Schengen country on being issued a Schengen visa, there are certain predetermined rules and regulations that determine where and which embassy/consulate must the applicant apply in.
If you are traveling to a single Schengen country, you must apply to the consulate/ embassy of that Schengen country. In case of traveling to two or more countries, apply to the embassy/ consulate of the country (main destination) where you will be residing for the maximum number of days. In case there is no pre-determined destination of visit, apply to the Schengen country's embassy that you are likely to visit first.
5. Schengen visa requirements.
When applying for a Schengen visa, you have to hand over all the required documents yourself. An appointment 15 days prior to your departure is advisable, as it takes about that long for the required bureaucratic process. All the Schengen countries share approximately the same requirements.
The following documents are a must-
A completely filled and signed Visa Application form
A recent, passport format photo
Passport with at least two blank pages and copies of previous visas (if valid for at least 3 months prior to your departure)
Full itinerary of your stay, along with flight details from your entry and exit to the Schengen area
A travel health insurance policy covering at least 30,000 euros
Proof of accommodation for the entire Schengen area stay
Proof of sufficient means of subsistence (Covering letter)
NOC from your employer
Payslips/ IT returns for past three years
Euros
Click
here
for more information.
6. Some frequently asked questions about Schengen visa
1. How long does it take to get a European visa?
It generally takes about 3-4 weeks to get a Schengen visa. However, it is advisable to start the process at least 45 days prior to your estimated departure. This will ensure that you have sufficient time, in case of some formalities that may be required to be redone.
2. How does multiple entry Schengen visa policy work?
A multiple entry Schengen policy will allow you to go in and out of a Schengen country, as per your choice. So if you want to visit a particular destination more than once, you will have to get a multiple entry Schengen visa.
3. Can we get Schengen and UK visa together?
You cannot obtain a Schengen and UK visa through a single application. To travel to either of the destinations, you will have to apply for two separate visas.
4. Which is the easiest country to apply for a Schengen Visa from India?
France is the quickest. However, the first entry port should ideally be your place of application for visa.
5. How many times can I apply for a Schengen visa (Visit/Tourist) after rejection?
Rarely will a Schengen visa be rejected. However, in case, it does it is probably for reasons like improper documents (these too, in fact, are sent back for rectification.) So when applying for the second visa application, make sure to mention the history as to why the first one was unsuccessful. There is no restricted number of times as to the times you can apply for a Schengen visa. Every application is treated as a fresh one, so it has nothing to do with your previous rejections.
6. Can I apply for Visa from my home country to visit a Schengen Country although my entry and exit are from a third country?
Yes, you can. Provided you have the essential visas required for both - Schengen country and the entry-exit country.
7. What are the guidelines for Schengen visa for Indians?
Apart from submitting proper documents, Indians must bear in mind certain specific guidelines.
Your purpose of visit should be very clear
Candidates have to directly apply to VFS global
Book an appointment for interview along with thumb impression (biometric)
Submit the free assessment form
Some tips to get schengen visa easily
Do your research - Depending on your nationality, Schengen visa applications and requirement may vary
Checklist of requirements - make a list of all what you may need for the formalities and make sure you submit all the authentic and original documents, required.
Don't skip the details - As per the embassies, rules may differ. For example, some may want you to paste your photo, while some staple.
Provide evidence - More, the better! Do not even think of doctored documents, chances are you may get banned, forget being issued a visa!
Convey that you have traveled previously - Show your previous travel documenets, passports stamps, tickets and bookings, so as to convey that you are a reliable traveler. This is not a must, but definitely a plus.
As we see, getting Schengen Visa successfully is no rocket science, but just a matter of following the above guidelines.
If you are planning an international trip from India here are countries that allow visa on arrival for Indian passport. Also check out 5 places US citizens can visit without a passport.