A Treat for all Sherlock Holmes' Fans
* Disclosure: This post may contain affiliate links, which means we may receive a commission if you click a link and book something (there is never any extra cost to you for using these links).
Everybody shut up! says the prodigal Sherlock as he tries to concentrate his chaotically genius mind to solve a sensational murder that the very efficient British Intelligence couldnt get their heads around. This high functioning sociopath has stolen many hearts around the world with his understated style and charming smile. Many have embraced his scraggy hair and funny hat along with the long tweed jacket that adds a playful mysticism to his personality.
To re-enact one of the most popular fictitious characters in the world is no easy task. There have been a number of television and movie adaptations of Arthur Canon Doyles famous detective over the decades. Some have been memorable and some not so much. Thankfully for Sherlock fans all over the world, the writers, actors and directors of BBCs Sherlock Holmes series have done justice to the character and have inspiringly evolved the plot while keeping the essence of the books intact. The series has been a big hit all over the world and has converted Benedict Cumberbatch into an overnight heartthrob and legend.
If youre still reading this, you are most probably a diehard Sherlock Fan. So while you wait for the new riveting season of your favorite detective, why not take a tour of the most iconic locations that have been used in this series? Imagine this; you can relive the most epic scenes (like the swimming pool face off or the confrontation at Irene Adlers house) in person!
Primarily based in London, here is our list of the most prolific filming locations of Sherlock Holmes
1.221B Baker Street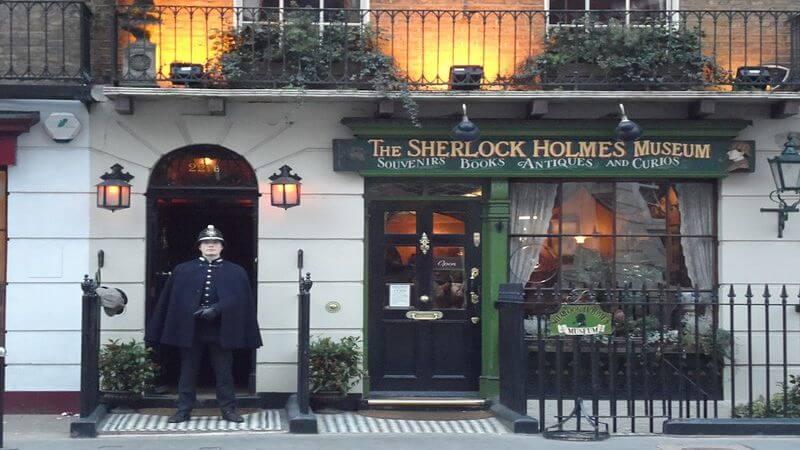 Image Source: Wikimedia Commons
Sherlocks messy lab-cum-home-cum-thinking pad is in reality a museum dedicated to none other than Sherlock Holmes himself (at the real life address, 221B Baker street). For the purposes of shooting, a nearby location- 187 North Grover Street is shown as the exterior of his house. The interiors of the house are actually a studio in Cardiff!
Trivia: Amanda Abbington aka Mary Watson and John Watson (Martin Freeman) are real life partners too! Also, Sherlock Holmes parents are played by his real life parents!
2.Speedys Sandwich Bar & Caf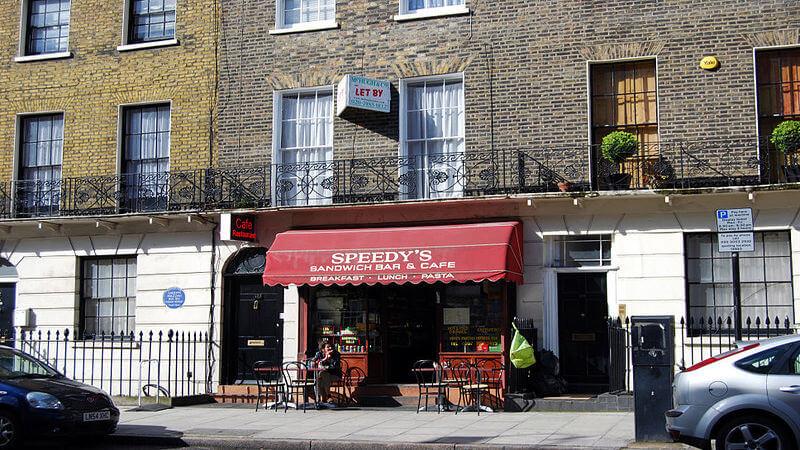 Image Source: Wikimedia Commons
Next door to the location that serves as the exterior of Sherlocks home is Speedys caf that has been featured many times on the show. It has now become a pilgrimage for the fans of Sherlock Holmes, many of whom come here just to breathe in the atmosphere of the show.
4.Russell Square Gardens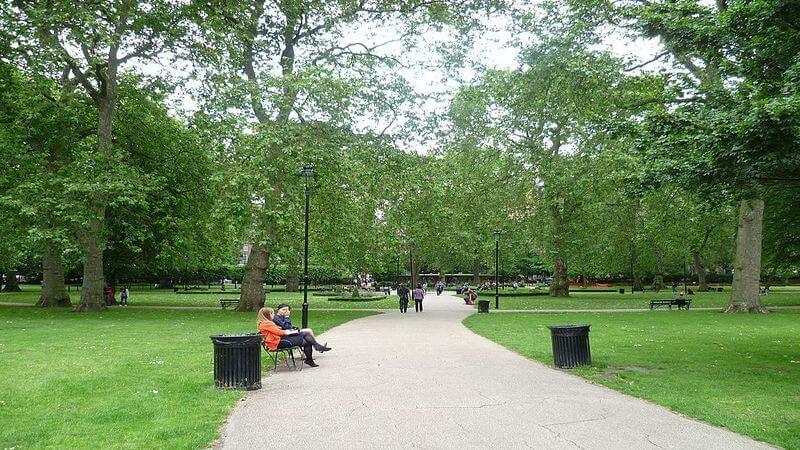 Image Source: Wikimedia Commons
Trivia: As part of his preparation after being cast as Holmes, Benedict Cumberbatch read every original Conan Doyle story so that he could do justice to his character
The beginning of an epic journey, Russell Square Gardens is where the series commences. This is where the retired Army medic John Watson has a chance encounter with an old friend who introduces him to the whimsical world of Sherlock.
Trivia: The first episode of Sherlock saw an audience of 7.5 million viewers!
4.Bartholemews Hospital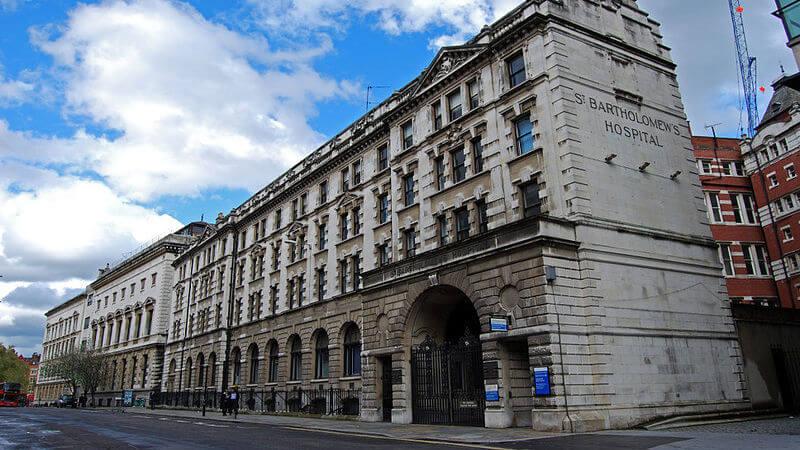 Image Source: Wikimedia Commons
If we were to ask you what you thought was the most devastating moment in the Sherlock series, itd have to be the Reichenbach Fall. Everybody remembers the episode where Sherlock falls from the roof of a building because of a fight between him and Moriarty. Just because of this iconic incident, the St Bartholemews hospital has become a coveted spot for fans of this series. Its 18th century architecture and peaceful surroundings are but a bonus.
Trivia: Benedict Cumberbatch was the only actor asked to audition for the role of Sherlock Holmes by producers Steve Moffat and Sue Vertue.
5.Tapas Brindisa Soho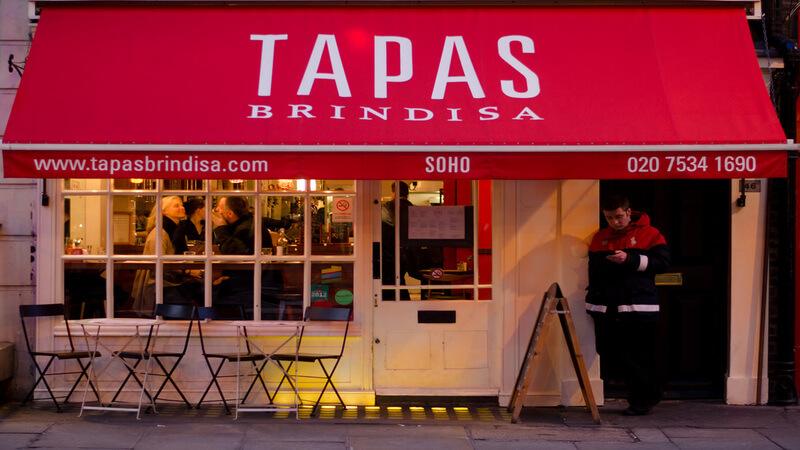 Image Source: Garry Knight/flickr.com
Who doesnt remember the frantic chase in Episode 1 (A Study in Pink) where Sherlock bounces off the bonnet of a runaway car ? It was filmed at 46, Broadwick Street in Soho at the restaurant with the same name. Hop over to this cozy diner and order their days special as you reminisce the start of a nail biting series that has got almost everybody on the edge of their seats.
6.The Tower of London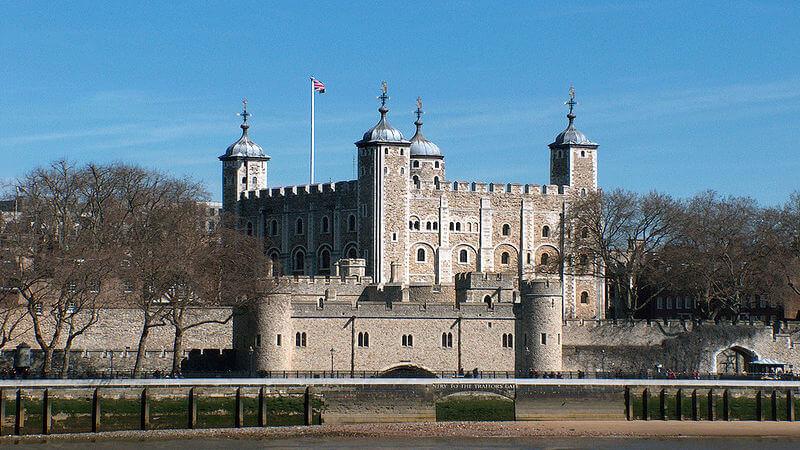 Image Source: Wikimedia Commons
Re-live Moriartys mischief in the episode where he makes a mockery of the Crown Jewels (and the impenetrable security of the museum) at the Tower of London which is also an unmissable stop on your tour of London. Get close to the jewels yourself and imagine what a mess youd be in if you tried to pull a similar stunt in real life!
London is a mysterious city in its own right. It is a city of contrasts where two extremes thrive together beautifully. Taking a tour of Sherlock Holmes filming locations will unravel a new side of the city for you. The tour is not just a great way to pay respect to a great character but also an insiders peek to a vibrant city that has many experiences rolled up its sleeves.