The Shivneri Fort - Visit The Birthplace of Shivaji Maharaj
* Disclosure: This post may contain affiliate links, which means we may receive a commission if you click a link and book something (there is never any extra cost to you for using these links).
Located in Junnar town of Pune district, Shivneri Fort has been a turning point in Indian history. Birthplace of Shivaji Maharaj, this fort is loved by many. Come monsoon and the fort looks stunning with its stone structures washed in the pouring rains. The view from the top of the fort looks absolutely amazing with huge covers of green all over. Read on..
A peek in the past: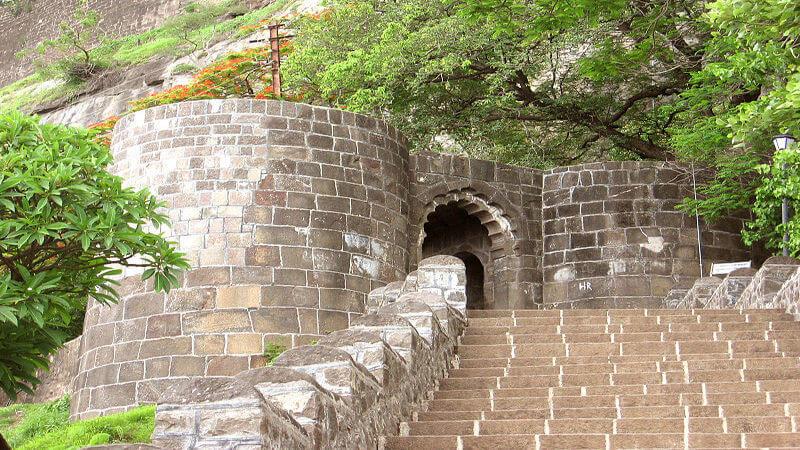 Image Source: Wikimedia Commons
The Buddhist caves located here indicate that Shivneri has been around much before the Maratha Empire set foot here. Maratha chief Maloji Bhosale was given this fort by Bahami king Bahadur Nizam Shah II. Chhatrapati Shivaji Maharaj was born at the fort in 1630 and has spent a considerable amount of his childhood here. The fort was also ruled by the Mughals before Sahu Maharaj demanded it back in the 18th century. Today, Shivneri fort is owned by the Government of India.
The marvellous fort architecture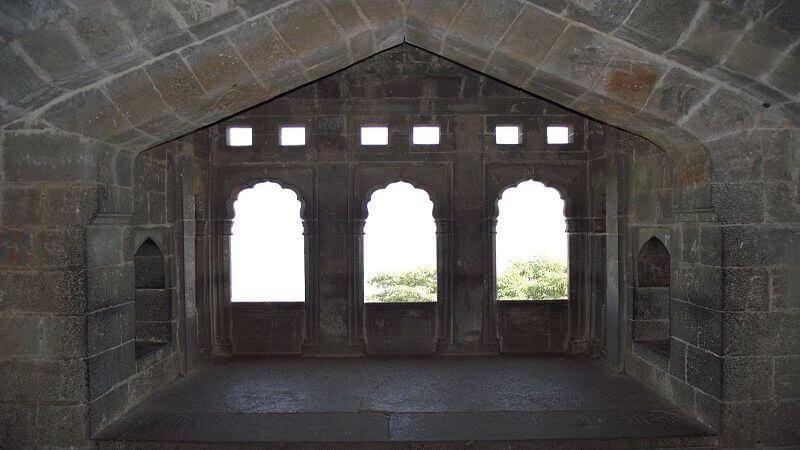 Image Source: Wikimedia Commons
The fort stands tall over 1000 feet and is triangular in shape. Back in the days, the fort used to be heavily guarded and to reach inside, one had to pass through seven doors: Maha Darwaja, Ganesh Darwaja, Pir Darwaja, Hatti Darwaja, Shivai Darwaja, Mena Darwaja and Kulup Darwaja. As you move up, you are welcomed by huge ambarkhanas. Moving further, near 'Badami Talav' you will see statues of Jijabai and Bal Shivaji. Here, you will find Shiv Janmasthan, a two-storeyed building where Shivaji Maharaj was born.
Visiting Shivneri Fort: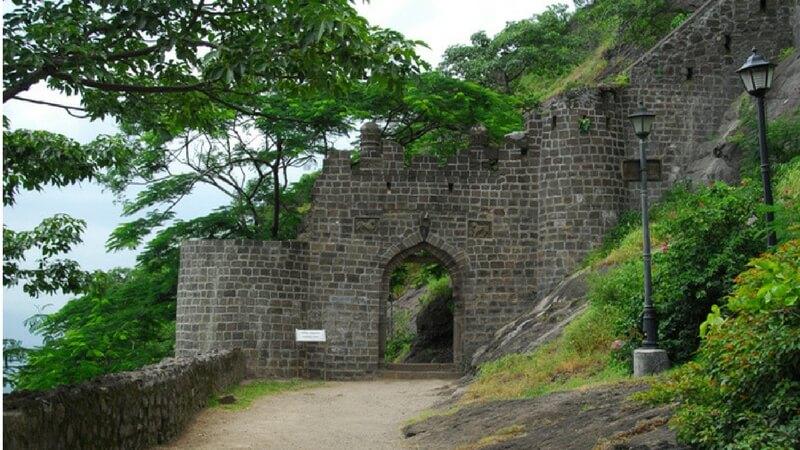 Image Source: Wikimedia Commons
The fort is located at a distance of 100 kilometres from Pune. State-run buses are available from Pune to reach Junnar. If coming from Mumbai, take an exit at Talegaon toll plaza to reach Junnar. From the bus station, you will have to walk 2 kilometres to reach the base of the fort. If you are driving, you can drive right to the base of the fort where parking is available. The fort is open to visitors for 24 hours and the recommended time of arrival is between 08:00 AM and 11:00 AM. The entry to the fort is free.
Stop Waiting, Start Planning! Plan your trip today and return home with bunch of experiences.
Trekking routes of Shivneri Fort: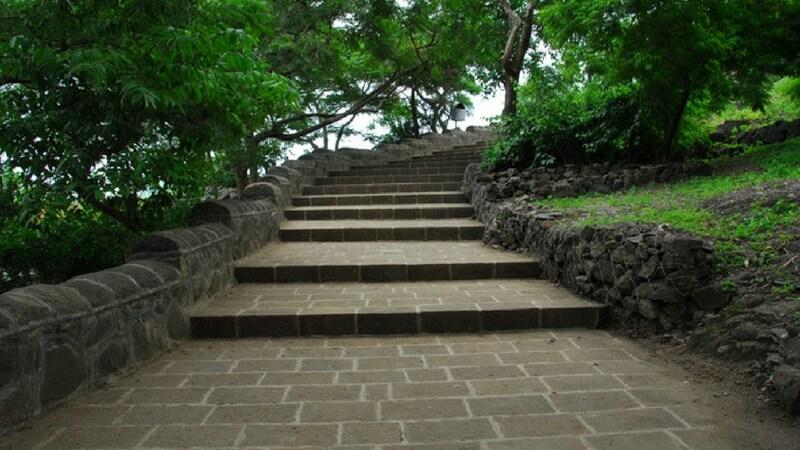 Image Source: Wikipedia.org
There are two ways to climb the fort. One is a motorable road that takes you almost half way up and the other route starts from the Junnar village which has many rocky patches. The first route takes you about an hour to reach the top while the second one may take up to 3 hours depending on your physical endurance levels. The difficulty level of the trek is easy to moderate.
Check Out: One day Treks Near Pune & Trekking Places Near Mumbai
Attractions at the Shivneri Fort: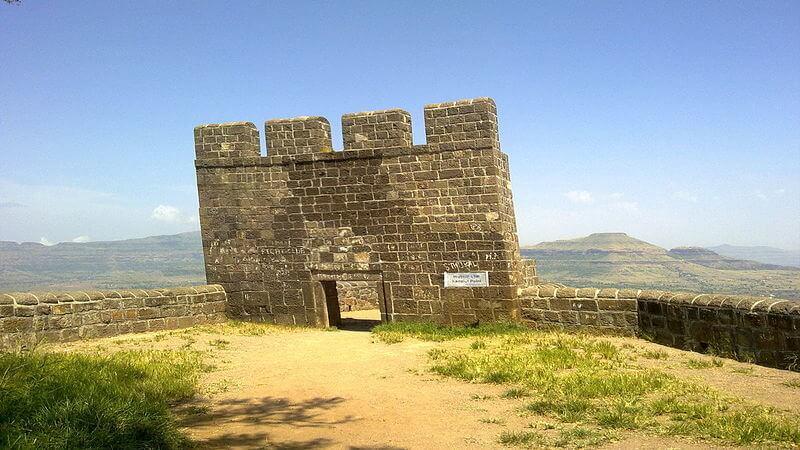 Image Source: Wikimedia Commons
Apart from the Badami Talav and the statues of Jijabai and Shivaji, there are a few attractions at Shivneri fort:
Shivai Temple – A temple dedicated to goddess Shivai.
Kadelot – A point from where people were thrown off the fort as a punishment.
Ganga and Jamuna – Natural water springs.
Ambarkhana – Back in time, this building was used to store food.
Ancient caves – The fort has some underground Buddhist caves.
Mosque – This mosque was built by the Mughals.
Activities & Things to do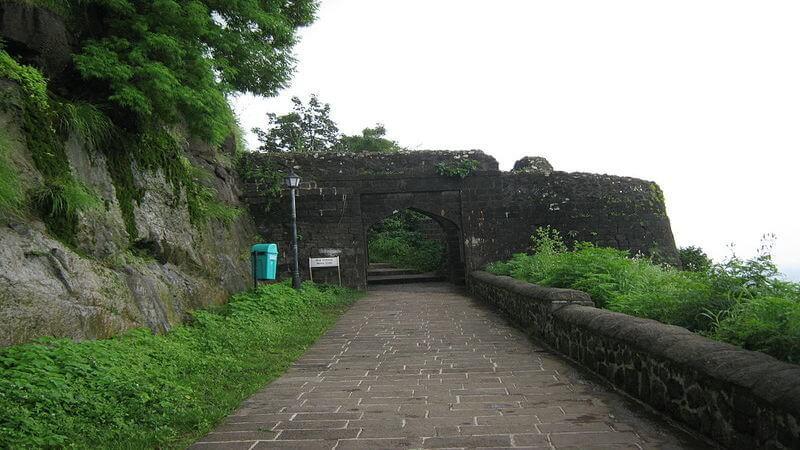 Image Source: Wikimedia Commons
Most people visiting Shivneri Fort go for a day-trek. If you have your own tents, you can camp here and enjoy star-gazing during the night. If you plan to camp at the fort, make sure you carry enough food and water with you. Make sure you do not make a lot of noise so as not to attract attention of wild animals.
Tips and Warnings:
Food is available at the base of the fort. There are a few vegetarian restaurants that serve local food. Although,it is advised o carry your own lunch/snacks.
Wear comfortable clothes. If you are visiting in the monsoon, carry rainy gear.
Wear trekking shoes for better grip.
If you are planning to trek from the base of the fort, carry a trekking pole.
Carry enough water. There are no drinking water facilities at the top.
Wear a hat and sunscreen lotion.
Littering is strictly prohibited (carry an extra bag to throw waste).
Toilets are available (close to Shivai Temple)
Plan your trip to Shivneri, and be amazed by it grandeur.
Also Check out: