9 Exciting Short Road Trips In UK
* Disclosure: This post may contain affiliate links, which means we may receive a commission if you click a link and book something (there is never any extra cost to you for using these links).
Photo credit: commons.wikimedia
Life can keep you on your toes and make it so difficult to go on a long and leisurely getaway that you've been craving for. So let's make this quick and dirty and show you the most gorgeous backdrops of the Scottish highlands and the quaint little towns by the rocky coasts of England to give you a little something that keeps you going for the weekends, eh?
England:
1. London- cheddar Gorge, Somerset (2hrs 49 min, 146.6 Mi - Via M4)
Explore Britain's biggest limestone gorge carved from the dramatic cliffs rising over 450ft to the stunning stalactite caverns hidden beneath. This world-famous site reveals many fascinating stories of our prehistoric ancestors, like Britain's oldest complete human skeleton, uo;Cheddar Man", estimated to be over 9,000 years old! Also a fantastic place for rock-climbing enthusiasts as well as for the slow-paced individuals who can have a glimpse of the breathtaking view of the gorge from the uo;look out" tower.
Don't forget to "gorge" on its famous cheese and sip its delicious cider while watching the magical sunset.
2. Liverpool- Lake District National Park (1hr 30min, 76.7 Mi- via M6)
Housing 12 of the largest lakes in England and surrounded by tall majestic mountains, Lake District is truly one of Britain's breathing spaces. Flanked by many hiking trails and a tonne of boating routes with incredible views where you can come face to face with its stunning backdrops and also its rare wildlife! But if you're not all about the nature there are multiple market towns such as Kendal, Keswick and Ambleside where you can eat some of the most delicious food and soak up the local art and culture at its exquisite galleries and shows.
If you're a top-notch fan of William Wordsworth, you can visit his cottage as well as many other literary authors who found inspiration here!

3. Plymouth-Jurassic Coast (1 hr 53 min, 88.9 Mi- via A38)
Photo credit: express.co.uk
Can't simply imagine that the world of Dinosaurs actually existed? Well see it to believe it because you'll come across sediments dating to a period of 180 million years ago! The 95 miles of coastline stretching from Exmouth in East Devon to Old Harry Rocks in Studland Bay in Dorset will leave you absolutely enchanted with its deep mysterious coves built with thousands and thousands of white layered rocks and of course you cannot possibly miss Durdle Door Beach where you can walk the endless stretch of sand and admire the natural indentation of this wonder. They also have a lot of fun activities like windsurfing, kite flying and boating. Enjoy a nice leisurely supper on its rolling hills with a scenic view of the cool waters beneath.
Don't forget to pick up your own million year old natural souvenir of fossil that are usually found strewn on the beach!
Wales:
4. Cardiff- Black Mountain Road, Powys ( 1hr 28 min, 56.9 Mi- via A449)
If you are a Top Gear fan you'd probably recognize this road in a second for it's the road they film so often on and you'll definitely see why. It is famous for its twists, dips and climbs in the western part of the Brecon Beacons National Park. It has unrivalled views beyond its hairpin turns and you'll want to drive it again and again. Other than its magnificent stretch of sheer thrill and danger, it is dotted with quaint villages and tonne of activities to do. The reddish sandstone range is excellent for some mountain biking and even some horse riding. You'll also come across Europe's finest surviving medieval castles perched on the limestone crag by some quirky little village chapels.
Be sure to stop by the first ever 'book town'- Hay-On-Wye that has more than two dozen second-hand bookshops to explore!
5. Bangor- Portmeirion ( 1hr 6 min, 31.2 Mi- via A487)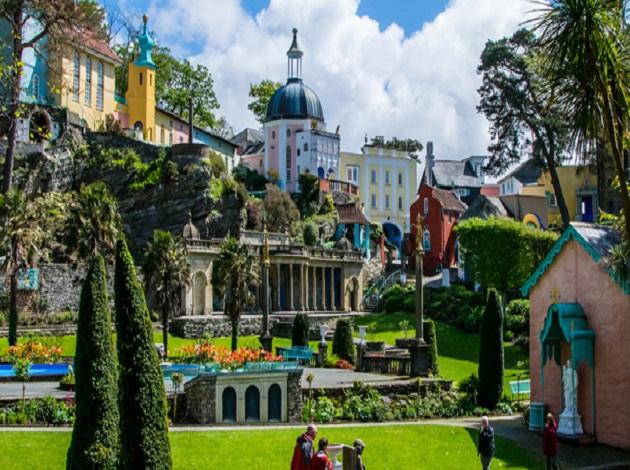 Photo credit: visitwales.com
If you ever day-dreamed of walking the cobbled streets of Italy and sunning yourself by the colorful piazza you won't be disappointed with Portmeirion! A modern recreation of the fishing village of Portofino, the city is set on its own private peninsula on the southern shores of Snowdonia. It will charm you with its gorgeous fountains and manicured gardens and a mermaid spa to help you unwind. Perfect for a day-trip, to explore this architectural hub and also a famous set for many TV shows.
Do go on a joy ride near Portmeirion on an antique train and explore the beyond!
Northern Ireland:
6. Belfast-Londonderry, Coastal Route ( 1hr 29 min, 70 Mi- via A6)
While many spend days going through this route, stopping by idyllic towns and soaking up its irish charm. We only have so little time to do this. So let's start by driving through Belfast and stop at Newtown abbey's Loughshore Park with spectacular views of ships sailing from Belfast. A few miles down is the sleepy sea-side town of Carrickfergus. Have a quick lunch with the windy breeze and the picturesque Norman castle. Next head northwards until you come to Gleno, you'll be left awestruck by its 4 breathtaking waterfalls. A quick splash and you're on your way to Cushendun. You'll pass Murlough bay and its quaint cottages and you'll find yourself in Bushmill. Have a quick drink at the world's oldest licensed whiskey distillery and off you go to its iconic giant causeway- an area of about 40,000 interlocking basalt columns, the result of an ancient volcanic eruption! Before you know it, you've reached Londonderry, where you'll witness the most beautiful and peaceful cathedral of St Columb's, a perfect way to end this adventurous trip.
7. Belfast- Ballymoney, The Dark Hedges (1 hr 11 min, 48.1 Mi- via M2)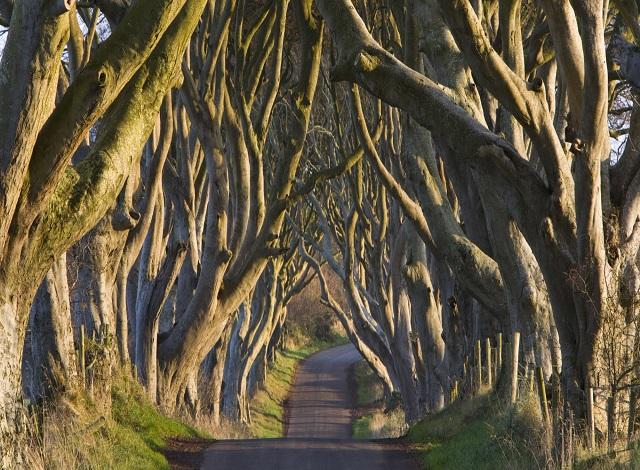 Photo credit: huffingtonpost.com
Whether you're a Game Of Thrones fan or not this will take your breath away. Driving through a tunnel of old beech trees with twisted branches forming an arch over the road makes it impressive for photographs and film locations with its hauntingly eerie yet beautiful grooves leading up to a Georgian Mansion. It does make sense to drive all this way for less than a 5min drive through it because there are many more activities ahead! You have shooting ranges, acres of golf courses, canoeing through the Drumaheglis Marina and a fun round of fishing. Need I say more?
Also the road is reputedly haunted by a spectral 'Grey Lady' who appears at dusk and silently glides along the roadside and disappears as she passes the last beech tree. Spooky!
Scotland:
8. Edinburgh-Inverness ( 3hrs 5min, 156 Mi- via A9)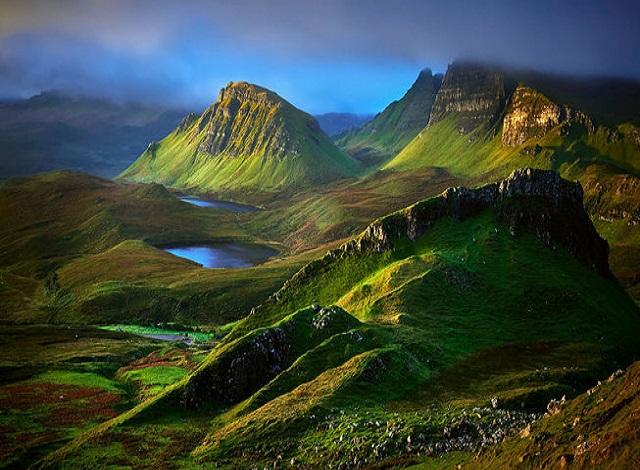 Photo credit: goodwallpaper.com
We have to make this clear before we proceed, but you are definitely about to experience something not many can experience in their life. The Scottish highlands with its mighty mountains and its evergreen forests so thick you can feel its intense beauty that not many can handle. You'll be driving towards Pitlochry a young town where you'll have lunch at the Moulin Inn, for it is the oldest and most authentic scottish grub, while you walk off that heavy lunch you'll come across a dam and a unique fish ladder as well as a couple of distilleries to have a quickie in, and then proceed to Blair Castle which is a fun contrast to the Edinburgh Castle. If you have more time to spare you can do Dunkeld first for a nice stroll around its revered cathedral and then move on to Pitlochry. After which you'll be driving straight through to Inverness relishing the drive flanked by forests on either side and its rolling hills. Once you're there you could have a look at clava cairn a bronze-aged burial site or the waterfall of the foyers and if you're absolutely done with looking at another castles or cathedral, Loch Ness is not that far away to pay a quick visit to Nessie!
Well there you have it! It's now time to hit the roads and see these stunners along the way and you've got yourself a pretty good weekend getaway!