16 Weird Pizza Toppings Around the World
* Disclosure: This post may contain affiliate links, which means we may receive a commission if you click a link and book something (there is never any extra cost to you for using these links).
We all associate pizza with Italy and today this preparation has become one of the most popular fast foods across the world. Co-opted very well by different cultures, pizzas are prepared with every variation of toppings across the world. Since the toppings of any pizza define the flavor of any country, we shall see some of the weirdest and strangest ones that you shall come across as you travel across the world:
Pizza Toppings From Around the World
1. Green Peas Pizza in Brazil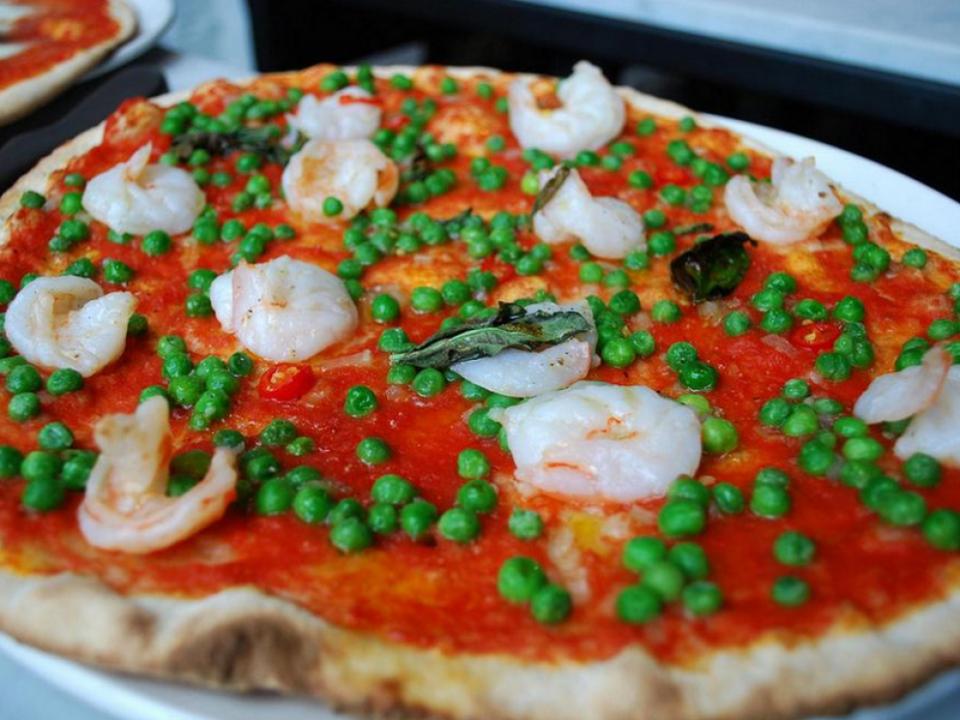 PC:allday.com
Save 10%

Save 3%
Brazilians seem to like green peas a lot. So much so that they like to add peas, carrots, quail eggs, beets and raisins on their thin crust pizza as topping.
2. Kangaroo Pizza in Australia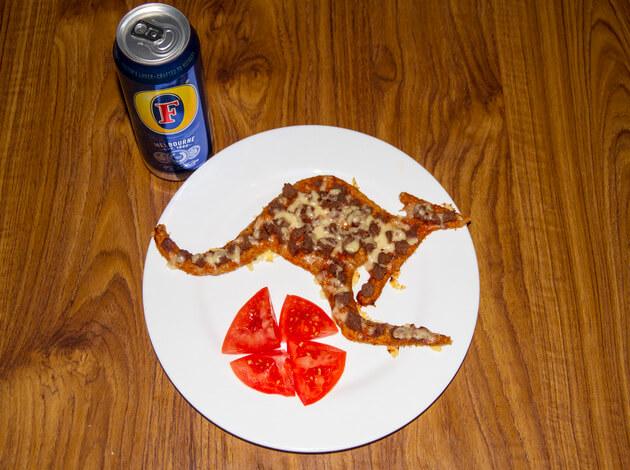 PC:Angel Ganev/Flickr
Save 8%

Save 10%
Australians are known for their odd eating habits, and their pizza is no exception. Their pizzas are commonly covered with barbeque sauce and topped with meats like crocodile, emu, and kangaroo. This kangaroo pizza is an example of an Aussie pie.
3. Fried Egg Pizza in France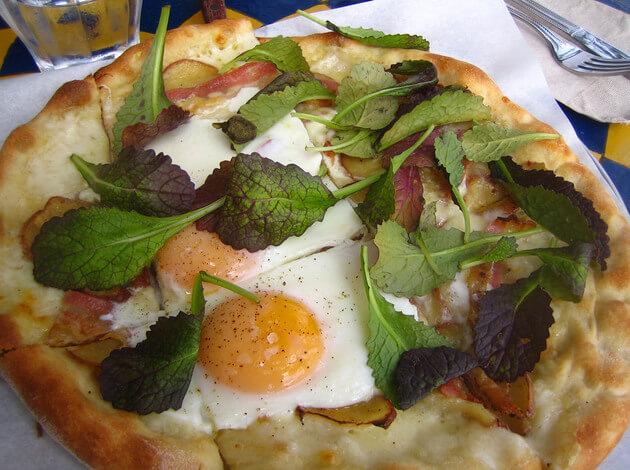 PC:rick/Flickr
Egg and pizza might sound a unique combination! In France, the egg is served yolk up on pizzas. Sometimes it's baked on top of the pizza, and sometimes it's fried separately to be added later.
4. Mockba Pizza in Russia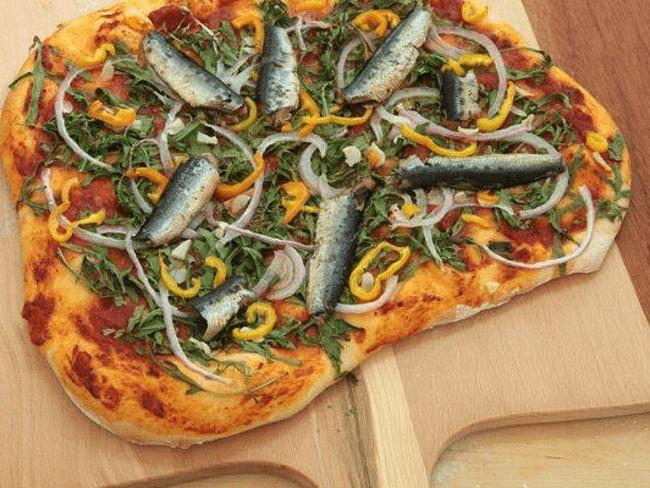 PC:e-radio.gr
You need to have a tolerant nose for this. One of the most commonly consumed pizzas in Russia is mockba, which is topped with sardines, tuna, mackerel, onion, salmon and red herring.
5. Chicken Tandoori Pizza in India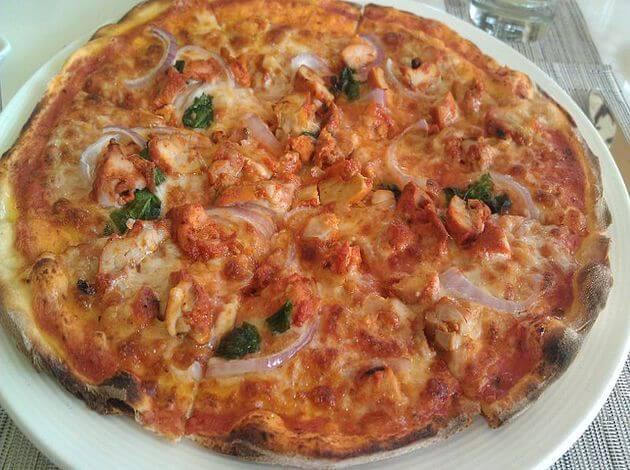 PC:Wikimedia Commons
Save 5%

Save 5%

Save 5%
A typical Indian pizza has a topping of tandoori chicken or mutton, pickled ginger and paneer (cottage cheese), with loads of mayonnaise on top of it.
6. Canned Tuna Pizza in Germany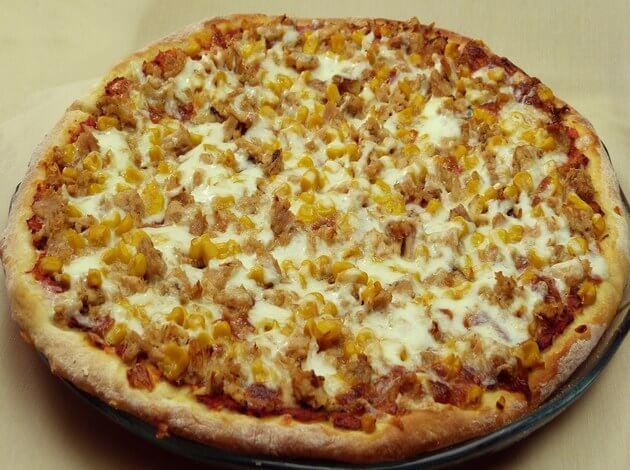 PC:youtube.com
Canned tuna is a popular pizza topping in Germany. It can stand alone, but it's commonly mixed with vegetables and other toppings.
7. Pizza Berlusconi Pizza in Finland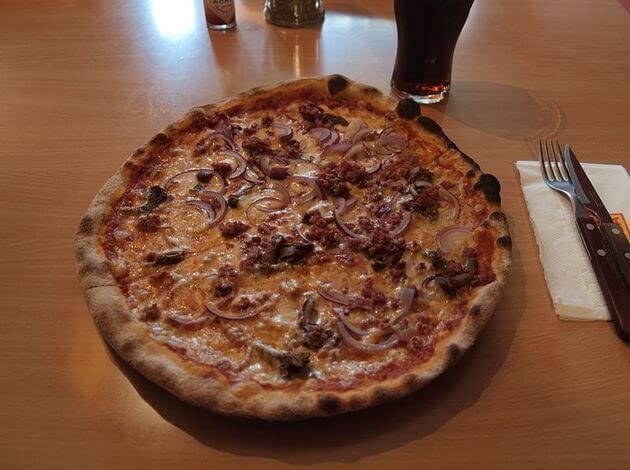 PC:Wikimedia Commons
Named after the former Italian Prime Minister Silvio Berlusconi, Pizza Berlsconi in Finland is topped with smoked reindeer, chanterelle mushrooms and red onions.
8. Mayo Jaga in Japan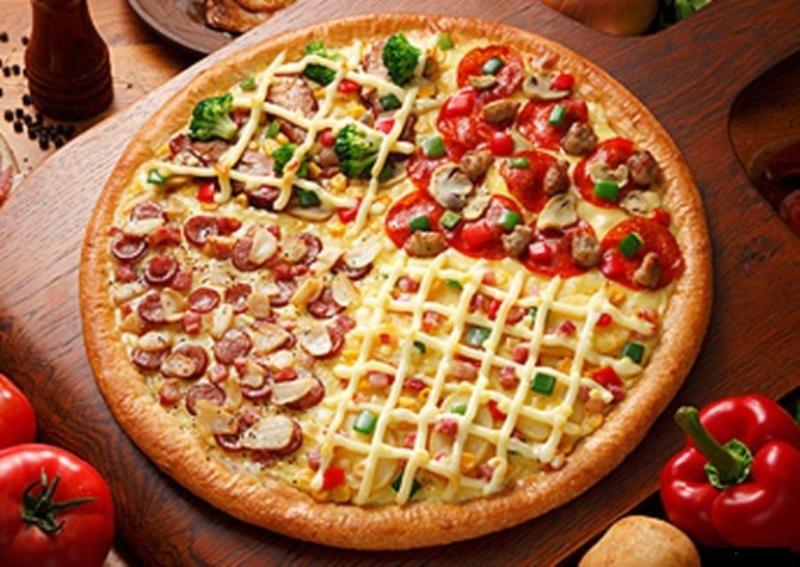 PC:youtube.com
Order a mayo jaga in Japan, and you're going to get a pizza with mayonnaise, bacon, corn, potatoes, and onion. It's so popular, you can order it from Domino's.
9. Haggis Pizza in United Kingdom

PC:Jim Wolff/Flickr
A product of Yard Sale Pizza, this one comes with haggis and cavolo nero, black chile jam, and mozzarella. Frozen varieties are available at most British supermarkets.
10. Cone Crust Pizza in United Arab Emirates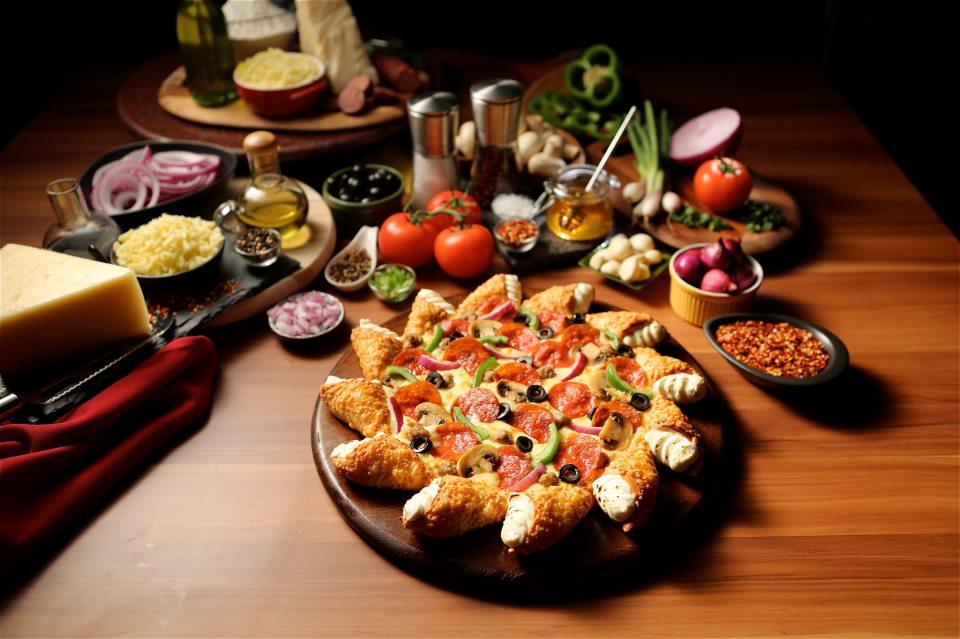 PC:citymagazine.rs
This interesting-looking pizza has a crust that you can easily pluck perhaps too easily. Each cone of the Cone Crust Pizza comes stuffed with honey mustard chicken or cream cheese.
11. Chicken Pine nuts Pizza in Palestine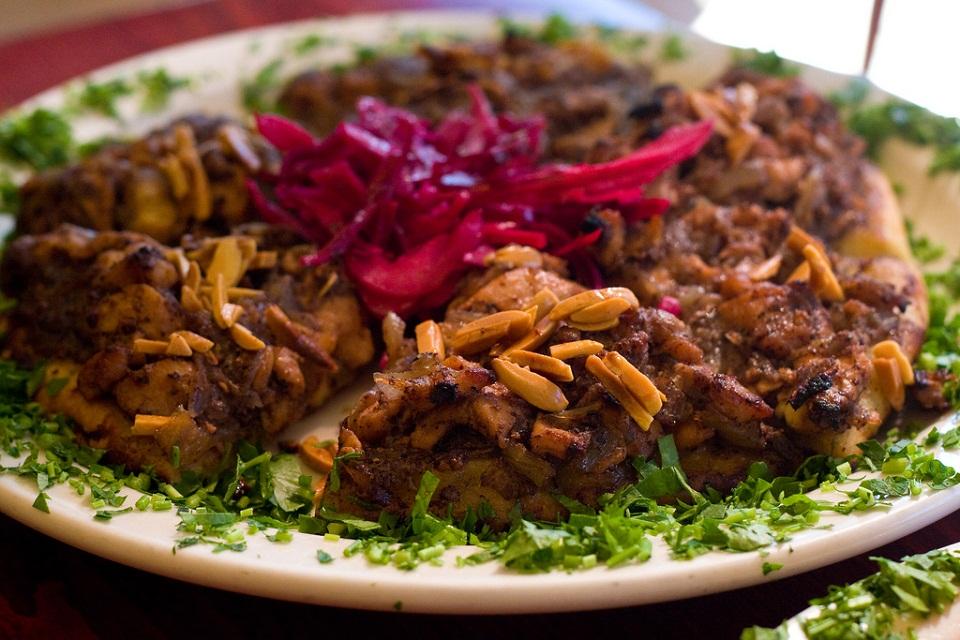 PC:operamundi.uol.com.br
In Palestine, most pizzas are topped with pine nuts, spices and cinnamon mixed in olive oil.
12. Coconut and Shrimp Pizza in Costa Rica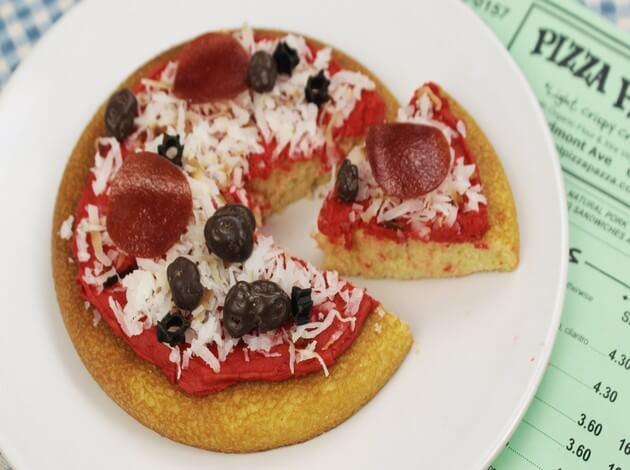 PC:youtube.com
Coconut on pizza might sound weird to you, but in Costa Rica, it is consistently the most preferred topping. The other favored topping is shrimp.
13. Bronx Pastrami Pie Pizza in USA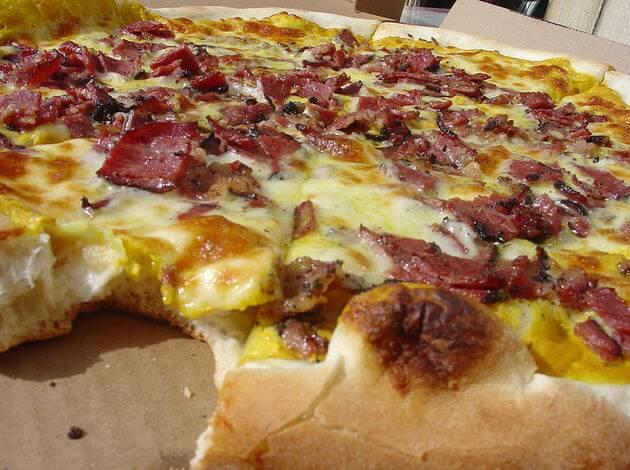 PC:Wikimedia Commons
Rose City Pizza in Rosemead, California, simply swaps rye bread for pizza dough and adds mozzarella to the classic pie.
14. Banana Curry Pizza in Sweden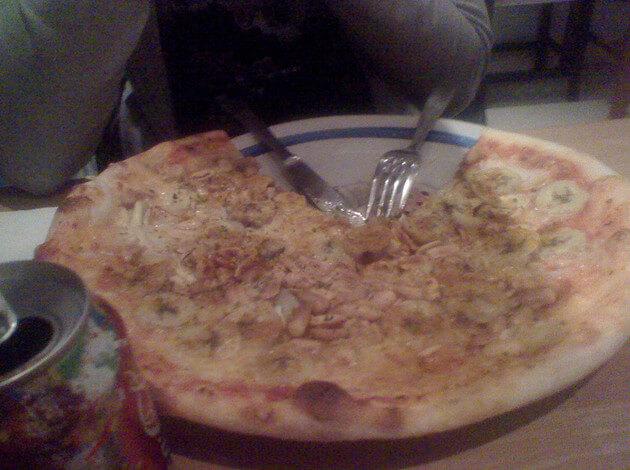 PC:Carl Johan Crafoord/Flickr
In Sweden, the topping combination of Pizza Africana is very interesting - peanuts, bananas, chicken, pineapple and loads of curry powder, and is often known as banana curry pizza.
15. Sea Food Themed Pizza in Japan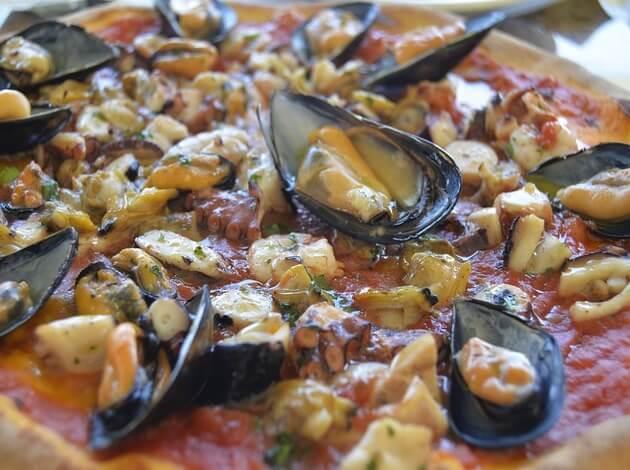 This seafood-themed pizza is topped with varieties of seafood and squid ink is used in place of tomato sauce. This pizza uses no cheese.
16. Chocolate and Marshmallows Pizza in USA

PC:Gabriel Rodríguez/Flickr
Want to have a dessert Pizza? Chocolate and marshmallow pizza is the dessert version of pizza served in a chocolate shop of Max Brenner in New York City.
So which one of this have you tasted or would like to taste?
*fb cover pic: flickr/benck75
You may also like to read:
10 Italian Dishes Other Than Pizza You Must Try In Italy
10 Restaurants In Chennai That Serve Yummilicious Pizzas