Best Street Food Places That Are a Must Visit in Bangalore!
* Disclosure: This post may contain affiliate links, which means we may receive a commission if you click a link and book something (there is never any extra cost to you for using these links).
Ask me the best way to experience Bangalore and I will undoubtedly point towards the numerous food carts adorning the streets of the city. That's the charm of its street food culture, something definitely should not be missed! The myriad stalls selling eateries, the tempting aroma that is sure to bring water in anyone's mouth, the bustling crowd and the vibrant ambience surrounding the place, you can literally feel the happiness floating around.

If you are in the city of Bangalore, ensure to check out its famous food places that are known for dishing out some unforgettable delights out there!
Here's our list for best street food in Bangalore and the places to have them! Read on to know!
1. An Authentic South Indian Gastronomical Treat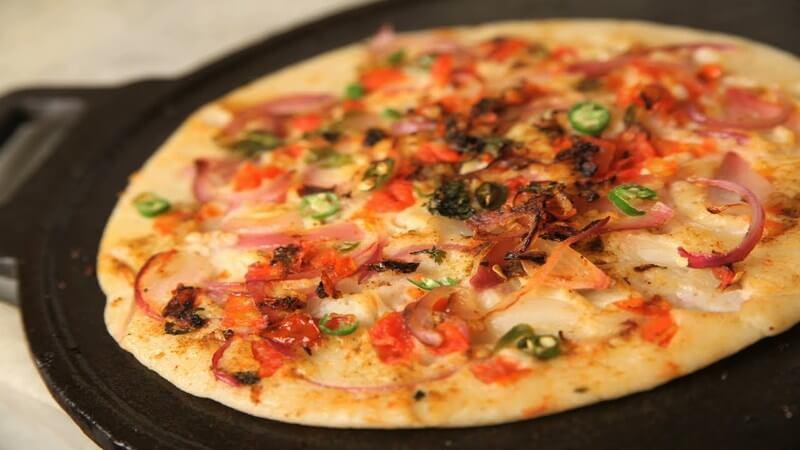 Image Source: Youtube.com
There's no one street food that you cannot find at VV Puram Food Street (also known as Thindi Beedi). Literally! It is the biggest food place in the city with a large number of stalls lining the place. You can come here to get a taste of its quintessential dishes like spicy masala dosa (made of fermented rice and lentils batter), uttapam and holige (a sweet sublime dish) or try out some other indo-international mix like sweet corn and Manchurians. The pav-bhaji of this street district is just so popular that the place becomes jam packed by millennials every evening just to have a bite. Other vegetarian delicacies like akki rotis, fragrant lemon rice are also hip among folks. In the end, a trip to Shivanna Gulkand Center to savour those delicious gulkands is a must for anyone who's visiting this food heaven.

Cost for two: Rs 200 Approx
Timings: 7 am to 10 pm
Where to get it?- VV Puram Food Street (Thindi Beedi), Vishweshwarapura, Shankarapuram, Bangalore
2. Soft Idlis, Crispy Vadas and Lot More!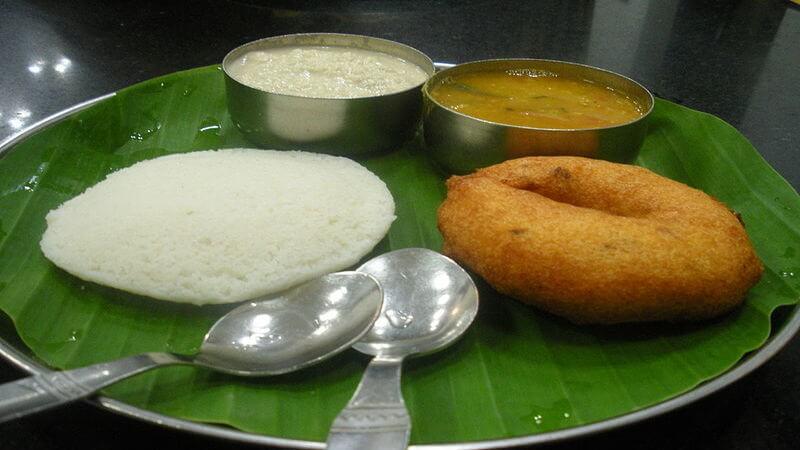 Image Source: Wikimedia Commons
Brahmin's Coffee Bar is one of the most popular in the city, owning to its unique and flavoursome platter. It serves a range of Indian snacks including idlis, dosas and sambar vada, all of them are much loved by the folks. Although rice idlis are nothing new to see in Bangalore, the ones which are served are of a different league altogether. Soft in texture and seem to split in the mouth once dipped in the coconut paste, the food here will entice you for a great time. It's other delectables like vadas and saffron rice when served alongside coffee, will leave a lasting impression on your taste buds!

Price for two: Rs. 200 (approx)
Timings- 6 am to 12 pm & 3 pm to 7 pm
Where to get it?- Brahmin's Coffee Bar, Ranga Rao Road, Shankarapuram, Bangalore
3. A Non-Veggie's Delight!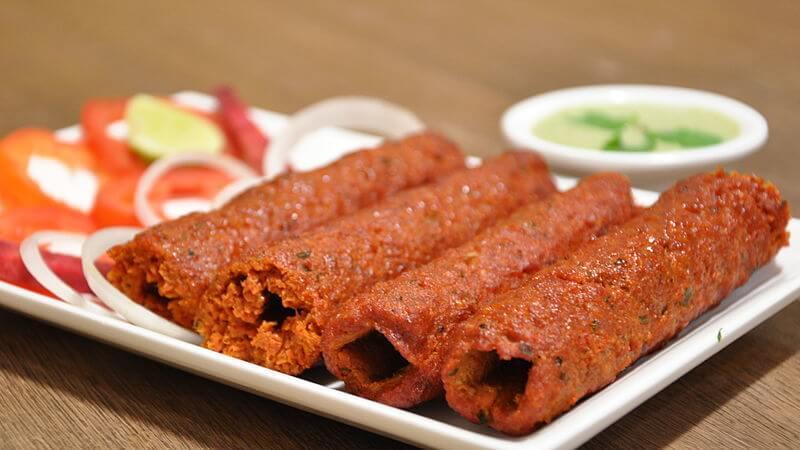 Image Source: Wikimedia
If you assumed that a food detour in this vibrant city is all about vegetarian dishes, you've got it wrong! The city caters to its non-vegetarian crowd equally and has a fair share of places that will give you just the right push for a heavy indulgence. Let's start with Fanoos! Located in the famous Richmond Town, the restaurant has garnered quite a reputation among peeps for its amazing Seekh Kebabs. Head a little further to Shivaji Nagar which with its meat-laden carts will just blow your mind! The range is just so huge, that you can spend an entire evening exploring and still not get enough of it. Ensure to try its chicken samosa while you are at it! Then there is mosque road in Frazer town which is also popular for its haleem and sweet dishes.
Price for two: Rs 400 (Approx)
Timings: Differ for each (Generally open from 7 pm to 11 pm)
Where to get it?- Richmond Town, Shivaji Nagar, Frazer Town
4. A Refreshing Cup of Caffeine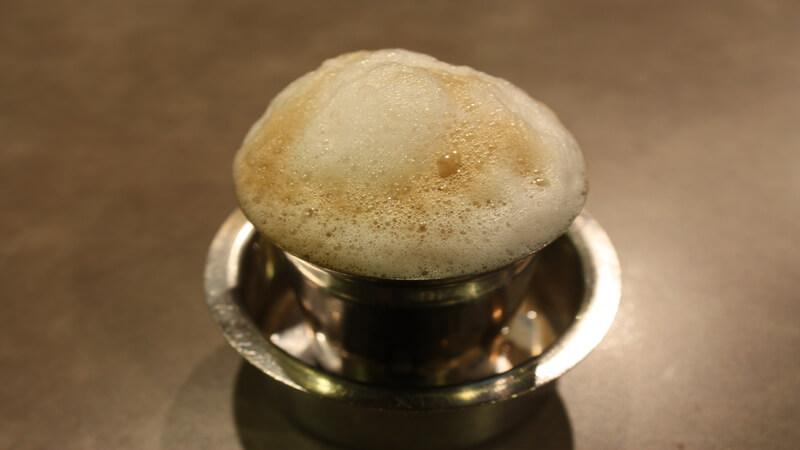 Image Source: Wikipedia.org
A warm cup of coffee is truly irresistible, but where's the best place to get it in Banglore? There are numerous options available, all of which are good. You can go for sagar food chains are particularly known for their filtered coffee. The coffee beans are first soaked and simmered in hot water, and later added to dense milk to give it its traditional character. The perfect mix of flavours makes it a heartwarming experience, one that will be etched in your memory forever. Places like Srinidhi Sagar, Brahmins Coffee Bar and Hatti Kaapi are all good for it!
Price for two: Rs 300 (Approx)
Timings: Differ for each (Generally open from 7 am to 10 pm)
Where to get it?- Srinidhi Sagar in Kodihalli, Hatti Kaapi in Koramangala
Here's more insights into Street Shopping in Bangalore!!
5. For Those Who Have A Sweet Tooth!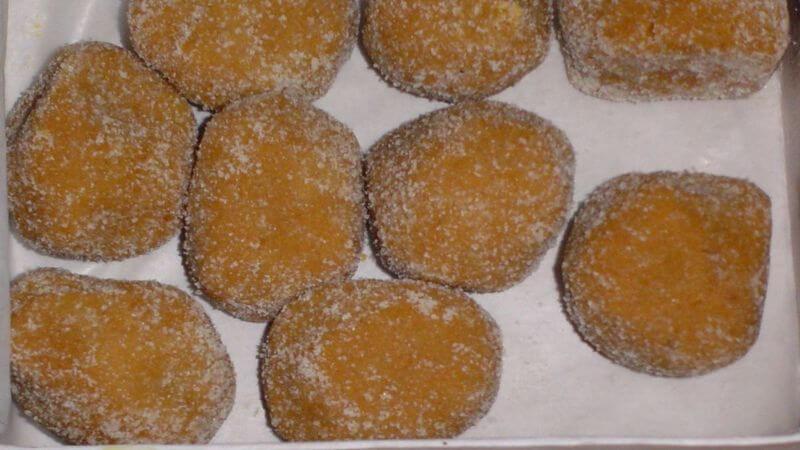 Image Source: Wikipedia.org
If you are one of those people who shares an unhealthy obsession with sweets, then this is the place for you! Located in a quaint corner of the Yeshwanthpur area, Mishra Pedha draws a lot of attention, thanks to its heavenly pedhas. The pedhas are called Dharwad pedhas because of its origination which lies in the Dharwad district of Karnataka. Ensure to visit the place at least once to dig into them. Alongside this, there is a whole lot of other sweet eateries that you must try as well.

Price for two: Rs 200 (Approx)
Timings: 7 am to 10:30 pm
Where to get it?- Mishra Pedha, Triveni Rd, Kamla Nehru Extension, Yeshwanthpur, Bangalore
6. Come For Some Crazy Chaat Digging!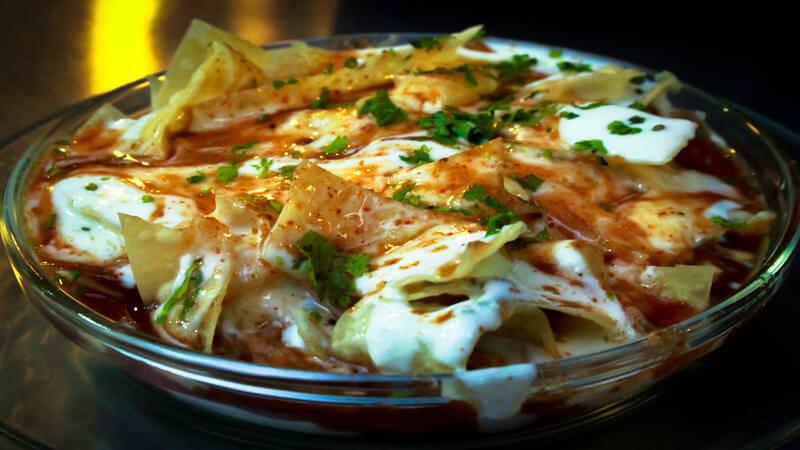 Image Source: Dhinal Chheda/flickr.com
Indian chaat is something that you can never get tired of! Not only it comes in a whole lot variety, but apparently, every city has its own distinct way of preparing it. Talking about Bangalore, the chat here leans a little more on the spicier side. Come to Sri Sairam's Chats and Juice and see what I mean. This is one place where you can find chaats with crazy names like wafer chaats, disco chats and such. Of course, papri and tikki chaats still rules the heart of many. The spiciness is perfectly served with a balanced taste of their specifically brought chocolates from Ooty!

Price for two: Rs 100 (Approx)
Timings: 10 am to 10 pm
Where to get it?- Sri Sairam's Chats and Juice, 15th Cross, Near Kadu Malleswara Temple, Malleswaram, Bangalore
Check Out: Food Trucks in Bangalore
7. Sandwiches One Can't Resist!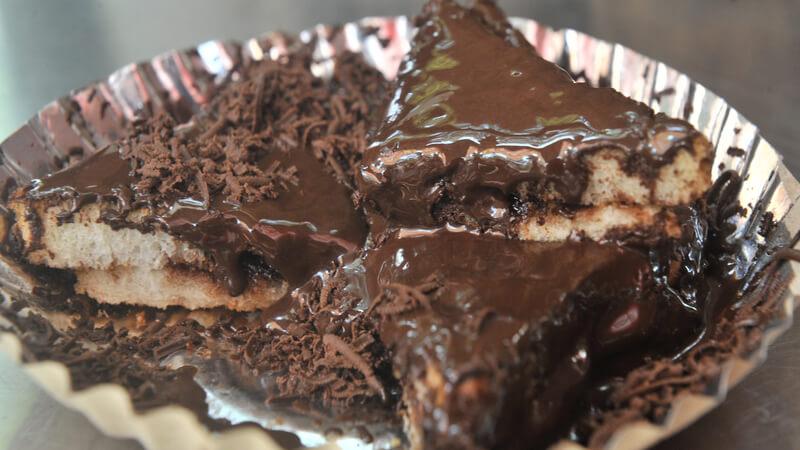 Image Source: dnaindia.com
Craving for something sweet and crispy? Head to Hari Super Sandwich- the trendy sandwich palace in the city and nosh on some delicious chocolate sandwiches that you will find here. If you are not so much into chocolates, there are other helluva options which will leave you spoilt for choices! Though, we recommend having their's choco sandwich at least once when you are here. Nestled in the soft streets of Jayanagar, Hari Super Sandwich is a must visiting for every foodie out there!

Price for two: Rs. 200 (approx)
Timings- 10 am to 10:30 pm
Where to get it?- Hari Super Sandwich, 3rd Block, Jayanagar, Bangalore
8. Get Some Grilled Goodness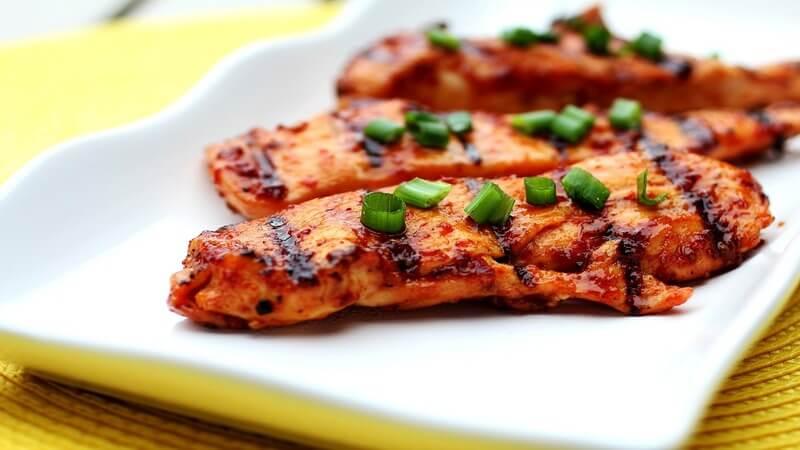 Image Source: Pixabay.com
Tucked quietly on the ground floor of Sri Shiva Sai Complex, Khan Saheb Grills and Rolls is foodie's blessing, thanks to the vivid range of grills and rolls found here. Dare we say, it is probably the best place in the city if you want to dig into some juicy delicious meat. The place is known for their perfect balance of flavours and textures which complement the appetite of anyone, vegetarian or non-vegetarians. Among all its veggie-laced dishes, its vegetable tikka roll and baby corn tikka roll are a must have here! Try them out! Its affordable rates will give you plenty to enjoy.

Price for two: Rs. 300 (Approx)
Timings- 12:30 pm to 11 pm
Where to get it?- Khan Saheb Grills and Rolls, Ground Floor, Sri Shiva Sai Complex, Off Double Road, Indiranagar, Bangalore
9. From Bhel, Puchkas to Everything Street Food Like!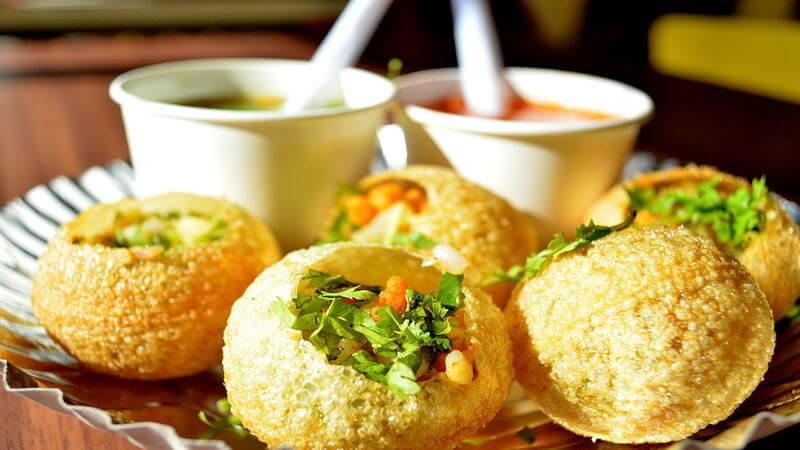 Image Source: Wikimedia Commons
You know where to look for some mind boggling Phuckas in Bangalore? It's to the narrow lanes of Jayanagar, for that's where Marathahalli is located. Name anything- pani puri, dahi puri or papdi chaat, you will get it here! It is one of the exclusives in the city and a well frequented joint among the foodies. A further search will lead you to the Margosa Road in Malleswaram where you can have an another hefty meal for a considerably reasonable price. Vegetarian folks can go to Chamarajapet in Basavanagudi which is all vegetarian serving eclectic mix of veggies and spice. For bhel puri fans like me, there is a specific place - The Karnataka Bhel House to check out too!

Price for two: From Rs. 200-300 (Approx)
Timings- Differ for each (Generally open from 7 pm to 10 pm)
Where to get it?- Puchka in Marathahalli, Karnataka Bhel House in Chamrajpet in Basavanagudi, Rakesh Kumar Pani Puri stall in Jayanagar
Check Out: Places to Visit Near Bangalore in Monsoon
10. Masala and Aloo Buns!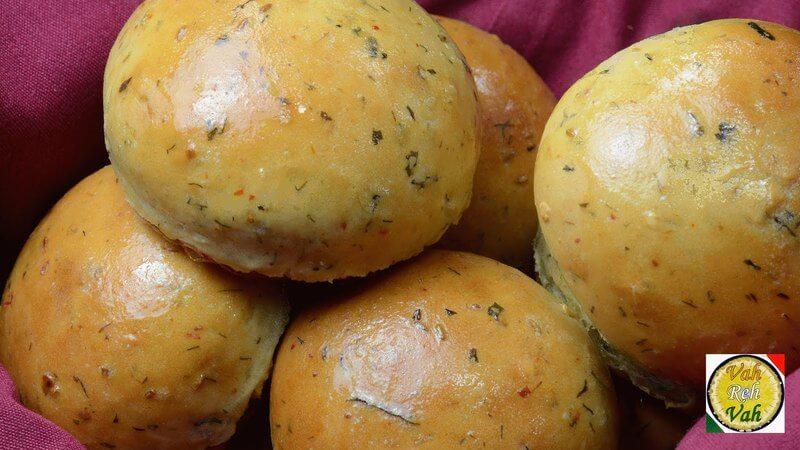 Image Source: Youtube.com
This may not sound as extravagant as others, but the masala buns baked in the bakeries of Bangalore are truly a must to have! And the best thing is, you don't have to go far for it! They can be bought from any bakery spread throughout the city, but if you want us to name some specific places, Melt it Down & Cake Genie are two of them. Try them out!

Price for two- RS 100 (Approx)
Timings- Timings differ for all
Where to get it?- Any Local Bakery
11. An Informal Outing Amidst Benne Dosas, Bajji & Coffee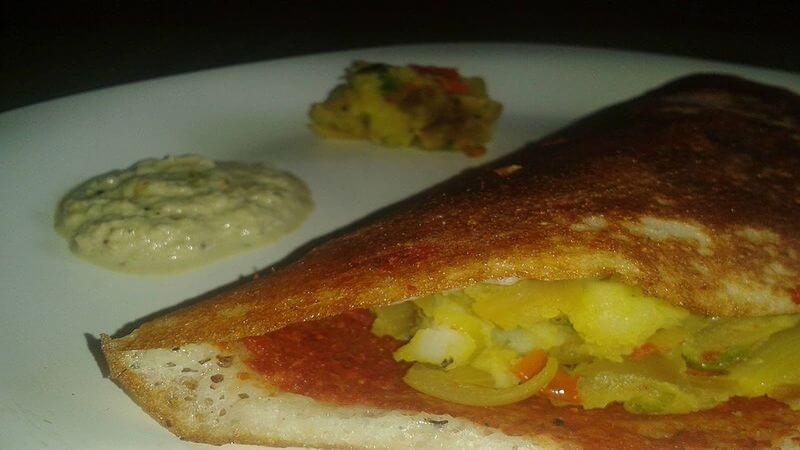 Image Source: Wikimedia Commons
Of course, there is no dearth of places for dosa lovers in Bangalore. There is a handful number of eateries which has ruled over the city's food culture and Central Tiffin Room is one of them. Come here for its famous butter masala dosa or indulge in some other speciality, it is guaranteed to be a memorable experience for you! Its Kesaribhat and idli sambhar will leave you licking your fingers and asking for more! A scoop of ice cream, in the end, will make the meal fulfilling for you!

Price for two: Rs. 200 (Approx)
Timings- 7:30 am to 12:30 pm & 4 pm to 9 pm
Where to get it?- Central Tiffin Room, Margosa Road, Malleshwaram, Bangalore
Must Try: Late Night Restaurants in Bangalore
12. Kota Kachori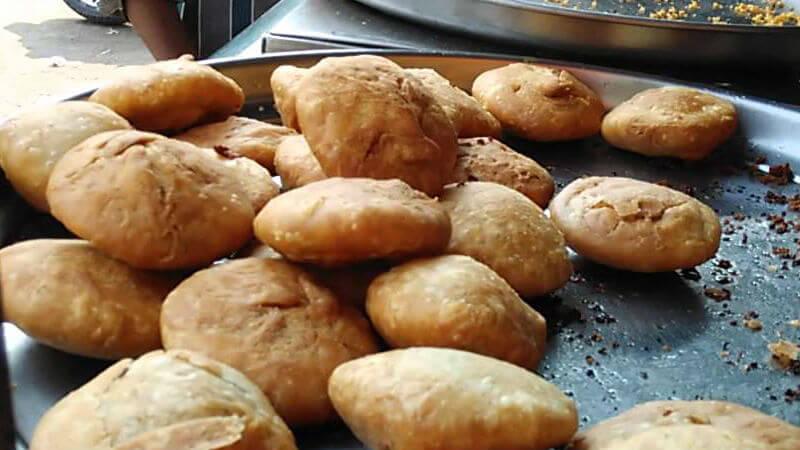 Image Source: Youtube.com
Kota Kachori is all about Rajasthani delicacies, served for the millennials craving something different! You will find every kind of Rajasthani dish you can think of, be it sweets like jalebis or savouries like litti chokha! Despite being comparatively new, the place is quite popular owning to its hardcore motto to keep it real. The purity and thoughtfulness reflect in its items make it so special for all. From chhole bhature to falahaar, barfi, pedhas, aam ras and more, the list is just endless. Ensure to try its delish pyazi kachoris and sabudana vadas while you can!

Price for two: Rs. 200 (Approx)
Timings- 8 am to 10:30 pm
Where to get it?- Kota Kachori, 6th Block, Indiranagar, Koramangala, Bangalore
13. Eclectic Juices and Drinks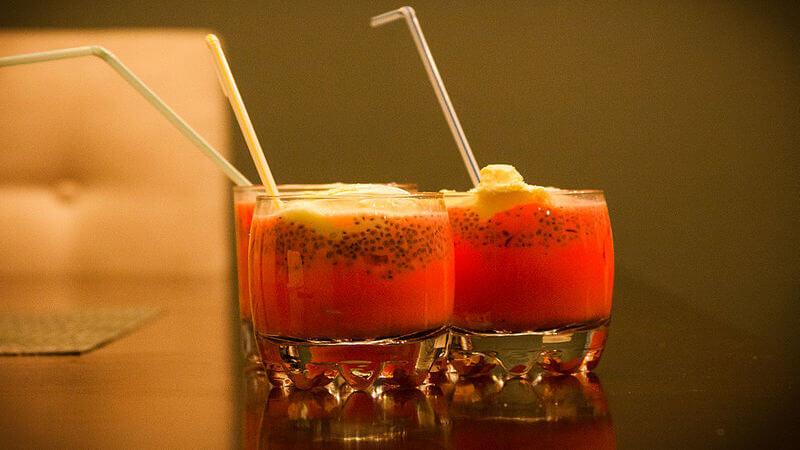 Image Source: Wikimedia Commons
Indiranagar, being the draw of the foodies that it is, is every localite's favourite for a soothing hangout session. More so with Lassi Park being there. Come to its 4th main road and you will know what I am talking about. The restaurant serves and an elaborate menu of snacks and beverages including refreshing Sundaes, Faloodas and what not! Not to forget the dense and appealing lassis that will make you swoon over in ecstasy! It sits at the end of the bustling street, leaving plenty for you to explore while noshing on a glass of it.
Price for two: Rs. 200 (Approx)
Timings- 11 am to 11:30 pm
Where to get it?- The Lassi Park, 4th Main Rd, Indira Nagar II Stage, Hoysala Nagar, Indiranagar, Bengaluru
Spend Your Weekends Here - Best Resorts Near Bangalore!
14. Delicious Vada Pavs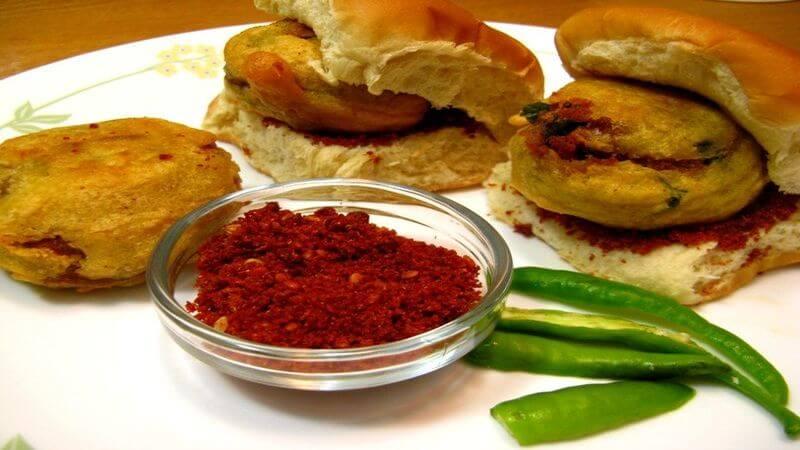 Image Source: Wikimedia Commons
Talking about street foods, you just cannot not talk about vada pavs! The trendy Mumbai delicacy is now claiming the hearts of Bangalorians with its quintessential taste and simplicity. You will find a vast variety of those at Sri Ganesh Bombay Vada Pav. There are normal aloo ones made from spicy mashed potatoes, and then others which are quite innovative like Paneer, veg tikka and schezwan! No matter what you go for, it will be a happening ride for your tastebuds!

Price for two: Rs. 100 (Approx)
Timings- 10 am to 10 pm
Where to get it?- Sri Ganesh Bombay Vada Pav, Seshadripuram, Bangalore
15. Come for its Range of Delectable Rolls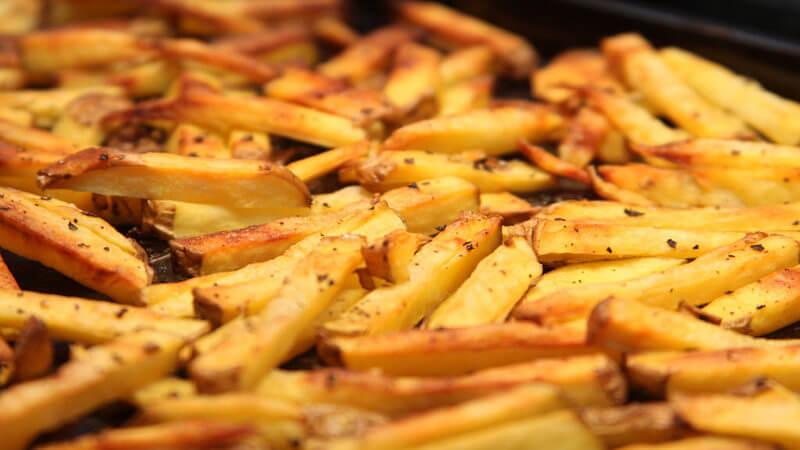 Image Source: Keith McDuffee/flickr.com
Rolls are cheap, fulfilling and most of all, comes in a vast variety, making it the ultimate street food for Indians. Of course, there are lots of places in the city that serves yummy rolls to the millennials, yet we would like to mention the one that really sailed our boat during this endeavour. The place is Shahi Darbar of Mathikere. Head to this quaint district and there in Mattikere lies this little rolls shop! Here, you will get a lot of options to choose from. If you are a non-vegetarian, make sure to taste some of those kebab rolls. Economical and of great quality, a visit to this place is must for food lovers!

Price for two: Rs. 400 (Approx)
Timings- 11 am to 11:30 pm
Where to get it?- Shahi Darbar, M S Ramaiah Nagar, Mathikere, Bangalore
16. Spice and Lot More Spice!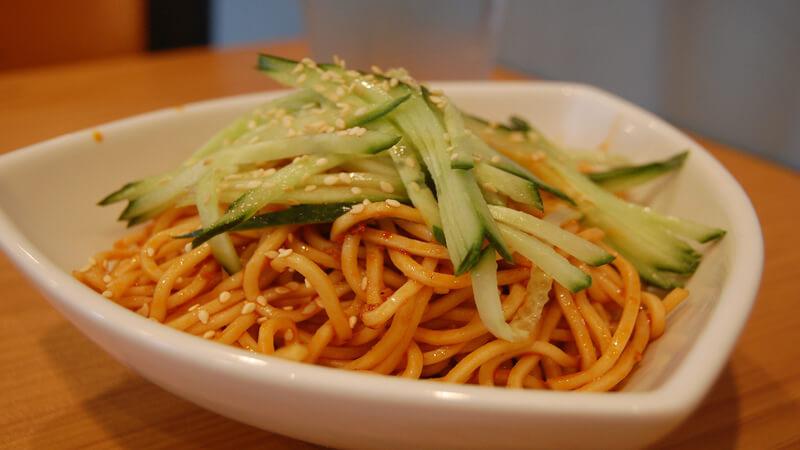 Image Source: stu_spivack/flickr.com
Hand it to Banglorians for serving some of the yummiest foods out there! This particular food joint- Spicy Corner in Jeevanabheema Nagar has proved that they not only excel in the traditional South Indian dishes (which are quite mild in nature) but the spicy and hot culinary items as well. And what's more? They are just so finger licking good that you won't be satisfied by just having one. Dishes like masaledar tava paratha, kadai paneer, butter dipped nans, corn crispy are some of its specialities that will make you looking for more!
Price for two: Rs. 450 (Approx)
Timings- 10 am to 10 pm
Where to get it?- Spicy Corner, Jeevanabheema Nagar Main Rd, New Tippasandra, Bangalore
17. Innovative and Quirky Egg Infused Food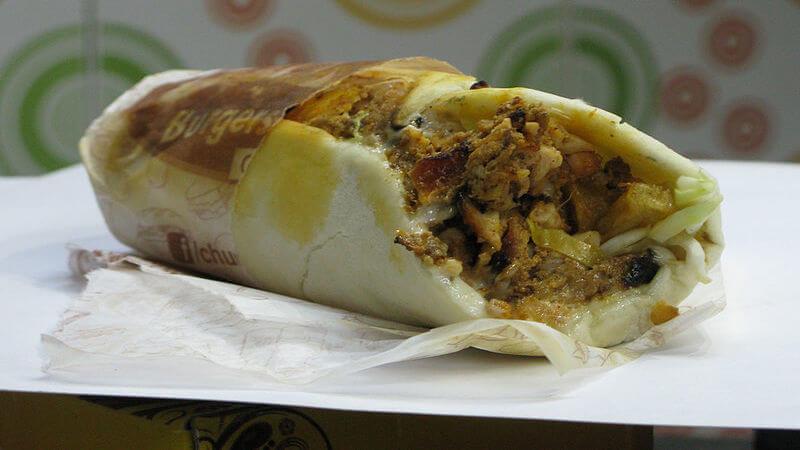 Image Source: Wikimedia Commons
If waiting is something you absolutely hate, you might like it here given its reputation for quick service. And what's more, it is all out for egg lovers where they are served numerous Indo-Chinese dishes (prominently egg based) to indulge in. The quality is highly maintained and they experiment with their dishes all the time to dish out something event better. Expect a surprise when you are here at Eggstacy! The Spanish Omelet here is yum! Along with others like curries, parathas and shawarma rolls!

Cost For Two Rs 250 (Approx)
Timing- 11:30 am to 9 pm
Where to get it?- Eggstacy, Near MSR College, New BEL Road, Bangalore
Must Try: Best Dosa Joints in Bangalore
18. For a Vegetarian's Appetite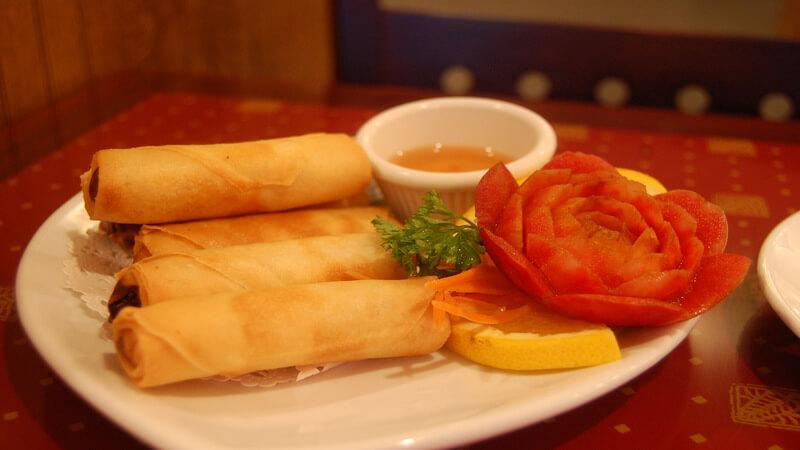 Image Source: stu_spivack/flickr.com
Luo Han is a chinese eatery that is all vegetarian; sounds odd isn't it? Not really so, especially when we are talking about this unique place! Known for serving a delicate balance of sweet and sour, you will find a lot of vegetarian goodies churned up with heavenly goodness. Their USP ultimately lies in their sauces which are just as different and spans a great variety. Smear some on your steamed rice or noodles and get lost in flavourful sensations. We would recommend trying their Thai Red Curry Macaroni while you are here!
Price for two: Rs. 500 (Approx)
Timings- 8 am to 10:30 pm
Where to get it?- Luo Han, 13th Cross, Sector 1, HSR Layout
19. North Indian Delights
Image Source: mararie/flickr.com
One of the reasons why Taste Buds is so hip among youngsters is that it really makes people feel good, especially the ones who have relocated here from other cities. The restaurant is known for its authentic North Indian culinary that is served with great care and technique. Coming here, you can actually feel it, that 'Home Away From Home' vibe. It is to be noted that the place vegetarian only, hence don't arrive expecting meat, rather, let them serve you their bests and we bet, you won't be leaving disappointed!

Price for two: Rs. 350 (Approx)
Timings- 11 am to 11 pm
Where to get it?- Taste Buds, Agara Village, 1st Sector, HSR Layout, Bangalore
20. Delectable Parathas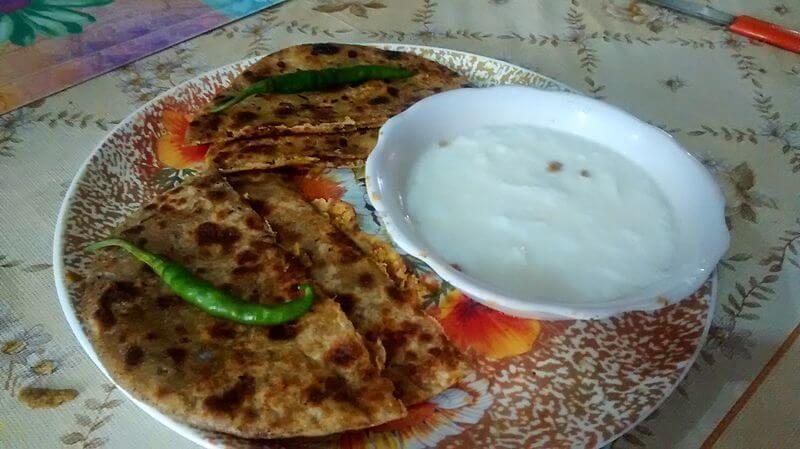 Image Source: Wikimedia Commons
Amidst the wave of south Indian flavours, a twist of North is a must to experience. Thanks to this lovely paratha place- Stew & Simmer, you won't have to worry about that. Satiate all your gleeful cravings by indulging in its varied parathas, all stuffed with different fillings. North Indians, who are looking for something familiar will certainly love it here. Go for traditional Bihari sattu or modern cheese garlic paratha, you will be hard pressed choosing one! One of my favourites are mix veg paratha, which may sound simple but was extremely heartening for me.
Price for two: Rs. 400 (Approx)
Timings- 8 am to 10:30 pm
Where to get it?- Stew & Simmer (Parantha Cart), 27th Main Road, Parangi Palya, Sector 2, HSR Layout, Bangalore

The list was our endeavour to bring best of the Bangalore street food scenery to you. Explore till your heart's content and experience the city in an up & close way!